NFL Rookie Salaries: Chances the Top Five NFL Draft Picks Hold Out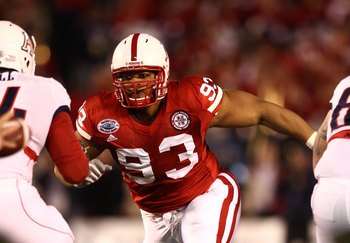 The draft is history and the real work in the front offices begins.
First-round draft picks cost a lot of money, whether they end up earning it or not.
Agents love having first-round clients because the guaranteed money is so much better than even some of the veteran contracts.
With a loose salary structure to go by, based off of last year's contract signings and the rookie salary pool, the picks generally know what they're going to make, but that doesn't stop a lot of them from trying to push the envelope to make just a little bit more.
That greed, by the agent and the player, leads to holdouts. So here's a look at the top five draft picks and the chances each one might hold out.
Sam Bradford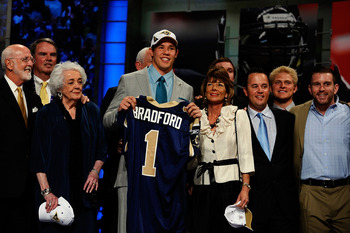 The No. 1 pick is costly enough when it's a lineman, but the premium on a quarterback just makes the money Bradford will get disgustingly large.
Matthew Stafford, the Lions quarterback drafted No. 1 overall last year, signed a six-year, $72 million contract with $41.7 million of that guaranteed.
With the "inflation" of another year, Bradford and his agent probably are looking for at least $45 million guaranteed and around $80 million in total contract value.
The Rams have to be willing to pay this, or they wouldn't have taken Bradford first. So the odds of this deal getting done prior to training camp are pretty good.
But you never know what's going to happen, so I'll put the chance of Bradford holding out at 20 percent.
Ndamukong Suh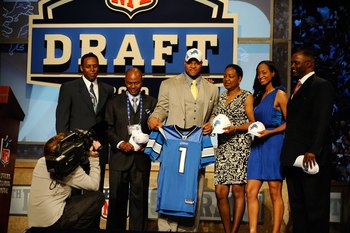 Ndamukong Suh was the consensus "best" player available in the draft, and the Lions grabbed him when the Rams decided to for the quarterback.
However, the Lions traded back up into the first round to get Jahvid Best, and now they're going to have to deal with two first-round contracts instead of just one.
Suh's 2009 equivalent was Aaron Curry. Curry was selected fourth overall and signed a six-year, $60 million contract including $34 million guaranteed.
With Suh going two picks higher, you're looking at around $40 million guaranteed on a $70 million contract.
This one could get ugly depending on how much money the Ford family wants to commit, so I'm going to put Suh's chances of holding out at 50/50.
Gerald McCoy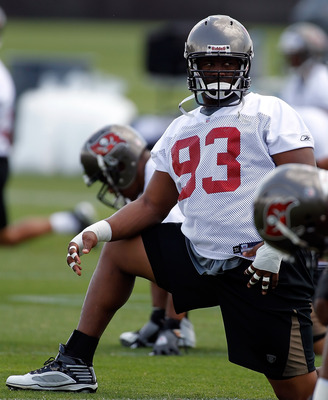 Gerald McCoy is in a little better of a bargaining position than Suh because the Buccaneers don't have to commit quite as much money to high-round draft picks as the Lions do.
The framework for his contract also will come from Curry's, so expect a six-year, $63 million contract with about half of that guaranteed.
His chances of holding out are no better than 30 percent.
If McCoy signs before Suh, though, that will help frame Suh's deal better, and vice versa.
Trent Williams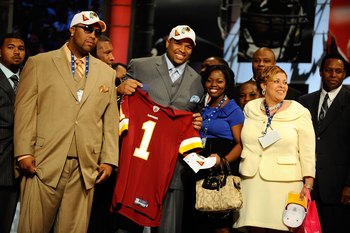 Trent Williams is the first offensive lineman in the group and went fourth, but his contract probably will be equal to Jason Smith's, who was taken second overall last year.
Smith signed a six-year, $61 million contract with $33 million in guarantees.
The two-spot drop from last year should just about equal out, and I see the Redskins getting this deal done by the end of June.
Chances of a Williams holdout are very slim—10 percent at best, if his agent decides to really get greedy.
Eric Berry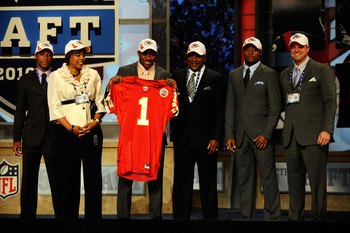 Eric Berry is the real wild card when it comes to salary forecasting since safeties generally aren't taken as high as Berry was.
The first safety taken in the 2009 draft was Patrick Chung in the second round by the New England Patriots, so there's no corollary there to base his salary off of.
The fifth pick last year was quarterback Mark Sanchez, so again there's no real comparison to draw off of.
The Chiefs drafted Tyson Jackson, a defensive end, with the third overall pick in 2009, and they may end up using his salary, a five-year contract reportedly worth $57 million with $31 million guaranteed, as a starting point.
However, Jackson did end up holding out the first week of camp, and Berry and his agent may want more than the Chiefs initially are willing to pay due to Berry's "star" status as a safety being taken so high.
Chances of Berry holding out are good, around 70 percent.
Other Rookies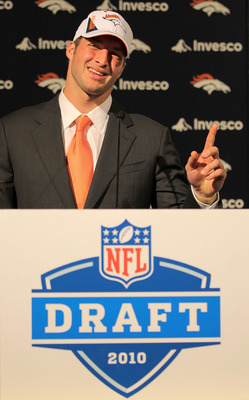 There still are 27 other first round draft picks to consider, but the top five get the most attention.
However, rookies like Tim Tebow, Dez Bryant, and C.J. Spiller also will get a lot of attention on their contract talks.
Please add your own thoughts about the top five and what you think the chances are guys like Tebow or Rolando McClain holdout.
(I'm saying ZERO chance Tebow holds out; he has too much work to do.)
Keep Reading