Five Fights We Should See, but Likely Won't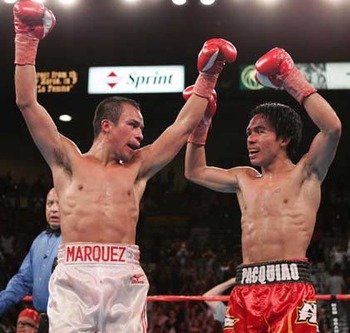 With every era of boxing, a handful of fights never get made, despite the spectating outcry. For whatever reason, sometimes meaningful and lucrative fights just never come together.
Many wonder how Riddick Bowe might have fared against Lennox Lewis, or even Mike Tyson, in the early 90's.
After the passing of Edwin Valero, we will never know how he would have stacked against the best of his size.
And, even though we saw a rematch, one can only guess what could have happened if Roy Jones Jr. and Bernard Hopkins had met again somewhere near their primes.
We are currently seeing the possibility of the biggest fight in the sport not ever happening with the turbulent negotiations between Floyd Mayweather Jr. and Manny Pacquiao. However, I do believe that fight will be made; there is just too much money in it to be ignored.
Here is a list of five contemporary boxing matches that I don't believe will be made but should. While they might not all be pivotal matches in the sport, it will be a shame to never see them.
Kelly Pavlik vs. Arthur Abraham

Two years ago, this was the only fight worth a dime at middleweight. Kelly Pavlik was the undisputed middleweight champion, while Arthur Abraham was the defending IBF titleholder.
Both were undefeated, and both were dangerous.
Pavlik's people pointed to the unfamiliarity of Abraham in the United States. For his asking price, they said Abraham would be the only one making money in a country where nobody knew him.
Abraham's promoters insisted that they had the better man, and that Top Rank (Pavlik's promoter) knew they would lose their great white cash cow (my words) if he lost to Abraham.
This fight would have split boxing fans (and gamblers) down the middle on who they thought would win.
Well, the fight is not totally dead. However, Abraham is currently in the Showtime Super Six tournament and recently suffered his first loss. Pavlik is still fighting at middleweight and coming off his second career loss.
If their promoters couldn't put this fight together when there was at least three times the money on the table as now, I don't see them coming together to make it in the present.
Nonetheless, to date, both fighters share the same top two wins on their resumes. Both have stopped Edison Miranda and Jermain Taylor, though Kelly stopped both of them first when Miranda was a highly-regarded contender and Jermain was champion.
This fight can still be made and would still be very attractive, it just doesn't seem likely.
Antonio Tarver vs. James Toney

I might be the only person in the world that was getting excited with the rumors of this potential match-up of former champions. Just within the last six months, both fighters were stating in interviews that they were willing to fight each other at a weight agreeable to both.
Tarver stated he would have no problem fighting at heavyweight. Toney's last fight showed him weighing just 217 pounds.
Of course, this fight would have been much prettier if it took place around 2003, when Toney was the cruiserweight champion, and Tarver was the light heavyweight champion.
Still, the fight would be very hard to choose. Both fighters have more than most think left in the tank, and both can sell a fight.
With James Toney's move to the UFC, the fight appears to be a fantasy. Tarver will have to find some other name around his age group, and Toney will try to find some way to not be taken down in an octagon.
Manny Pacquiao vs. Juan Manuel Marquez, Part III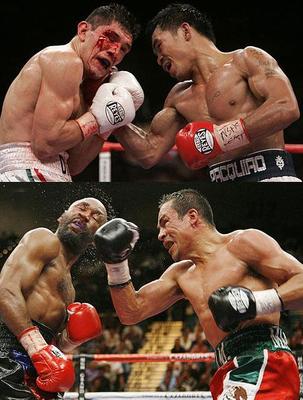 In 2004, Juan Manuel Marquez and Manny Pacquiao met in one of the most back-and-forth fights of the decade.
After a first round that saw Marquez hit the canvas three times, Marquez was able to figure out Pacquiao and win most of the remaining rounds. The fight was declared a draw, much to the dismay of both fighters.
It took four long years for the two to finally meet again and settle the score, and after 12 hard rounds, the outcome was still debated. Pacquiao won a split-decision, but many felt Marquez had done enough to earn it.
After the second fight, Pacquiao moved up to lightweight and took the WBC belt from David Diaz. Marquez followed him there and took the WBA, WBO, and Ring belts by stopping Joel Casamayor and Juan Diaz.
Pacquiao then went all the way up to welterweight to stop Oscar De La Hoya in a massive event. Again, Marquez chased him up in weight and took on Floyd Mayweather, but he lost widely on the scorecards.
Since this time, Pacquiao has become a full-fledged welterweight, while the weight seems quite a bit too much for Marquez's frame. Pacquiao will now try to negotiate a deal with Floyd Mayweather for the biggest fight to be made in boxing. Marquez has decided to move back to lightweight and rematch Juan Diaz in a fight that should not be on HBO PPV but will be anyhow.
The two are further apart than they ever have been in their careers. Pacquiao will likely fight the best fighter of this era, while Marquez will fight a former victim who is barely 2-3 in the last couple years.
Likely, Marquez will never get his chance for a win over Pacquiao, but he will be known for giving him two of the toughest fights of his career.
Alfredo Angulo vs. James Kirkland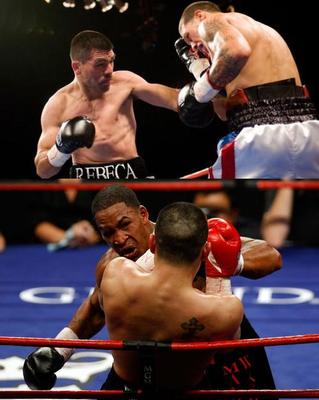 The two junior middleweights were put on the same cards since their records were in the single digits. Simultaneously, James Kirkland and Alfredo Angulo were bulldozing their opponents and consistently stepping up their competition.
Their names were linked. Fans constantly debated who would win if the two prospects ever met. Both had power and toughness, and both had fought legitimate competition.
In March of 2009, Kirkland got the biggest win of his career, with a sixth round TKO over Joel Julio. The fight set him up for a deserved title shot. In April of 2009, he was arrested for possession of a firearm by a felon, and he remains incarcerated to this day.
Angulo suffered a setback when he lost a decision to Kermit Cintron in 2009, but he has bounced back with three tremendous stoppages.
In the last year, Angulo has continued to grow as a fighter. While Kirkland is hopefully growing as a person, a diet of bologna sandwiches is not ideal for an elite professional athlete.
If the fight is ever made, it will be long after Kirkland is released. With Kirkland's speed bump, I see the fighters being at separate points in their careers by the time the match would be possible.
It may forever remain one of those "what if" matches.
Devon Alexander vs. Zab Judah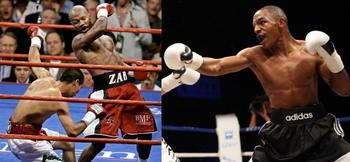 After Devon Alexander's breakthrough performance against Juan Urango earlier this year, Zab Judah entered the ring to try and stir some interest in a match between the two.
Judah had beaten Alexander's stablemate, Cory Spinks, in 2005 for the welterweight championship. Judah referred to this in the ring, but he was mostly swept under the rug when Alexander stated, "Zab is past-tense. I'm present-tense. I'm the future, and it's going to stay that way for ten years straight."
While it is true that, at this stage of his career, Zab is past-tense, a fight between the two would be extremely intriguing.
For one, there is the revenge dynamic for Alexander. He would be able to avenge his fellow St. Louis native's loss. More importantly, he would add the biggest name yet to his resume.
Second, HBO is currently holding an unofficial 140-pound tournament. In turn, all the big names of the division are tied up at the moment besides Judah and Alexander. The fight would fit perfectly on the network's current schedule.
Zab still has plenty of worth, especially at 140 pounds. He has suffered some big losses, but they have been mostly to the best of his era.
Then comes the problem. Don King and Zab Judah have had many problems over the years. Don claims Judah owes him money from previous dealings. He also stated he refuses to work with Zab until those issues are resolved. Knowing Zab, he's not planning on paying King for any sort of a make-up.
Is it King, yet again, destroying a great matchup for the fans? Or is it Judah who has burned most of his bridges in the sport and is now seeing the results of it?
Likely it is both, and neither seem like the types to apologize.
This fight would be a great addition to HBO's current schedule, but sadly I doubt it will ever come to fruition when everyone can easily just wait for more opponents to rise after the first set of 140-pound fights take place.
Keep Reading