MLB Featured Columnists' Poll: An Early American League All-Star Vote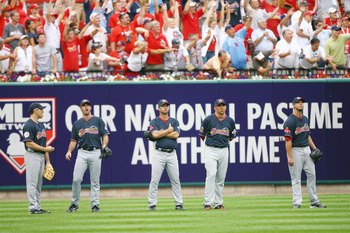 Every year, fans complain that the wrong people are named MVP or elected into the Hall of Fame. We whine, we argue, and we say we could do better.
The All-Star vote is our chance to prove ourselves, yet every year we demonstrate why democracy doesn't work. Last year's winners, for example, included Josh Hamilton, who when the polls closed, was hitting just .240 with six homers and had missed more than half his team's games.
This week's FC Poll is a mock All-Star vote, based on the theory that Bleacher Report's Featured Columnists are somewhat more rational than a group of average fans. Of course, there were some surprising players named here too, and this time I've included the full vote totals for each category so all the interesting picks can be seen.
For this survey, I asked my peers to select only the players who have earned spots based on their performances so far this season—not to predict who will make the team or choose players who they think will have earned spots by July.
Thank you to everyone who voted and submitted commentary!
Note: So as not to clog people's inboxes, I sent this survey only to the Featured Columnists who participated in one of the two previous polls. If you are a new FC or you have changed your mind about wanting to participate, send me a message and I'll be sure to keep you in the loop for next time!
First Base: Miguel Cabrera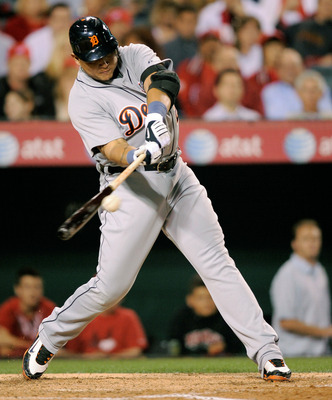 The voting:
1. Miguel Cabrera, DET—11
2. Justin Morneau, MIN—2
T3. Daric Barton, OAK—1
T3. Billy Butler, KC—1
T3. Kendry Morales, LAA—1
After falling prey to a number of off-field issues during the '09 Tiger collapse, Cabrera has returned in his age 27 season stronger than ever; he has cleaned up his act, set his focus on baseball, and has made a commitment to rid himself of the current stereotype he allowed himself to be labeled. (Joshua Worn)
Noteworthy numbers: .343/.430/.606, 5 HR, 26 RBI
My vote: Cabrera
Second Base: Robinson Cano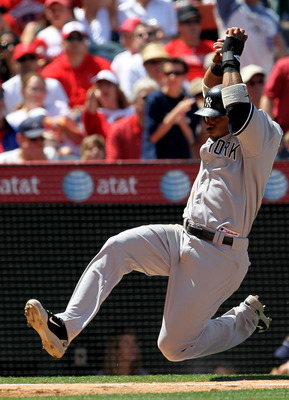 The voting:
1. Robinson Cano, NYY—9
2. Dustin Pedroia, BOS—4
3. Ben Zobrist, TB—2
T4. Chone Figgins, SEA—1
T4. Ty Wigginton, BAL (write-in)—1
Cano has not only been one of the best second baseman in the entire game, he's been one of the best hitters early in the season. Cano is one of the leaders in the American League in batting average and home runs and he leads all other Yankees in runs batted in. Right now, he is clearly the best second baseman in the AL. (Nino Colla)
Noteworthy numbers: .382/.424/.730, 8 HR, 18 RBI
My vote: Pedroia
Shortstop: Derek Jeter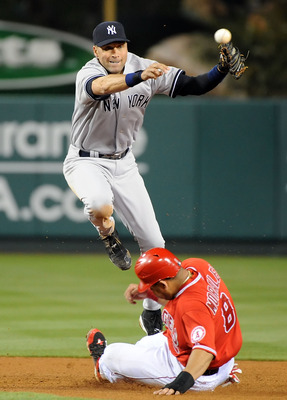 The voting:
1. Derek Jeter, NYY—8
2. Alex Gonzalez, TOR—4
3. Jason Bartlett, TB—2
T4. Asdrubal Cabrera, CLE—1
T4. Cliff Pennington, OAK—1
T4. Marco Scutaro, BOS—1
It's a given that Jeter is a great player and a hard worker. What gets me is that after 15 years in the majors and at age 35, Jeter is still impressive. He's still one of the best in the game at hitting for average. As far as defense goes, you can hang that "bad range" label he's continuously tagged with; in the last out of a critical game, he's absolutely the guy I'd want the ball hit to if he were on my team. (Samantha Bunten)
Noteworthy numbers: .327/.356/.510, 4 HR, 19 RBI
My vote: Gonzalez
Third Base: Evan Longoria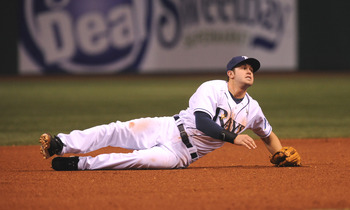 The voting:*
1. Evan Longoria, TB—16
*—One respondent did not vote for a third baseman.
How much can you say about Evan Longoria and his performance to this point in the season? 13 of his 31 hits have gone for extra bases (five homers) and he's sporting a .987 OPS. Did I mention he's also stolen four bases and holds the second-best UZR/150 of all MLB third basemen (29.3)? (Cameron Britt)
Noteworthy numbers: .337/.400/.587, 5 HR, 18 RBI
My vote: Longoria
Catcher: Joe Mauer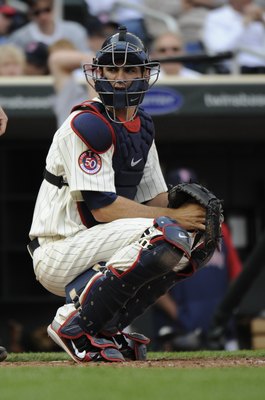 The voting:
1. Joe Mauer, MIN—12
2. Kurt Suzuki, OAK—2
T3. John Buck, TOR—1
T3. Victor Martinez, BOS—1
T3. Jorge Posada, NYY—1
Joe Mauer is the scariest and smartest hitter in baseball next to Albert Pujols. The one thing you know he is going to do when he steps to the plate is not strikeout. Oh, and last year he decided to start hitting home runs as well. It seems as though he can do whatever he wants when holding a bat. And he has pretty awesome sideburns, which simply can't be taught. (Chris Murphy)
Noteworthy numbers: .345/.406/.500, 1 HR, 13 RBI
My vote: Mauer
Designated Hitter: Jose Guillen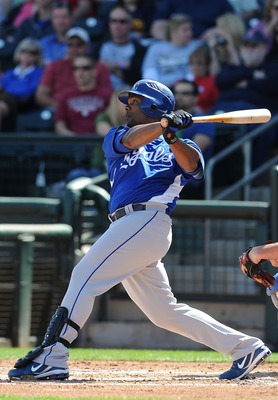 The voting:
1. Jose Guillen, KC—7*
2. Alex Gonzalez, TOR—4
3. Jason Bartlett, TB—2
T4. Asdrubal Cabrera, CLE—1
T4. Cliff Pennington, OAK—1
T4. Marco Scutaro, BOS—1
*—also received a write-in vote as an outfielder
Out of all the DHs in baseball, Jose Guillen is most deserving right now of starting the All-Star game. His combination of batting average and power, place him slightly ahead of Vlad Guerrero and the suddenly resurgent Andruw Jones. He's also appeared in the most games of any DH. (Bob Warja)
Noteworthy numbers: .292/.330/.583, 7 HR, 19 RBI
My vote: Guillen
Outfield: Nelson Cruz, Vernon Wells, Carl Crawford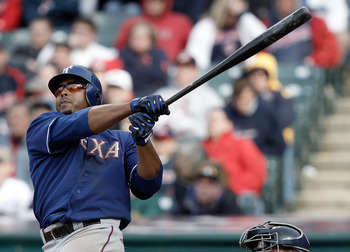 The voting:
1. Nelson Cruz, TEX—14
2. Vernon Wells, TOR—9
3. Carl Crawford, TB—8
4. Shin-Soo Choo, CLE—5
5. Franklin Gutierrez, SEA—3
T6. Bobby Abreu, LAA—2
T6. Michael Cuddyer, MIN—2
T8. Rick Ankiel, KC—1
T8. Coco Crisp, OAK—1
T8. Jacoby Ellsbury, BOS—1
T8. Jose Guillen, KC (write-in candidate)—1
T8. Torii Hunter, LAA—1
T8. Alex Rios, CWS—1
T8. Ryan Sweeney, OAK—1
T8. B.J. Upton, TB—1
Last year, Cruz proved that he wasn't just a Quad-A player; this year he's proving that last year wasn't a fluke. A legitimate five-tool stud, he's on pace to go 40/30 even though Ron Washington inexplicably benches him twice a week. Consider also he has the best UZR (5.2) in all of baseball. Oh, and according to WAR (1.7) he's been the best player in the game so far. No big deal. (Lewie Pollis)
Noteworthy numbers: .323/.419/.758, 7 HR, 17 RBI
Wells is tied for fourth in the AL in runs scored (20), first in total bases (66), first in extra-base hits (19), tied for first in doubles (11), tied for second in home runs (eight) and fourth in slugging percentage (.688). He is more than halfway to his home run total from all of last season and it's just April. (Todd Hayek)
Noteworthy numbers: .323/.381/.688, 8 HR, 17 RBI
Crawford is a complete player that makes the game more exciting with his speed. Anything hit in the gap can go for a triple, and if you walk him it might as well be a triple because he's as good a basestealer as anyone in the game. New sabermetrics defensive statistics have shown him to be the best left fielder in baseball with the glove. (Jeremiah Wood)
Noteworthy numbers: .326/.390/.533, 7 SB, 18 runs
My votes: Choo, Cruz, Gutierrez
More FC Polls...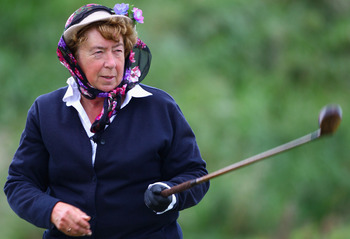 Keep Reading