Five Players the Buffalo Sabres Could Sign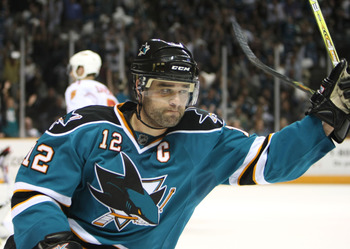 The 2009-2010 NHL season was nothing short of another disappointment for the Buffalo Sabres, but the offseason will be the beginning of a serious rebuilding process after their first-round collapse against the Boston Bruins.
Sabres general manager Darcy Regier has already given word that the offseason will more than likely see Buffalo make several moves.
"I will try to be busy, yes," Regier told the Associated Press last week. "Yes, I think we have to make some changes. What exactly they will consist of, it's too early to know."
So here are some possible ideas as to who the Sabres might be keeping or bringing into town.
There are a lot of "what ifs" involved with all of these possibilities, but when it comes down to it, the Sabres could possibly sign any of these players.
Henrik Tallinder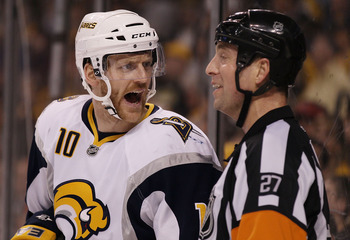 Regier has expressed interest in resigning both Tallinder and Toni Lydman, but "Hank" seems to be the better choice.
Tallinder might not have played up to his $3.25 million contract this past season, but he put up some solid numbers and improved his defensive game tenfold from the previous season—this all might have something to do with being paired with Calder Trophy nominee Tyler Myers for the season.
Tallinder was expected to help Myers in his first season, but it was Myers who actually improved Tallinder's game—it should still not take anything away from the season Hank had.
The 31-year-old finished with 20 points, his highest total since the year after the lockout, and played all 82 games for just the second time in his career.
If the Sabres can resign Tallinder for around $2.5 million, they might want to jump on that.
Dennis Seidenberg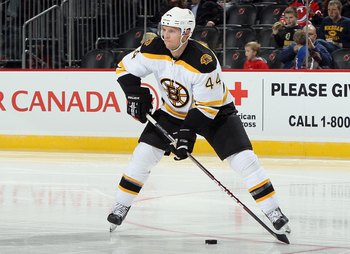 Now this is all under the assumption that Buffalo parts ways with Lydman and finally gives the youngster Mike Weber a chance on the blue line—this will ease the pressure put on by the salary cap.
With the year Seidenberg just put together, he should be earning around $4 million in the upcoming season.
Seidenberg finished the 2009-10 campaign with 28 assists and 32 points in total, not to mention his fantastic average ice-time of 22:55 in 79 games played.
While his goal-scoring was near what it should be given his career-best 153 shots on goal, the offensive possibilities are there and his defensive game was stellar, especially after being traded to Boston.
Weber is a defensive dynamo in the making, and Seidenberg would balance out a very impressive and improved blue line.
Patrick Kaleta
A fan-favorite since his first game, Kaleta has become an intricate part of the Sabres' lineup over the course of the past four seasons.
The 23-year-old native of Angola, New York, set career-highs this past season, finishing with 10 goals and just over 10 minutes of ice-time.
However, the most important part of Kaleta's game is not his goal-scoring ability, or his occasional penalty-killing, but his ability to draw penalties. In each of his first three full seasons with the Sabres, Kaleta has led the league in penalties drawn per every 60 minutes of play.
Buffalo is not a very physical team, but Kaleta's bruising hits and irritating play make him a valuable aspect to the team's fourth line.
Kaleta is a restricted free agent, and his current price tag of $522,000 will not go up much for next season.
Patrick Marleau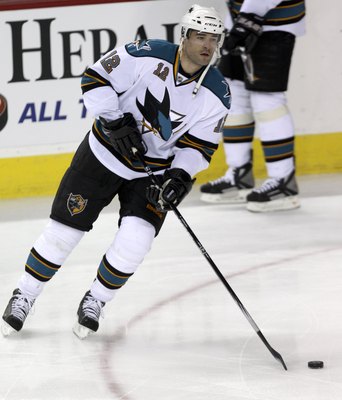 That's right, a big name indeed, but also a longshot.
The Sabres were 11th in scoring during the regular season, but fell apart in the postseason and their power play struggled all season long. Marleau would be huge offensive help and could potentially center Thomas Vanek on the first line.
However, with Marleau coming in, someone would have to go—and that "someone" could be Tim Connolly, or so say the early reports out of Sabres' camp.
Trading Connolly would free up $4.5 million and would give the Sabres a valid chance at signing Marleau on a long-term contract.
If Buffalo was to shell out a long-term contract like the one Marleau will almost surely sign in the offseason, the team will have to account for players such as Myers and Tyler Ennis, who will both be looking for some big bucks in a couple of seasons.
Martin Biron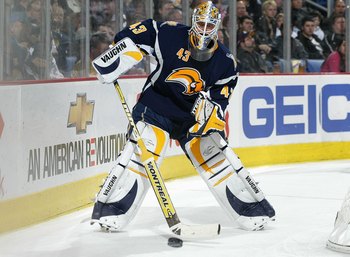 It's no secret that Biron's best days were in Buffalo, so why not go back to the "glory days?"
Signing Biron to a one or two-year deal will be based on the whether or not the Sabres feel Jhonas Enroth is ready to be a backup.
Enroth has one more year left on his rookie contract. His numbers in the AHL this past season were quite impressive. He went 28-18-1 with a 2.37 GAA and a .919 save percentage—all of his totals were an improvement from the previous season.
Biron, on the other hand, had the worst season of his professional career with the New York Islanders. He went 9-14-4 with a 3.27 GAA and a .896 save percentage.
Enroth certainly seems more enticing, but Buffalo's defense will help Biron more than his defense on Long Island did, and he was always a fan-favorite in Western New York.
Ryan Miller will definitely need a new, and capable, backup for next season—we'll see who it ends up being.
Keep Reading