Their Time Is Now: Ten New Starting Quarterbacks Ready For Success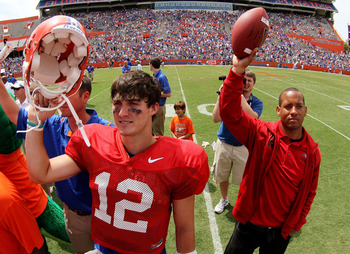 There's no other position in college football that receives as much attention and scrutiny as the quarterback position.
Being leader of a major college football team brings along with it a host of responsibilities and pressures.
It's a job few are cut out to handle, which makes finding a truly great college quarterback all the more daunting of a task.
Here's a look at 10 young men who are ready to take the reigns and lead their teams to successful seasons this year.
10. Kevin Newsome: Penn State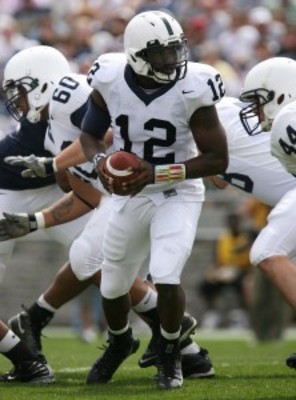 Penn State has enjoyed a recent history of success with athletic, mobile QBs.
Both Michael Robinson and Daryll Clark where able to run Penn State's "Spread HD" offense with ease and stacked up winning season after winning season.
Now the duty is likely being handed over to the equally athletic Kevin Newsome.
The 6'2 sophomore was able to see action in eight games for the Nittany Lions last season, but the few snaps he did see where mostly designed runs.
It's going to take some time for Newsome to get his feet under him in the passing game, but there is no reason he shouldn't experience the same type of winning ways as his predecessors.
Having talented freshman Paul Jones waiting in the wings could cause Kevin some worry , but he can take solace in the fact that Coach Paterno values experienced players.
9. Aaron Murray: Georgia
Coach Mark Richt won't officially declare Aaron Murray the starting Bulldog QB until the summer due to fears of Logan Gray transferring.
Regardless, it's safe to say that the redshirt freshman has a strong hold on the number one spot.
Even before the departure of Zach Mettenberger earlier this Spring, many assumed it was Murray's job to lose.
That's because the redshirt freshman came from Plant High School in Florida with great expectations placed on his shoulders.
He was one of the key gets in Georgia's 2009 Recruiting class as he was rated one of the top ten quarterbacks in the nation.
What he may lack in size (6'1, 210), he more than makes up for with his smart play, determination, and underrated arm.
With ten returning offensive starters, Murray likely has the feeling of a man just handed the keys to a brand new Porsche.
It's now Murray's job to put his foot on the gas and get this offense revved up.
Bulldog fans won't tolerate another five loss season.
8. Robert Marve: Purdue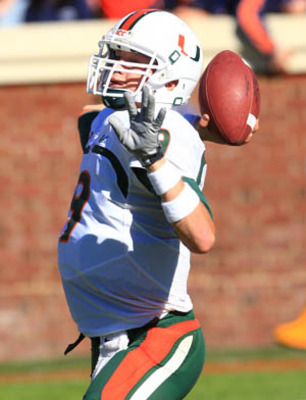 It's been a long strange trip for Robert Marve, one that involved decommitting from the University of Alabama, a suspension from Miami, and a transfer to Purdue.
It seems as though the Tampa native has finally found his cozy nook in West Lafayette and looks like he'll play out the rest of his career as a Boilermaker.
It couldn't come at a more perfect time for both Marve and the Purdue program.
Danny Hope was looking for an exciting young quarterback to come in and lead his team and he was more than welcome to give Marve a new home.
As the young signal caller gets accustomed to the offense and his new teammates it is looking more and more like he could be just the player to lead Purdue up the Big Ten ladder.
At just six feet tall, Marve won't overwhelm people by his looks—but don't underestimate him. He's been through enough adversity over the last few years to shape him into someone who is bigger and stronger than his physique would lead you to believe.
7. Geno Smith: West Virginia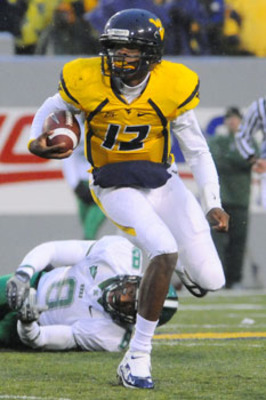 Although the starting quarterback job at West Virgina is basically Geno Smith's by default, don't for a second think the young sophomore isn't worthy.
Smith came to Morgantown as one of the most decorated QB prospects in the program's history.
In his limited game action last season, he showed flashes that he could be the next in line of talented dual threat Mountaineer quarterbacks.
He takes over an offense loaded at every position and will be surrounded with great playmakers like Noel Devine, Tavon Austin, and Jock Sanders.
Add in Smith's high school buddies, receivers Stedman Bailey and Ivan McCartney, to the mix, and he should feel right at home in the offense.
Geno may have been limited in Spring drills due to a foot injury but he should be completely healed up and ready to run this fall.
If he progresses enough in camp, the offense will be running smoothly right along with him.
6. Brock Osweiler: Arizona State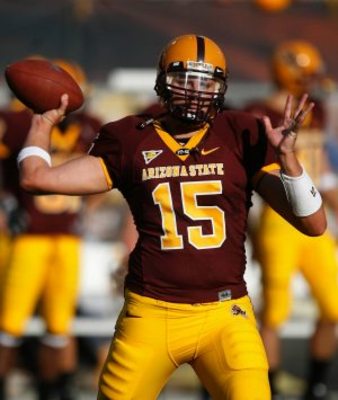 Brock Osweiler has the cliche look of a tall, big armed, pocket passer you would expect from a Pac-10 quarterback.
It's Arizona State fans that are hoping those big looks can translate into big time results for the Sun Devils this coming fall.
Osweiler looks like he has the type of ability to pull this team out of the rut they have fallen into over the last two seasons.
There have been many ASU quarterbacks in recent years that were "supposed" to be coveted NFL prospects but for one reason or another never panned out—Andrew Walter and Sam Keller, I'm looking at you.
Osweiler looks like he may have what it takes to buck the trend and actually turn into something special. If he can put his 6'8 size to good use, it could mean the Sun Devils are on the cusp of returning to their winning ways.
5. Cam Newton: Auburn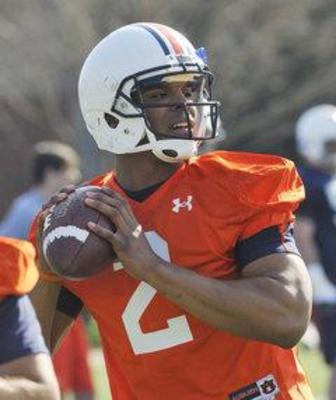 Cam Newton comes to Auburn hoping to salvage a career that was derailed at Florida.
After getting caught with a stolen laptop during his time as a Gator, Cam's career seemed to be in major jeopardy.
Now that he returns to the SEC, it looks as if he's ready to be the man to lead Gus Malzahn's unorthodox high powered spread offense.
There is no doubting he has what it takes physically to handle the job. What remains to be seen is if he can handle the mental aspect that comes along with it.
It's a good sign that Head Coach Gene Chizik has praised his maturity and leadership thus far this Spring.
Cam Newton finally has his chance to be the man, now it's up to him to make the most of it.
4. Zach Collaros: Cincinnati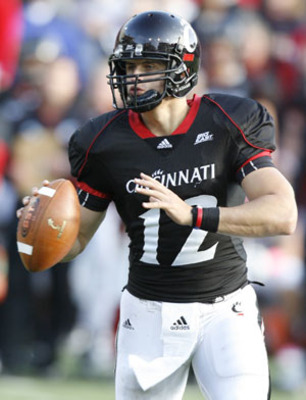 If last year's spot starting duties were any indication, the Big East conference could have a new star quarterback on it's hands.
No it's not the prototypical Tom Savage of Rutgers like many probably would have expected.
Instead it's Zach Collaros of Cincinnati.
The lightly heralded Collaros stepped in and did a fantastic job when called upon for the injured Tony Pike last season.
He showed he could be both efficient and explosive and the offense didn't seem to miss a beat when the freshman was taking snaps.
Brian Kelly may be gone, but don't expect the offense's success to disappear now that Kelly disciple, Butch Jones, is running the show.
With loads of talent returning at the skill positions, including big play threat Armon Binns, expect Collaros to have Cincinnati in the race for a Big East Championship once again.
3. Sean Renfree: Duke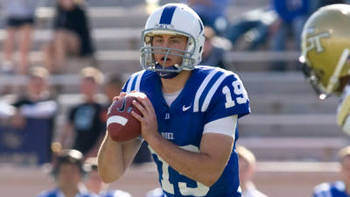 For the first time in four years, Duke will have a new face at quarterback heading into the season.
The graduation of long time starter, Thaddeus Lewis, leaves the door open for redshirt sophomore Sean Renfree to make a name for himself.
Duke fans shouldn't be too worried—Renfree isn't just any old slouch picked up off the street.
He came to Durham as one of the most highly touted recruits the program has ever seen. The Arizona native could have made a name for himself in the Pac-10 but instead opted for the strong academic foundation Duke provided.
With QB guru David Cutcliffe teaching him the ropes, it seems like Renfree won't regret his decision any time soon.
Cutcliffe has Duke fans talking bowl game for the first time in ages.
If the QB can develop a good connection with fellow sophomore Donovan Varner, who lit up the ACC last season, they might turn those hopes into a reality.
2. Garrett Gilbert: Texas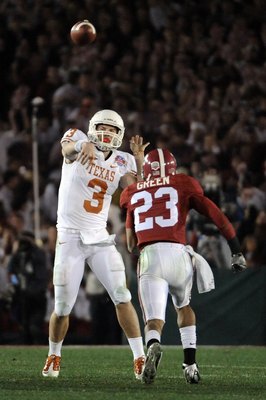 Going up against the scariest defense in college football during the National Championship game probably isn't the most ideal situation for a freshman quarterback to make his full game debut.
Such was the case Garret Gilbert was presented with this past January.
While he may not have led his team to a miraculous victory, Gilbert showed those big bad Bama defenders that no matter how many times they hammered him, he was always going to get back up.
The National Championship game gave us a glimpse into Garret Gilbert's toughness and resolve, and that's what you like to see if your a Texas fan.
Gilbert looks like he has the makeup to be just as good, if not better than departed Longhorn hero, Colt McCoy.
With a full season of preparation under his belt, it wouldn't be shocking to see Garrett on the same stage this upcoming season, only this time the outcome could be different.
1. John Brantley: Florida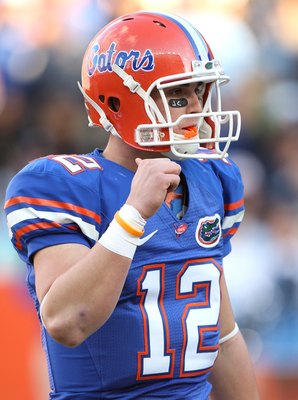 It may be impossible for Florida Gator fans to ever forget the greatness of Tim Tebow. He's arguably the best player to ever don a jersey down at the Swamp.
John Brantley is determined to disprove the notion that you can't follow a legend.
Brantley steps in as Florida's new QB this season and has already been heaped with praise from teammates before even taking a regular season snap as the starter.
He may not have Tebow's warrior like ability to put a team on his back, but from a pure quarterbacking standpoint, Brantley probably has the edge.
It will be interesting to see how Urban Meyer will handle such a drastic change in styles at his offense's key position.
He may not have to change too much.
Brantley, like Tebow, is surrounded by speed, and if the Spring is any indication, he should have no trouble feeding the Gator playmakers the ball.
Even though there was plenty of gushing that took place over Tebow during his career, he not may be as missed as some would lead you to believe.
Keep Reading