New York Giants: Bold Predictions for the 2010 Season
The New York Giants had a season to forget in 2009. After a brilliant 5-0 start, Big Blue struggled through the remainder of the year, losing eight of their final 11 games to miss the playoffs.
The Giants have done a fair amount of work since the season has ended. The addition of safety Antrel Rolle helped alleviate some defensive needs, and they made some questionable additions through the draft.

Here are the predictions for the Giants in 2010.
Eli Manning Competes for MVP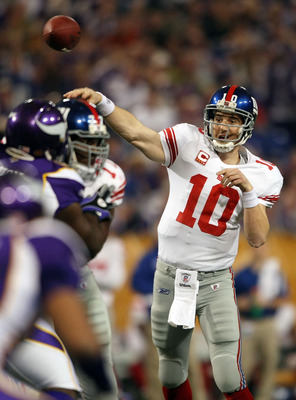 Manning had one of the best years of his career last year. He had career highs in completion percentage (62.3), passing yards (4,021), passing touchdowns (27), completions (317), and quarterback rating (93.1). This all came without Super Bowl hero Plaxico Burress, Pro Bowl tight end Jeremy Shockey, or safety blanket Amani Toomer.
The Giants appear to be moving towards a pass first, and run second offense. That isn't saying that the Giants will completely drop the run, but they will be relying more heavily on the pass.
Manning showed what he could do last year when the given the chance to sling the ball. He has matured more as a quarterback, and as a leader since the Giants 2007 Super Bowl run. Expect Manning to be in the top five in MVP voting at year's end.
Defensive Line Brings Back Swagger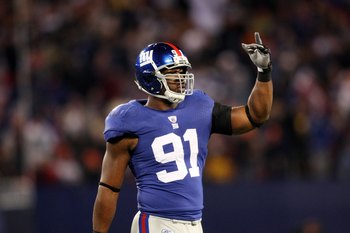 The Giants offseason acquisitions on the defensive line last year didn't amount to what the front office had hoped. Defensive tackle Chris Canty missed eight games, and collected just 13 tackles. Rocky Bernard. Well, he wasn't great to say the least.
The Giants cannot be any worse then they were last year; but I expect them to come back and really terrorize opposing offenses.
Justin Tuck will be coming back healthy, Osi Umenyiora will shut up and play, and Jason Pierre-Paul will have an impact in the defensive end rotation. The defensive line will be back for the G-Men. Expect 45-plus sacks in 2010.
Steve Smith Becomes the Top Possession Receiver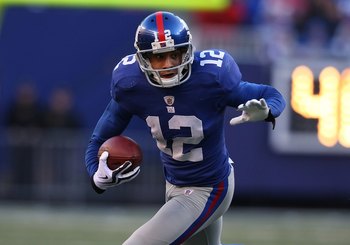 Steve Smith has been a mark of consistency for the Giants since getting time in his rookie year. He was a solid third-down receiver, and was constantly targeted by Manning whenever a first-down was needed, helping the Giants to a Super Bowl victory in 2007.
Now in his fourth year, Smith is one of the many up-and-coming wide receivers in the NFC East. But Smith is arguably the best possession receiver in the NFL.
Sure, he is small, but superior route running and great hands gives him an edge over a lot of wideouts in the league today.
With New England's Wes Welker coming off serious injury problems and Seattle's TJ Houshmandzadeh getting up in age, I expect the Giants' Steve Smith to lead the NFL in receptions in 2010.
Brandon Jacobs Continues to Struggle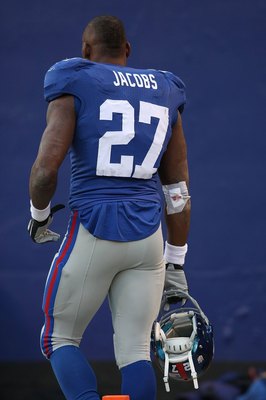 How many times last year were Giants' fans screaming at their television whenever Brandon Jacobs tried to tip-toe around the offensive line. He didn't look like his former self, avoiding contact and rarely making an impact in the run game.
Sure, he may be trying to preserve his career, but doing that won't win him any fans, and opponents won't show him any sympathy. If Jacobs wants to continue to hold the starting role in the Giants' offense, then he will have to go to his old self and bruise through the opposition.
If Jacobs doesn't get off to a hot start, expect Ahmad Bradshaw to take over the starting role, and Andre Brown to get some carries.
Giants Offensive Line Will Show Their Age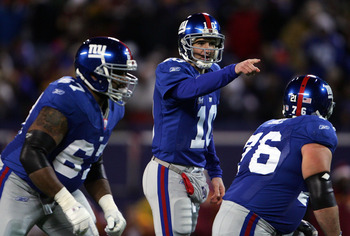 During the 2009 season, the Giants did have some injuries on the offensive line.
Rich Seubert missed two games, Kareem McKenzie missed four games, and the line struggled at times to open any holes for the running game. When the 2010 season opens, only one starting offensive lineman will be under 30 years of age.
Some of these guys are expected to be moving on soon, as is the case for Seubert and McKenzie. A youth movement on the offensive line is imminent with Will Beatty taking over the left tackle position.
That movement may begin in 2010.
Keep Reading

New York Giants: Like this team?