2010 NFL Offseason Fantasy Football Impact: AFC North
Now that the 2010 NFL Draft is over, it's time to start looking forward to the regular season. Though it's still a few months away, it's never too early to start getting excited about another season of Fantasy Football with your buddies or coworkers.
What better time than just after the draft to start getting familiar with who might make or break your fantasy season. Read on, and get a jump on those other guys in your league.
I'll be co-authoring this series with B/R contributor Mark Burlin, and we'll release our analysis over the next few weeks.
To begin, let's take a look at the teams of the AFC North, and what standout players might bring you that big win this year. For each team, we'll select a player that is "Always Hot", two players whose fantasy value is either "Rising" or "Falling", and an "Impact Rookie" from the draft.
Enjoy.
"Always Hot" - Baltimore Ravens - Ray Rice, RB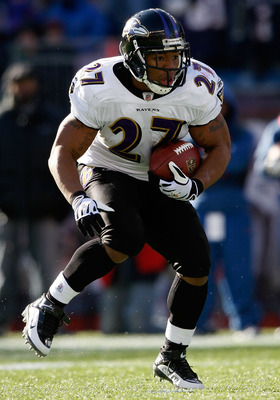 The "Always Hot" player for the Ravens has to be Ray Rice. The man is a machine, ranking in the top 5 running backs for overall fantasy performance in 2009.
With the addition of Anquan Boldin to the Ravens' roster, the passing threat opens up a bit, and I expect Rice's numbers to go nowhere but up.
Ray Rice is a good pickup in the first round of your fantasy drafts, as he'll anchor your RB core for the duration of the season. If you have a shot at him, don't miss out.
"Rising" - Baltimore Ravens - Joe Flacco, QB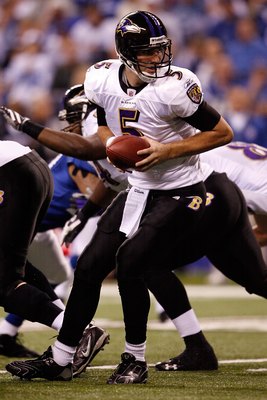 Again, the key move that affects the fantasy status here is all about the move of wide receiver Anquan Boldin to the Ravens roster.
With an additional target in Boldin, quarterback Joe Flacco now has a much more solid group of receivers to balance the Ravens' strong run game.
Flacco was a spotty option at QB last year, but with another year under his belt and more talented depth on Baltimore's roster, expect him to improve drastically.
The talented Delaware alum might be worth consideration for you starting QB spot, but would best serve as an excellent backup when your key guy is facing a tough match-up.
"Falling" - Baltimore Ravens - Derrick Mason, WR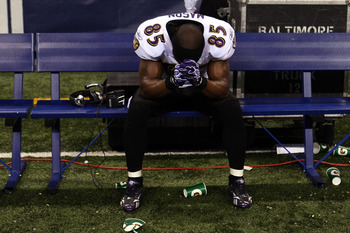 When it comes to Baltimore's wide receivers, Anquan Boldin deserves the fantasy attention, while Derrick Mason's numbers will begin to dwindle.
Boldin is the young, fresh face of the Ravens, and can be expected to get a majority of Flacco's attention in the passing game.
This leaves Mason, formerly the staple of the Ravens' pass attack, with less looks and therefore less points.
Mason is still talented and is definitely worth a spot on your roster, just don't expect his numbers to be what they were last year. Grab another elite WR before going after Mason.
"Impact Rookie" - Baltimore Ravens - Sergio Kindle/Terrence Cody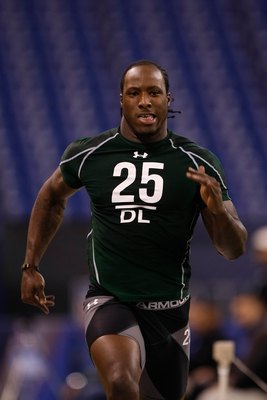 The biggest impact any draft selection for the Ravens will have on fantasy performance this season will come with the additions of Sergio Kindle and Terrence Cody to the roster.
Kindle will be solid on the pass rush, while nose tackle Cody will help stop the run. Both players are worthy additions to the likes of Ray Lewis and Ed Reed.
The Ravens defense is always a solid choice for fantasy managers, and with the addition of these two players they'll be even more tough in 2010.
"Always Hot" - Cleveland Browns - Jerome Harrison, RB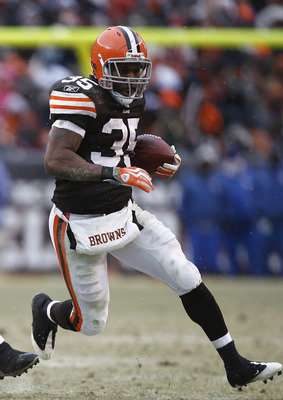 Although the Cleveland Browns struggled in 2009, running back Jerome Harrison managed to put up some respectable fantasy stats toward the end of the season.
He's the Browns' go-to guy this season, and with Jake Delhomme at quarterback, the Browns will undoubtedly depend on the run game.
Harrison will be a strong secondary option at running back for fantasy owners in the 2010 season.
"Falling" - Cleveland Browns - Jake Delhomme, QB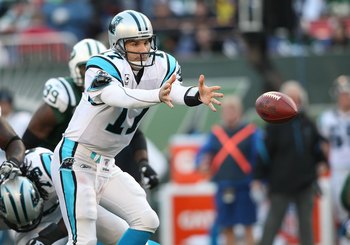 For the sake of your fantasy reputation, please resist any temptation to pick up Jake Delhomme. No, he won't be a decent backup.
Delhomme was let go from the Carolina Panthers roster after a poor performance last year, and literally countless interceptions.
Now he's the starting QB for a team that actually performed worse than the Panthers in past years, and doesn't have the luxury of the Panthers strong run game.
Avoid Delhomme in your fantasy season like he's the plague. Subtly encourage your opponents to select him with casual comments about a possible Delhomme comeback. You'll thank me later.
"Rising"/ "Impact Rookie" - Cleveland Browns - Colt McCoy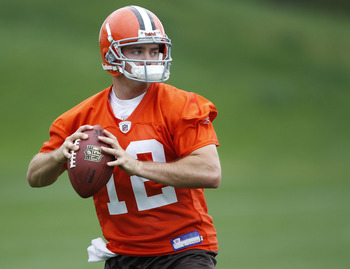 With Jake Delhomme picked up early in the offseason, it appears as though Cleveland has intentions to start him.
Yet by adding Texas QB Colt McCoy to the roster, the Browns make it clear that Delhomme isn't a long-term answer.
McCoy needs a little pruning to be able to perform well in the NFL. If Delhomme starts to tank midway through the season, expect McCoy to step in.
The biggest fantasy impact, however, is that I think by having McCoy in there, the rest of the offense (Harrison, Hardesty, Cribbs) will improve a great deal.
"Always Hot" - Cincinatti Bengals - Cedric Benson, RB
Cedric Benson was a top 15 running back in fantasy points last season, despite missing several regular season games with an injury. He'd have made the top 10 easily had he started every game.
The Bengals added two new targets for Carson Palmer in the draft, as well as WR Antonio Bryant, which if anything will take some pressure off of Benson.
Like Ray Rice, expect that Cedric Benson will rank in the top fantasy running backs this season. I'd take Rice first, but if he's off the board, Cedric Benson is a viable option.
"Rising" - Cincinatti Bengals - Chad Ochocinco, WR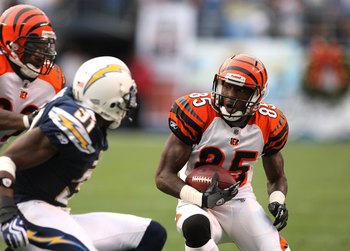 Chad Ochocinco was a top fantasy receiver in 2009. With the pickup of Antonio Bryant, the Bengals present another strong option and divert some of the defensive attention from Ochocinco.
Ochocinco will have more freedom on the field and put up better numbers this year. Take the talented Bengals receiver in an early round as your primary or secondary receiver.
"Falling" - Cincinatti Bengals - Antonio Bryant, WR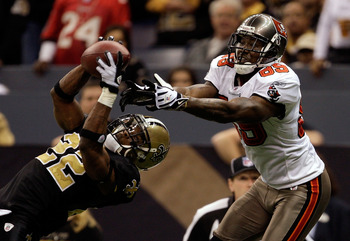 It isn't so much that Bryant's value is falling for the 2010 season as it is that he'll be about the same.
In Tampa Bay, Bryant was the main target at receiver, though TE Kellen Winslow went for more yards with the Bucs last year.
The Bengals already have their star receiver in Chad Ochocinco. Like it or not, Bryant will play second fiddle in this offense.
Bryant remains a later wide receiver choice for fantasy owners. Establish your top one or two guys, and consider Bryant for depth and use in the flex position of your roster.
"Impact Rookie" - Cincinatti Bengals - Jermaine Gresham, TE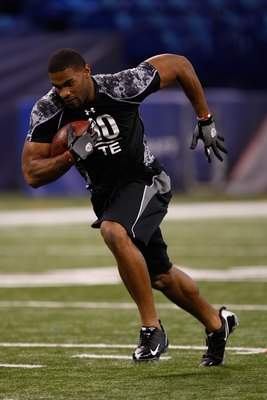 Jermaine Gresham, out of Oklahoma, is a sheer talent at tight end, and a smart first round draft pickup by the Bengals.
The Bengals were in need of a talent and tight end, and Gresham will more than fill that role. Expect Palmer to look to Gresham in red zone situations.
The biggest impact Gresham's success will have is becoming an additional passing target for Carson Palmer, freeing up the other receivers. Palmer will be better in 2010 thanks in part to Gresham.
While I don't expect Gresham to rank in the top few tight ends, he will be worth a roster look. I'll go ahead and predict Gresham as a huge waiver-wire player a few games into the season for fantasy owners with a disappointing tight end.
"Always Hot" - Pittsburgh Steelers - Hines Ward, WR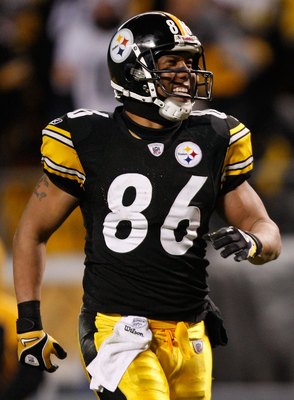 Hines Ward is one man who will get it done at wide receiver, regardless of the circumstances. It won't matter if it's Byron Leftwich or Ben Roethlisberger throwing the football. Either way, Ward will be a top fantasy receiver in 2010.
With Santonio Holmes off the roster, Ward is the Steelers' key receiver this season. Former Redskins wide out Antwaan Randle El was added to the roster, but I don't see him making much of an impact.
Ward is a worthy addition to any fantasy roster. Complementing him with another talented receiver just out of the top ten is a recipe for a successful season.
"Rising" - Pittsburgh Steelers - Rashard Mendenhall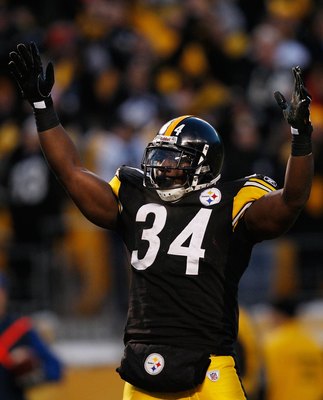 Who knew?
With an injury to Willie Parker early last season, Rashard Mendenhall became the Pittsburgh Steelers lead running back and had a breakout season, rushing for 1,108 yards in 2009.
Those fortunate to have this RB on their fantasy roster were thrilled with his performance in the latter part of the season, making his value as a fantasy player quite clear.
With Parker released (and picked up by the Redskins), Mendenhall is the Steelers' starting guy in 2010. If he's anything like last year, he will undoubtedly rank in the top ten running backs.
Also factor in that with the Roethlisberger suspension, the Pittsburgh coaching staff will place a lot of faith in Mendenhall and the run as they start Byron Leftwich at quarterback.
Mendenhall is a no-brainer primary RB. Don't fret if you miss out on Maurice Jones-Drew or Adrian Peterson--Mendenhall will put up great numbers as well, and might be overlooked in the first round of your draft.
"Falling" - Pittsburgh Steelers - Ben Roethlisberger, QB
If you somehow haven't heard the news, Ben Roethlisberger is suspended for the first six games of the 2010 season.
While usually a nice choice for a starting fantasy quarterback, fantasy owners are now presented with a dilemma: Do you draft him and sit him for the first six weeks, expecting a big late-season performance, or do you avoid him altogether?
For any fantasy owner it would be a poor choice to sit a player on the bench for six weeks in a row, however good they might be. You waste a roster spot, and there's no guarantee he comes back and plays well (in fact, it's probably more likely that he'll be a little off for the first few games).
If you must go after Ben Roethlisberger, consider doing so on the waiver wire in Week 5 or 6. You minimize the wasted roster spot, while also snagging him before your opponents realize he'll be back in week 7.
"Impact Rookie" - Pittsburgh Steelers - Jason Worilds, OLB
The usually striking Steelers defense was stunted last year, especially with the injury to Troy Polamalu.
This year, Pittsburgh's defense will be back in their usual form, and I see them easily amidst the top ten defenses in fantasy football.
In the draft, the Steelers added two defensive players: Jason Worilds out of Virginia Tech, and Thaddeus Gibson of Ohio State. Both are capable and could potentially find themselves among the depth at linebacker in the Steelers' 3-4.
With additional talented bodies here and Polamalu healthy, the confident Steelers defense should be a decent option for your fantasy defense.
Stay Tuned for More...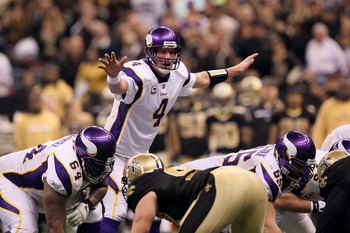 This is only the first of eight slideshows breaking down the NFL from a fantasy perspective.
Be sure to stay tuned as we move through your favorite (and least favorite) divisions, and by all means give some feedback.
Up Next: NFC North, AFC East, NFC East
Keep Reading

Baltimore Ravens: Like this team?