My Top 10 Worst Gimmicks in Pro Wrestling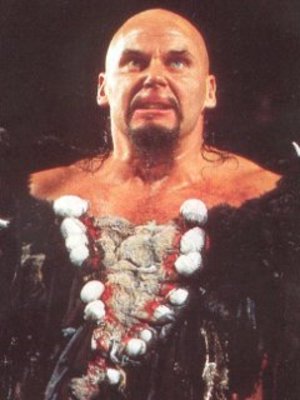 Let's not forget folks, in the crazy and unpredictable world of professional wrestling, for every Stone Cold and The Rock, there is a Giant Gonzalez and Damien Demento lurking somewhere in the shadows. These characters usually do nothing to interest a fan, increase ratings or revenue, and they usually suffer from bad storylines, getting buried, and devolve to the point of jobbing, (cough, Kane, cough). These gimmicks are referred to by me as "The Biggest Facepalm in Wrestling".
I've decided to follow up on my recent and very first slideshow, "My Top 10 Best Gimmicks in Pro Wrestling". So in my second ever slideshow, I will show you my top 10 worst gimmicks in professional wrestling, past and present.
This freak that is on this pic is none other than Damien Demento. You can see him now at: http://www.youtube.com/dementedrants.
10. Diamond Dallas Page: Motivational Speaker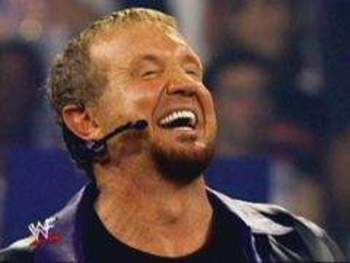 I'm sure every rabid DDP or WCW fan were going crazy when the "Invasion" storyline took place back in 2001. Many fans were just jotting down names of what dream matches would come to fruition: Stone Cold vs. Hulk Hogan, Stone Cold vs. Goldberg, Booker T vs. The Rock, etc. But the three of the four I've mentioned here never happened. Too bad DDP had a crappy run in his WWE career.
Note how DDP is not a bad gimmick, but the gimmick he had was definitely a bad one, and hurt his respected wrestling career.
This gimmick had him involved him smiling and acting optimistic, which led him to feud with the likes of Christian. This gimmick also coined his catchphrase, "That's not a bad thing...it's a good thing!"
As a wrestling fan, I expected more from DDP, and wanted to see if he could manage to be successful in WWE. But I have to disagree with you here DDP, no, it's NOT a good thing.
9. AJ Styles: Ric Flair in Training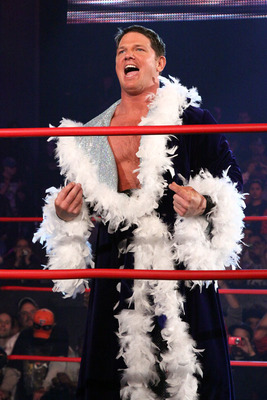 I'm an AJ Styles fan through and through. I'm still a fan of his even if he looks like a chicken in Ric Flair's robes. It's very safe to say this gimmick sucks.
This gimmick currently shows how TNA lacks originality. When Triple H & Ric Flair took Orton and Batista in their wing, you never saw them trying to imitate Ric Flair, (seriously, can you imagine Batista with dyed blonde hair and a robe) they were well on their way to the top, without trying too hard as a rip-off, (well, Batista I seriously have to think about).
AJ Styles is a great wrestler, no doubt about it, and is performing very great as a heel, (even though the gimmick totally blows) but I would rather see him as a face again.
He doesn't just give me that "heel vibe" most heels have today in the business, (Ric Flair, Chris Jericho, Edge, etc.)
8. Jeff Jarrett: Country Singer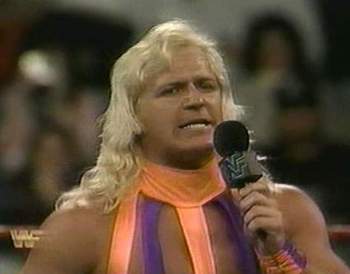 Jeff Jarrett began his second WWE run in 1997, as an aspiring country singer, including Tennessee Lee as his manager, and the tag team Southern Justice, as his bodyguards.
He announced that he would use the WWE to take over Nashville, can anyone decipher that logic without getting a headache?
Although that gimmick was bad, he would later redeveloped his habit of smashing acoustic guitars over his opponent's head, a habit that he still does today.
7. Shawn Stasiak: Male Sex Slave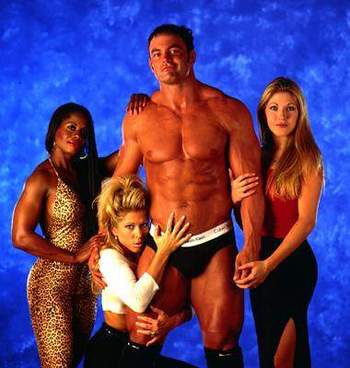 Although the "Planet Stasiak" gimmick was pretty doltish, I would say that this gimmick was even way more "over-the-top".
Meat made his WWE debut on Sunday Night HEAT on April 13, 1999, attacking Tiger Ali Singh. He would then be boy-toy of the P.M.S., (Pretty Mean Sisters) consisting of Terri Runnels, Jacqueline Moore, and Ryan Shamrock, (before she left the company).
He would gain victories over Droz, Brian Christopher, and the Blue Meanie, before being relegated into a jobber. He would later explain on-camera that he would tire himself out by sexually pleasing the PMS, which would lead Jacqueline to leave Meat and Terri by themselves when tension grew between them.
He would later be suspended from WWE in December 1999, for taping a heated conversation between Steve Blackman and Davey Boy Smith without their permission, although he stated that it was intended as a joke.
6. Perry Saturn: Moppy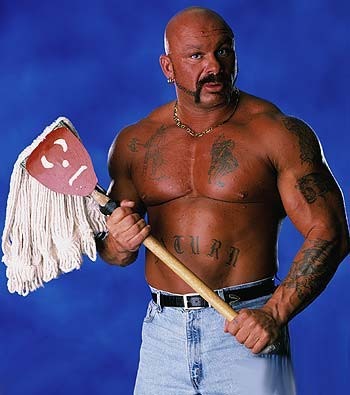 This gimmick started after a well-known incident happened between Perry Saturn and Mike Bell, in which Saturn legitimately broke Mike Bell's neck. As a punishment for his actions, he would undergo a gimmick change, where he would become infatuated with a mop, (much similar to Tom Hanks's infatuation with a Wilson Volleyball in Cast Away.)
After suffering from head trauma in matches with the Acolytes Protection Agency and Raven, he would later begin acting eccentric and speaking nonsensically, allegedly as a result of a concussion. He would began uttering the phrase, "You're welcome" at intervals, and eventually fell in love with Moppy.
Although the gimmick was over-the-top, nonetheless, it got over with the fans, but the gimmick would soon be abandoned after defeating Raven at Unforgiven 2001, due to
Raven tossing Moppy in a wood chipper.
5. Mike Awesome: That 70's Guy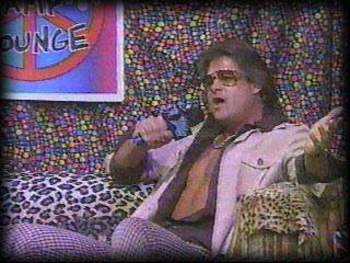 Mike Awesome began his WCW run in April of 2000, aiding the New Blood attacking Kevin Nash, still reigning as the ECW Champion. After making a compromise over legal issues that refrained Awesome from appearing on WCW in the future-which involved him dropping the title to Tazz-he has gone through many gimmick changes.
At first, he became the "Career Killer", feuding with the likes of Diamond Dallas Page and Kanyon. Then in about a month or two, he became infatuated with heavyset women and called himself "The Fat Chick Thrilla", feuding with Scott Steiner and Lance Storm for the WCW United States Championship. Then, he was tweaked to none other than, "That 70's Guy".
I'm sure as you all know that this gimmick was inspired by That 70's Show, (hence the name) dressing in various 1970-styled outfits and became the host of the "Lava Lamp Lounge". Later on, he was given a bus that was painted very similar to The Partridge Show to drive into arenas. During this time, he feuded with Vampiro and the Insane Clown Posse.
After 2000 ended, the gimmick was dropped, he would join Team Canada to become the "Canadian Career Killer", eventually feuding with the Filthy Animals and getting his signature mullet shaved off in the process in a Hair vs. Hair match.
R.I.P. Mike Awesome, yes you was awesome, but your WCW run was not.
4. The Great Khali: Punjabi Playboy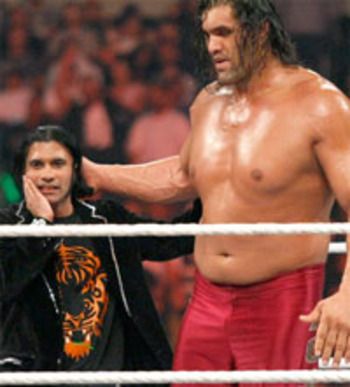 This "extraordinary" gimmick started after Khali's confrontation with Jackass star, Johnny Knoxville. Johnny Knoxville apparently joked about Khali's "tallywacker", which upset Khali and soon threatened to tip over the interview table. After that heated conversation was over, Khali attempt to resolve the ongoing conflict between him and Knoxville, before being attacked by both him and Beth Phoenix.
Him and his brother, Ranjin Singh would begin hosting the "Khali Kiss Cam", where Ranjin would summon random women from the audience to kiss Khali. After this segment soon drifted off into the sunset, Khali began a feud with Dolph Ziggler, after Ziggler assaulted him with a steel chair. In the following weeks after, Khali would lose to Ziggler by countout and disqualification, with the feud finally ended at The Bash. Khali would be attacked by a returning Kane, who began to assault and torture Ranjin, who then stated that he was Khali's kayfabe brother. This feud ended with Khali losing to Kane at the first ever WWE Breaking Point PPV.
Khali has recently stated, as translated by his brother Ranjin, that he would "be out of wrestling for an undisclosed amount of time to spend time with his family, with intentions to capture the World Heavyweight Title." He then made a surprise appearance on the April 19th edition on Raw, teaming with MacGruber against Vladmir Kozlov, where they won by intentional countout. He was then drafted to the Raw brand as part of the 2010 Supplemental Draft.
Good thing he is on Raw now, where the leprechaun runs around every week. No wait, Hornswoggle back on SmackDown again, (sigh).
3. Giant Gonzales: Giant Airbrushed Muscleman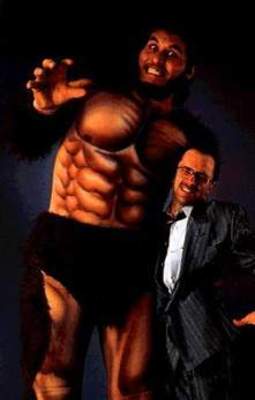 Giant Gonzales began his WWE run in 1993, eliminating The Undertaker at the Royal Rumble despite not taking part of the match. He lost to The Undertaker via disqualification after he knocked The Undertaker unconscious using chloroform. After losing to The Undertaker yet again at SummerSlam, he was then scolded by his manager, Harvey Wippleman, leading to Gonzales to turn on him.
Although a feud between him and Adam Bomb were set up, it never seen the light of day, and subsequently, Gonzales left the WWE in October of 1993. He then wrestled his last match against The Great Muta in New Japan Pro Wrestling in February 1995. He is now scheduled to make an appearance at The Legends Of The Ring Convention on May 15, 2010 in Monroe, NJ.
Hope you recover quickly Gonzales, I wish you the best.
2. Phantasio: Magician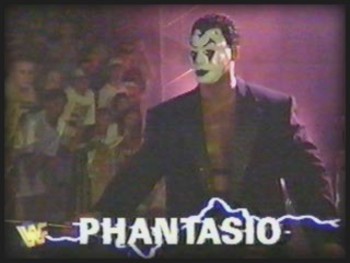 Phantasio made his appearance on WWE TV in July 1995, with a gimmick of a magician wrestler. He was being portrayed as a babyface and made his entrance with no music. His first and only victory in the WWE was against Tony DeVito, sneaking up behind him and "magically" pulling out his boxers. After the match, he then "magically" pulled out Earl Hebner's boxers. After this he was never seen on WWE television again. He, however, did gain another victory from Rad Radford in a house show.
Don't need to describe how horrible this gimmick was, it's pretty self-explanatory.
And coming in at No. 1 is....
1. The Gobbledygooker: Wrestling Turkey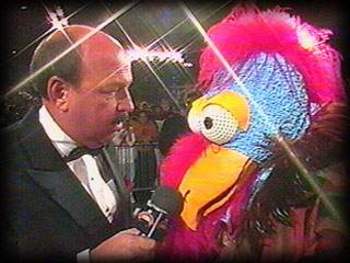 Do I need to really say anything here?
Dishonorable Mentions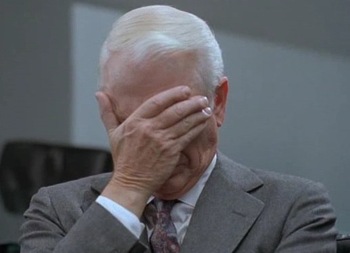 Hornswoggle: Irish leprechaun
Abyss: Hulk Hogan In Training (aka Abyssamania)
Johnny Polo: Spoiled Dancing Rich Kid
Adam Bomb: Three Mile Island Survivor
Papa Shango: Voodoo Priest
Issac Yankem, DDS: Evil Dentist
Damien Demento: Mentally Unstable Character
Booty Man: Butt Lover
The Johnsons: Wrestling Penises
Vito: Cross Dresser
Black Reign: Dual Personality of Goldust
PN News: Fat Rapper
The Renegade: Ultimate Warrior Parody
Gillberg: Goldberg Parody
Se7en: Fantastical Horse Rider
Ray Lloyd: Shockmaster
Oz: Powerful Wizard
Blood Runs Cold: Martial Artist Group Based on Mortal Kombat
American Males: Pretty Boys
Oklahoma: Jim Ross Parody
And all the other bad gimmicks that are too long to list...
Keep Reading