Cleveland Browns Competition at the Linebacker Spots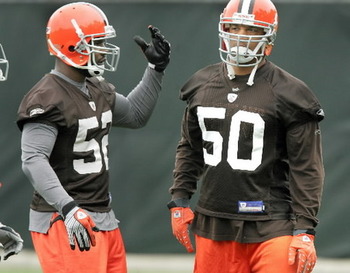 The one position where it may seem that the Browns have an over abundance of candidates is linebacker. Even with the trade of Kamerion Wimbley, the Browns still have eleven on their roster. They range from the untested Titus Brown to the newly signed veteran Scott Fujita.
The question is: does quantity equal quality? In Rob Ryan's 3-4 defense the linebackers are critical components, they rush the passer and cover backs and tight ends in passing situations. They are responsible for the second line of defense against the run and with today's running backs being bigger and faster than ever before, that's a tall order.
Obviously all 11 won't make the team or be part of the core defensive group, so let's take a look at each and try to classify them by their appropriate responsibilities on the team.
D'Qwell Jackson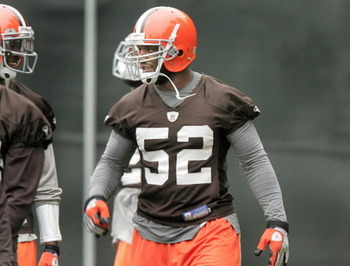 D'Qwell is a converted middle linebacker who now plays inside linebacker and is a tackling machine.

A little undersized, 6'0" 235, he is a restricted free agent who has not signed his tender offer and claims he was promised a long term deal by the previous management regime. There is some question if he fits into Coach Mangini's long term plans.
Susceptible to injuries, Jackson has lost 15 games in last three years. If he returns, he will probably start at inside linebacker unless Mangini goes with personal favorite David Bowens.
Scott Fujita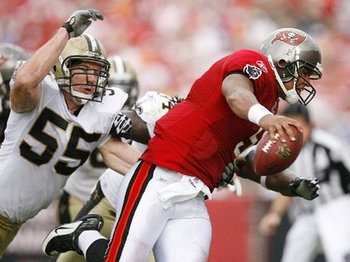 Scott Fujita was Mike Holmgren's first free agent signing. He signed for three years and $14 million with $8 million guaranteed.
Scott Fujita had 58 tackles and two forced fumbles last year for the world champion New Orleans Saints. He donated half of his playoff earnings to charity and has an impeccable reputation as a humanitarian.
Fujita is a big, 6'5" 250, linebacker who is versatile enough to play inside or out in the 3-4. He is projected to play inside and start for the Browns.
Matt Roth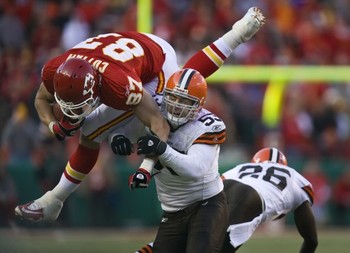 Matt Roth was a waiver wire pick up from the Miami Dolphins late last season and proved to be quite a find. He was a quick learner and ended up with 29 tackles and four sacks in just six games while putting consistent pressure on the quarterback, Rob Ryan even called him the Browns best defensive player at one point.
Roth was a restricted free agent whose rights reverted back to the Browns when nobody made him an offer prior to April 15. He is a big, 6'4 275, physical player who projects as a starter at one of the outside linebackers positions so look for the Browns to hammer out a deal before training camp.
Chris Gocong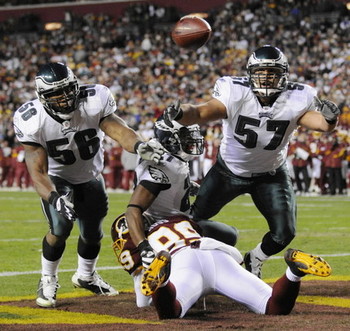 Chris Gocong was acquired, along with cornerback Sheldon Brown, in a trade for two draft picks and linebacker Alex Hall.
A longtime favorite of Coach Mangini, it has been speculated in the media that he is the early leader to start opposite Matt Roth at outside linebacker in Rob Ryan's 3-4 defense.
Gocong had 44 tackles and one sack last year. He has had only limited success in the pros as Philadelphia tried to convert him from a monster stand-up rusher in college to a sam linebacker in the NFL. The Browns hope that by putting him on the outside they will play to his strengths.
He does have difficulties in coverage which on the NFL can quickly make you a liability.
David Bowens
David Bowens had an outstanding year in 2009 with 71 tackles, 5.5 sacks, one interception and one forced fumble. He is the ultimate football leader and teammate. Obviously good enough to start, he never complains and is versatile enough to play inside or out.
Bowens is a 12-year veteran who will be 33 when the season starts but if D'Qwell Jackson is traded look for Bowens to be the early leader to replace him at inside linebacker next to Fujita.
Jason Trusnik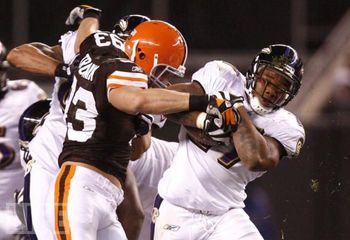 Jason Trusnik was considered a throw in by many when he included in the Braylon Edwards trade. The third round pick was considered more valuable.
Shawn Lauvao, who we obtained with that third rounder was a great pick but Trusnik is more than a throw in.
The kid from the small school in Ohio turned out to be a football player. Trusnik may not be a star at any one thing but he does a bit of everything well and it is easy to see why the coaches are high on him. He takes on fullbacks, covers tight ends and even got to the quarterback 2.5 times.
Trusnik is an excellent backup because he can do it all reasonably well.
Eric Barton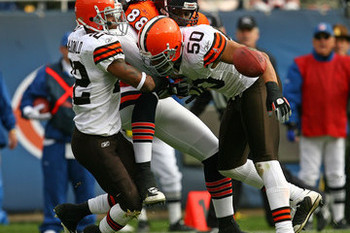 Eric Barton is a former New York Jet who rode the Mangini pipeline into a starting job at inside linebacker for the Browns last year.
He had 58 tackles with a season high of 12 against Pittsburgh before a serious neck injury forced him to the sidelines and eventually into the surgeons office.
At this time there is no word on his status or potential for playing again. We as fans hope he is okay.
Kaluka Maiava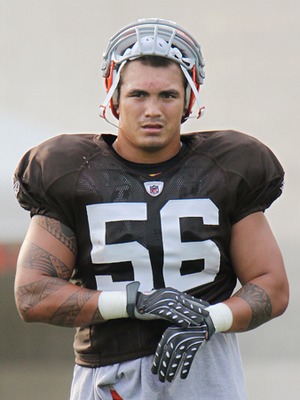 Kaluka Maiava was drafted out of USC and was a pleasant surprise as a rookie. He opened the season primarily on special teams but as the season progressed and other linebackers were injured he was pressed in to duty at the inside linebacker spot and racked up 45 tackles and 2.5 sacks.
He also did a respectable job in coverage on running backs and smaller tight ends but bigger tight ends gave the smallish, 6'0 229, Maiava trouble.
Maiava is probably too small to be an effective starter at linebacker in the NFL but he has shown the ability to be a decent reserve when his name is called.
Marcus Benard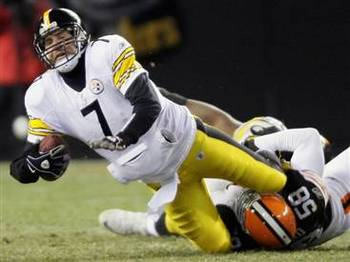 Marcus Benard has the coaches excited about his pass rushing potential. With 3.5 sacks and 2.0 in the week 14 win at Pittsburgh, Coaches Mangini and Ryan seem to believe they may have found a winner in the undrafted free agent from Jackson State.
Benard originally caught their attention in the preseason against the Packers and the Bears.
Benard also had 14 tackles last year. The Michigan native spent the season on the practice squad until being promoted in November.
Benard figures into the Browns game plan as a pass rushing specialist.
Blake Costanzo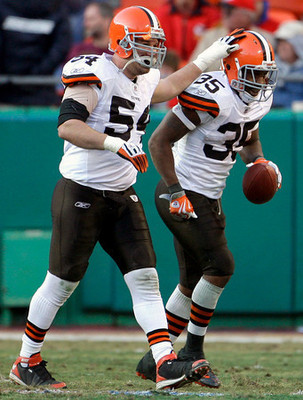 Blake Costanzo is a special teams ace who led the team in special teams tackles. He had 14 tackles and two forced fumbles. If he is in the game at linebacker then bad things have happened.
Costanzo plays inside linebacker.
Titus Brown
Titus Brown is a 6'3" 250lb outside linebacker from Mississippi State who has an excellent burst off the line and has a couple of decent pass rushing moves.
He was an undrafted free agent and had one assisted tackle last year.
David Veikune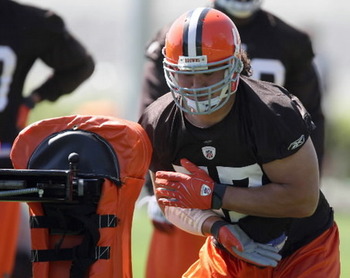 David Veikune, 6'2" 257, is an Alaskan native who was a second round pick out of Hawaii last year as a defensive end. He is attempting to convert to outside linebacker in the 3-4 and so far the results have been disappointing.
He was active for 10 games and did not record a tackle before going on injured reserve with a knee injury.
Keep Reading

Cleveland Browns: Like this team?