Leaping One-Handed Grabs: The Top Dozen 2011 Draft Eligible Receivers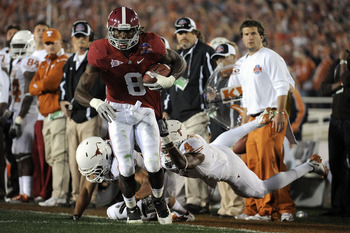 Who are going to be college football's elite pass catchers in the 2011 football season?
Who will find themselves in the talk as the top receivers in the 2011 draft?
Everyone knows about the big names like wide receiver Julio Jones from Alabama and receiver A.J. Green from Georgia but who are some of the other guys who are just as good?
Which Tight Ends will be among the tops in the country?
These are my opinions of the top 12 receivers for the 2011 season.
12. Jarmon Fortson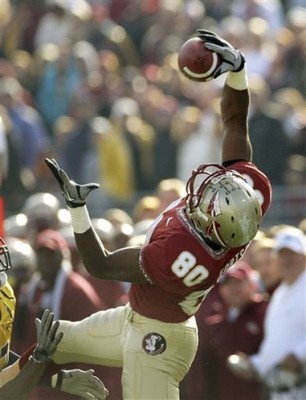 Often inconsistent, this Seminoles wide receiver, Jarmon Fortson has top 10 draft pick potential.
Many compare him to a bigger play Anquan Boldin because of his huge frame 6'3 230 lbs. receiver with 4.5 speed and a knack for running guys over who are in his path.
With a new, more determined mindset and a new head coach Jarmon Fortson, the Seminoles should maximize his potential and help see his name as a Biletnikoff Award finalist.
2008 - 8 rec., 137 yards, and 1 TDs
2009 - 45 rec., 610 yards, and 4 TDs
11. Terrance Toliver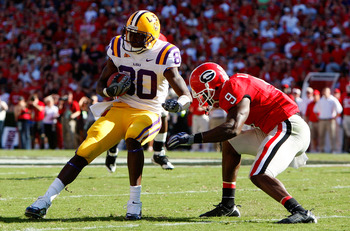 Though Toliver was a top WR out of high school, he has really underachieved at LSU, partially due to an inconsistent quarterback play, since Jimbo Fisher has left, and a crowded receiver corp.
Albeit his stats don't reflect, he has had an impact on the program and hopefully a good season will reassure us that he was worthy of being the top receiver coming out of high school.
Like many others Toliver's size, 6'5 205 lbs., will only help his draft status.
2007 - 10 rec., 249 yards, and 3 TDs
2008 - 22 rec., 257 yards, and 1 TDs
2009 - 53 rec., 735 yards, and 3 TDs
10. D.J. Williams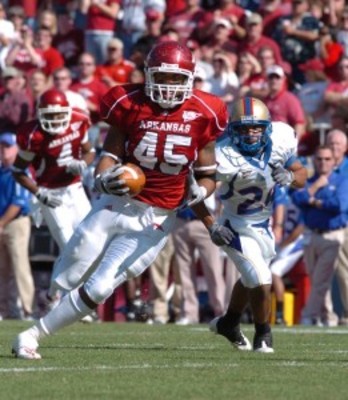 Model of consistency D.J. Williams, is an excellent pass catcher and a good blocker as well.
Even though he won't give you a lot of huge plays or stretch out the field vertically he still makes it impossible for teams to win without stopping him.
Another case of a guy scouts love because he is coming from a true pro style offense at Arkansas and even though he is small for a tight end, 6'2 251 lbs., he still isn't a guy to overlook.
2007 - 5 rec., 94 yards, and 0 TDs
2008 - 58 rec., 699 yards, and 3 TDs
2009 - 32 rec., 411 yards, and 3 TDs
9. Greg Little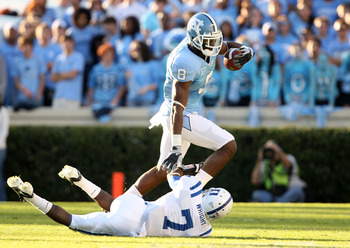 After being cast into the dark because of Hakeem Nicks, Greg Little came on and illustrated to everyone in 2009 that he was the new go to man at Chapel Hill.
He blocks, catches, but is one of the best rushers the Tar Heels have in their arsenal as well.
Some consider him to be a poor man's Percy Harvin, and there's nothing scouts love more than a good old fashion play maker!
2007 - 13 rec., 99 yards, and 1 TDs
2008 - 11 rec., 146 yards, and 0 TDs
2009 - 62 rec., 724 yards, and 5 TDs
8. DeVier Posey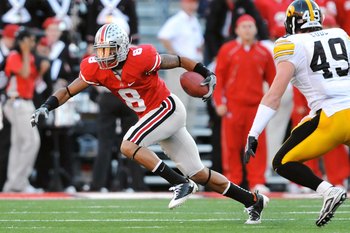 DeVier Posey started off his career as a Buckeye a little slow but he is now Terrelle Pryor's favorite target and rightfully so.
He is big, quick, tough and if Pryor wants to show everyone that he was a better quarterback than E.J. Manuel out of high school then it would be in his best interest to get Posey the ball as much as possible.
Single, double, or triple coverage Posey will go up for the ball and make you look like a superstar.
2008 - 11 rec., 117 yards, and 1 TDs
2009 - 60 rec., 828 yards, and 8 TDs
7. Austin Pettis
I have been saying it for a while now and have been preaching it ever since Ryan Clady came on the scene in the NFL, if you want a good player go to Boise State.
When you think about the guys they have turned out all of them have produced and done it immediately.
Ryan Clady, Ian Johnson, Orlando Scandrick, Quintin Mikell, Derek Schouman, Legedu Naanee, Kyle Wilson, Chris Carr, and Daryn Colledge all came from Boise State and all contribute to their respective NFL teams.
Five of those names listed are starters as well. So ask yourself is Boise State the real deal or what? And it sure doesn't end with Austin Pettis.
Ever since he stepped foot on campus he has dominated and not just because he is playing in the WAC because there are guys in the NFL and guys who were drafted in the first round who he has embarrassed for a full game.
He loves the big stage as well and once he goes up against Virginia Tech everyone will see Austin Pettis is the real deal!
2007 - 46 rec., 465 yards, and 6 TDs
2008 - 49 rec., 567 yards, and 9 TDs
2009 - 63 rec., 855 yards, and 14 TDs
6. Michael Floyd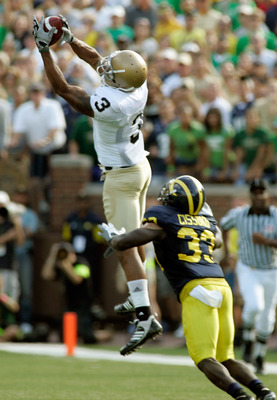 Even with Kyle Rudolph and Golden Tate, Michael Floyd still found ways to shine in the Notre Dame offense.
Many scouts believe that Floyd was a better receiver than Golden Tate, because his yards after the catch, his great hands and his maturity along with him knowledge of the game.
Floyd's great sophomore campaign was interrupted by an injury, but still expect Michael Floyd to give us more spectacular catches in the corner of the endzone and some great leaps into the band in 2010.
2008 - 48 rec., 719 yards, and 7 TDs
2009 - 44 rec., 795 yards, and 9 TDs
5. Jonathan Baldwin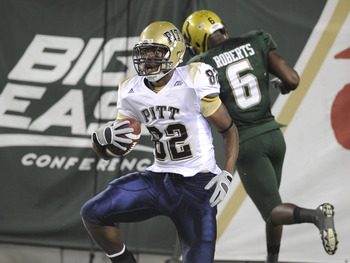 Jonathan Baldwin has join the elite group of alumni football players that have passed through the University of Pittsburgh.
Names such as Mike Ditka, Larry Fitzgerald, Tony Dorsett, and Dan Marino. All this guy does is make plays!
Jonathan Baldwin is a big tall receiver and that allows a quarterbacks accuracy to slack a little bit with a big 6'6 frame.
The balanced run-pass attack of Pitt should make them a big threat in the Big East and propel him into the first round of the NFL Draft.
2008 18 rec., 404 yards, and 3 TDs
2009 57 rec., 1,111 yards, and 8 TDs
4. DeAndre Brown
DeAndre Brown possesses every single thing you would like in a WR. 6'6, 230 lbs and runs a 4.4, if you're not impressed by that then you should know that the guy produces in the little games and in the big games.
It's like another Dez Bryant and keep in mind this guy doesn't have the luxury of a good quarterback to throw to him or a great offensive line that gives him the time to finish his routes.
So just imagine how much this guy will benefit once he gets some help.
2008 - 67 rec., 1,117 yards, and 12 TDs
2009 - 47 rec., 785 yards, and 9 TDs
3. Kyle Rudolph
The Protype Tight End is Kyle Rudolph. 6'6 260 lbs, runs a 4.7 and comes from a pro style offense.
The guy's size is enough to make you take him in the first round but it's his consistency and big play ability that makes you jump out of your seat for a guy like this.
He reminds me a lot of Owen Daniels of the Houston Texans and probably is the best tight end prospect since Jason Witten.
Kyle Rudolph is a no doubt future NFL Pro Bowler.
2008 29 rec., 340 yards, and 2 TDs
2009 33 rec., 364 yards, and 3 TDs
2. Julio Jones
After a little bit of a sophomore slump, Jones has his quarterback, McElroy coming back for another year and that means only more greatest is expected from the superstar Jones.
His size, strength and route running make him easy to fall in love with but his ability to make the big play when you need it and that national championship ring doesn't hurt his cause either.
2008 - 58 rec., 924 yards, and 4 TDs
2009 - 43 rec., 596 yards, and 4 TDs
1. A.J. Green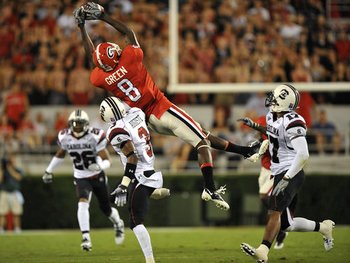 Arguably the best hands in the country and the best well rounded receiver and most consistent receiver in the nation.
A.J. Green has been a top 10 draft pick since his senior year in high school. In fact it was the of Green that he helped make Matthew Stafford the top pick in the 2009 NFL.
A great route runner and a great worker A.J. Green will make whatever quarterback who throws to him look like Peyton Manning.
His talent surpasses the skies and even though he doesn't have a 1,000 yard season on his resume, that is to no fault of his own.
2008 - 56 rec., 963 yards, and 8 TDs
2009 - 53 rec., 808 yards, and 6 TDs
Keep Reading