Wings - Sharks : Game 1 Recap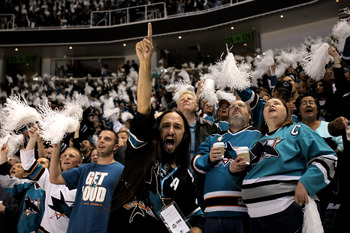 The San Jose Sharks opened up the second round of the 2010 NHL playoffs with a visit to HP from a familiar foe in the Detroit Red Wings with a 4-3 win, after posting an early 3-0 lead.
The Red Wings fought back after spending most of the early going shorthanded and cost themselves in Game 1. A team that looked so fluid and dynamic against the Coyotes in Game 7, were playing back on their heels and sluggish in the opening period.
For Sharks fans this win is a gratifying one on many levels, even without mentioning 2007 or the many head to head battles against the perennial Stanley Cup contenders. This was a huge victory for the Sharks, but as Game 1 proved this series has the makings of a 7 game classic.
Here are some of my quick thoughts on Game 1
Jumbo's Alive!!?!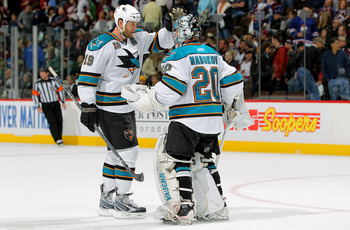 I mentioned in a previous article, that Joe Thornton had to have a monster series for us to have a chance. As great as our depth has proven so far, we needed our stars to step up to the challenge.
None of our stars faced more scrutiny than our very own Joe Thornton, whose meager production in the first round against the Avalanche had critics and fans chirping.
Joe led the attack in the first period, playing with a lightning quick precision that we have yet to see in the playoffs so far. For a player that has heard all the whispers and all the under the breath mutters, he has responded in a big way in Game 1.
He played with a crispness and speed that just wasn't there in the early round. He also dare I say showed a slight mean streak in throwing his weight around early and not hesitating to get his nose dirty in the corners or in front.
For those who criticized Jumbo for showing heart and emotion late in the Anaheim series, Game 1 is hopefully a portend of things to come.
I especially liked the ice shower Jumbo gave Jimmy Howard.
"They say you should stop when you get to the net," Thornton said, "so I did."
I love it.
Nabokov Stood Tall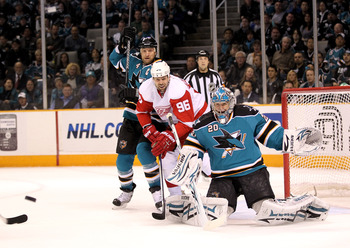 Even though the Red Wings fought back in Game 1, Nabokov stood tall and did an excellent job fighting through traffic and locating the puck. He looked sharp and let the game come to him, making good scoring chances look routine. Nabby made some great saves late in the 3rd as the Red Wings pressed to tie.
The Red Wings first goal, by Dan Cleary was a clear lack of miscommunication and lack of focus and was not Nabby's fault. Murray's overpursuit left the dangerous Cleary wide open in front of Nabokov who did not fail in putting the puck in the net.
Franzen's goal which was Detroit's second came as guess who? Yep Cleary was parked right in front of Nabby, with little to no chance of stopping the shot.
"Holmstrom was there all the time. And if he wasn't, Cleary was. Nobody does it better than them. It's not easy. But as long as we win, that's good enough." said Nabokov.
Nabokov will look to build upon a great start in Game 1, and he knows he's going to see a steady feed of Holmstrom and Cleary. He also needs some help and we've got to do a better job in communication and keeping guys off of Nabokov.
Setting the Tone
I thought outside of Pavelski's line, whose obvious accomplishments need not be revisited in this slideshow, our energy guys did a great job in Game 1. The three of Nichol, Malhotra, and Couture set the tempo, played hard and fast, and got quite a few Red Wings out of their game despite being shuffled around on different lines at different times during the night.
For a team who had been resting, we came out and looked like an energized and motivated team early. It was also quite obvious there's no love lost between these 2 teams, and only figures to get more and more physical as time goes on.
We did an excellent job finishing our checks, which will pay dividends before the series is out. Detroit looked uncharacteristically flat and sluggish, which lead to some "lazy" penalties and had frustrated Mike Babcock into complaining about Devin Setoguchi's supposed "dive"
"The 5-on-3, it's a penalty, but don't dive and embellish it. If you're from Western Canada, don't do that crap."
And what, if you're from USA its okay?
Uncharacteristic for Mike Babcock to be sure.
Todd Mcclellan's gameplan early on is working great, cycling the lines, mixing up combinations, keeping guys fresh and most of all making it hard for Babcock to find matchups he wants.
Our energy line got under the skin of several Red Wings, Erickson most of all, who should have been penalized after his scrum near the Zamboni entrance, that should have lead to another 5 on 3. Instead, the refs decided Logan Couture would serve 2 for hitting Erickson's fists with his face.
Keep an eye out for Bertuzzi / Nichol, entertaining stuff to be sure.
Patrick Marleau is a scratch in Game One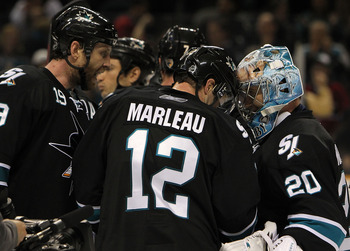 Patrick Marleau was a surprise scratch, and was in the morning practice but did not participate in the pregame skate. Coaching staff informed the Versus Network that Marleau was "held out for exhibiting flu-like symptoms" and that they didn't want to risk playing him.
He has a case of the sniffles? Game 1? vs the Red Wings at home?
Patty had a poor showing in round 1, even though he was the only member of the Team Canada line to notch a goal. In the first series, Mcclellan looked displeased, Marleau looked disinterested, and who knows what the truth is.
Marleau was not in the locker room by the time the media was let in.
Believe what you will on this one.
One Game at a Time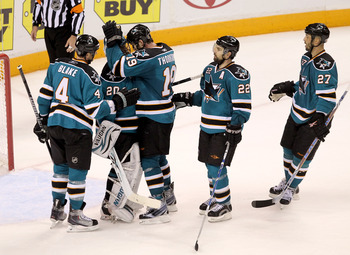 To state the obvious, this is just one game but a pivotal one. One that will go a long way in this series for us given our past struggles to win Game 1.
Even with the huge win, we have GOT to communicate in our own end better, as we continue to show lapses in concentration at times.
(See Cleary's first goal and Franzen's goal for reference.)
This just can't happen, not this series, not against the Red Wings.
Make no mistake, with all due respect to the Blackhawks and Canucks, this Detroit Red Wing team is our stiffest challenge in the West. The Red Wings are the proverbial dragon we must slay to get to the Stanley Cup.
We can all take a deep breath of relief, but realizing it has only just begun.
I can't wait
Go Sharks
Keep Reading

San Jose Sharks: Like this team?