Cheesy Tribute Song Idol: Can Notre Dame's New Song Take Home the Grammy?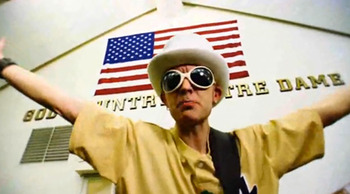 Some fans just can't be satisfied by a nice, simple fight song.
It's a fad that is picking up steam. Up until now, tribute songs have been thrown together mostly by fans looking for a quick YouTube flash of fame.
But over the last year, the production value and brand name taking on the genre has amped up mightily.
First, Prince jumped into the fray. Then Creed crooner Scott Stapp couldn't contain his love for the Marlins.
And now, Freekbass has bestowed his musical powers upon the world in a catchy new ditty, "We Are ND."
Since we can't get these gems in front of Simon Cowell for a true "Idol" judgment, we decided to rate them on potential sales. Who's bringing home the Grammy?
Let these visuals take you to a new level of fandom.
Bronze: Prince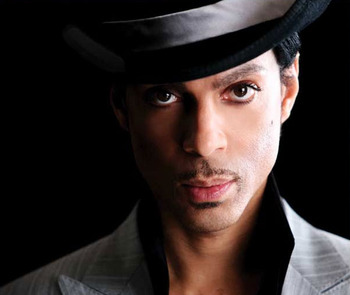 "Sold wood" is the music-biz term for the flop, the disc that couldn't be given away.
I'm still not sure what Prince was hoping to accomplish with this lame attempt at a fight song. It's bizarre at best.
Perhaps he was hoping to lull the opponent to sleep. Dude, I want Lisa Lisa and the Cult Jam partying like it's 1999.
He is the original playa, but I have to think that Morris Day and The Time could have done better than this.
Silver: Scott Stapp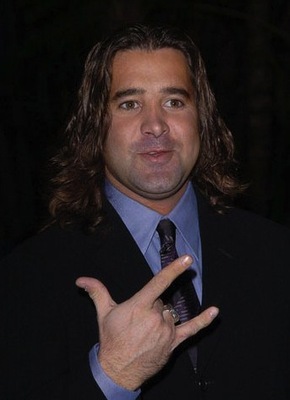 The Creed frontman apparently got mighty bored between album recordings down in Florida.
He has an iconic voice. "Arms Wide Open" is easily identifiable, as is most Creed songs—like Aerosmith, they all sound eerily similar.
Stapp, a Boca Raton resident, has apparently become such a huge Marlins fan that he felt compelled to record this tribute, complete with a video that seems right out of "SNL" circa the Adam Sandler days.
One thing I learned though: Marlins can soar. Who knew?
Gold: Michigan Fans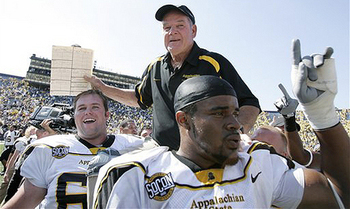 This beauty went viral before the Mountaineers traveled to "The Big House" in 2007. Wolverines fans were making fun of the Boone boys.
This 2005 promotional video is the gold standard for cheesiness, but trust me, watch it three or four times and you'll be humming along.
App State supporters sent out the video four-fold after the win.
The only thing missing is the bouncing ball to help you keep the rhythm.
Platinum: Freekbass and Co.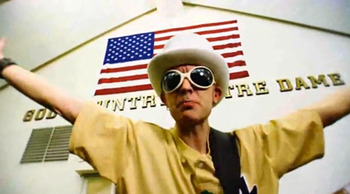 This is an official release from the Notre Dame YouTube channel. I think that's what makes this so embarrassing.
It's so far beyond cheese, words fail me. There's some demonic undertone. They appear to have recruited every lame white person within a five-mile radius of South Bend for this video shoot.
Coach Kelly, is this REALLY what you want out there for the next four months worth of mocking? The USC fans have already gotten a hold of it. Here's a sample of their review.
"It is a Chumbawumba song fed to the Black Eyed Peas playing a Mexican Quinceañera in Hell. Then the Black Eyed Peas eat Nick Lachey attempting a club-thumping anthem. This gives the Black Eyed Peas explosive diarrhea; as a result, they spray-poop the entire mess onto an Elmo record. This then is combined with the noises of Satan's galley slaves moaning beneath the fiery whipstrokes of their demon masters, remixed by Ke$ha, and rapped over by Fred Durst."
Freekbass is described as an award-winning musician. Dig deeper and you find that award was for best R&B/Funk Act at the 2009 Cincinnati Entertainment Awards.
Next stop, Grammy!
Double Platinum: Chris Vernon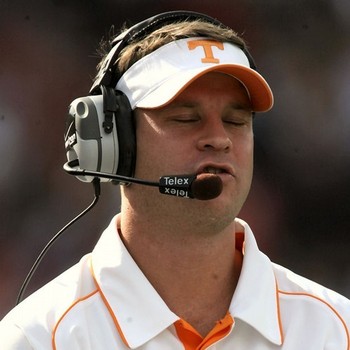 This was done after the riots finished when Lane Kiffin left Tennessee. Vols fan and Memphis musician Vernon put together the music to the tune of Soul Asylum's "Runaway Train."
The words, the visuals. It's all here and it adds up to a classic. Everyone gets roasted a bit. See for yourself.
Grammy: Supwitchugirl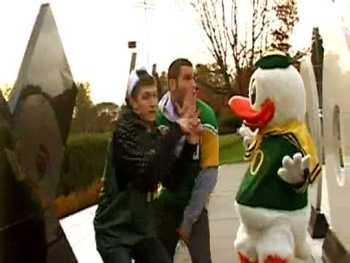 This comedy rap group comprised of University of Oregon students kidnapped the Duck and made this tribute to Ducks football in 2009.
The original video became a viral hit and was hyped by Dan Patrick after the group sent him a copy—they mention him in the song.
Then, when the Ducks made the run to the Rose Bowl, they made this magnificent update.
The words aren't as original as "Runaway Lane," but the visuals and production value make this our clear-cut winner.
Maybe this award will finally convince the school to play it on the Jumbotron during home games—they're being mighty old-school about it thus far, concentrating on the legal copyright infringement of using the mascot.
Keep Reading