10 Alternative and Unlikely Ways For The Suns To Beat The Spurs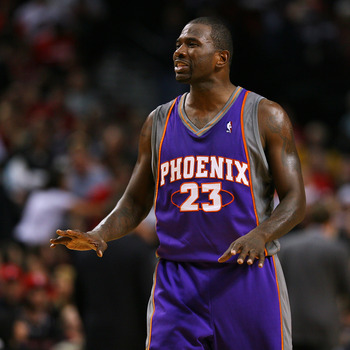 And so it is.
This time of year is back, the time when we Phoenix fans must endure the seemingly yearly date that the Suns have with the San Antonio Spurs.
While surely there will be endless discussion and analysis of the coming series, I felt that I should share 10 unorthodox ideas as ways to defeat San Antonio.
1. The Mocking Band-Aid Treatment
Have entire Suns team show up for tip off with the same type of hideous band-aid on their noses as Manu Ginobili.
It is bound to lead to a few errant passes by Tony Parker or George Hill, thinking they are passing to THEIR ugly bandaged nose teammate.
2. The Curse of Gambo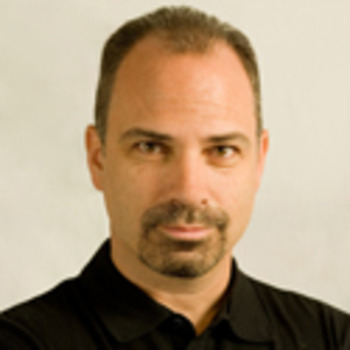 Convince KTAR's John Gambodoro to pick the Spurs to win. He tends to curse his picks. Why mess with a pattern?
3. Soccer Sabotage!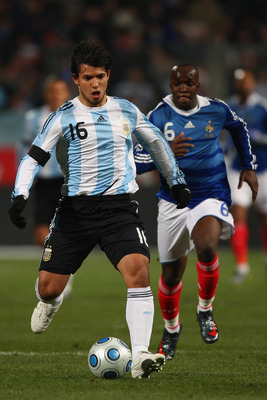 With the World Cup coming up, have Leandro Barbosa start rumors in the San Antonio locker room that Ginobili is bad-mouthing the French national team to him and that Tony Parker is doing the same for the Argentine national team.
Having lived in Argentina myself for a couple of years, I know for a fact that one sure way to get someone fired up is to argue about his soccer team.
Get enough bad blood going between the two and perhaps Parker and Ginobili stop passing each other the ball.
Maybe Parker even goes dirty and punches Manu in the broken nose.
4. Plant a Mole/Saboteur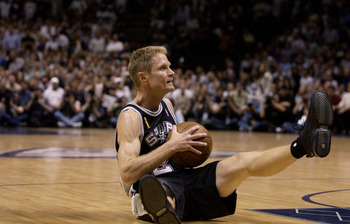 Get Steve Kerr to sneak his way onto the Spurs' roster to be a saboteur.
He played under Gregg Popovich many years ago, so he might be able to catch the coach in a senior moment and get into the game.
A few errant shots and letting Phoenix players blow right by him, and there you have a comfortable lead. The only problem is that Kerr might actually secretly be a mole for San Antonio to beat us, in which case there is no chance.
5. Pull a Robert Horry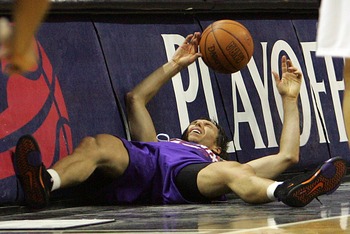 With Duncan on the bench, send Jarron Collins into the game to pull a Robert Horry and bang Tony Parker or George Hill into the scorers' table.
We remember how that ended for us last time.
The downside? Amare Stoudemire coming off the bench and getting suspended again like before.
6. Spike The Punch!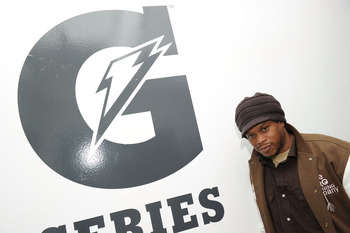 Three words: Gatorade and laxative. You just might literally get poop hitting the fan.
7. BLAIR! Kidnapping
Get DeJuan Blair into a pregame interview with KTAR's Doug Franz that never ends.
Franz gushes enough about him on our local airwaves that you know Blair would talk to him. Get them both into a TV studio, then lock them in.
8. Keep Bowen Out!
Although Bruce Bowen works for ESPN and doesn't play for the Spurs anymore, just don't let him in the arena. You never know. He might knee Nash in the groin or trip him as he is walking by, but use a media credential to do it this time.
9. Keep J-Rich's Head In The Game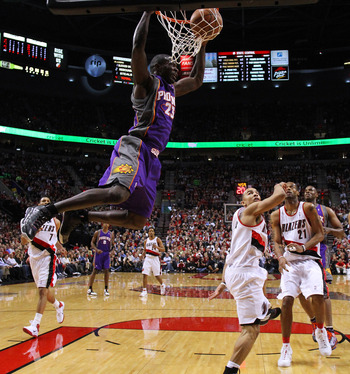 Tell Jason Richardson to use TWO HANDS on dunks and to not leave Roger Mason open for the last-second corner three.
10. Papers, please!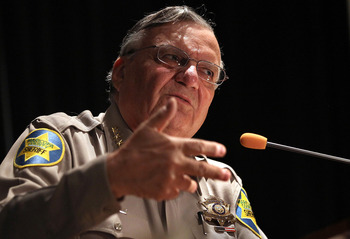 As long as we have the new immigration law on the books, let's take advantage of it. Get the police to arrest foreigners Tony Parker and Manu Ginobili on suspicion of being in the country illegally.
Tacky? Maybe. Effective? Likely.
There you have it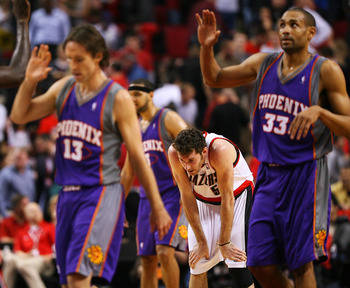 There you have it.
I don't think there is any chance of yet another playoff ousting at the hands of the Spurs if these things happen.
Mind you, I didn't even bring up a smoke monster or anything about getting the Spurs to become aware of an alternate reality.
We'll save those for last resorts, if it comes to a seventh game.
Could this be the year? I think so. Whether it be conventional methods of hitting shots and getting stops or more unorthodox means, the Suns are going to move on to the Western Conference Finals. We will see which it will be.
You can follow me, the (Happily) Trapped Fan, for my posts and other random thoughts that come up in my trapped life on Twitter (http://twitter.com/happytrappedfan).
Be a fan of The (Happily) Trapped Fan on Facebook (http://www.facebook.com/pages/The-Happily-Trapped-Fan/315494498211)! I love the interaction.
Keep Reading

San Antonio Spurs: Like this team?