Kentucky Derby 2010 Contenders: Who Do the Experts Like?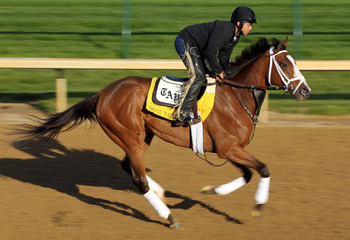 The inside guys hate this race. They feel like this year's Kentucky Derby is the weirdest Triple Crown race to handicap in years. Why?
Start with the dropouts. In the course of 72 hours, you lost the duh pick, Eskendereya. Everybody wants to pick a Todd Pletcher horse because everyone thinks this trainer is due in a Wayne Lukas kind of way—just waiting for the breakout.
Then the field gained a pain-in-the-butt pick, Devil May Care. She's trying to be the first filly to win the Derby in 22 years. The pros think this is the year of the filly in general throughout the sport. Plus, it's a Pletcher horse.
Third factor is that the horse that became the favorite, Lookin at Lucky, drew the dreaded first post.
As if that wasn't enough, there's now a monsoon expected to hit Churchill Downs that could turn a fast pace into a mud bath.
The result of all this late flux is a bevy of varying opinions on who's going to take the win Saturday.
There's no consensus among the experts we're highlighting—Jay Cronley from ESPN/Daily Racing Form, handicapper Jake Thompson, NTRA.com blogger Bob Ehalt, handicapper Mike Joyce and CBSSports.com and Horse Racing Nation.com analyst David Crone.
Here's the horses the "big guns" are talking up, including the one horse everyone seems to want to love.
Crone: Devil May Care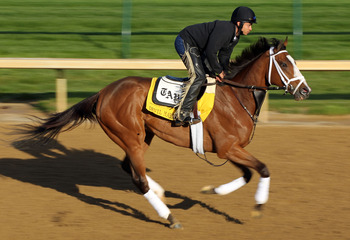 FRIDAY LINE (from Sportsbook.com): 6-1
David Crone really likes this horse. The three-time National Handicapping Championship qualifier thinks it's a great horse with a great shot. Mostly, he seems to trust in Pletcher.
He's the only one going out on this limb. Bob Ehalt is staying away from this 20-1 shot, saying she's not even the best-training three-year-old philly.
Ehalt: Mission Impazible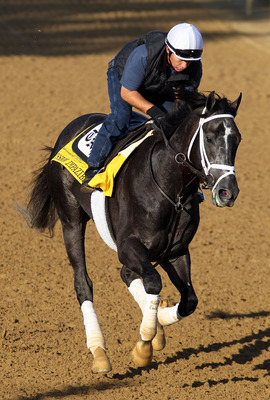 FRIDAY LINE: 15-1
The NTRA expert is the only one on this horse.
"(He) seems to improve with every start and is worth a long look at 20-1 odds. He showed some grit in winning the Louisiana Derby and that's exactly what he'll need to hit the board in a 10-furlong endurance test like Derby," Ehalt said.
Here's a key line that may factor in when you look at the five to six inches of rain that is expected to fall at Churchill in the next 24 hours.
"He also has the pedigree and a sharp workout in the Churchill Downs mud, which might come in handy."
Hedge Bet: Sidney's Candy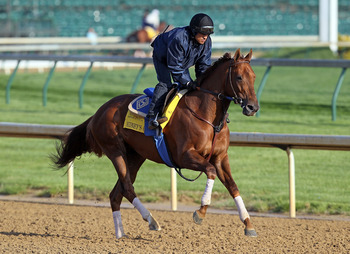 FRIDAY LINE: 4-1
There's a lot of hedging when it comes to this horse that drew post No. 20.
When you read the many opinions, it seems like folks want to take this Santa Anita winner. They just can't pull the trigger.
Mike Joyce is the only one to have the horse in his top four—though again, they're all talking up the horse just enough to not get burnt if he makes a run.
"He'll have the entire stretch to get position and, with all the other frontrunners to his inside, Sidney's Candy should be able to apply pressure from the outside," Joyce said. "What may very well compromise his chances is the abundance of speed in this race. He's never had to rate, he's never had to carry his speed 10 furlongs, he's never run on dirt, and, come to think of it, he's never even had to battle another horse for the lead.
"He also had a mixed-result in his latest workout," he said. "While posting a fast time, he did much of it early in the work and didn't gallop out all that well: a bad sign for horses training up to the Derby. He could win and it would surprise nobody."
4. Lookin at Lucky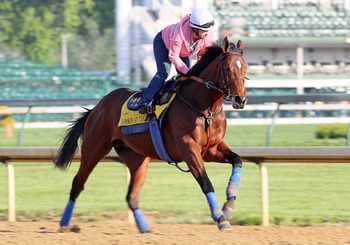 FRIDAY LINE: 2-1
Jay Cronley is sticking with the easy money.
"Two scores from rails past, two scores from number two gate spot," he said.
The inside rail is scaring the rest of the experts off this Bob Baffert horse.
Mike Joyce thinks Lookin is the best closer in the field but worries he won't get a chance to close—kind of like the Joakim Soria of the Derby. He has the horse at third.
Jake Thompson likes Lookin at Lucky to show as well. He thinks the horse will get caught in the stretch run.
Crone thinks there's too many questions to make a play on the favorite.
3. Super Saver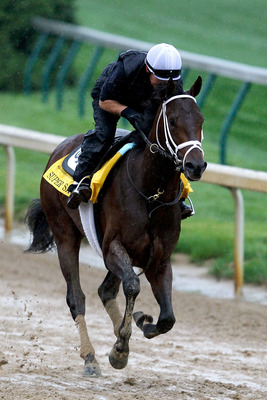 FRIDAY LINE: 12-1
Two of our experts like the Calvin Borel entry, still feeling the shine of his 50-1 run on Mine That Bird to win in 2009. Add in Pletcher as the trainer and this is definitely the feel-good pick.
Crone likes Super Saver for second, but thinks there's too many pace questions with the horse.
Cronley seems to like the Borel-Pletcher teaming. He has the horse in his third spot.
2. Ice Box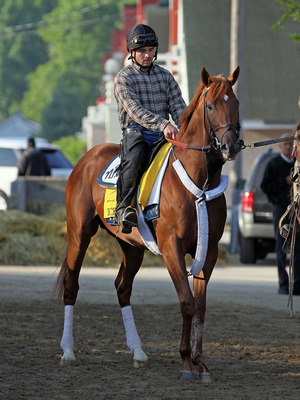 FRIDAY LINE: 8-1
This horse is in Crone's mid-range picks. He doesn't think the horse is quick enough to win, but then again, he may not need to be fast with the weather.
Thompson likes Ice Box to win, flying in from the outside down the stretch.
"(Nick) Zito trained which is never a bad thing. Used Florida Derby as lone prep for this," he said. "A closer who comes from the clouds and needs a fast pace. He should get that."
Joyce likes Ice Box for second.
"He's in post two, but he comes from so far out of it that it almost doesn't matter. He can take back to last and not worry about running until the final five furlongs," Joyce said. "His long sustained run will be useful when that speed in front of him starts to burn out. And as for the distance, he is the only horse in the field who is coming into the Derby off of three consecutive 1 1/8 mile races."
1. Awesome Act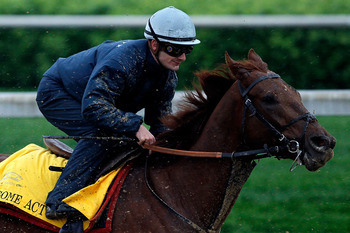 FRIDAY LINE: 8-1
This is the one horse that every one of our handicappers have in their top-four mix. Three of our five like jockey Julien Leparoux to ride a victory Saturday.
"He didn't settle for a slow pace at the Wood Memorial. He likes a fast pace an will set the tone," said Crone, who picks Awesome for third.
"He showed a remarkable turn of foot in the Gotham which demonstrated just how much talent this colt has," said Joyce, who likes the win here. "In his second start after shipping overseas he managed to run third in the Wood Memorial behind Eskendereya and Jackson Bend despite stumbling and losing a shoe out of the starting gate and being rank all the way down the backstretch. Since then he has only gotten better and had a brilliant final work at Churchill Downs that had jockey Julien Leparoux grinning as he came off the track."
Thompson also likes a second place finish, thinking Ice Box is going to chase down the late pace setter. "His breeding says he will like the 1 1/4 but hard to tell off his races," he said.
Ehalt goes for the win.
"I'm banking that he runs as powerfully as he did in the Gotham, and a sharp work in the mud at Churchill Downs earlier this week gives me some added insurance in case Mother Nature decides to show up and rain on everyone's parade."
Cronley picks the horse fourth, but expects a big finish.
Keep Reading