2010 NHL Playoffs: 10 Disappointing Things About a Thrilling First Round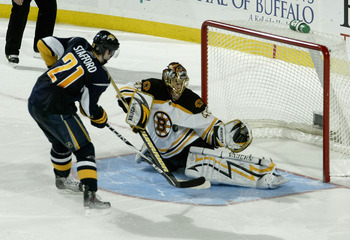 There's no doubt in the minds of all hockey fans that the first round of the NHL playoffs far exceeded expectations, at least in the excitement factor.
With seven of the eight best-of-seven series reaching at least a Game Six, the playoffs have been packed with must-win games late in the series. Those wins have also often taken a bit longer than the 60 regulation minutes, as an unbelievable 12 of the 47 first round games went into overtime.
The first round was also packed with some terrific feats: the Penguins-Senators triple-overtime Game Five, Brian Boucher's .940 save percentage and 1.44 goals-against dueling with Martin Brodeur, Alexander Ovechkin's four-game goal streak, Tom Poti's +9 rating in a series, Chicago's shorthanded game-tying goal with just over 10 seconds remaining in regulation, and, of course, the Canadiens unbelievable, unconcievable upset of the Washington Capitals last night.
However, unfortunately, there were also a fair share of disappointments in the first round, whether that be by series, teams, or players. Whether it be the decline of a favored team, an unproductive series by a key player when his team needed it most, or a simply out-of-the-blue happening, you can't forget the downfalls of the first round, despite its incredible highlights.
Let's get down to the 10 biggest disappointments from the first round of the 2010 NHL Playoffs, in no particular order.
Ottawa Senators' Home Ice Advantage (Err...)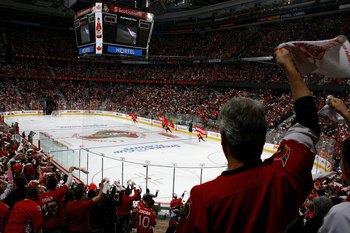 ...perhaps "disadvantage" might be a better word. While those Canadians packed Scotiabank Place for all three home contests in the Sens' first-round loss to the Penguins, Ottawa still didn't manage to feed much off the crowd.
Losing all three games by a combined score of 15-9, the rowdiness of the fans sure didn't help the Senators much. It's a good thing Ottawa managed to win two of the three matches in Pittsburgh, or they wouldn't have made it even close to Game Six!
Alexander Semin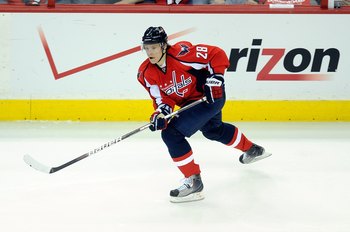 The Capitals have shockingly been eliminated, and Alexander Semin, after finishing among the top in the NHL in assists during the regular season and remaining a key component in the Caps' one-two-three top line, not only fits a list of biggest disappointments in the first round, but also biggest "puck-hogs".
Despite taking a whopping 44 shots in seven games, far exceeded anyone else on the team (second-most was Ovechkin with just 34), Semin has played the role of improving Jaroslav Halak's statistics more than anything. He never found the back of the net in a series where 10 other Capitals did, and his two points and simply even rating are also very disappointing.
While the Capitals absolutely stunning first-round loss to Montreal can be blamed on a wide range of reasons, Alex Semin's non-production can certainly be written up as a key overlooked factor.
New Jersey Devils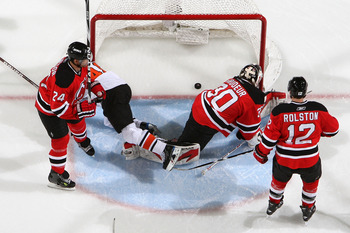 Following a stunning last-minute Game Seven loss in the first round of last year's playoffs to the Carolina Hurricanes, the Devils were determined to reverse their fate coming into their first-round matchup in 2010.
With a more experienced lineup and coaching staff, a higher seed, and weak opponent with four injured goaltenders, most of us were convinced that superstar netminder Martin Brodeur would surely outduel backup-of-the-backup-of-the-backup-goalie Brain Boucher at the other end.
Apparently not.
Expectations became reversed from the start, as the Flyers rolled to a simple 4-1 series victory. Brian Boucher led all NHL goaltenders in the first round with a 94.0 save percentage and 1.44 goals-against average, while Martin Brodeur struggled, stopping just over 88 percent of the shots he faced.
Even with several injured forwards as well and an overall less-experienced crew, Philadelphia simply cruised past the Devils. And, while the winner certainly raises plenty of eyebrows around the league, New Jersey's defeat, followed by Lemaire's retirement, may have been the biggest disappointment of the playoffs so far.
Martin Brodeur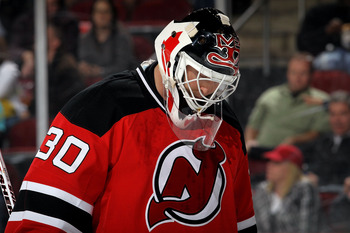 ...and, as a branch off of the previous slide, legendary New Jersey Devils goaltender Martin Brodeur can also be classified as one of the biggest, and also most sad, first-round disappointments.
With his Devils being blown away in just five games, Brodeur was a key factor in their defeat, sporting a miserable 0.881 save percentage, 3.01 goals-against average (GAA), and 1-4 record. Brodeur, who was third in the league in GAA and first in shutouts in the regular season, also was uncharacteristically pulled once in the series.
On the brink of retirement, Brodeur's early exit is a saddening and disappointing fate for the career of one of the NHL's best-ever goaltenders.
Tim Connolly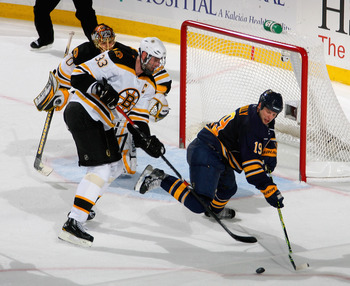 As the Northeast Division Champion Buffalo Sabres fell in six games to division rival Boston, so did Tim Connolly.
After finishing second on the team in points during the regular season with 65, Connolly especially underperformed in the postseason, recording zero goals, one assist, and a minus-two rating. True, the Sabres' top point-earners throughout the entire series (Jason Pominville and Tyler Ennis) only had four points, but Connolly's absence from the scoresheet was only one of several problems plaguing his play.
Brent Seabrook Dumps It...Into the Net!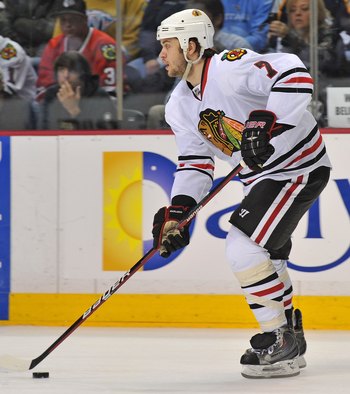 Off the blue-line faceoff, won by Chicago, Brent Seabrook wound up to prepare to slap the puck around the boards and behind host Nashville's net, where Predator goaltender would "go fetch" and the game would go on as normal.
However, it would be a bit of an understatement to say that things didn't go as planned.
As Seabrook's "dump" skidded down the sidewall, it happened to deflect off Patrick Kane's ankle, and be angled perfectly towards...and INTO the Nashville net, beating a terribly baffled and sprawled Rinne and giving the 'Hawks a 2-1 lead 10 minutes into the game of a series-sealing 5-3 victory for Chicago in Game Six!
The goal may have been one among many in a fairly quiet and unsurprising series, but it was enough to make it all over the sports world as one of the most ridiculous goals of the month.
View the clip from NHL.com below:
http://video.nhl.com/videocenter/console?catid=35&id=67730
Buffalo Sabres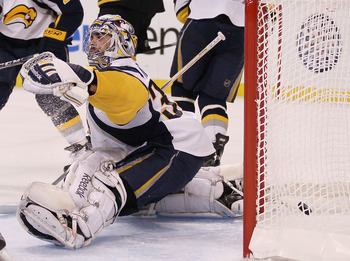 After such a spectacular display of goaltending at the 2010 Winter Olympics for Team USA, everyone expected Sabres' netminder Ryan Miller to once again perform brilliantly under pressure in Buffalo's physical first-round series against divisional foe Boston. But, when he didn't, there was no support from any other part of the roster, and the Sabres fell apart.
Held to just 15 goals in six games, the Sabres offense just didn't put nearly enough on the board to survive. On the other end, Miller actually managed to hold his own decently, posting a good .926 save percentage and solid 2.34 goals-against average, but the rest of the roster around him was far too weak, and Miller was only able to pull the Sabres through to victory in two games out of the needed four.
There was hope until there was no more, though, and the Sabres have a lot of solid young talent developing around them despite their disappointment this postseason. It's just too bad that the 2010 NHL playoff time couldn't be "Miller Time", as well.
Lee Stempniak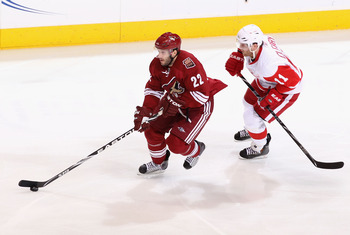 Lee Stempniak, who was traded to the Coyotes at the March 3rd trading deadline, entered the postseason absolutely on fire, perhaps as the hottest player in the league. In his 18 games with Phoenix, Stempniak had recorded 14 goals (including four multi-goal games) and four assists, enough to equal his games-played mark with his points-scored mark.
The Detroit Red Wings, the 'Yotes opponent in the first round, knew that shutting down Stempniak was definitely one of their keys to victory. And, in turn, when they did so, they also managed to shut down Phoenix.
Stempniak, who was held to just two assists and minus-four rating in the postseason, just never came close to catching the same stride he had going into the series. In the end, with his Coyotes falling in Game Seven of a tight series, even just a little contribution might've made all the difference. But, of course, you can only keep a hot streak going for so long.
Washington Capitals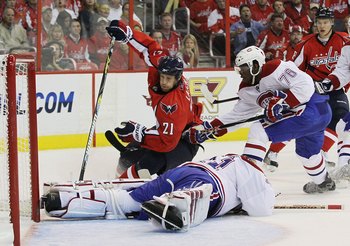 The Capitals' collapse cannot be described in words.
The thought, even the possibility, that not only would the 2010 Presidents' Trophy champions, who rolled over the rest of the NHL in the regular season, would LOSE their first round series to unproven, up-and-down Montreal, is ridiculous on its own. However, to figure that the Caps would blow a 3-1 series lead while still getting 157 shots in the last three games (that's over 52 shots per game) facing a completely uncertain goaltender would simply be regarded as impossible as soon as one heard it.
Yet, that happened. That happened this week.
You can certainly give credit to the steel-willed Canadiens, who stood strong in front of Halak's stellar performances (one after another after another) and blocked almost as many shots as he took, holding all but three Capitals under five total points for the series. You can give them credit for scoring at the right times and winning the right face-offs. You can give them most of the credit for their shocking victory, most certainly.
But not all of it.
Joe Thornton
Along with Chicago's Brent Seabrook, Joe Thornton is the only player or team on this list that is moving on to the next round despite their issues in the first set of games. However, the Sharks' assistant captain certainly didn't help San Jose defeat the Colorado Avalanche.
In the Sharks' six-game series victory, Thornton was almost a no-show, putting up only three assists and finishing it off with a very miserable minus-four rating. While that may be fairly disappointing on its own, that stat line is even worse considering Thornton led the Sharks in the regular season with 89 points and a plus-17 rating while also remaining a key locker room presence and playmaker on the ice.
At least he gets a shot to redeem himself in the second round against Detroit, however. For most of the players or teams on this list, they don't have that privilege.
Keep Reading

Washington Capitals: Like this team?