New York Yankees All African-American Team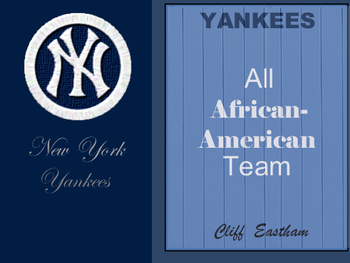 This is my most recent endeavor. I am compiling All-Franchise Teams based on African Americans.
The idea came to me as a result of the recent hiring of Joe Morgan by the Cincinnati Reds. Morgan brought to light the decline in African-American players in MLB.
I have decided to start with the Yankees. It is part of my master plan to complete the American and National Leagues if I live long enough.
Some teams, especially at certain positions are paper thin when it comes to African-Americans. I am not including Latinos or anyone else I know not to be an African-American.
Allow me some latitude if I err in my discernment for a particular player. I am not doing a background check or DNA analysis on anyone, mainly by their place of birth.
I hope you enjoy this and look forward to your comments. No screaming please.
Catcher - Elston Howard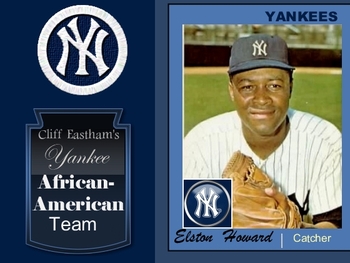 Elston Howard wore pin-stripes from 1955-1967. He was the American League Most Valuable Player in 1963, batting .287 with 28 HR and 85 RBI.
As a Yankee he was a nine time All-Star, and won two Gold Glove Awards. He also batted over .300 three times.
His career numbers as a Yankee are:
BA=.279
OBP=.324
SLG=.436
HR=161
RBI=733
OPS+=110
First Base - Chris Chambliss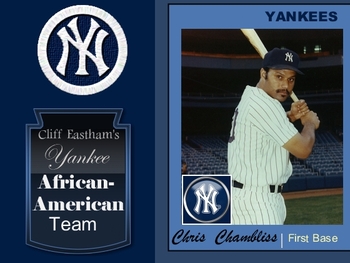 Chris Chambliss played with the Yankees from 1974 through 1979 and then again in 1988 where he finished his career.
He made the All-Star team in 1976 and won one Gold Glove Award.
His best season with New York was 1976 when he batted .293 with 17 HR and 96 RBI.
His career numbers with the Yankees are:
BA=.282
OBP=.323
SLG=.417
HR=79
RBI=454
OPS+=108
Second Base - Willie Randolph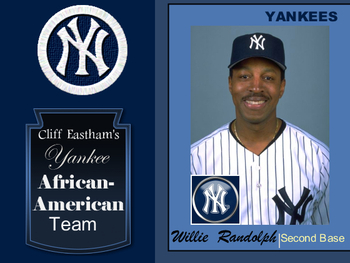 Willie Randolph was with the Yankees from 1976 through 1988. He was a five time All-Star with the Yankees and won one Silver Slugger Award.
He led the American League in walks in 1980 with 119 while posting an excellent OBP of .427.
His best season in New York came in 1980 also as he batted .294 with seven HR and 46 RBI, and scored 99 runs.
His career totals as a Yankee are:
BA=.275
OBP=.374
SLG=.357
HR=48
RBI=549
OPS+=105
Third Base - Charlie Hayes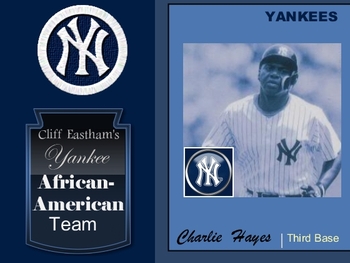 Charlie played with the Yankees in 1992 and then again from 1996 -1997.
His only full season was 1992 when he batted .257 and cracked 18 HR with 66 RBI.
His Yankee totals are:
BA=.259
OBP=.310
SLG=.405
HR=31
RBI=132
OPS+=85
Shortstop - Andre Robertson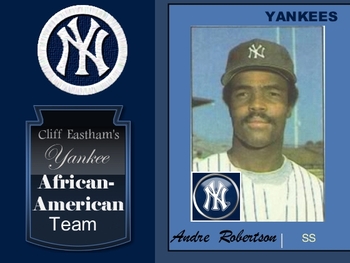 Sometimes you don't have a wide variety to choose from, such as SS and 3B with New York.
Andre Robertson played his entire career, albeit short, with the Yankees from 1981 through 1985.
Hs career numbers are :
BA=.251
OBP=.279
SLG=.327
HR=5
RBI=54
OPS+=69
Outfield - Reggie Jackson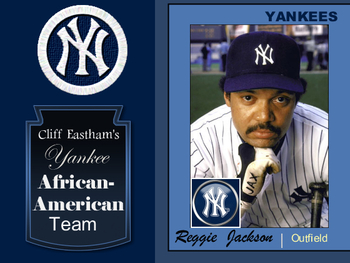 Hall of Famer Reggie Jackson wore pin-stripes from 1977 through 1981. He was an All-Star all five seasons, and won one Silver Slugger Award.
His best season in the Bronx was 1980 when he finished second in the league's MVP voting to George Brett. Jackson batted .300 with 41 HR and 111 RBI.
His five year totals with the Yankees are:
BA=.281
OBP=.371
SLG=.526
HR=144
RBI=461
OPS+=148
Outfield - Dave Winfield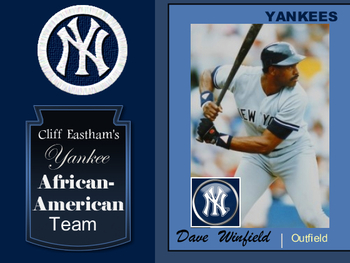 Hall of Famer Dave Winfield played with the Yankees from 1981 until 1990 when he went to the Angels.
He missed the '89 season. He was an All-Star in eight of his nine years in the Bronx. He won five Gold Glove Awards and five Silver Slugger Awards.
His best balanced year was 1984 when he batted .340 with 19 HR and 100 RBI, with 106 R and 193 H.
His Yankee career totals are:
BA=.290
OBP=.356
SLG=.495
HR=205
RBI=818
OPS+=134
Outfield - Roy White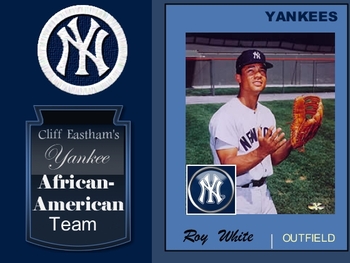 Roy White enjoyed his entire career with the Yankees from 1965-1979.
He was a two time All-Star. Bill James makes the point that based on Sabermetrics, White was a better player than Red Sox Hall of Famer Jim Rice.
His best season was 1970 when he batted .296 with 22 HR and 94 RBI, with 109 R and 180 H.
His career totals are:
BA=.271
OBP=.360
SLG=.404
HR=160
RBI=758
OPS+=121
Designated Hitter - Don Baylor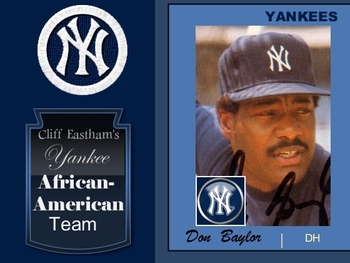 Don Baylor played in New York from 1983 through 1985, winning two Silver Slugger Awards.
His best year here was in 1983 when he batted .303 with 21 HR and 85 RBI.
His Yankee totals are:
BA=.267
OBP=.345
SLG=.372
HR=71
RBI=265
OPS+=126
Pitcher - Al Downing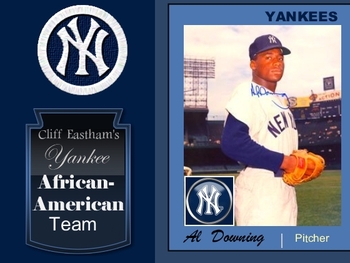 Al Downing had a very good career yet the biggest memory most people have of him is a negative one. He served up the home run ball to Hank Aaron that beat Babe Ruth's all-time record.
He played in the Bronx from 1961, his first year in the majors, through 1969. In 1967 he made the All-Star team, the only time in his 17 year career.
In 1964 Al was 13-8 with an ERA of 3.47 and he led the league in strikeouts with 217. In 1963 he also won 13 while losing only five and had a very good ERA of only 2.56
His Yankee totals are:
W-L= 72-57
ERA= 3.23
IP=1235
K=1028
ERA+105
Keep Reading

New York Yankees: Like this team?