The 2010 Quail Hollow Championship Six Pack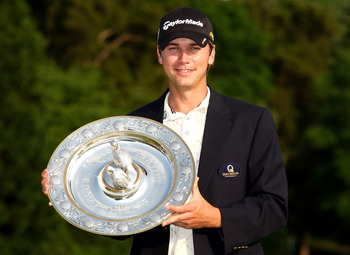 Congrats go out to Jason Bohn on his wire to wire crushing at the Zurich Classic in New Orleans last week.
Didn't see that one coming.
Seems like that's the trend this year for some reason. It's funny too, because last week when perusing my spreadsheet I seemed to remember Bohn contending in some tourney last year, and at that point I realized I hadn't been tracking him. With that said, I quickly added him to the spreadsheet.
Upon seeing three missed cuts on the year and nothing spectacular in his last five finishes, I figured, "We'll keep an eye on him for later…"
Oops.
Well folks, Bottom Line Jay does not live in the past and neither should you. This week we have one of the most challenging courses on the tour, Quail Hollow in Charlotte, North Carolina.
This course is amongst one of the most beloved by the players on tour. The premium at this event clearly lays with the guys that can drive the golf ball far and straight. That means our key stat to follow this week is Total Driving, which combines the best of both, distance and accuracy.
Tiger will be playing this week and of course that makes him the favorite. He is three-to-one on most books right now, and that is really good value for him. I love Tiger to win this week, and will be hedging all wagers with a larger bet on Tiger, and possibly a secondary hedge with the red hot Masters champ Phil Mickelson at ten-to-one. This tourney has only been around since 2003 and already Tiger, Jim and Vijay have captured the trophy. What up Phil?
Okay a disaster has occurred in Yahoo fantasy, again. I swear that I pressed the submit button last week, yet in reality, I did not. That translated to me having only one freaking golfer in the event all week! Thanks for at least making the cut KJ Choi. Here's how the damage looks.
I now have 2326 points on the season and miraculously am still besting one Yahoo expert, Eric Planer by 24 points. I now trail Michael Arkush (really???) by 40 points. I am also behind Greg Vara by 95 points. I am questioning if I can ever catch up to the elusive killer Matt Romig, who is trouncing me by an almost insurmountable 242 points! I slipped nine points in TFOHM down to the 64th percentile and overall I dropped a devastating seven points to arrive in the uncharted 72nd percentile.
I am going to kill it in Yahoo this week, so watch for a great rebound. Here is my lineup:
GROUP A
Start Tiger Woods
Sit Phil Mickelson
GROUP B
Start Jim Furyk
Camilo Villegas
Sit Adam Scott
Hunter Mahan
GROUP C
Start JP Hayes
Sit DJ Trahan
A few honorable mentions before we hit the six pack are Camilo Villegas 35:1, Nick Watney 40:1, Matt Kuchar 50:1, Ryan Moore 80:1, Vijay "Brokeback" Singh 100:1, and Bo Van Pelt 100:1
No. 1 Anthony Kim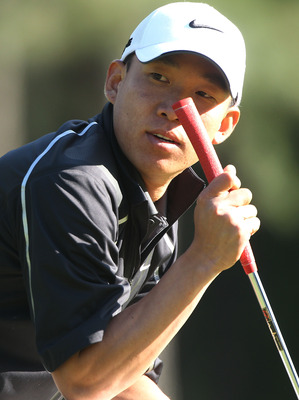 After watching Anthony finish up the 18th hole on the Masters, there was no way I was not including him in my next six pack. He is on absolute fire right now, and it looks as though his woes with the driver have been solved.
What about his thumb? Looks like it needs surgery, yet he is forgoing it until it simply hurts too much. His new-found attitude will help him conquer his injury. The way he is playing right now, you could probably cut off both of his thumbs and I would still pick him to win becoming the first ever two time champion here at Quail Hollow.
Kim has five top 25 finishes so far this year and three of which are top tens including a victory at the Shell Houston Open.
I know I mentioned that Total Driving is a key stat, yet Kim ranks very low in that category. Please take into account he had the lowest amount of fairways hit in the entire field when he won in Houston, and also realize he has corrected the problem.
Keep in mind Anthony has played this event only three times and he has yet to miss the cut. Oh yeah, and by the way, he has won here before, and also placed fifth.
Check out these stats for Kim:
- First on tour in Scoring Average with 69.19 strokes per round
- Ranks fourth in the All Around category
- Ranks fifth in Par Breakers at 24.07 percent
At 22:1 I am all over this kid to win this week.
No. 2 Hunter Mahan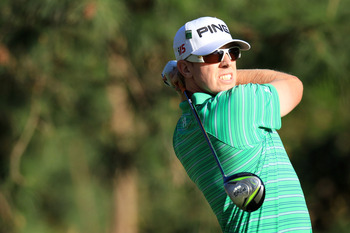 I really dislike those shades but I really like the golfer that's wearing them.
This is the type of course that plays into Mahan's style of game. I also think that Mahan seems to play well in strong fields, which is definitely the case this week.
Hunter has two top ten finishes in his last five rounds, one of which was his victory at the Phoenix Open sponsored by Waste Management. He also has three top 25 finishes on the year and has missed just two cuts so far.
If Mahan wants to stand apart from the field this week, he needs to putt better. He has progressively improved on this course over time and I think he will have a great showing this week.
Let's go inside Mahan's stats:
- He ranks fifth in Total Driving
- He is the third best ball striker on tour right now
- Hunter ranks 16th on tour in GIR at 70.04 percent
I think a sprinkle on Mahan this week is well worth it at 35:1 odds.
No. 3 Adam Scott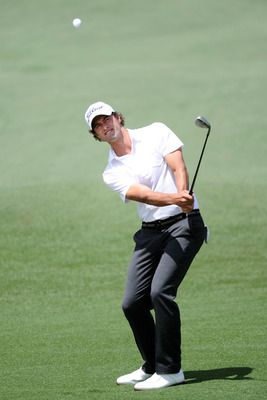 It appears as though Adam Scott may be slowly rising from the dead. This guy who was once one of the greatest in the world has fallen into a terrible downward spiral over the past three years. It looks as though stability has been found, and Adam is totally flying under the radar right now.
He has made six out of seven cuts so far in 2010 and three of his five most recent finishes have been in the top twenty. Scott has had past success at Quail Hollow finishing 16th, third, and eighth before. He has only missed the cut here once in five attempts.
I have a great feeling about the Aussie this week and think he could surprise a lot of people. Hopefully I am not one of them by watching him miss the cut by 15-plus strokes come Friday!
Here are some interesting and persuading stats in regards to Scott:
- He ranks third in Total Driving
- He is fifth in GIR at 70.96 percent
- He ranks second on tour in Ball Striking
At 45:1 this guy could be on a value menu. I'll take a number one, to go!
No. 4 Boo Weekley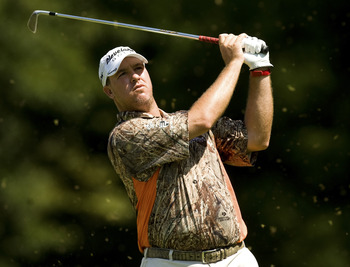 Instead of one long shot this week, I found three.
I was pleasantly surprised to see the sports books not giving credit where it is due with Boo Weekley. He started off this year in awful shape but has really turned the corner. In his last five events he has only missed the cut once and placed 24th, 25th, 12th, and 10th!
Weekley has also fixed some of the driver woes that were plaguing him earlier this year. Boo has never missed the cut in his three appearances here, and finished his best effort yet last year with a tie for eleventh place. He needs to get the flat stick rolling and if he does, look out.
Check out some of these digits for Boo:
- He ranks 19th in Total Driving
- He ranks 17th in GIR at an even 70 percent
- He ranks 11th in Ball Striking on tour.
All of that somehow translates into some very high odds. 80:1 to be exact.
No. 5 Rickie Fowler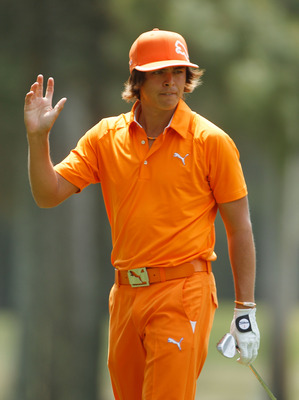 His favorite flavor of Gatorade had better be orange!
I wonder if he snacks on baby aspirin, just because he likes the taste?
I digress.
This kid seemed to be destined for greatness right out of the gate this year, then he would miss a cut. It looks as though he now has some consistency to his game and has only missed one cut in his past five attempts.
The better news is that his best finish in those five rounds is an impressive tie for eighth at the Verizon Heritage event at the difficult Harbour Town track.
This year he has three top ten finishes in his seven cuts made. This also is his first trip to an intimidating golf course named Quail Hollow and an even more intimidating field.
Truth be told, I think those two factors will actually motivate this kid to perform even BETTER, so watch out for him. I was very impressed by his tie for eighth at Harbour Town, and know this kid is going to turn some heads this week and not just because of his "stylish" outfits.
Look at some of young Fowlers stats:
- He ranks 13th on tour in Total Driving
- He is 17th in Ball Striking
- He ranks fourth on tour in approach shots from over 250 yards
This kid is going to make an eagle or two this week, so I will take a chance on him at 80:1 odds.
No. 6 DJ Trahan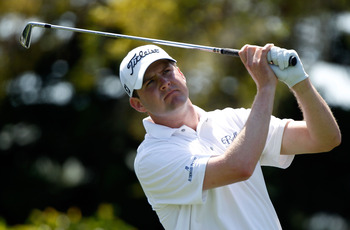 Okay, last weeks tie for 75th was a bit of an abomination, but I think Trahan has gotten the crap out of his system. He has had a brilliant 2010 campaign. He has six top 25 finishes and three of those have been in the top ten.
Trahan went to Clemson and I know he likes Quail Hollow, as he has placed 14th and ninth there before. This kid is still flying way under the radar in my opinion, and I think he is very due to show everyone what he is made of.
Rather than go on and on about this guy, why don't we let his numbers speak for themselves?
- He ranks 20th in Total Driving on tour.
- He is third in GIR at an impressive 72.39 percent.
- He ranks fifth on tour All Around.
- He is one of the best ball strikers around ranking fifth.
- He is sixth in Scoring Average with 69.92 strokes per round
- He also ranks sixth in Par Breakers at 24.02 percent
Those don't seem like the stats for a guy who is 80:1 do they? Click now, or forever hold your peace!
Good luck everyone and enjoy the weekend!
Keep Reading