WEC 48 Shakes Up Division Rankings: Who's Next for Jose Aldo and Urijah Faber?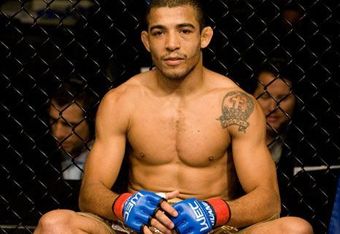 The WEC's debut on pay per view exceeded buy rate expectations by all accounts and produced a card heavy on action. The main event saw featherweight champion Jose Aldo (17-1) systematically pick apart former 145 pound kingpin Urijah Faber (23-4) over the course of five rounds.
For Aldo, a match-up with Manny Gamburyan appears to be the next logical challenge. While Faber, the WEC's top box office draw, is in a tough spot after losing his last three featherweight title fights.
Interesting bouts outside of the 145 pound weight limit exist for Faber, as potential catch-weight fights with Donald Cerrone (11-3) or Miguel Torres (37-3) could draw fan interest.
Other top contenders also emerged from the card. Lightweight Shane Roller (8-2) put away striker Anthony Njokuani (12-3) early in the first round via submission. Roller may have positioned himself for his next bout to be a rematch versus Ben Henderson or a potential battle with former number one contender Donald Cerrone.
In the featherweight division, Manny Gamburyan's upset of ex-champ Mike Brown (23-6) vaults him into the No. 1 contender spot. Gamburyan has now won three straight since moving down to 145 pounds. A possible showdown with champion Jose Aldo may be next for Gamburyan.
These ranking appear courtesy of ULTMMA (Uniting Locals Through Mixed Martial Arts).

Lightweight (155 pound limit)
WEC Champion: Ben Henderson 12-1
1. Jamie Varner 16-3
2. Shane Roller 8-2
3. Donald Cerrone 11-2
4. Anthony Njokuani12-3
5. Kamal Shalorus 6-0-1
6. Ed Ratcliff 7-2
7. Bart Palaszweski 34-13
8. Anthony Pettis 10-1
9. Ricardo Lamas 8-1
10. Karen Darabedyan 9-2

Featherweight (145 pound limit)
WEC Champion : Jose Aldo 17-1
1. Manny Gamburyan 11-4
2. Mike Brown 23-6
3. Urijah Faber 23-4
4. Rafael Assuncao 14-2
5. L.C Davis 16-2
6. Josh Grispi 13-1
7. Deividas Taurosevicius 12-4
8. Mackens Semerzier 5-1
9. Diego Nunes 13-1
10. Leonard Garcia 14-5-1

Bantamweight (135 pound limit)
WEC Champion: Dominick Cruz 15-1
1. Joseph Benavidez 12-1
2. Brian Bowles 8-1
3. Scott Jorgenson 10-3
4. Miguel Torres 37-3
5. Damacio Page 12-4
6. Antonio Banuelos 17-6
7. Takeya Mizugaki 13-4-2
8. Wagnney Fabiano 13-2
9. Eddie Wineland 16-6-1
10. Charlie Valencia 12-5
This article is
What is the duplicate article?
Why is this article offensive?
Where is this article plagiarized from?
Why is this article poorly edited?