Can the Jacksonville Jaguars Find Their Next QB in the 2011 NFL Draft?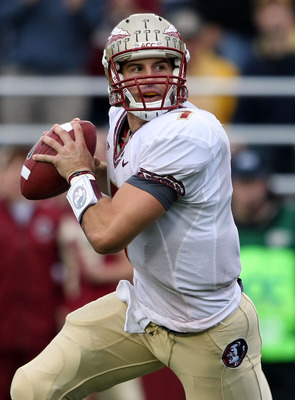 The Jaguars chose not to address the quarterback position in the 2010 NFL draft, passing on noteworthy prospects such as Notre Dame's Jimmy Clausen and Cincinnati's Tony Pike in favor of the best players on general manager Gene Smith's draft board.
That's old hat for Jacksonville, of course. Since picking current Pittsburgh Steelers backup Byron Leftwich seventh overall in 2003, the Jaguars haven't acquired a quarterback in any round for seven years.
Buoyed by the emergence of 2002 third-rounder David Garrard, they haven't really needed one.
But Garrard, whose $60 million contract will keep him in Jacksonville through the 2014 season, turned 32 in February. With only 62 starts under his belt, it's a "young" 32; Peyton Manning, by comparison, started 160 games for the Indianapolis Colts before his 32nd birthday.
Still, the Jaguars would do well to add a developmental prospect behind career backup Luke McCown to their depth chart at quarterback.
Fortunately, passers abound in the 2011 rookie class the same way that defensive talent ruled this year's draft. Considering Jacksonville's focus on the great defenders available in 2010, it's no leap of faith to figure that one of these quarterbacks could be atop their draft board next April.
Washington's Jake Locker, Ohio State's Terrelle Pryor: Big Upside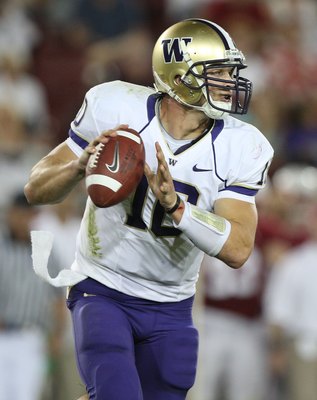 Early mock-ups of the 2011 draft, however premature, have a number one pick almost as unanimous as Sam Bradford to the St. Louis Rams was this year. Whichever NFL team has the dubious honor of picking first overall, analysts agree, will likely take Washington's Jake Locker.
Hindered by the Huskies' sub-par offensive supporting cast, Locker still led Washington to a respectable 5-7 record in 2009, including an upset victory over third-ranked USC. This, just one year removed from a disastrous 0-12 season—former head coach Tyrone Willingham's last.
Where Locker has only recently been thrust into the national spotlight, Ohio State quarterback Terrelle Pryor bore the burden of hype before his first freshman-year practice as the Buckeyes' top high school recruit.
Ranked as the nation's best football prospect by Rivals.com in 2008, Pryor's smooth transition to the college game resulted in 2008 Big Ten Freshman of the Year honors and an honorable mention on the all-conference team.
Both Locker and Pryor are more eager to tuck and run with the football than NFL scouts prefer in franchise-caliber prospects, and neither has met the 60-percent benchmark for completion percentage that so often distinguishes pro-level talent in college.
Still, Locker's package of athleticism, technique, and leadership has drawn comparisons to Hall of Famer Steve Young, and Pryor's sub-4.4 speed and experience in Ohio State's pro-style offense might ease his learning curve as a rookie.
Considering David Garrard's college career at East Carolina, where he carried the ball over 500 times and was considered a powerful downhill runner, the Jaguars won't shy away from these two should they show promise as passers in 2010.
Arkansas' Ryan Mallett, Staford's Andrew Luck: The Prototypes
Jacksonville's fans might cringe at the idea of drafting another Arkansas quarterback after Matt Jones, the Jaguars' 2005 first-rounder, failed to translate his college success to the pro game.
Relax, guys. At 6'6" and 238 pounds, Ryan Mallett is naturally gifted in his own right, but no one's going to draft him to play wide receiver.
In fact, Mallett transferred away from Rich Rodriguez's wide-open spread option scheme at Michigan. He sat out a year in accordance with NCAA rules, then took over as a gunslinger in Bobby Petrino's pass-heavy offense at Arkansas.
While Mallett had to do a bit of traveling to find a school that fit, Andrew Luck picked Stanford over several national powerhouses—Texas among them—and emerged as the Cardinal's starter in his freshman year last season.
For Luck, the valedictorian of his high school class in Houston, Stanford's appeal as an academic powerhouse likely figured heavily into that decision.
Were NFL scouts forced to pick two quarterbacks out of a lineup from next year's potential draft class, they'd be hard-pressed to find anyone who grades better on the "eye test" than Luck (6'4", 235 pounds) and Mallett.
Both will be underclassmen after the 2010 college season is done. Still, each will have started almost twice as many games as 2008 fifth overall pick Mark Sanchez, whose successful early departure has challenged the "stay in school" paradigm for franchise prospects.
Unfortunately for the Jaguars, short of a catastrophic 2010 season, they'll likely be drafting too late in the first round to "luck" into either of these top-15 talents. Should Gene Smith think highly of Mallett's 80-plus-yard cannon arm or Luck's mix of instincts and intelligence, though, don't rule out a trade up.
Florida State's Christian Ponder, Florida's John Brantley: Local Talents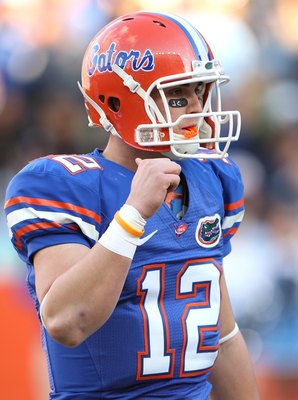 In passing on Florida legend Tim Tebow, the Jaguars seemed to deflate pre-draft speculation that they would add a local product to boost fan interest and ticket sales.
Considering two of the Sunshine State's potential contributions to the 2011 quarterback class, they might just be waiting a year.
Unlike the four highly-touted quarterbacks mentioned previously, Christian Ponder is one of the few top prospects to have completed over 60 percent of his passes in a season.
That season, of course, was derailed by a shoulder injury suffered in the Seminoles' loss at Clemson in November. Still, Ponder's 68.8 completion percentage through nine games suggests the accuracy and decision-making skills that lead some to consider him a stronger-armed Tony Pike.
To date, John Brantley has been limited to productive spot duty as Tebow's backup. A four-star recruit out of Ocala, Fla., Brantley's pocket presence has yet to be utilized in Florida's spread system.
The 6'3", 221-pound quarterback's performance in recent spring practices, though, has already drawn rave reviews for his presence in the Gators' offense.
"With Brantley," Florida receiver Deonte Thompson infamously commented in March, "everything's with rhythm, with time. You know, a real quarterback."
Before his injury, Ponder was reportedly prepared to enter the 2010 draft. Brantley, on the other hand, will be getting his first chance to shine this year. Still, both could be available to Jacksonville next year, and both have the physical and mental potential to develop and take over for Garrard in time.
After Mallett, Locker, and maybe Luck go early, a Florida quarterback might just be the best player available on Gene Smith's board in 2011.
Keep Reading

Jacksonville Jaguars: Like this team?