College Football's Human Highlight Reels in 2010 (with video)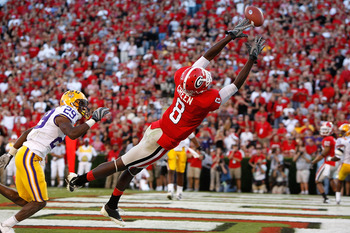 With the 2010 NFL Draft now in the history books, the College Football world officially bids farewell to some of its human highlight reel players of the past several years.
Peace out Tim Tebow, and goodbye Dexter McCluster.
Sayonara C.J. Spiller, and see you later Dez Bryant (although it's been a while anyway).
We will miss you Golden Tate, and it was fun while it lasted Armanti Edwards.
It may seem sad, but these former college football play-makers must step aside and make room on the highlight tapes for the next draft class.
And what better time than now to get acquainted or re-acquainted with the next batch of human highlight reels for the 2010 College Football season by checking out their finest moments from 2009?
Jacquizz Rodgers – Running Back – Oregon State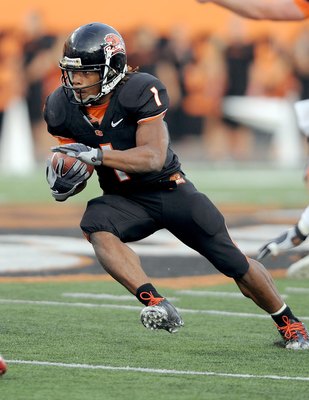 Did someone clone Maurice Jones-Drew and make him faster and harder to tackle?
Jacquizz Rodgers is hard enough to locate when he's on the field, let alone zipping around it.
Plain and simple: This dude is a blast to watch.
And after putting up 23 touchdowns and over 1,900 yards from scrimmage in 2009 as a sophomore, there's plenty more to see.
Noel Devine – Running Back – West Virginia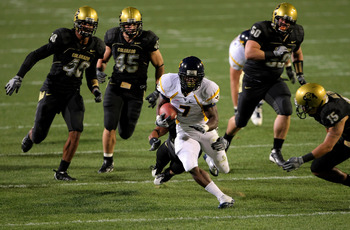 He's been imposing Devine Intervention on the Big East and the rest of college football for three years now, and he'll be back at it again in 2010.
Here one minute and gone the next, Noel Devine is as pesky as they come.
And if he doesn't hold the West Virginia record for 50-plus yard touchdowns already, that record is in grave danger.
A.J. Green – Wide Receiver – Georgia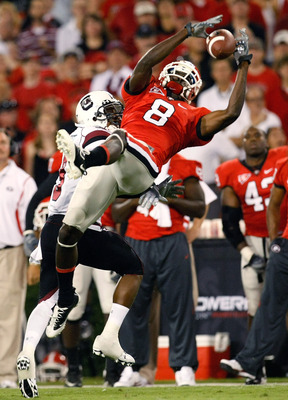 At 6-foot-4 and 205 pounds, A.J. Green might be the second coming of Randy Moss.
He's got the ability to catch anything within a 5-foot radius, has hands like glue, and has more juke moves than a game of Madden.
Just watch his 2009 highlights—Number 8 is on another planet.
Already a projected top five pick in the 2011 NFL Draft, A.J.'s got a lot of green in his future.
Unfortunately for the SEC, they do as well.
Mark Ingram – Running Back – Alabama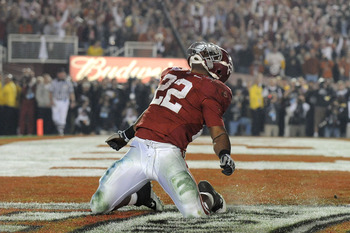 The title of the video really says it all.
Mark Ingram: "A Beast."
Sure, he's got his Heisman Trophy already, but wouldn't another be nice?
Ingram might not be the barn-burner Noel Devine or Quizz Rodgers are, but he might be the toughest to tackle after first contact.
Like a bowling ball crashing through pins, Ingram is sure to make more noise for the Crimson Tide this fall.
Mohamed Sanu – Wide Receiver/Running Back – Rutgers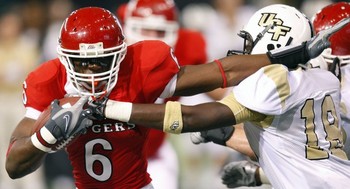 It's a running back!
It's a wide receiver!
It's a quarterback!
It's…
SANU.
He still might be under the national radar, but sophomore athlete Mohammed Sanu can do it all.
As a freshman he had 51 receptions for 639 yards, 62 rushing attempts for 346 yards, one pass for 38 yards, and eight total touchdowns (five rushing, three receiving, one passing).
He may not juke your socks off, but at 6-foot-2 and 215 pounds, Sanu is one of the most physical offensive weapons in college football who looks for contact.
He'll be looking for more in September.
Tate Forcier – Quarterback – Michigan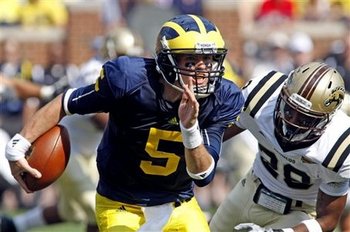 In Tate Forcier, there is a little bit of Frank Tarkenton, a little bit of Doug Flutie, and a lot of improvisation.
Mix those ingredients together and the results are some big time plays.
It's not often that broken plays and quarterback scrambles are considered good, but when Michigan's playing they're welcomed sights.
Forcier is at his best when he's on the fly, and it's amazing to see how this young quarterback can make a lot out of nothing.
The Wolverines (and Rich Rod especially) are expecting even more from "QB Force" as a sophomore.
Jeff Demps/Chris Rainey – Running Backs – Florida
Some things in life just aren't fair.
Let's be honest, it's hard to find a backfield like the one Urban Meyer has built in Gainesville.
Having someone like Chris Rainey, a threat to score every time he touches the ball, is a luxury in college football.
Throw in another home run threat like Jeff Demps into the mix and we're talking about a potential SportsCenter Top Plays monopoly.
Demps' 2009 stats?
Try 99 carries, 745 yards, and seven touchdowns.
And Rainey?
How about 89 carries, 575 yards, and five touchdowns.
They key stat, however, is Tim Tebow's 217 carries last year which essentially dwarfed Demps' and Rainey's touches.
Well Tebow's in Denver now and there are going to be 217 chances for Demps and Rainey to take it to the house in 2010.
Sincerest apologies, SEC–life isn't always fair.
Keep Reading

Rutgers Football: Like this team?