The Road to Repeating: Alabama Crimson Tide Has Long Haul Ahead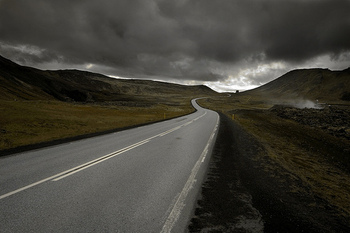 Alabama's football program has a long road ahead of them to repeat as national champs.
Aside from losing key players, I foresee potential dangers around the corner.
The Crimson Tide looked great in the A-day game and seems to have most of the kinks worked out, but almost every team on the 2010 football schedule has 'Bama in its sights.
By my count, Alabama should have at least seven games circled on the calendar. Here is each team, in order, that will attempt to calm the Tide!
Penn State Nittany Lions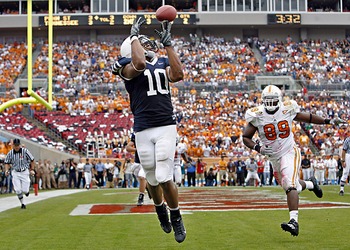 Alabama and Penn State certainly have history together—a total of 13 games played between the two, and although the Tide lead the series (8-5), it's not by much.
The total score between the two teams is also a small Alabama lead, 203-174.
The last game was played in 1990 at Bryant-Denny, 'Bama the victor 9-0.
History shows that when these teams meet, they fight it out until one can no longer stand. Although I expect the Tide to Roll, this one will be a nail-biter!
Arkansas Razorbacks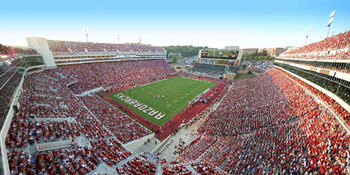 You better believe it! This one will be played in front of a packed house in Arkansas. There is so much wrong-color red in there it makes my eyes hurt.
Last season, I predicted Alabama would beat Arkansas by 28 points, and that's exactly what they did. That game, however, was a home game for the Tide and still early in the season.
This year the Razorbacks come into view at the same time as last year, but on their turf. You can bet that they will be ready, especially after the beating they have received the last few years.
Florida Gators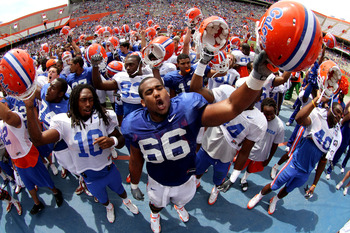 Oh boy! Thank God for home field advantage—they're gonna need it!
If ever a team saw a shot at redemption, this is it for the Gators.
Tim Tebow and his posse got embarrassed in Atlanta last year at the SEC championship game, and while he and most of his posse are no longer around, Urban Meyer will have no trouble getting his crew fired up for this one.
To defeat Alabama in Tuscaloosa would be the a major milestone for Florida's 2010 season.
Get your tickets now...this one will be sold out soon!
South Carolina Gamecocks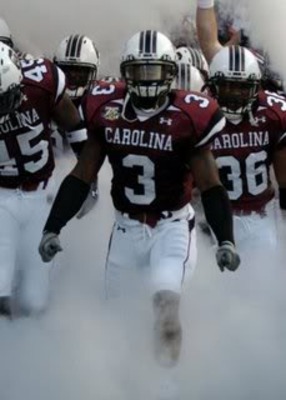 The Ol' Ball Coach is alive and well, and he coaches the South Carolina Gamecocks.
Steve Spurrier has been a nuisance for many teams in his career, and while the Gamecocks look to have a promising few years ahead of them, I don't think Alabama will fall into that trap.
I do, however, think that S.C could give the Tide a good run when they visit Columbia this fall.
Tennessee Volunteers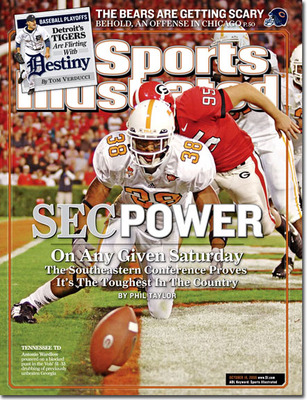 No more Terrence Cody. No more two blocked field goals in one game. No more Lane Kiffin.
Coaches come and go (in Tennessee's case anyway), but tradition never leaves.
The Third Saturday in October, as it is commonly referred to, has been one of the premier matchups in college football for years now. These two teams go at it like cats and dogs, and this year is no different.
Just because the Vols have a new coach doesn't mean those boys on the field won't know exactly what this game means when the time comes. They will be ready in Knoxville, and it would behoove Alabama to bring all they have.
Louisana State Tigers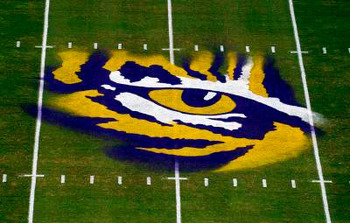 Back to the so-called Death Valley we go! Those boys down there in the bayou are still mad at St. Nick for leaving and want every chance they can get to take it out on his current team.
I heard they even tried to get into the NFL to take a shot at his Miami Dolphins...
Anyway, Death Valley is always a tough place to play, and if LSU has it their way, it will be a night game.
If Alabama were to lose a game in the regular season this year, this could be it!
Auburn Tigers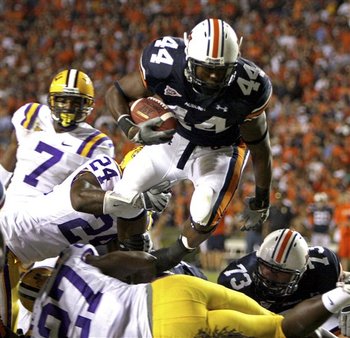 The Iron Bowl almost proved fatal for the Tide last year. The Tigers came out with deep balls and trick plays and caught Nick Saban and crew off guard.
They say the Iron Bowl is a game that no one can predict, and they're right. This one could go either way every year.
I don't see 'Bama coming away from this one with a loss, but a bit bumpy for sure.
The End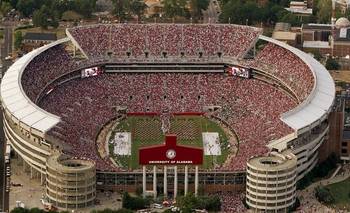 Well, there you have it. Any of these teams could give Alabama a run for their money. It's just matter of Saban properly preparing his team for a long, hard season.
There have been some stories of Saban trying to get the 2010 schedule adjusted due to the final six teams on the slate all coming off bye weeks to play the Tide, but as for now these are the teams.
Signing off and Roll Tide,
Derek Smith
Keep Reading

Alabama Crimson Tide Football: Like this team?