Indiana Pacers 2009-2010 Season in Review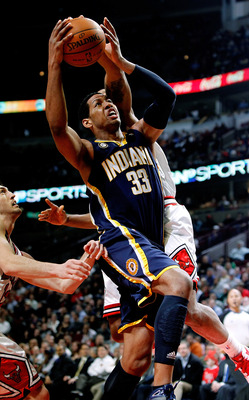 2009-2011 has turned out to be another disappointing year for the Indiana Pacers.
Once again, what began with promises of great things, ended up as another non-playoff season. What went wrong? Is there any light at the end of the tunnel?
Let's break down the Pacers' season, and how everyone on the team performed.
Team Performance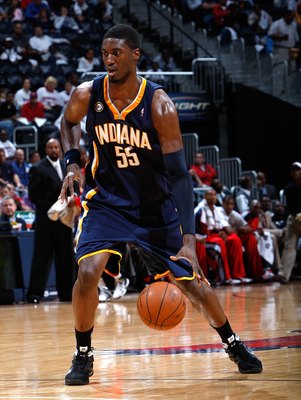 In 2009-2010, the Indiana Pacers compiled a record of 32-50, their worst since the 1988-89 season.
That came after two straight 36-win seasons.
Their record was good for 10th in the Eastern Conference. This was misleading, because there were really only nine teams battling for the playoffs for the latter half of the season. The Pacers were out of the playoff race early, but somehow managed to finish the season as one of the hottest teams in the league (winning 11 of 16).
All that did, unfortunately, was worsen their odds in the upcoming lottery.
As a team, the Indiana Pacers performed poorly right from the outset, losing three consecutive games to kick-start the season.
Then came an unexpected five-game winning streak that suddenly had everyone talking the playoffs. Sadly, this dream was quickly crushed as the Pacers went on to lose another four games straight and 10 of 11, dropping straight to the bottom of the East, where they remained for the majority of the season.
By March, the Pacers were an abysmal 20-40, and dropped to as low as 21-45. A final hot streak saw the team climb back from fourth last to 10th last in the NBA.
The Pacers were passable at home at Conseco Fieldhouse, going 23-18 for the season. However, they were appalling on the road with a record of 9-32.
Let's look at the numbers more closely.
For all the offseason talk about maintaining the team's high-octane offense, the Pacers were mediocre, averaging 100.8 points per game, 16th in the league.
On the other hand, all the chatter about ramping up the defense (with the acquisition of defensive-minded "Kobe Stopper" Dahntay Jones, Earl Watson, and Solomon Jones), they were the eighth worst defensive team, giving up 103.8 points per contest. The team's point differential of -3.0 points per game was 10th last in the NBA.
The Pacers were also the second worst rebounding team in the NBA, and were out-rebounded by 5.09 rebounds per game by opponents.
Danny Granger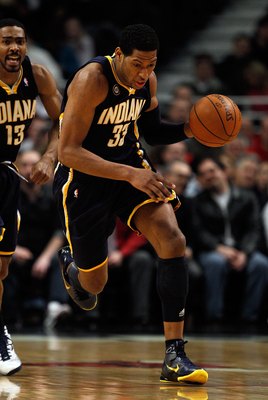 Everyone acknowledged that Danny Granger took a step back this season.
Last season's Most Improved Player and the undisputed face of the franchise struggled most of the season to find his groove, battling foot injuries that limited him to just 62 games.
Statistically, Granger regressed. His scoring was down (24.1 ppg, compared to 25.8 ppg last season), and all shooting percentages dropped as well. In other facets of his game, there wasn't much improvement either. Granger grabbed 5.5 instead of 5.1 rebounds per game and dished out 2.8 instead of 2.7 assists per game.
The silver lining is that Granger is still young and with another summer to work on his game, could still improve.
Besides, Granger did show a glimpse of what he was capable of towards the end of the season, repeatedly breaking the 30-point barrier and scoring a career-high 44 points against Utah on March 26.
Danny Granger heads into the offseason with a lot of questions hanging over his head. Has he peaked? Is he getting frustrated with the team's mediocrity? Can he ever be the true leader of this team?
We'll have to wait to find out.
Grade: B-
Troy Murphy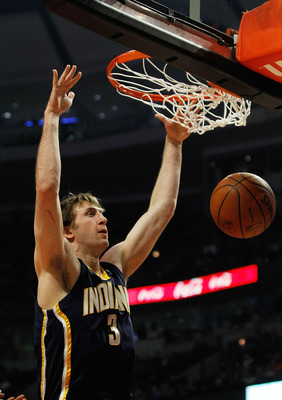 Troy Murphy had another double-double season, averaging 14.6 points and 10.2 rebounds in 72 games. Statistically, Murph wasn't too far off from last season, when he averaged 14.3 points and 11.8 rebounds, but shot better from all parts of the court.
He missed a bunch of games earlier in the season with back problems and took his time getting back into game shape. But once he did, Murphy continued to do what he did best—shoot threes and grab rebounds.
Murphy battled trade rumors leading up to the trade deadline, and almost went to Cleveland for the expiring contract of Zydrunas Ilgauskas. However, the Pacers asked for too much in return (i.e., JJ Hickson) and the Cavs went after Antawn Jamison instead.
Murphy has another year left on his contract, and unless the Pacers can get someone better in return (unlikely), let's hope he stays with Indiana for one more season. He may never learn to defend, but I can't imagine how much worse the team would have been with him this season.
Grade: B+
Roy Hibbert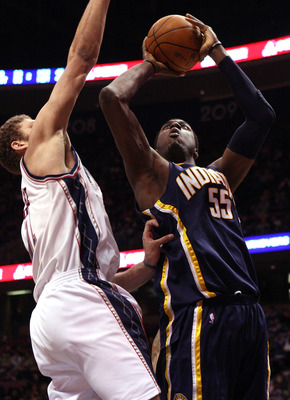 Big Roy Hibbert showed some promising signs this season, averaging 11.7 points (up from 7.1), 5.7 rebounds (up from 3.4), and 1.6 blocks (up from 1.1) per game in his sophomore year.
Hibbert is pretty much on track, improving his post game, extending his shooting range, and playing smarter on defense.
However, Hibbert's biggest problem remains the same—foul trouble.
Hibbert only played 25.1 minutes per game, and if he is to be more effective than just a role player, he needs to improve his footwork and decision-making to avoid those silly fouls he continues to make.
If he can average 30 minutes a game next season, he could take his game to a whole new level.
For now, Hibbert is still a work in progress, but at least he is showing potential. Let's hope he can continue to improve.
Grade: B
Brandon Rush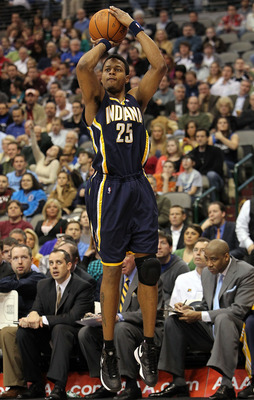 When Brandon Rush tore up the league at the end of last season with back-to-back 30-point games, everyone was predicting that he would break out during his sophomore season.
Well, not so fast.
Rush stunk up the NBA for the majority of the season, often looking like he did not even belong in the league. For the season, Rush averaged 9.4 points per game, marginally better than the 8.1 from his rookie year.
His three-point shooting improved (0.373 to an impressive 0.411), but his free throw shooting dipped to as low as 0.629, unforgivable for a shooting guard.
The improvements in other facets of his game were also negligible, despite playing an extra 6.4 minutes per game.
An ESPN article from John Hollinger suggested that Rush had one of the worst PERs (Player Efficiency Rating) of all time for a player that led his team in minutes.
Not exactly something you want on your resume.
The thing is, when Rush played aggressively, he showed some momentary signs of brilliance. He can clearly shoot the ball, is athletic, and is capable of being a good defender when he wants to. It's just a matter of confidence and consistency.
Some are already calling Brandon Rush a bust. Whether this is true or not will depend on how hard he works in the offseason. Rush needs to return like a different player in order for the Pacers to improve next season.
It seems his teammates and the coaching staff have confidence in him. It's up to him to not disappoint them.
Grade: C-
Earl Watson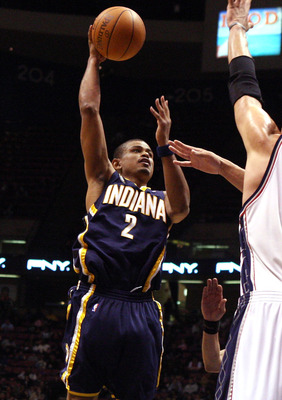 Earl Watson will never be a superstar, but he has surprised many this season by starting 52 games and putting up 7.8 points and 5.1 assists every night, both above his career averages.
Not mind-blowing numbers. Not even impressive numbers. But Watson wasn't expected to do anything. Just back up T.J. Ford a few minutes a night, maybe even lose that backup role to rookie A.J. Price.
Instead, Watson ended the season as Indiana's No. 1 PG.
He made up for his lack of natural talent by playing hard every night. It was frustrating at times, because no matter how hard he tried, he couldn't do enough to help the team win. However, the team's woes should not be attributed to the 30-year-old veteran.
Watson becomes a free agent during the offseason. Will he return? Will the Pacers be able to afford him? Does it really matter?
Grade: B+
Dahntay Jones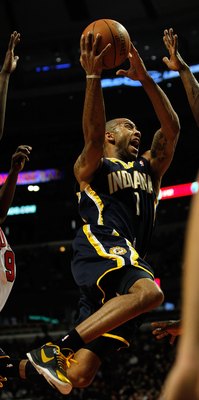 The Indiana Pacers made a big deal about acquiring Dahntay Jones from Denver. Known as an defensive stopper, Jones surprised everyone when he poured in the points at the start of the season in place of the injured Mike Dunleavy Jr. In October 2009, Jones averaged an astounding 17.5 points per game.
However, as the season progressed, Jones' numbers fell dramatically, and his minutes gradually dwindled. By the end of the season, he was getting benched for entire games despite still being productive on the court.
For the season, Jones averaged career highs in points (10.2), rebounds (3.0), and assists (2.0), but in doing so he didn't show the same defensive brilliance he was known for back in Denver.
So offensively, Jones impressed with his ability and athleticism, especially at the beginning of the season. But ultimately, he wasn't what the Pacers needed.
He has has a couple of years left on his contract, so Jones will probably be around next season.
Grade: B-
Mike Dunleavy Jr.
Major knee surgery never leaves an NBA player the same.
That said, Mike Dunleavy Jr. has fared reasonably well upon his return this season, averaging 9.9 points and 3.5 rebounds, while shooting 0.410 from the field and 0.318 from the three-point line in 67 games.
Statistically, it hasn't been a great year for a guy who once averaged 19.1 points, 5.2 rebounds, and 3.5 assists.
But all things considered, things could have been a lot worse.
The Pacers are now saying that Dunleavy will be a different player next season as his legs get stronger. He couldn't guard anyone even when he was fully fit, so no one is expecting Dunleavy to become a top defender over the summer.
However, if he can get back to averaging 12-15 points a game, the Pacers could certainly use his dynamic offense next season.
Grade: B
T.J. Ford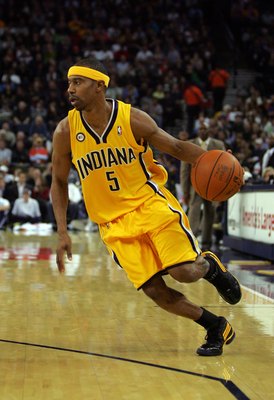 T.J. Ford lost his starting position to Jarrett Jack last season. This season, with Jack bolting to Toronto, many thought Ford would revive his career and begin playing the type of ball he was once famous for.
Not to be.
This season, things went from bad to worse for poor T.J., who averaged 10.3 points but only 3.8 assists.
After starting the season reasonably well, Ford's poor play led to him being on the trading block, except no one wanted him.
Things took a sour turn when Ford was benched indefinitely in favor of a Watson/Price duo, as Coach O'Brien refused to play three point guards.
Ford sat out all of January, but made an unexpected return when Watson left the team for personal reasons. Ford played well enough to remain in the rotation in favor of rookie Price, until Ford injured his groin in mid-March, and remained out of the line up for the remainder of the season.
Ford is not the solution in Indiana, and everyone knows it.
He needs to go, except no one would take him off Indiana's hands, and he will no doubt exercise his player option for 2010-2011. Looks like the Pacers are stuck with him for another year.
Grade: D+
A.J. Price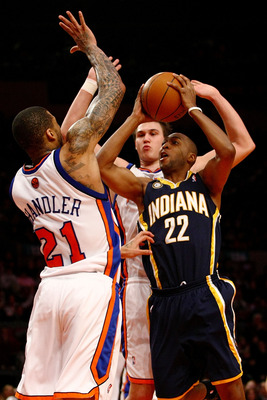 Second-round pick AJ Price has had a surprising, albeit strange season, thanks to the T.J. Ford saga.
After playing sparingly for the first couple of months, Price suddenly found himself pushed into the spotlight when T.J. Ford fell out of favor with Coach O'Brien, only to be pulled out of the rotation again when Ford returned.
Thanks to Ford's injury, Price managed to play out the last few games of the season, showing some promise.
The rookie was an impressive scorer, averaging 7.3 points in just 15.4 minutes, and managed to hit a few big shots down the stretch in close games. He played in only 56 games, but arguably should have played in a lot more.
As a second-round pick, Price was not supposed to get any playing time, so I suppose from that perspective he has exceeded expectations. However, no one really believes he is the long-term solution at point guard.
Grade: B+
Tyler Hansbrough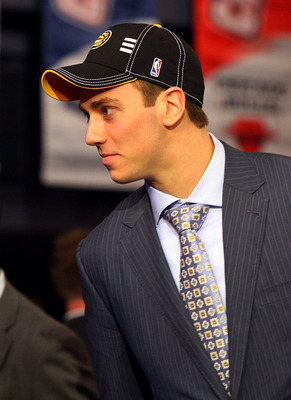 Many are already calling Tyler Hansbrough, the 13th overall pick by the Pacers in the most recent draft, a bust.
Personally, I'm not quite convinced of that yet. Hansbrough only played in 29 games in his rookie campaign, succumbing mid-way through the season to a mysterious ear infection that he just couldn't shake off.
Despite only averaging 17.6 minutes, Hansbrough still managed 8.5 points and 4.8 rebounds per game. His shooting percentage is low (36 percent), but he's a physical guy who grabs offensive boards, hustles, gets to the line, and gives the Pacers another dimension to their game.
Hansbrough started his NBA career with a bang, scoring 13 points and grabbing 5 boards in just 14 minutes of play. He would then go on to show occasional but inconsistent brilliance, including a career high 21 points against New Jersey on 11 December 2009.
However, some time in late December, Hansbrough developed a bizarre ear infection that left him unbalanced and unable to work out. The initial diagnosis was only a week or two, but somehow Hansbrough would not play again after 16 January 2010, ending what was supposed to be a promising rookie season.
The most important thing for Hansbrough is to recover 100 percent from this nasty ear infection, which must surely go down as one of the worst in medical history. Hopefully, he hasn't fallen behind too much during his time off.
For Hansbrough to help the Pacers next season, it's imperative that he improves his skills and conditioning in the offseason to match the intense emotional aspect of his game.
Grade: Inconclusive
Josh McRoberts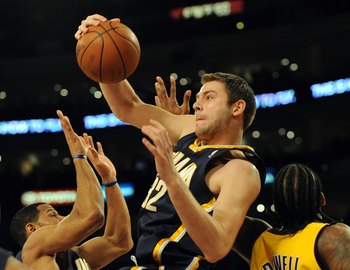 Thanks to injuries and poor team performance, third-year forward Josh McRoberts finally got more of an opportunity to show the NBA what he is capable of this season.
And when McRoberts played, it made everyone wonder why Jim O'Brien didn't play him more often.
In 42 games this season (including three starts), McRoberts averaged just 12.5 minutes per game, but still managed career highs of 4.3 points, 3.1 rebounds, and 1.0 assists, while shooting 52 percent from the field.
Used sparingly for most of his career, McRoberts got an opportunity when Jeff Foster was ruled out of the season with a back injury.
With the Pacers stumbling out of the playoff race, McRoberts took advantage of the added playing time, throwing in a couple of "monster" games, including a 15 point performance against the Lakers, a 14 and 12 performance against the Wizards, and a career high 18 points and 12 rebounds against the Rockets on 4 April 2010.
McRoberts may not be a starter in the NBA, but he brings energy, athleticism, hustle and excitement to the Pacers. Let's hope he can continue to work on his game and be given more consistent minutes next season.
Grade: B+
Solomon Jones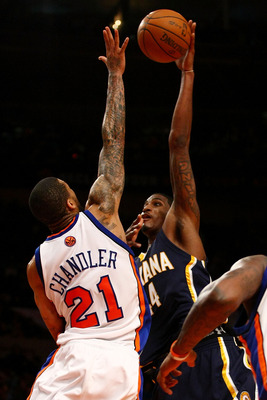 For some reason, the Pacers touted Solomon Jones as a high profile pick-up during the offseason. For someone who had never averaged more then 3.3 points in a season, that's an awful lot of expectations.
Jones was considered a high-potential prospect, a big body that could block shots—and the Pacers were hoping could develop into the next Jermaine O'Neal.
Unfortunately, things are not turning out as planned. Jones played in 52 games this season, averaging a less than impressive, albeit career high 4.0 points and 2.8 rebounds per game.
Jones grew increasingly frustrated by Coach O'Brien's seemingly random rotation and substitution patterns, where he could play anything from 0-20 minutes on any given night. This culminated in an undisclosed "conduct detrimental to the team" one-game suspension in March.
Even after returning, Jones' playing time remained sporadic and inconsistent. With one more year remaining on his contract, will Jones want out during the offseason?
Grade: C-
Jeff Foster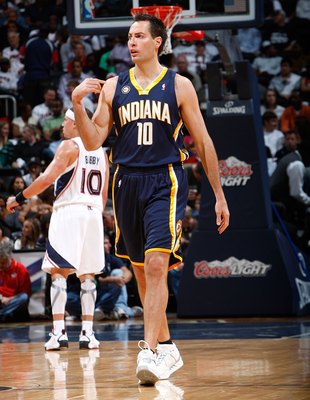 Aging veteran Jeff Foster has had a forgettable 2009-2010 season.
Back injuries limited Foster to a career-low 16 games before he underwent season-ending back surgery in mid-February. His minutes (15.9), points (3.1), and rebounds (5.0) per game were his worst since 2002-2003.
Foster brings excellent rebounding and hustle to the Pacers, which were both sorely needed this season. He is not an outstanding defender, but on the defensively weak Pacers, Foster is actually one of the better options.
While his athleticism is clearly in decline, Foster is still capable of helping the team and tutoring the youngsters.
Hopefully, Foster can have a better 2010-2011 season and finish his career in Indiana.
Grade: D
Luther Head
Luther Head was expected to come in and help the Indiana Pacers right away. A guy who has proven he can handle and shoot the ball, Head seemed to have a lot going for him when he joined the team.
Well, Head never fitted in properly in Jim O'Brien's rotation, playing in 47 games (starting 10) and averaging 7.6 points in 17.3 minutes.
Head was another one of those guys who could play 20 minutes one night and get a "DNP—Coach's Decision" the next.
Head was at his best in late December and early January, when he averaged 17.9 points over a seven-game stretch, including 30 points against Memphis. But things soured for Head later in the season, playing in just four games from the beginning of March.
Head's off the books after this season. Will he return? Does he want to?
Grade: C-
Travis Diener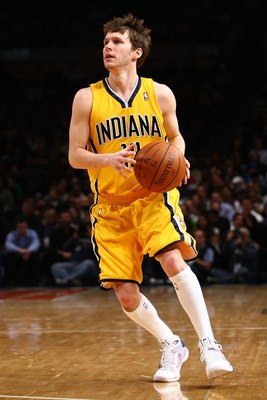 Travis Diener was never going to make it on the Pacers as the third or fourth string point guard. Being injured didn't help either.
Diener's career with the Pacers ended sadly, playing in only four games this season (6.3 minutes per game) before being waived. Fortunately for him, Diener signed with the Portland Trailblazers.
Grade: N/A
Coach Jim O'Brien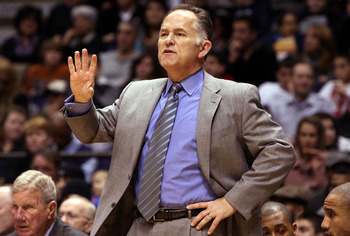 Larry Bird has said that the Indiana Pacers are sticking with Jim O'Brien. It's hard to imagine that Larry Legend is actually pleased with Jim's performance, so it's probably because of financial restrictions that O'Brien has not yet been replaced.
After two consecutive 36-win seasons, O'Brien's third year with the Pacers was another disappointment as the team managed to only rack up 32 wins, many of which came only after the playoffs became an impossibility.
O'Brien's offensively charged strategy was supposed to be supplemented by improved defense this season, but not only were the Pacers still incapable of guarding anyone, their offense suffered as well.
In addition, O'Brien changed his rotation and lineup so frequently that it was sometimes difficult to remember who still played for the team.
Guys like Solomon Jones, Luther Head, and Dahntay Jones played significant minutes one night and zero minutes the next.
T.J. Ford was supposed to be left out of the lineup indefinitely, until they could find a trade for him, but somehow he returned and took the minutes of promising and developing rookie A.J. Price.
Worst of all, with the season down in the gutter and the playoffs out of the picture, O'Brien played his starters for significant minutes (35-40 a night), when he really should have been giving them to the young guys to develop their experience and confidence.
The result? A bunch of wins against tanking teams that felt good at the time, but dropped the Pacers from a top-five pick to what is likely the 10th pick in the next NBA draft.
Well done.
Grade: E
President: Larry Bird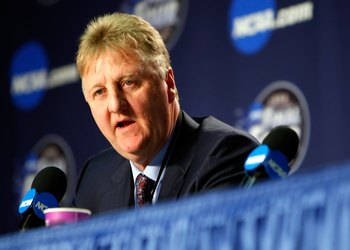 I love Larry Bird as a player, but let's not kid ourselves—he has not done well as team president.
Much of what has happened this season is not entirely Larry's fault, but what irritates me is the spin that he and the Pacers have been putting on everything.
In the season-ending press conference, Bird said that things were "on track" with the Pacers. What track could that possibly be? One that goes backwards?
Every year, the season starts off with promises of great things, of the playoffs, of a return to elite basketball.
And every year, the season ends with the same excuses, injury being the one that never gets old.
If you look through the archives, you'll see that this season was supposed to be the one that the Pacers returned to the playoffs under Bird's three-year plan. But of course, there's no mention of that, and suddenly the Pacers have always been exactly where they are supposed to be.
It's understandable that the Pacers would be struggling. There's no money, and it's a small market. The franchise has had a tough few years recovering from the Detroit Brawl. Poor draft picks. A lack of leadership and talent. An offensively geared head coach. No significant cap space until the end of next season.
But please, just be honest about it.
Say that the franchise's hands are tied now, but things will change when the team can sign new talent that can actually help.
Don't insult the intelligence of the fans by saying that the franchise is "on target" and "moving in the right direction."
Grade: D
Verdict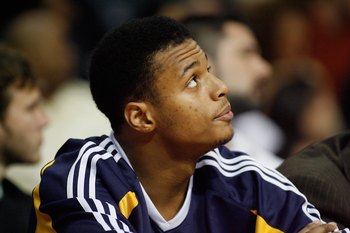 What began as a season where the Indiana Pacers would be making a serious push for the playoffs turned out to be one of the most disappointing in franchise history.
In short:
Record 32-50. 10th place in the Eastern Conference. 10th last in the NBA. Had a top five pick in hand, but are instead looking at the 10th pick due to some untimely winning. Horrible defense. Unstable offense. Unfortunate injuries. Bizarre coaching decisions. The No. 1 option regressed. The No. 2 option was almost traded. There was no No. 3 option. In all, not much to get excited about.
Team Grade: D
Outlook for 2010-2011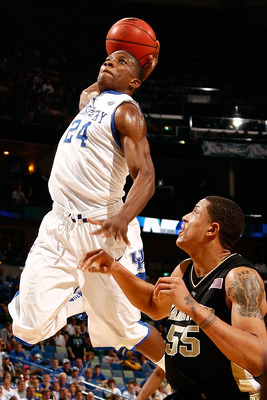 The Indiana Pacers enter the 2010 offseason with a lot of uncertainties.
The team brought in seven new players in 2008 and six in 2009, which took time for the team to gel.
Even though Bird said the Pacers were going to be very busy over the summer, with only Luther Head and Earl Watson coming off the books, it doesn't look like there will be a lot of flexibility.
So will the Pacers stay put and throw in another mediocre, non-playoff season for 2010-2011 until significant cap space opens up, or will they go for the kill and make some big trades with their numerous expiring contracts (Troy Murphy, Mike Dunleavy, T.J. Ford, Jeff Foster, Solomon Jones)?
On the other hand, what we do know is that Coach Jim O'Brien will definitely be back for another year, and despite rumors to the contrary, the Pacers will remain in Indiana.
As for the NBA draft, chances are the Pacers will have the 10th pick. Most mock drafts have the Pacers going for a power forward or center like Greg Monroe, Daniel Orton, or Cole Aldrich.
While the Pacers may look to move up in the draft, the team has reiterated that point guard is their main priority.
But with a dearth of PGs in this year's lottery, could the Pacers move down instead, and take someone like Eric Bledsoe?
Whatever happens, unless the Pacers can land a second big-time player to go along with Danny Granger, it could be more of the same in 2010-2011—ups and downs, flashes of promise, but ultimately, just missing out on the playoffs once again.
Keep Reading

Indiana Pacers: Like this team?