The 20 Gutsiest Performances in Sports History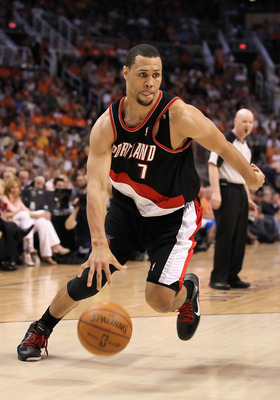 It just sounded absurd. You don't walk eight days after knee surgery.
Yeah, run a little bit. I dare you. You're back in bed for eight weeks.
Brandon Roy took it so much further. The Portland star came back from a knee surgery just eight days before to score 10 points in 27 minutes of play in Saturday's 96-87 win in Game Four of the Trail Blazers' first-round playoff win against Phoenix.
Announcers and pundits were calling it the gutsiest performance in sports history. Whoa there, hero. Before you go dealing in all that hyperbole, let's put Roy's performance up against the sickest performance in sports history.
20. Pete Sampras' Hurl (1996)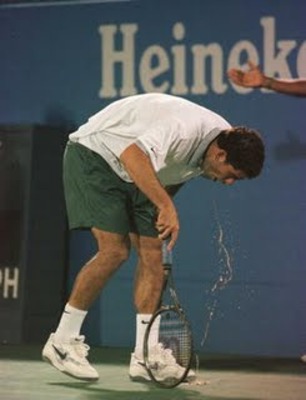 The match itself—a four-hour, nine-minute five-setter against Alex Corretja of Spain in the U.S. Open quarterfinals—already had the makings of an all-time memory. But in the fifth-set tiebreaker, Sampras lost his cookies behind the baseline.
He went on to win the match, 7-6 (7-5), 5-7, 5-7, 6-4, 7-6 (9-7), and defeated Michael Chang in the finals.
19. Brett Favre Wins for His Dad (2003)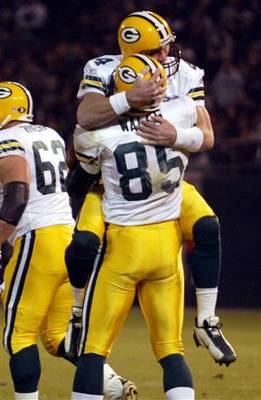 We could all relate. Favre lost his father just one day earlier to a heart attack, so no one would have blamed him for skipping the Dec. 22 Monday Night Football game.
But Favre played for his dad. He threw for 399 yards in a 41-7 win against the Raiders and endeared himself to a nation.
Even Raider Nation gave him a standing ovation.
Almost makes you forget about the 18 retirements.
18. Ronnie Lott's Pinkie or Lack Thereof (1985)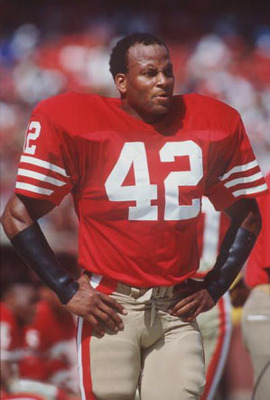 It wasn't immediately noticeable because Ronnie Lott wouldn't let you see his pain. He collided with running back Tim Newsome and mangled his finger.
Lott went to the sideline, taped it up, and returned to help catapult the 49ers to a wild-card spot with a win against the Cowboys.
The pain never went away though. He probably messed it up even more in a loss to the Giants the next week. In the offseason, he chose amputation over surgery to solve the problem.
He made his third Pro Bowl in 1986.
17. Nancy Kerrigan and the Terrorized Knee (1994)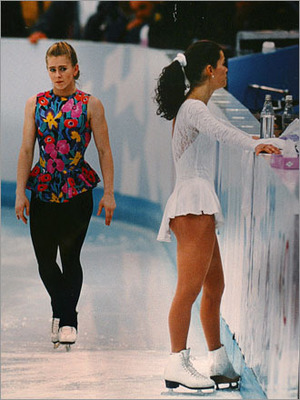 Tonya Harding's henchmen couldn't finish off the assault at the Olympics tryouts. Kerrigan tried to skate but couldn't compete enough.
When it was revealed Harding's crew was behind the attack, Kerrigan was granted a waiver into the Olympics.
Four months after the attack, Kerrigan won a silver. Only Oksana Baiul kept her from gold.
16. Lance Armstrong's Tour Tumble (2003)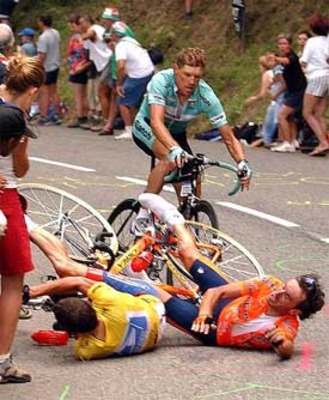 Lance Armstrong, Stage 15, 2003 Tour de France.
Armstrong crashed with six miles left in Stage 15 of the Tour de France. His handlebars clipped a spectator's bag, sending him flying to the tune of a bloodied elbow and bruised shoulder and hip.
Armstrong not only finished the stage, but won it by 40 SECONDS to extend his lead in his fifth of seven consecutive Tour wins.
I don't care if he was on steroids (the evidence says he wasn't, Horatio Caine). That had to hurt.
15. Emmitt Smith's Collarbone (1994)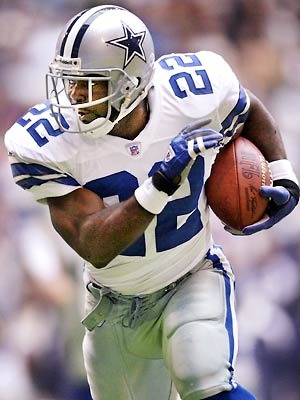 It's one of those moments that would have been bigger if it had been in the playoffs.
This was the regular-season finale. Smith got crushed in the first half to the tune of a dangling shoulder. He never left the game even though it was clear his collarbone was toast.
Instead, he went on to rush for 229 yards in a 13-10 overtime win against the Giants that locked up a first-round bye.
14. Byron's Near Win for the Shin (2002)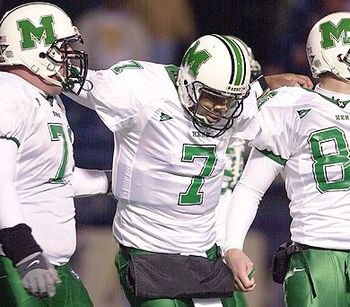 It was a regular-season game in November against winless Akron. Yes, Marshall was making waves on the national scene, but the game meant nothing. Don't tell that to Byron Leftwich.
I believe he's still in the NFL solely on the back of this one performance. Zips linebacker Ryan Myers aimed for and took out Leftwich's left shin in the first quarter—the same shin that underwent stress fracture surgery earlier that summer.
The hit reeked of Tim Krumrie. Leftwich not only got up but finished the drive for a touchdown. His coaches made him go to the hospital for X-rays. They were negative, so Leftwich got back to the stadium in time for the third quarter.
The pictures looked crazy. After every long pass, his linemen carried him down the field. The Thundering Herd lost the game, 34-20, but Leftwich became infamous from the effort.
13. Jordan's Flu Game (1997)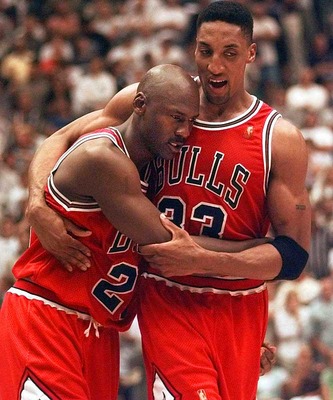 I remember seeing Jordan in pregame warm-ups for Game Five of the 1997 NBA Finals and saying, "There's no way he's playing." The series was tied, 2-2. It was a crucial game. But the flu doesn't follow sports.
Bad idea to underestimate MJ. He started in Salt Lake, so then we watched for timeouts for him to go back to the locker room. Didn't happen.
Jordan scored 38 points with a stomach virus that had him in bed until three hours before the game. The Bulls went on to beat the Jazz in six.
12. Willis Reed and the Comeback (1970)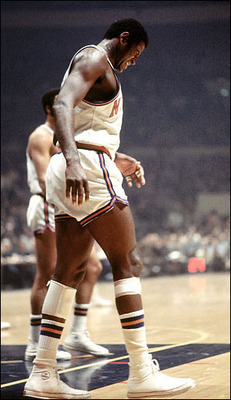 Maybe I'm just sick of hearing about this one. Maybe I'm just swayed by my dad, a Celtics fan who thought it an overblown legend. It was still special.
Sometimes a gutsy performance wins on its own, and sometimes it inspires the rest of the team to play their hearts out.
Such was the case with Willis Reed and the 1970 Knicks, who faced the Lakers in Game Seven at the Garden.
There's no doubting Reed had torn a thigh muscle that kept him out of the sixth game of the 1970 NBA Finals against the Lakers.
Thigh muscles don't heal in a game, so no one was expecting Reed to play in Game Seven. Instead, he came out for warm-ups and hit the game's first two scores. It was his only scores of the night but it set the tone.
The Knicks won behind Walt Frazier's 36 in a 113-99 runaway.
11. Brandon Roy on Healing Knee (2009)
He's middle of the list for us because of a huge factor.
Roy was technically not risking further injury by playing. As insane as it sounds to play professional basketball eight days after a surgery, Blazers team doctors cleared him to play.
Technology has come a long way since the days of Willis Reed. That aside, we still give him plenty of props because even if the doctors said he's fine, he still had surgery EIGHT DAYS AGO. Who among us would have the mental guts to go out there, let alone be a factor in a win?
10. Joe Montana Fever (1979)
The stories of his studliness are endless. But you might have missed this one.
It was Montana's final game with the Irish. Notre Dame was down 20-12 at the half. Joe didn't play in the third quarter because his body temperature had dipped below 96 degrees.
He ate chicken soup and layered himself in blankets to get clearance back into the game. Then he led the Irish to 23 unanswered points in the fourth quarter, capped by a touchdown pass as time expired.
That's why they call him Joe Cool.
9. Kerri Strug Vaults on One Good Leg (1996)
The idea of the U.S. winning a team gold medal in Atlanta was a long shot, but there they were in position to wrap it up with one good vault from the tiny little gymnast. She fell on her first vault and hurt her ankle bad. But there she went, nailing the next jump and being carried off by Bela Karoyli.
Turns out Shrug didn't need to do the jump—her worst score would have been taken off and the team should have won. That doesn't make Shrug any less heroic.
It just solidifies the idea the Karoyli is a thug.
8. Curt's Bloody Sock (2004)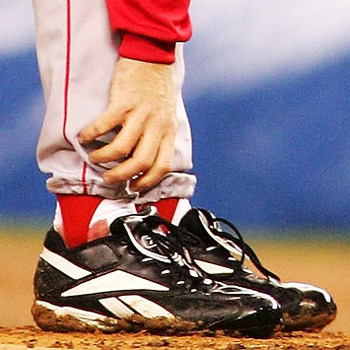 I had to drop him two spots just because I'm a Sox fan.
Yankees fans, you need to give us this one. Curt Schilling was pitching with sutures in his right ankle to hold a tendon in place.
It was a move that could have ended his career that night. In retrospect, it probably shortened his longevity. But he gave up one run in seven innings as the Sox won Game Six of the ALCS, 4-2.
He did the same thing in Game Two of the World Series.
Schilling later issued a $1-million challenge to anyone who could prove the red stain wasn't blood. Schilling kept the money. It was blood, people.
7. Terrell's Super-Sized Migraines (1998)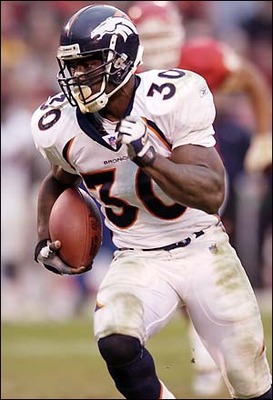 Anyone who has ever had a migraine knows what a monumental feat this was. If you haven't had one, trust me. You need the lights out and complete silence just to dull the pain to an eight.
Add in 75,000 screaming fans and lights galore and you have a legend.
Davis developed the migraine in the first quarter after a hit. In the concussion-freakout world of 2010, Davis would have never been allowed back in.
He missed most of the second quarter but returned to finish the game with 157 rushing yards, three touchdowns and a Super Bowl XXXII MVP trophy.
This one never gets enough play. It should.
6. Steve Yzerman's One-Legged Skate (2002)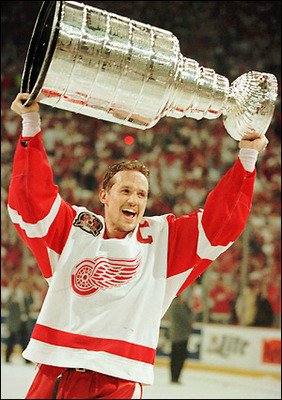 Yzerman's knee was so mangled that even a surgery couldn't keep it from healing back crookedly. Stevie Y was off the ice for most of the first half of 2002.
Then came the playoffs. Yzerman helped the Detroit Red Wings get to the Stanley Cup finals in easy fashion and then was the centerpiece of a seven-game win against Colorado in the Stanley Cup finals.
He was never right after that. But the images of him skating around the ice on one leg with the Cup are classic.
5. Kirk Gibson's Bum Legs (1988)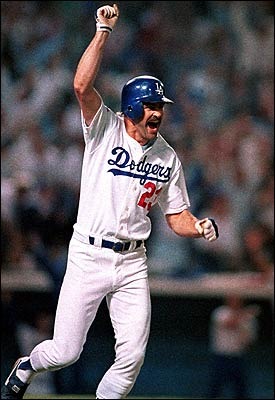 Why did they even have him in uniform? His hamstrings was shredded.
He was on the trainers' table when he heard legendary Dodgers voice Vin Scully mention that he wasn't in the dugout. Gibson got up and told Tommy Lasorda he was ready. He had one good swing in him.
That's great, Kirk, but this is Game One of the World Series, man. Nonetheless, Lasorda played a hunch and sent him up with a man on base against Hall of Fame closer Dennis Eckersley.
Gibson looked silly in his first couple cuts. This was almost cruel. He managed to work the count full and with two outs in the bottom of the ninth, Gibson made contact and sent the ball over the right field wall.
It was Jack Buck with the famous call, but it was Scully's words on the radio that made Gibson get all Marty McFly.
4. Tiger's Bum Knee (2008)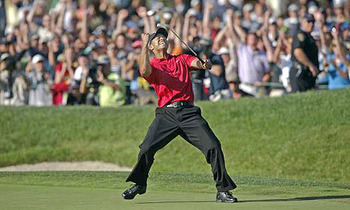 Tiger Woods has had his fair share of self-inflicted recent problems. But there's no denying the magic of this moment.
Comics joke that his bum knee probably happened in a threesome with his mistresses. However it happened, Woods was clearly in pain hobbling around on a rehabbed knee.
To make it worse, he had to play an extra hole to beat Rocco Mediate on the 19th hole of a fifth-day playoff round. Woods later revealed he had suffered a double fracture of his tibia during rehab and took the rest of the 2008 season off.
3. Ben Hogan at the U.S. Open (1950)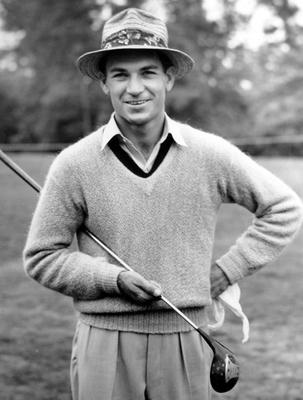 We tend to forget about the older moments because fewer and fewer of us were around to see them.
Historians (and my dad) all point to this as the definition of guts.
Hogan was in a near-fatal car accident in February 1949 in the days long before air bags. He suffered a double fracture of his pelvis, a broken ankle, a broken collarbone, and a smashed rib. At first, doctors wondered if he'd ever walk again.
Eleven months later, Hogan returned to the golf course. Five months after that, he won the U.S. Open in an 18-hole playoff.
2. Shun Fujimoto's Kneecap (1976)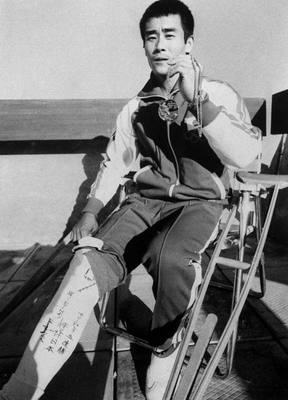 I blame Mitch Gaylord for gymnasts being labeled wimps. Shun Fujimoto was no wimp.
The gymnast broke his kneecap during the floor exercise but didn't tell his coach. Japan was battling the Soviets for the gold, man. Suck it up.
He went on to score a 9.5 on the pummel horse and then completed a dismount off the rings that crumbled what remained of the kneecap.
The Japanese won the gold and Fujimoto became an all-time national hero.
If that had happened to an American, we would have made a movie greater than "Rudy" from it.
Whoa, wait a minute. No movie is greater than "Rudy." My bad.
1. Bob Baun's a Man (1964)
Bob Baun wasn't the world's best scorer. He was never super at anything in his NHL days, save for this moment. And if you're going to have one memory, this is a pretty good story to tell.
Baun took a Gordie Howe slap shot off his ankle during Game Six of the 1964 Stanley Cup finals. His Toronto Maple Leafs were down 3-2 in the series and tied 3-3 in the third period.
Baun went to the locker room, where he was told his ankle was severely broken. Whatevs.
The dude laced back up, re-entered the game and scored the game winner in overtime.
The Leafs went on to win Game Seven as well.
Keep Reading