ACC 2010 Football Standings: Predictions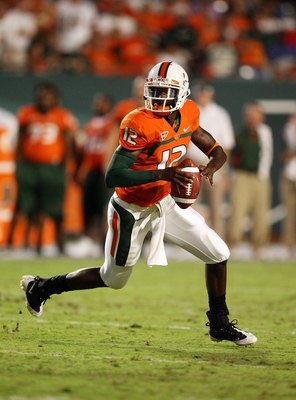 The ACC is one of my favorite divisions in NCAA football for 3 reasons.
No.1: They play excellent defense.
No. 2: Recently, they have had GREAT halfbacks.
No. 3: Some of my favorite teams play there, including my favorite team of all time, the U.
Because of my passion for ACC football, I have decided to write my predictions for the 2010-2011 football season.
Be careful though—they might not be what you expect.
Number 12: Virginia Cavaliers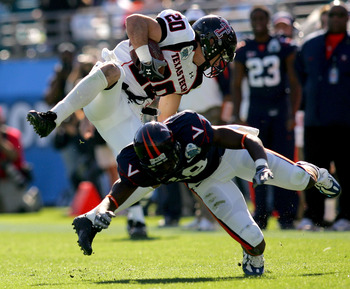 What do you get when you take a great coach from an extraordinarily inconsistent team?
Ask the Virginia Cavaliers, who fired Al Groh a few months ago.
The Cavalier offense is a dream for opposing secondaries, who will bully it with picks and turnovers. This is a team that has suffered recent losses to William & Mary, Indiana, and Southern Mississippi. They are the scum of the ACC, and the reason the ACC is looked down upon by some football analysts.
Predicted Record:
2-10
Number 11: Duke Blue Devils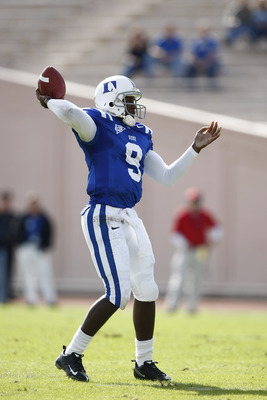 There are only three things Dukee's do well:
basketball, debating, and making every one else feel like they are better than them.
At least they are bad at one thing: football. The only reason they aren't last is because they have a good quarterback.
However, that defense is about as durable as a piece of paper.
Predicted Record:
3-9
Number 10: Florida State Seminoles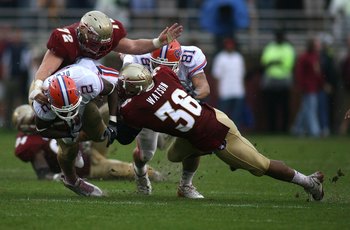 Florida State has lost the two most important parts of last year's team.
They lost the second greatest coach of all time (behind Paul Bryant) in Bobby Bowden, and they lost mighty linebacker Dekoda Watson. Even with Bowden and Watson, the Seminoles still had a very average 7-6 season.
Now, they take in an unproven rookie coach to replace him.
The key to the 'Noles having a good season is to play some good defense. They already have Christian Ponder, so they are fine on offense, but they need to find that great linebacker to replace Watson. I do not think they can do that.
Predicted Record:
3-9
Number 9: NC State Wolfpack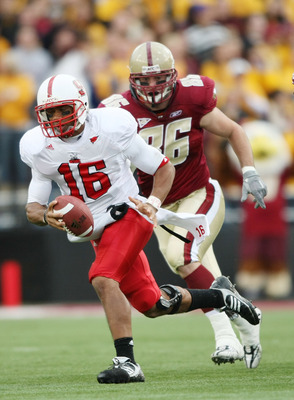 Remember last year when we thought that NC State was going to be REALLY good because of Russell Wilson?
I bought into that and was slapped in the face. I'm not falling for it again.
Remember: there is no "Russell Wilson" in team. Just ask Nnamdi Asomugha and the Raiders. The key to the Wolfpack having a successful season is to find that other star, maybe even a couple, if they are lucky.
Until then, the Wolfpack will continue to be inconsistent.
Predicted Record:
4-8
Number 8: Wake Forest Demon Deacons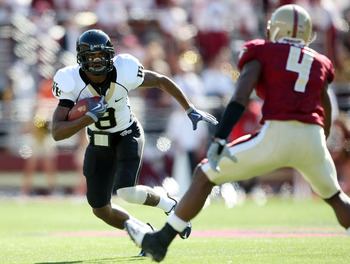 Maybe it's the fact that Aaron Curry, the best player in Wake Forest's football history, is gone. Maybe it's the fact that Jim Grobe might be losing his touch. Maybe it's that the team is distracted because Riley Skinner keeps posting photos of himself naked on the Internet (like anyone cares).
Wake Forest lacks a legitimate star, and anytime that is the case, your team will not succeed. This team is boring, and boring teams don't win a lot of games.
Predicted Record:
5-7
Number 7: Maryland Terrapins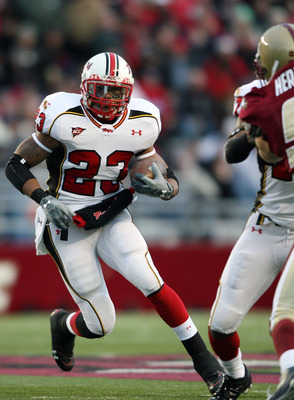 The Terps are not a team without hope. They may have the consistency of a seesaw, but they have some stars.
On offense you have RB Da'Rel Scott, who had 1,113 rushing yards in 2008 and was even in the Maxwell Award talk for a while.
On defense, they have Alex Wujciak, a guy who had 133 tackles in '08 and was a Butkus semifinalist last year. Although the Terps' QB is not proven, coach Ralph Friedgen is excellent at producing great quarterbacks, and will make the new one a hit.
These players are angry and are coming back with a vengeance this year. I think they will rise up and have a winning season, saving the Fridge's job and establishing that Maryland is a good football team.
Predicted Record:
7-5
Number 6: Boston College Eagles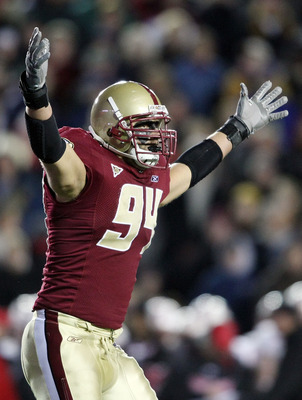 The Eagles wouldn't even be higher than Wake Forest if it weren't for one player: Mark Herzlich.
The guy is a great linebacker, and he will have an outstanding season this year. The team hangs on his massive back.
Predicted Record:
8-5
Number 5: Georgia Tech Yellow Jackets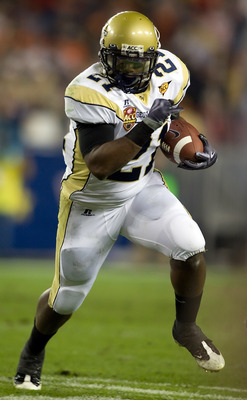 The Yellow Jackets are a good team, and nothing I have seen should change that.
However, it's hard to imagine a team that lost Jonathan Dwyer and Derrick Morgan to make it back to the ACC Championship. They will be good because of their coach, but don't expect too much from the Engineers this season
Predicted Record:
8-5
Number 4: Virginia Tech Hokies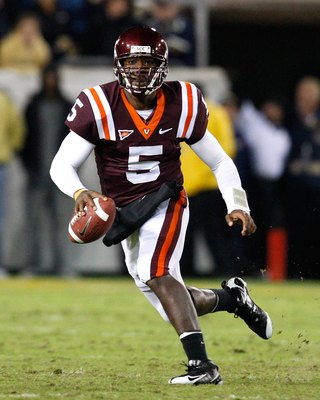 Take a great coach, a great defense, a great quarterback and an easy schedule, put it together and what do you get?
An incredible football team.
Tyrod Taylor is the next Michael Vick, and will definitely succeed this year. Though the team doesn't have any defensive leader so far, they will certainly get one.
The Hokies are a dangerous team this year. Watch out!
Predicted Record:
11-2
Number 3: Clemson Tigers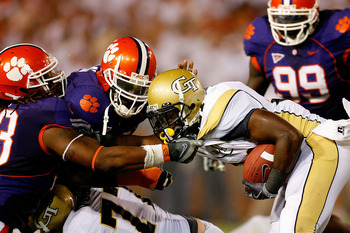 Even without C.J Spiller, the Clemson Tigers are still an impressive team.
Da'Quan Bowers has all the skills to be a star. He led the team in defensive line tackles last year, and could be the third best DE in the league next year.
The Clemson secondary is impressive, too. Even the quarterback, Kyle Parker, looks talented. He has great accuracy, and I like his throwing motion.
Predicted Record:
11-2
Number 2: North Carolina Tar Heels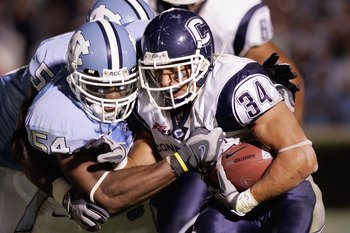 DEFENSE! BABA! The UNC Tar Heels may have the best of it next year.
At linebacker they have two monsters. In the middle, they have Bruce Carter, who had 1 sack, 65 tackles and 1 monster interception for a touchdown last year. Then you have Quan Sturdivant, who had 88 tackles, 1 sack and 1 forced fumble.
At defensive line, they have two of the best defensive lineman in the league—Robert Quinn and Marvin Austin.
There is only one team in the nation who will be able to defeat this defense.
I wonder who that could be?
Predicted Record:
12-1
Number 1: Miami Hurricanes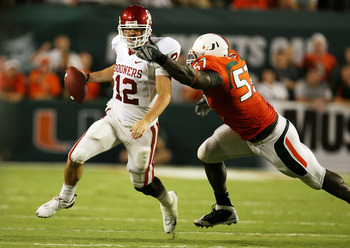 The Miami Hurricanes have been knocking on the ACC Championship door almost every season, and they are about to blow it down.
On offense, they have a quarterback who I believe could be a Heisman finalist in Jacory Harris. Harris passed for 1195 passing yards last year and 12 TD's.
On defense, you have Allen Bailey, who could be the best defensive end in the nation coming into 2010-2011. Last season he had 7 sacks, 96 tackles, 1 FF and 1 TD.
Add a couple other minor stars like Colin McCarthy, Marcus Forston, Graig Cooper and Marcus Robinson, and you have an Orange Bowl caliber team.
Predicted Record:
12-1
MVP: Jacory Harris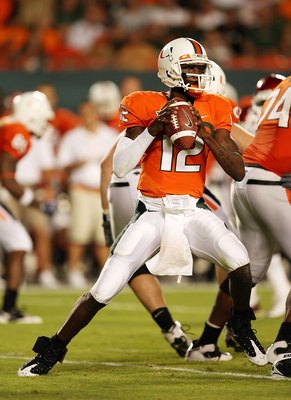 Defensive Player of the Year: Allen Bailey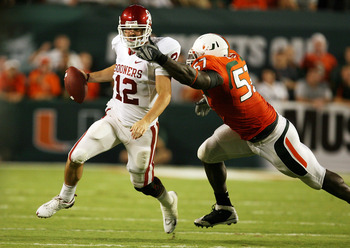 Keep Reading

Maryland Terrapins Football: Like this team?