College Football 2010: Five New Drinking Games To Play This Season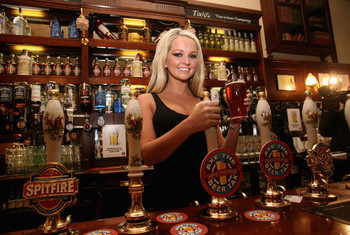 For those of you wanting a Top 10 slideshow this week, I'm sorry. For those of who could care less, so be it.
Truth is, in my mind, you can conjure only so many ways to get drunk while watching college football. You could go the traditional, frat-boy route and chug a beer every time ____ happens.
Just fill in the blank and you have an instant, entertaining method of achieving maximum inebriation. But where's the originality in that?
Would it really hurt to incorporate some creativity into our Saturday routine of killing brain cells, lowering inhibitions, and overloading our livers? I say no.
Here's five engaging, and hopefully original ways, to get that done for the upcoming season.
5.Verne Lundquist-Induced Coma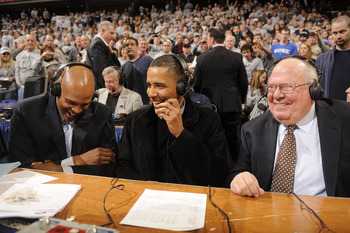 Lundquist is one of the better college basketball announcers out there. A veteran of CBS's NCAA tourney coverage, Lundquist is often eloquent and always entertaining, and his voice is a staple within the network's long-standing marriage with The Masters.
Lundquist is versatile, no doubt. But when it comes to keeping up with the intricacies and detail of college football, the venerable broadcaster sustains his fair share of missteps, whether it's completely misidentifying a player or breaking out his trademark "Wow!" when the situation calls for nothing more than an "Eh."
In order for this one to fly, you'll have to watch the game with a buddy, who will be responsible for the amount of alcohol you consume as you both view Lundquist in all his senile glory.
For every instance in which Lundquist unleashes an "Oh, my gosh!" your friend rolls a pair of six-sided die that determines what type of drink you'll indulge and how many swigs are required.
Before long, you may find it hard to function properly, but don't fret. You can exact some revenge on your pal by tossing the dice every time Lundquist's broadcast partner, Gary Danielson, kisses the rear end of an SEC quarterback.
Or any player at any given position, for that matter.
On a side note, it looks as if some shrewd SEC fans have beaten me to the punch.
4.ESPN/SEC Lovefest of Drunkenness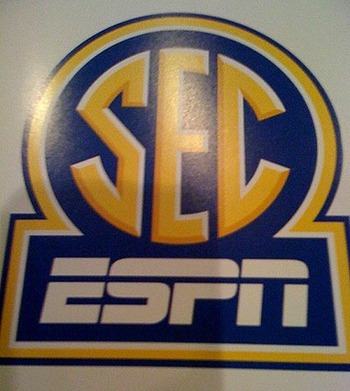 Prior to the 2008 season, the Worldwide Leader and the SEC agreed to a 15-year contract worth in excess of $2 billion.
As a result, ESPN has tirelessly scratched the back of college football's most competitive conference, often going to annoyingly extensive lengths to promote the players and coaches of its business partner.
Considering the money involved in the unprecedented agreement, it's not surprising. But the contractual obligations don't prevent ESPN's love affair with the SEC from taking on the look of a big, fat conflict of interest.
It's enough to make any non-SEC fan sick, and eager for a remedy, even if that cure is drinking oneself into oblivion.
Beginning now and ending with the onset of the 2010 season, keep a running tally of how many times you encounter the mere mention of ESPN and the SEC together in any way, shape, or form. Radio, television, print, the Web; no medium is immune.
And each instance is equal to one drink — a 12-ounce beer, five-ounce glass of wine, or 1.5-ounce shot of liquor. Take your pick.
When all is said and done, you should have about 1,583 drinks coming your way by the time the season kicks off. But feel free to spread them out as you see fit.
Just as long as you are intoxicated enough to stomach the ESPN-SEC lovefest from September to early January.
3.Unsportsmanlike Penalty Buzzkill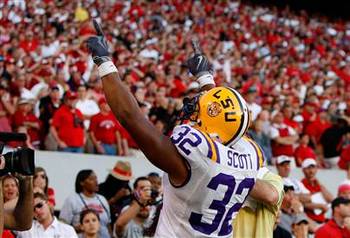 One of the most laughable changes to the college football rulebook in years, the new taunting guidelines promise to take plenty of touchdowns off the board, possibly cost your team a game or two, and completely zap the amateur game of any and all genuine emotion.
How depressing.
This format is not designed to enhance your inebriation; rather, it is meant to stunt your BAC, all the while increasing your anxiety as you share in your favorite team's disappointment over some player doing an ill-conceived dance number before he crosses the goal line.
It doesn't matter if you're nine beers in or just getting started. If a taunt nullifies a score, you're done.
But don't worry. With the rule change more than capable of totally altering the outcome of a game, a bunch of emotionally-charged 18-and 19-year-old kids won't have an issue with playing the game they love like an army of autonomous robots.
And you'll be given freedom to get your drink on.
2. Erin Andrews Clothing Matrix
Perhaps the only thing more enjoyable than taking in the ESPN sideline beauty's angelic face is anticipating what she has decided to don on that hotter-than-sin frame of hers from one college football broadcast to the next.
From painted-on stretchy pants to a slightly more conservative, yet equally provocative, sundress, EA likes to run the gamut of fashionable attire.

Though the idea is fairly simple, subjectivity can make this game less cut-and-dried than one would think.
The more R-rated Andrews' choice of clothing is, the more potent libation you ingest. For example, say she pulls out a pulse-raising linen skirt-tank top combo for the Thursday night season opener between Southern Mississippi and South Carolina on Sept. 2. Well, that would call for shots of Jack all around.
On the other hand, if she leaves a lot to the imagination with a baggy poncho and a pair rain boots in the event of inclement weather, then everyone's drinking Bartle and James wine coolers.
Of course, like I said, the scale is open to subjectivity. One man's loose-fitting sweater may be another man's micro fiber bikini top. Just make sure to steer clear of the perv/alcoholic who seems to be royally plowed every time Andrews is on the tube.
1.The Notre Dame "Beer Goggle" Challenge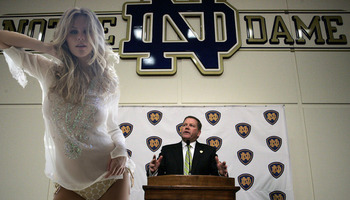 To college football what the Dallas Cowboys are to the NFL, Notre Dame is a national brand, and not even an inferior product on the field can diminish its luster.
In fact, often times fans and media across the country are so enamored with the Irish that they become wildly disillusioned to how mediocre the team really is.
Exhibit A would be 2009, when the Irish spent the season as the most publicized .500 team in college football history.
There are bound to be plenty of delusions when it comes to the strength of the Notre Dame program in 2010, beginning with outrageous preseason predictions of the Irish securing a BCS appearance. What's worse, with each win those delusions will only grow stronger.
Western Michigan and Tulsa should be considered for-sure wins. I suppose you have to figure the Irish will be able to squeeze out victories over Purdue and maybe Utah. And I would be remiss in leaving out the fact that ND doesn't play a true road game between Oct. 2 and Nov. 27.
But we are used to this. As such, don't be surprised if a 4-3 Irish team somehow receives Top 25 votes in mid-October. Like I said, delusions.
But, with the help of a little social experiment, you can create some delusions of your own this college football season, and maybe surpass those created by Notre Dame.
All you have to do is drink, fornicate, and endure what my friends and I used to refer to in college as a "no pride" night.
Every time Notre Dame wins this season, attend a party and drink — a lot. The more you drink, the more reality becomes distorted, and the more each unattractive girl in attendance will look more like Brooklyn Decker.
From there, proceed to take a lucky woman home (with some help from a taxi, of course) for the remainder of the evening. With any luck at all, when you wake up, she'll be a "2," and not the "10" you won over with your bloated impression of The Situation just a few hours earlier.
The larger and more traumatic the shock, and more regrettable the hookup, the better.
Keep Reading