2010 NFL Draft and Free Agency: Huskers Poised to Make an Impact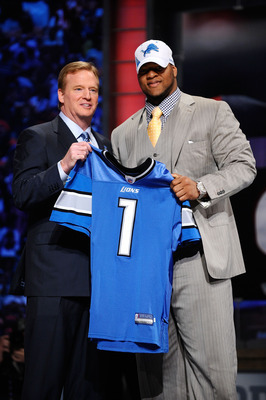 The NFL draft is as much a college day as it is an NFL phenomenon.
Why?
Because it is through the draft that many schools gain respectability, talent through recruits wanting to someday be in the draft and financial security. If you don't believe the last one just ask Nebraska University about Ndamukong Suh's gift of $2.6 million due to the draft.
So how did Nebraska do this season in the draft? Three players were taken in the first five rounds and at least two signed as free agents after the draft was completed.
Compared to 2009, these results were better. The same amount of players drafted, but in higher rounds in 2010.
Cody Glenn played on the Colts special teams in the Super Bowl, Lydon Murtha ended up with the Dolphins and Matt Slauson played with the Jets.
In free agency, Zach Potter signed as a tight end with the Jacksonville Jaguars.
So who's going to succeed in 2010 as a rookie from Nebraska and who might falter? Who could still be picked up and who will be left on the wayside?
1. Ndamukong Suh (Round One, Pick No. 2) [Detroit Lions]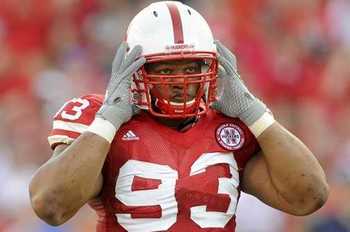 You could see that Suh was a little disappointed that the Rams chose not to take him as the first overall pick. I have a friend that is a Rams fan that wasn't too happy about it either.
Suh will be one of the most athletic defensive tackles in the NFL next season, not just among the rookies but throughout the entire league.
The Lions will be extremely better next season. Of course that might mean six wins instead of two, but that means the franchise is at least going in the right direction.
Not only did they get a future Pro Bowler in Suh, but they also got Kyle Vanden Bosch via free agency. They also signed Corey Williams, a seven-year veteran at defensive tackle.
The defensive line for the Lions will be markedly better in 2010 and should help out an inexperienced and relatively poor secondary. The Lions are a few years away from making waves and the addition of Suh and Jahvid Best could be the start of something great in the Motor City.
Suh could waste away in the black hole of Detroit or he could make them into a contender within the next few years. Only time will tell, but he is in a position to make a difference.
2. Phillip Dillard (Round Four, Pick No. 17) [New York Giants]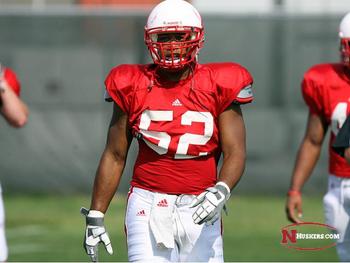 Phillip Dillard had a troubled career with Nebraska and didn't live up to his potential until his senior season with Huskers.
He was a steal for the Giants in the fourth round. If he played in the first three games of the season his statistics would have been off the charts.
Dillard is a hard worker, willing tackler and better than he looks at coverage in both zone and man-to-man.
While I don't expect him to start for the Giants in 2010, he will bring work ethic and determination to the squad and could push for playing time in 2010.
Dillard may never be a Pro Bowl linebacker but he will have a good career in the NFL.
The Giants needed more depth on defense and Dillard will definitely add that. He will play, but sparingly in 2010 unless injuries force him into action in which case he will perform better than most Giants fans probably think.
3. Larry Asante (Round Five, Pick No. 29) [Cleveland Browns]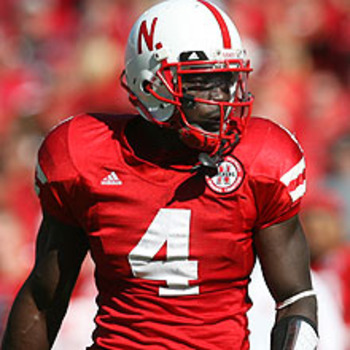 Larry Asante may be the steal of the draft for the Cleveland Browns, even though some talking heads might point to Colt McCoy.
Asante has better speed than he showed in the combine, better strength than a lot of safeties coming straight out of college and near identical season numbers compared to Eric Berry, you might know him as the fifth pick of the draft by the Kansas City Chiefs.
My bold prediction is that Asante has a great shot at making an immediate impact at the pro level.
I think he beats out TJ Ward for the starting job and has not only an impressive rookie season but a better-than-average career in the NFL.
4. Matt O'Hanlon (Undrafted) [Carolina Panthers]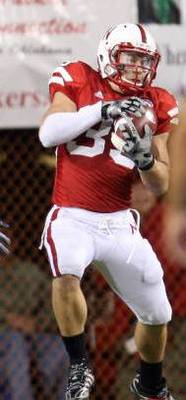 Many Nebraska fans screamed the name "O'Hanlon" in frustration over the past two years. After the Virginia Tech fiasco O'Hanlon not only stepped up his game, but erased a myriad of past wrongs by becoming one of the most improved players in the Big 12.
In fact, with his three interceptions in the Oklahoma game and his opening series interception in the Holiday Bowl, he proved that he has what it takes to be a ballhawk at the highest level of college football.
O'Hanlon not only became one of the best players on the team for causing turnovers, but also became one of the most sure tacklers.
He came up for run support time and time again never getting juked or stiff-armed. He made the right tackle at the right angle at the right time.
O'Hanlon could be a diamond in the rough for the Panthers, but with Charles Godfrey starting O'Hanlon will probably at best make the practice squad his rookie season.
Remember though, he wasn't recruited by Nebraska and was a two-year starter.
Not being drafted will only serve as motivation for O'Hanlon and we've seen what he can do when motivated.
He will never be a Pro Bowler but has the ability to contribute.
5. Barry Turner (Undrafted) [Chicago Bears]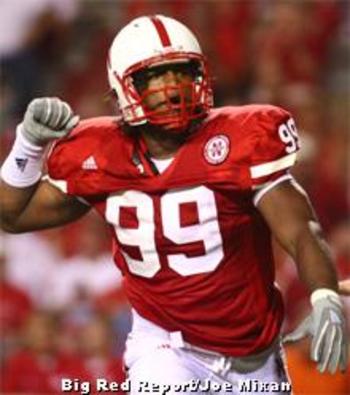 Barry Turner had a strong upside going into his senior season, but injured his leg. It took most of 2009 for Turner to get back into form.
He is more of a run stopper at defensive end than a pass rusher and the Bears definitely need help on the defensive side of the ball.
Julius Peppers will provide the pass rush and All-Pro run stopping ability like an outside linebacker. That alone will prevent Turner from seeing the field in his rookie season.
If Turner turns heads at practice he could make the team. He has the body build to be a good defensive end in the NFL but must prove it to the coaches.
He is lucky to get a shot and probably wasn't expecting to be drafted. The Bears pulled in a lot of undrafted free agents after the draft so Turner will have to work hard to make the team, let alone get on the depth chart.
Keep Reading

Nebraska Huskers Football: Like this team?