The Tragic Saga Of Jamarcus Russell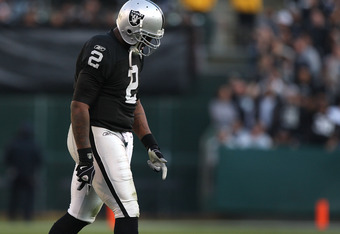 Jed Jacobsohn/Getty Images
Hated by many liked by few. Many fans including myself thought Jamarcus was going to be our saviour resurrecting us from depths of dissapointing seasons one after the other. Instead we received a holdout from our number 1 draft selectee holding out on a contract involving millions , Instead Oakland kept its same record of 4-12. I kept saying he'll get better, i kept defending him when he was labeled a bust "prematurely". It sickened me and a number of loyal fans, how he turned over the ball, lack of passion, lack of drive and committment.It sickened a number of fans how he sported fur coats and ridiculous platinum and diamonds. The man was up there with Queen Elizabeth, Elizabeth Taylor and Liberace.How do we sum up this man? Im not here to bash this guy but, he brought this upon himself. I often joke i would love to play one down with oakland that would be a dream come true, id do it for a bag of onion rings, id do it for less than $50.00 to go out there and throw myself into danger and get the win. A number of times I know oakland fans felt like getting on the field and playing better than Jamarcus, who was not able at times to complete a 5 yard dumpoff pass.I see this mans journey come to an end, who will take a chance on this guy? His playing days are over, There have been other notables that left silver and black and were still successful Randy Moss and Charles Woodson continue to produce. If Russell becomes successful somewhere else id be a little disappointed, i am done being upset, he wasted our time and our hard earned money.I hope Jason Campbell, and Bruce take us back to our winning ways.As for Jamarcus feel free to voice your thoughts on his still ongoing not for long tenure in Oakland, and voice your sendoff. Go Raiders this is our year.
This article is
What is the duplicate article?
Why is this article offensive?
Where is this article plagiarized from?
Why is this article poorly edited?

Oakland Raiders: Like this team?