Power Ranking College Football's Best Fan Bases: Post-Spring Game Ed.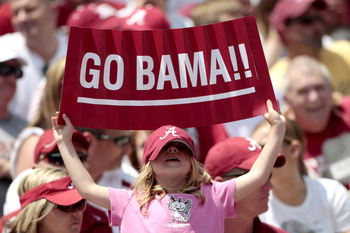 One of the great debates in college football is one that isn't even about the teams taking the field every Saturday.
No, if there is one argument fans love to get into, it's about which schools have the best and most rabid fan bases.
But, how do you judge who has the best fan base?
Is it consecutive sellouts at home? Is it the number of tailgaters before a game? Is the decibel level in the stadium when the opposing team is facing a fourth-and-short?
Or, should the devotion level of fans be measured by looking at their attendance of what is pretty much a meaningless event: the spring football game?
Although the game itself doesn't really mean much, there's something to be said about fans coming to the stadium to watch their team despite the season not starting for months.
Is this best way of measuring the quality of college football's fan bases? Probably not. But it does help.
So, here are the top 10 fan bases in college football based on spring game attendance in 2010.
Note: Some schools, notably USC and Oregon, haven't yet played their spring games. Also, weather conditions for spring games weren't taken into account. For example, both Oklahoma and Notre Dame dealt with rainy conditions and this may have had an effect on their spring game attendance.
10. Tennessee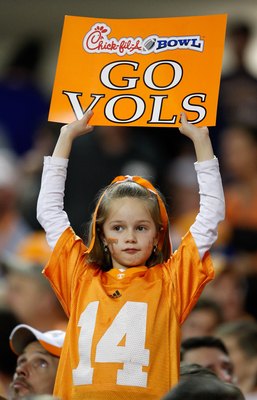 With a spring game attendance of 35,891, the Tennessee Volunteers kick off the list at No. 10.
Tennessee is known for having some great football fans. Whether it's the continuous sellouts of Neyland Stadium (capacity 100,011) in the face of mediocre seasons or the singing of "Rocky Top," Tennessee fans certainly love their Volunteers.
Oh, and Tennessee fans definitely know how to tailgate, or in their case, "sail-gate." Yep, that's right: fans tailgate on their boats before games and are known as the "Volunteer Navy."
And Lane Kiffin left this place?
9. Georgia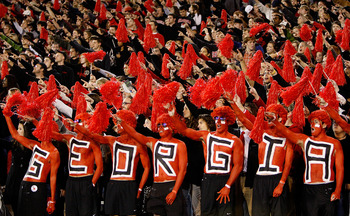 Georgia Bulldogs fans roll in at No. 9 with a spring game attendance of 38,742.
And, because Georgia is part of some of the fiercest rivalries in all of sports (vs. Georgia Tech, Auburn, and Florida), it should come as no surprise that Bulldogs' fans came out to Sanford Stadium to support their team.
Home of the "Black Out," Bulldogs fans are known for their intensity and devotion and the fact that almost 40,000 people came out in the hot Georgia sun speaks volumes.
8. Texas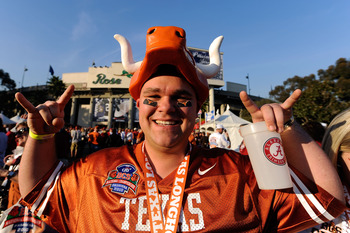 With a spring game attendance of 44,250, Texas takes the No. 8 spot on the list, which is fitting considering Texas' reputation as a football state.
Texas fans certainly love their Longhorns and couldn't resist an opportunity to see what their team will look like without Colt McCoy.
The Longhorns are in contention for a national championship every year and their fans know it. Why else would over 40,000 people converge on Austin to watch a scrimmage?
7. Florida State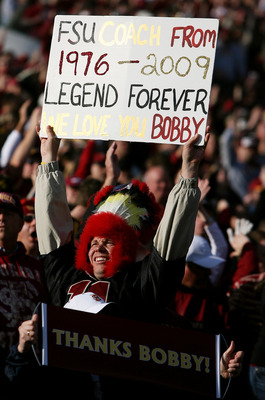 The end of the Bobby Bowden era certainly doesn't mean any less fan devotion towards Florida State football. Just ask the approximately 50,000 fans that came out to support their Seminoles.
And, as the spring game attendance indicates, Florida State fans are rabid for football. That means Jimbo Fisher better have a hot start out of the gates or Seminole Nation will be breathing down his neck.
New coach, new season, still high expectations. Not that much has changed for Florida State football after all.
6. Florida
Much like Texas with Colt McCoy, Florida fans are eager to see what their Gators will look like without Tim Tebow. 51,500 fans took advantage of that chance.
Although Gators football really only took off in the early 1990s, you certainly wouldn't know it by the devotion of these fans.
The Swamp has been sold out since 1979 and is known for being for one of the hardest places to play in college football.
The design of the stadium concentrates the noise at field level, making it extremely hard for opposing teams to communicate.
Living in Florida, you would think that most fans would take advantage of the weekend by driving a couple of hours to the beach or playing some sand volleyball. Not Gators fans.
5. Penn State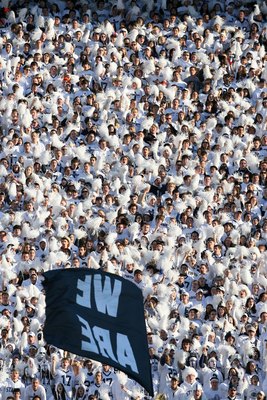 Known as one of the great party schools in the land, Penn State is also recognized for their football tradition. Just a little bit.
The fact that they drew 55,000 fans to a spring game can attest to that.
Nittany Lions fans are renowned for being some of the rowdiest, loudest, and, in some cases, drunkest fans in the nation and don't expect an anticipated down season to curb any of their enthusiasm.
The spring game alone indicates that "WE ARE PENN STATE" will be heard loud and clear in 2010.
4. Auburn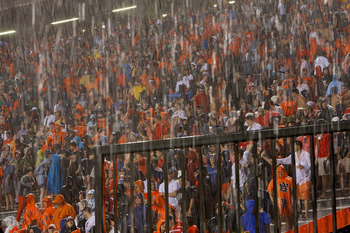 Despite being the "second team" in probably the most college football-crazy state, Auburn has some of the greatest fans in the nation. 63,217 spring game attendees is all the evidence you need.
And after an Outback Bowl victory over Northwestern, Auburn fans are expecting another good season from their Tigers.
Although there's really not much else to do in Alabama, with over 60,000 in attendance for a spring game it's clear that Auburn fans are anticipating success in 2010.
From the "Tiger Walk" to the "War Eagle" battle cry, you would be hard pressed to find more devoted college football fans than Auburn's.
3. Ohio State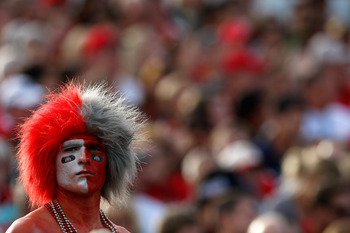 Known as some of the most knowledgeable and best traveling fans in the country, it should come as no surprise that 65,223 Ohio State fans packed into Ohio Stadium to watch Terrelle Pryor and their Buckeyes scrimmage.
Coming off a Rose Bowl win, Ohio State fans are hoping not only for another Big Ten title, but a national championship. Anything less would be a disappointment.
So with these kind of expectations, 65,000 Buckeyes fans are certainly justified in devoting their Saturday to watching a glorified practice.
2. Nebraska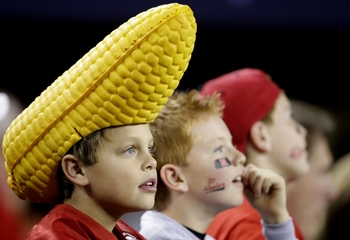 With over 78,000 people squeezing into Memorial Stadium, Nebraska takes the No. 2 spot on the list. But what's more impressive is that, unlike other spring games across the country, Cornhusker fans paid 10 bucks a pop.
Pretty impressive for a meaningless game.
With a sellout streak dating back to 1962, Nebraska fans are simply unmatched in their devotion to the home team.
In fact, when full, Memorial Stadium becomes the third-largest city in the state, behind only Omaha and Lincoln.
And, with a Holiday Bowl victory in 2009, Nebraska fans have their highest expectations in years going into the 2010 season.
1. Alabama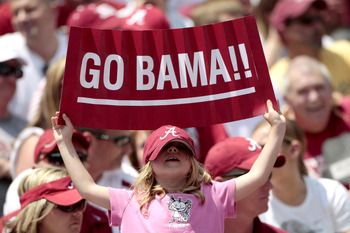 Coming off a national title and expecting another one in 2010, 91,312 'Bama fans made their way to Bryant-Denny Stadium for the annual spring game.
Drawing over 90,000 people to a practice is simply amazing. But, we are talking about the Crimson Tide here.
If 13 national championships doesn't enrapture a fan base, nothing will.
And with tickets for the 2010 season undoubtedly coming with a high price tag, many Alabama fans made sure to take advantage of seeing the Tide for free.
Simply put, for many fans, Alabama football is life. The fact that they outdrew their nearest competition in the rankings by 13,000 fans speaks volumes about what has become a near-religion in Tuscaloosa.
Keep Reading