Oakland Raider's 2010 Draft: Analyzing and Grading each Pick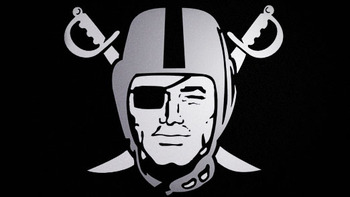 Al Davis and the Oakland Raiders appear to have turned the corner.
2010 is seeing Davis and head coach Tom Cable guide the Oakland Raiders organization back onto the road to respectability. If the talent they've acquired play as well as the team drafted, 2010 could be a great year for Raider Nation.
The best linebacker in the draft, one of the ten best defensive tackles and an offensive tackle with first round talent in the fourth round are now Raiders.
However, Rolando McClain, Lamarr Houston and Bruce Campbell were just the beginning.
Oakland added depth and talent to most of their need positions and took a huge stride toward helping them "Just win baby!"
This slide show will discuss each draft pick and assign them a grade. The grade will be based on three criteria. Player talent, team need and value.
Those three factors will be used to determine an overall grade for the entire 2010 Raider draft.
Let's get to it...
Round 1: Rolando McClain, ILB-Alabama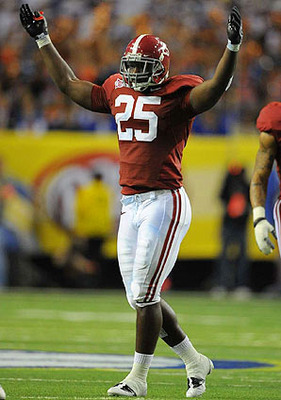 Make no mistake, Rolando McClain is the real deal. He makes the Raider's ailing run defense a lot better by merely suiting up.
McClain built a reputation as the guy opponents had to account for. The expression, "you can't stop him, you can only hope to contain him" is usually reserved for offensive threats, but it applies to McClain too.
I have been critical of McClain of late for some film I saw of him taking plays off when the game was out of reach, not being physical enough when shedding blocks and taking bad angles. This is all true and I stand by what I've said.
That said, all of these issues are correctable. Does anyone really think Richard Seymour or Tommy Kelly are going to allow these things to become habit? I think not.
The bottom line is that Rolando McClain is a natural leader, a play-maker and a defensive coordinator on the field. This is the Raider's best first round draft selection since Nnamdi Asomugha in 2003.
Talent: A+
Need: A+
Value: A
Overall grade: A+
Round 2: Lamarr Houston, DT/DE-Texas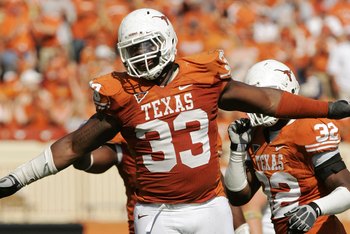 Lamarr Houston is a rare athlete. Basically, he's a 300 pound running back with a bad attitude and great tackling skills.
That wasn't a joke.
Houston played running back in high school and committed to the University of Texas as a fullback. (Hence the number in the 30's!) Then he bulked up a lot and was moved to the defensive line.
He played everywhere along the defensive line. He finally settled in at defensive tackle his last two seasons and played very well.
I can see Houston continuing his versatility in the NFL. Coach Cable has already said that he plans to use him primarily at defensive end. I'm not sure I completely buy this, because of the ridiculous depth the Raiders have at that position.
I guess we'll just have to take Tom's word on that for now.
Talent: A-
Need: A+
Value: B+
Overall grade: A-
Round 3: Jared Veldheer, OT-Hillsdale College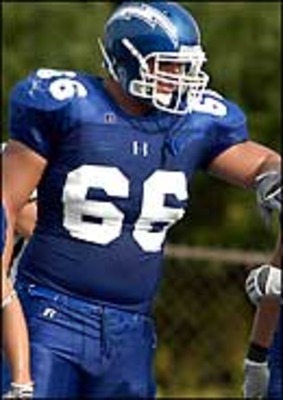 To be honest, all I knew about Jared Veldheer before the draft was what I read on the internet and in Sporting News draft edition. Since then, I have studied all the film I could find.
What I discovered is a solid technician that can hold his own in most situations. Veldheer looks good against speed rushers, power rushers and working in space. He's a well rounded tackle that can contribute.
He is going to have a lot of work ahead of him. Catching up to the speed of the NFL won't be easy, but all reports say this kid wants it bad. He will have some great pass rushers to practice against which should help the transition.
I like what I see from Veldheer and expect him to work hard and make a run at starting once he gets used to the speed of the game.
Talent: B+
Need: A+
Value: B+
Overall grade: B+
Round 4: Bruce Campbell, OT-Maryland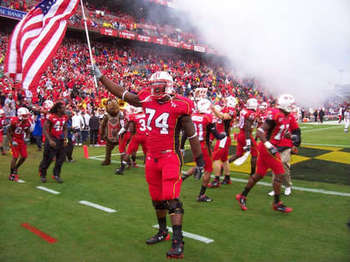 Bruce Campbell is first round talent selected in the fourth round. Can you say, "value?" I knew you could.
Campbell has been talked about as an "Al Davis guy" since he stole the show at the NFL combine. He was the fastest, most agile, highest/longest jumping offensive tackle in Indianapolis. He also put up the most bench press repetitions.
Sounds like an Al Davis guy, and he was, just not when the "experts" expected him to be.
Campbell is a raw talent that needs work perfecting his craft. Being under the tutelage of Tom Cable should go a long way in making that happen. If the light ever goes on in this kid, he can be an ANIMAL for the Raiders.
He must improve his footwork and his ability to block in space at the second level. If he can do that, I have no problem saying that he could be a Pro Bowl quality player in the future.
Talent: C+ (Talent includes technique. Campbell falls a short there.)
Need: A+
Value: A+
Overall grade: A-
Round 4: Jacoby Ford, WR-Clemson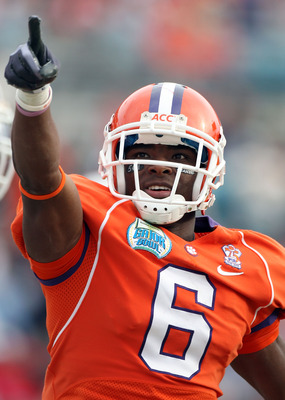 You had to know that Al Davis couldn't resist an athlete like this.
Jacoby Ford was not a need pick. The Raiders have nine wide receivers on the roster already. The reason behind this pick may be that there are only two decent return men on the team, Johnny Lee Higgins and Nick Miller.
Higgins is fumble prone and Miller can't stay healthy. Those factors may have played into Davis drafting this undersized burner. He should take over all the return duties and perform admirably.
Ford is not an extremely productive wide receiver. He's adequate, but not fantastic. In fact, he caught 56 balls and averaged 13.9 yards per catch at Clemson. Where he made his hay was in the return game. He's was spectacular to say the least.
He had nine punt returns, averaging 16.1 yards per return. In nine kick returns he averaged 19.3 yards per attempt. It's not unusual to have a higher average in kick return than reception, but to do that in the punt return game is phenomenal.
In the end, Ford probably won't see a lot of time in the offense, but he can make a huge impact on special teams by shortening the field for newly acquired quarterback Jason Campbell and the offense.
Talent: B-
Need: C
Value: C
Overall grade: C+
Round 5: Walter McFadden, CB-Auburn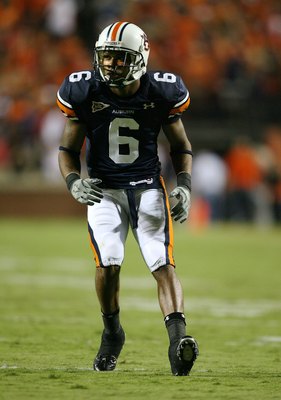 Selecting Walter McFadden may have surprised some people. Honestly, it surprised me a bit. I fully expected the Raiders to draft a cornerback with this pick, just not this cornerback.
I was expecting Oakland to take Crezdon Butler or A.J. Jefferson. McFadden is a good talent from an excellent program. He should have what it takes to succeed in the NFL.
He also happens to have some pedigree. He is the younger brother of two-time Super Bowl champion Bryant McFadden of the Pittsburgh Steelers. I'm sure Walter will use this resource to develop and learn.
Having arguably the best cover corner in the league, Nnamdi Asomugha, in the meeting room is a big plus too.
McFadden had a great senior year pulling down six interceptions, taking two of those to the house. He also has great speed, turning in a 4.39 40 time at the combine.
If he can bulk up a bit, (currently listed at 175 pounds) his 6'0" frame will allow him to match up well against the bigger receivers in the AFC West.
Talent: B-
Need: B+
Value: B+
Overall grade: B
Round 6: Travis Goethel, LB-Arizona State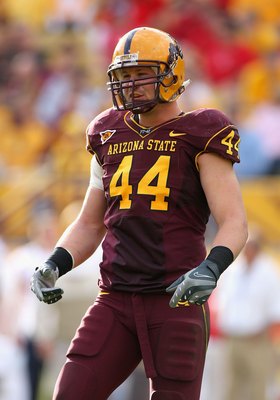 Another one of those "who is this guy" picks. Travis Goethel is a versatile linebacker that excels at run defense; something the Raiders desperately needed.
In his four years in Tempe, Travis started 41 of his 50 college games at all three linebacker positions. This shows his durability and versatility.
In that time he racked up 228 tackles (19 for loss), nine pass deflections, two interceptions and three forced fumbles.
I expect him to be a standout special teams player right away. If he can put on about 10 or 15 pounds of muscle to his 6'3" frame, his versatility and nastiness will prove valuable for Oakland in the future.
Talent: C+
Need: B-
Value: B
Overall grade: B-
Round 7: Jeremy Ware, CB-Michigan State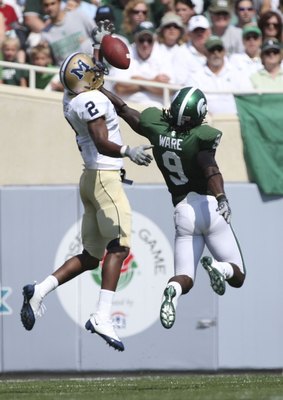 I'm not sure why the Raiders needed to take another cornerback, but that's what happened.
Jeremy Ware isn't a bad player, but with the pick of Walter McFadden I didn't see this position as a need for the team.
Ware is undersized at 5'10", 188 pounds, but makes up for it with smarts and a desire to compete. His ball skills are a little suspect. He only managed 11 pass deflections and zero interceptions in his 20 career games, 16 of which he started.
This pick is a head-scratcher to me, but Davis and coach Cable saw something in him to draft him over a need position such as offensive guard.
Ware is a solid tackler and should be able to help out on special teams while soaking up everything he can from Nnamdi Asomugha.
Talent: C
Need: D-
Value: C+
Overall grade: C-
Round 7: Stevie Brown, LB/S-Michigan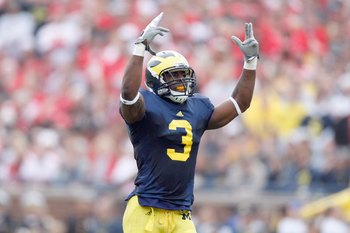 Even though this was not a position of need for the Raiders, I like this pick a lot.
Stevie Brown has everything you look for in a player, leadership, maturity and production.
Another thing teams are looking for is versatility and Brown has a ton of it.
A Wolverine team captain, Stevie has started 12 games at linebacker and 13 at safety. His good speed, great tackling and high intellect make him the kind of player teams want on the roster and in the locker room.
In his 25 starts, (50 total games), Brown amassed 186 tackles, 9.5 tackles for loss, 2.5 sacks, 11 deflections and four interceptions.
He will make an instant impact on special teams and become a solid contributor for the Raiders in the near future.
Talent: B+
Need: C
Value: A-
Overall grade: B+
Final analysis...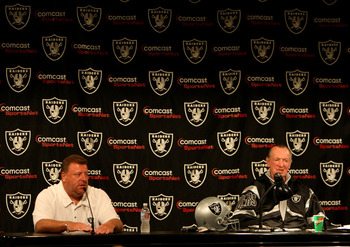 Overall, Davis, Cable and the Oakland Raiders front office did a fantastic job putting together a great draft.
A lot of team needs were addressed and filled with talented players. If you add the draft day trade for quarterback Jason Campbell, the Raiders knocked it out of the park.
However, this slide show is not about evaluating the entire offseason, it's only about the draft. Therefore, there are some minor issues I have with the draft as a whole.
I would have liked to see an offensive guard drafted in place of one of the cornerbacks. Otis Hudson or Mitch Petrus would have been good picks in the fifth round.
I truly think that McFadden would have still been available in the seventh round. If not, Syd'Quan Thompson was. That would have made more sense in the overall scheme of filling needs.
Final grades: (All players included)
Talent selected: A- (Jeremy Ware brought this down some.)
Needs addressed: B+ (Didn't get a guard.)
Value found: A (Bruce Campbell and Stevie Brown carried the day.)
Overall 2010 draft grade: A-
Keep Reading

Oakland Raiders: Like this team?