The NFL's Homeless Situation: Which Teamless Players Are Going Where?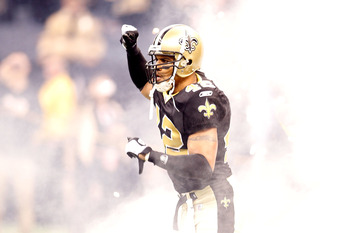 The NFL Draft is now behind us and although most NFL fans feel another long and drawn out remainder to the offseason is ahead, there are still many burning stories left without an answer in the NFL.
The Free Agency list is ever so long, and released players along with undrafted rookies are still looking for a place to call home come September.
The talent ranges far and wide, and ultimately the majority of the players on this list will reach terms with one team or another and sign a contract. Some players will find a new home, while others may resign with their former teammates.
Who is going where? It's a mighty tough call, but hopefully this list clears it up a little.
Marc Bulger - Free Agent
Possible Teams: Green Bay Packers, New England Patriots, Washington Redskins, Seattle Seahawks, Chicago Bears.
Ever since the St. Louis Rams got the idea into their head that Sam Bradford was their man, it became clear that there was no room for Marc Bulger.
Now homeless and released, Marc is an old timer that is simply looking for his last resting place in the NFL. Skill wise, Marc Bulger arguably still has what it takes to play as a starting quarterback in the NFL.
In his time with St. Louis prior to the quarterback collapse, Bulger managed to reach several Pro Bowls and despite the Rams' woes, was once a premier quarterback in the NFL.
Right now not many teams need a veteran quarterback and with most quarterback needy teams fulfilling their needs in the draft, Marc may find it challenging to find a new home.
One team that comes to mind, is the Green Bay Packers. It is an intriguing pick that some may argue with, but prior to the draft fans speculated that the Packers could do with a veteran quarterback on their young, but ever so promising team.
Bulger still has skills and don't be surprised to see him taken in an overnight deal in a month or two. Some teams need a veteran to stabilize their offense, and Marc Bulger is a perfect fit.
Adam 'Pacman' Jones - Free Agent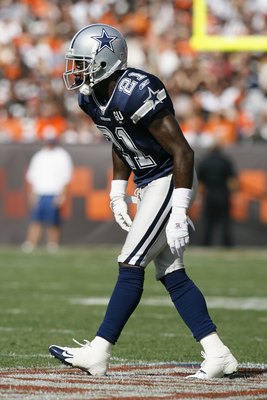 Possible Teams: Detroit Lions, Green Bay Packers, Dallas Cowboys
Adam 'Pacman' Jones is no doubt one of the most controversial players in this league. After originally being signed by Jerry Jones and the Dallas Cowboys, Pacman now finds himself on the free agent list, and it is quite surprising that he has managed to stay their for this long.
As the old saying goes "You can never have enough cornerbacks in this league" most teams who failed to answer their needs in the NFL Draft may shift their attention Pacman's way, and consider just what he could do for their franchise.
The teams that come to mind are Detroit and once again Green Bay, as both are in serious need of a trusty cornerback that can cover wide receivers quite well. The other option though is the Dallas Cowboys, as the interest when Pacman first signed with Dallas was extremely high, and a case could be made as to why Dallas could use Pacman once again.
The controversy aside, Pacman is no doubt talented. He's an obvious athlete and a true contender making him one of the standouts in the free agency list.
Alan Faneca - Free Agent
Possible Teams: Houston Texans, Chicago Bears.
When thinking of Alan Faneca, the first thing that comes to mind is experience. Now entering his 14th season in the NFL, Alan Faneca has seen it all and knows it all when it comes to the offensive line.
After being with the New York Jets since 2008, Faneca is now looking for a new home after a late announcement that he will indeed be released by the New York Jets.
Although this may come as a surprise to some, it is music to the ears of the rest of the NFL. So far Houston and Chicago have expressed interest in Alan Faneca, as both have pressing offensive line needs.
Right now, Alan Faneca's future looks promising. He is expected to earn $5.25 million from the Jets this season, and on top of that whoever signs him will most probably look to make sure that he remains with a team for an extended stay.
Chicago or Houston? It's hard to say, but Alan Faneca is a gem for any team that looks to sign him.
Michael Clayton - Tampa Bay Buccaneers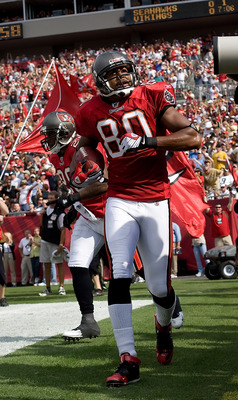 Possible Teams: Chicago Bears, Cleveland Browns, Buffalo Bills.
It came as a surprise to learn that Michael Clayton is looking to be the next wide receiver placed on the trading block. However his 16 catches and 230 yards in 2009 tell a much different story.
The Tampa Bay Buccaneers are a team on the rise, and coming from a fans point of view I can see why Tampa Bay is willing to get rid of Michael Clayton. For the most part Michael hasn't been consistent at all. His only above 1,000 yard season coming back in 2004 leaves his stats looking overly poor, and may come back to bite him when teams are looking at considering him.
Currently Michael Clayton is still technically a Tampa Bay Buccaneer, but don't expect that picture to last. If any team out there is considering the Michael Clayton option, call Tampa Bay up as they are more than willing to place him on the trading block.
Teams in the NFL still need wide receivers, especially Chicago. Michael Clayton isn't short of options.
Terrell Owens - Free Agent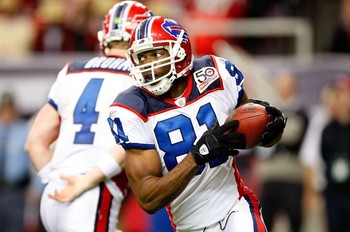 Possible Teams: Chicago Bears
The wide receiver position wasn't the main focus in the NFL Draft for many teams, and therefore that leaves Terrell Owens in a great position to find a new home.
The Chicago Bears make total sense for Terrell, as the Bears didn't have many draft picks and still have some young, inexperienced, and questionably talented wide receivers on their roster.
Jay Cutler is still a young quarterback that is finding his feet, and having a guy like Terrell around could help him calm down when the going gets tough and also give him that "bail out" type option if everything down field is covered.
Terrell has had a rather quiet offseason by his standards, but I do expect him to sign with someone in the near future. A league without Terrell Owens is like Star Trek without Spock, it simply doesn't work.
Antonio Pierce - Free Agent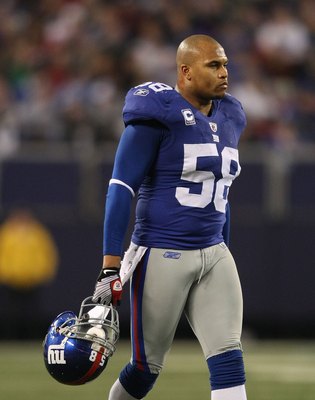 Possible Teams: Oakland Raiders, Atlanta Falcons, Arizona Cardinals, Dallas Cowboys.
From one quiet guy to another, Antonio Pierce has gone missing in NFL Free Agency. His skills are constantly criticized and after being released from New York a few months ago, Antonio Pierce is the likely candidate not to find a home in 2010.
The middle linebacker position is in need for some teams in the NFL, but it isn't a massive priority. The teams listed above have all answered their linebacker needs in the draft, but in case all else fails, Antonio Pierce could be a great backup type pick for either one of those teams.
From New York to basically nothing, is Antonio's likely future. It is kind of a sad story, but his stats really haven't helped him either. Only one sack last season in nine games played leaves questions all over Antonio Pierce and it may cost him big time.
Darren Sharper - Free Agent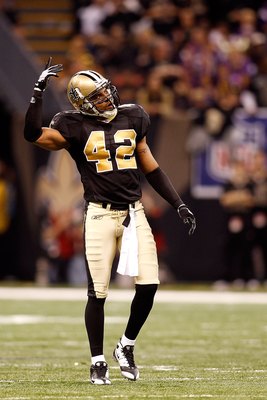 Possible Teams: New Orleans Saints, Chicago Bears, Miami Dolphins
Most of you knew this pick was coming and it is safe to say that Darren Sharper is the cream of the crop in this year's free agency pickings. His game play is nothing short of phenomenal.
So far Darren has expressed interest in re-signing with New Orleans, however, if tempted Darren may stray to the Chicago Bears or Miami Dolphins, who could both do with a key safety like Sharper.
The only concern with Darren is the knee injury. Is he 100 percent, and can he play to his best? These are all questions that need an answer, and until Darren actually comes out of the shadows and talks about the future, teams will be hesitant to sign him.
With this said, rest assured as Darren will find a team this season. He is possibly one of the best athletes of the modern era, and wherever he ends up he is likely to make a solid impact.
Keep Reading

New Orleans Saints: Like this team?