Changes Will Make Steve Spurrier's Gamecocks Good In 2010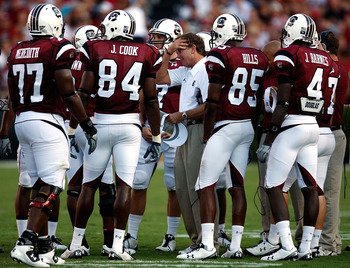 Times are changing in Columbia, South Carolina, where new mayor Steve Benjamin wrecked his car on his first day on the job.
And for the South Carolina football team, spring practice ended with the Gamecocks' annual Garnet and Black Game, which saw plenty of good things, and some bad.
For example, tight end Justice Cunningham showed that he was more than just a blocker. The defense played, well, you couldn't really tell—many starters remained on the sidelines, injured.
The offensive line did not reveal any news, which is good news, while the running backs performed nicely in the game.
From what I can tell, SC's receiving corps will be loaded in 2010, and the same can be said for the team's defense. However, it's too early to pass judgment on the offensive line, which has given Carolina plenty of problems before.
As for the quarterbacks, head coach Steve Spurrier won't let Stephen Garcia wrap-up the job to freshman Connor Shaw just yet. Suffice to say, Spurrier will be after his QBs come fall.
Brian Maddox or Marcus Lattimore?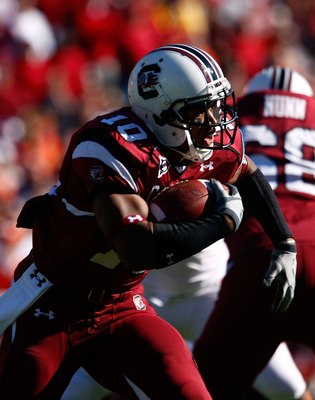 Brian Maddox is pictured here in the 2009 Carolina-Clemson game on November 28th, and chances are pretty good that he will be the Gamecocks' starting running back in Fall Camp prior to the team's season opener Sept. 2.
Kenny Miles also has a good shot-he was one of the Gamecocks' toughest runners in 09'.
But the real hype of the offseason has been new recruit halfback Marcus Lattimore.
On National Signing Day, Lattimore's church blasted Carolina's unofficial theme song "Sandstorm," on its loudspeakers as 600 supporters roared in approval.
The Byrnes High star was one of the highest-ranked high school halfbacks in 2009, and has received countless awards and accolades in the process.
Lattimore will should make in an immediate impact for the Gamecocks, but he will not only have to contend with Maddox, but also the likes of team veterans Kenny Miles, Brian Maddox, and Bryce Sherman, a scholarship running back and kickoff returner.
So, it won't be a cakewalk for Lattimore—it will be a race.
Spurrier to call shots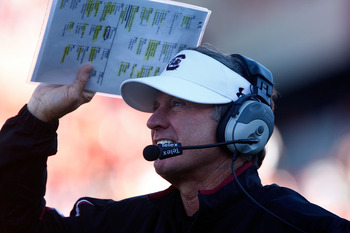 Spurrier will call all plays starting in the highly anticipated opener against Southern Miss.
If Spurrier can find a way to mix his own Florida fun-n-gun, with new offensive line coach Shawn Elliot's improved offensive blocking schemes, then the Gamecocks will be a winning football team.
Offensive line: New coach, recruits, and schemes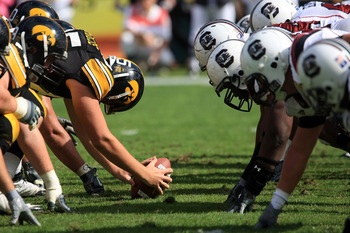 Spurrier knew who his new coach at offensive line would be right after their loss to UConn in the PapaJohns.com Bowl.
"Coach, I can help this team," said the former Appalachian State O-line coach, Elliot.
Elliot—the third coach in as many years for SC at the position—was hired days after the bowl game, and immediately began recruiting and assembling the 2010 Gamecocks.
Elliot will help South Carolina's new zone-read blocking schemes.
As for the line, the best news of the spring was no news, as most of the major changes at the positions will take place this summer's at Fall Camp.
The departures of Eric Norwood and Clifton Geathers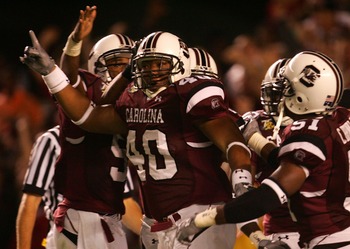 Former linebacker Eric Norwood made excellent backfield tackles, and returned fumbles and interceptions for touchdowns all over the place.
Former defensive Lineman Clifton Geathers was known for his freakish size and athleticism, in addition to his bone-jarring hits.
Both were part of defensive line coach Ellis Johnson's unstoppable defenses for the Gamecocks, but have now found NFL homes.
Norwood stayed local with the Carolina Panthers, while Geathers is preparing for some nasty cold in Cleveland.
So, who will fill their shoes?
At defensive tackle I'm looking for Ladi Ajobye and Travian Robertson as starters. Melvin Ingram and Kenny Davis are also acompetitors, and new recruit JT Surrat may make some noise. Another name to remember is Ronald Byrd. The Gamecocks are loaded at this position.
At linebacker, I like Shaq Wilson, and Tony Straughter.Shaq is the starter over Straughter. another player you may hear of this season is Josh Dickerson.
Regardless, the Gamecocks should field another strong defense in 2010.
Back-ups abound on special teams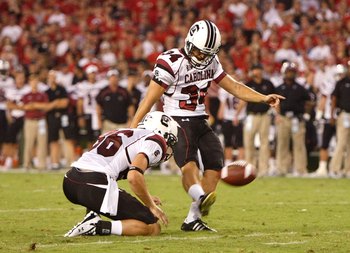 After a strong season in 2009, Spencer Lanning will handle main kicking duties in 2010. But who will patrol back-up duties?
The candidates are Adam Yates, Joey Scribner-Howard, and Jay Wooten.
Yates handled a bulk of the kickoff duties last season, while Scribner-Howard—a transfer out of Carson Newman and a former soccer player—has a "sick" leg, according to Lanning.
Meanwhile, Jay Wooten is a promising transfer out of Chapel Hill.
2010 signing class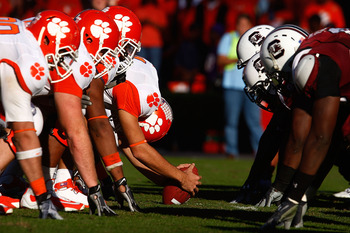 South Carolina and rival Clemson battle on and off the field, year in, and year out. But who won the recruiting battle? It may have been South Carolina.
The Gamecocks pulled in 22 players in the 2010 signing class. This includes Lattimore and five big and burly offensive linemen from South Carolina, Florida, and Georgia.
AJ Cann is homegrown lineman from Bamberg, SC, who can play on both sides of the ball, and on defense, you've got DT Kelcy Quarles. Quarles hails from Greenwood High in South Carolina.
Corey Simmons of Atlanta will be playing defensive end for Carolina, and speaking of the peach state, freshman QB Shaw out of Flowery Branch is Steve Spurrier's type of player.
There's a lot to be excited about when it comes to this season's Gamecocks.
Keep Reading

South Carolina Football: Like this team?