Ladies and Gentlemen, Meet the Newest Detroit Lions.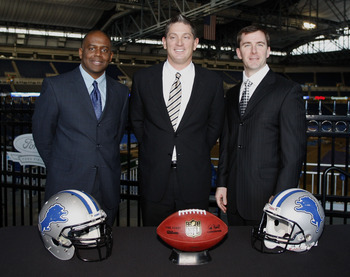 Today kind of feels like the day after Christmas doesn't it? The Lions draft was surely not a disappointment. The 2010 draft for the Detroit Lions could end up being regarded as "the one" that pushed them over that mythical invisible hump that every team faces to become a highly competitive (as in championship winning) football team. I would like to introduce you to the newest additions to the Detroit Lions.
Ndamukong Suh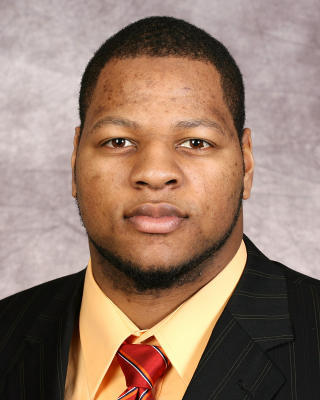 Ndamukong Suh has been a subject of great debate over the past 4 months. In the last 2 months alone, there were probably hundreds of articles written speculating about this young mans ability to effectively change a defense single handedly, and massively impact an NFL football team as a whole. Even though he hasn't played a single down in the NFL, I can tell you that I am a believer in Ndamukong Suh. I wrote several articles and mock drafts regarding Suh before the draft because I saw something watching him over the past 2 years. Something that I have never seen before. Suh is not only a physical beast, he's a very cognizant player on the football field. Have you ever even heard of a Division I NCAA DT with 4 interceptions over a career? This is just one example of the heads up play Suh shows on the field. In comparison, Corey Williams was quoted saying "he can't wait to get back inside where things happen much faster, so I can just react". I believe Suh has both; the ability to instinctively react, as well as the ability to see things happening and recognize ways to do things like take the ball away. As a result of this, I predict that the Lions, who were league worst at both scoring defense and turn over differential in 2009, to get both of those aspects under control in 2010. They could possibly end up with one of the highest scoring NFL defenses. When you have a scoring defense that also means you have a positive turn over ratio. This should be possible with the disruption and pressure KVB/SUH/WILLIAMS/AVRIL should be able to provide, and that pressures effect on the corners (hopefully Spivey, Pacman and Huston) ability to pick up lame ducks and errant forced throws made out of pressure mistakes. This pick alone could make the draft a major success. Having said that, I don't expect Ndmamukong Suh to burst onto the scene on his first play, all though he could do just that. It may take a few games for him to get the tempo and pace of the NFL game down before he can begin to "see things" happening as I'm believe he'll be able to do. But I am very confident he's a bright young man and he'll catch on. And when he does, look out NFL.
Jahvid Best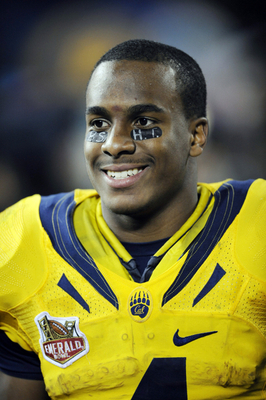 The 30th overall pick that landed Detroit Jahvid Best was a pleasant surprise. I was predicting (in my mock drafts) the Lions would look for a corner in the 2nd round. However after we watched Devin McCourty, Kareem Jackson and Kyle Wilson all go in the 1st round, it became obvious that those really strong 1st round grades were all off the board. There were several mocks here on Bleacher Report that I agreed with as well though that had none other than Cal Running Back Jahvid Best going to the Lions in the 2nd round. I know a lot of people weren't happy about the Lions going up to get him in the first round, thinking he'd probably be there by the 2nd pick of the 2nd round, so why trade? I totally agreed with this selection once the reality set in as to how much potential Best has. Schwartz was quoted saying "we really didn't want to watch him go to the Packers, Bears or Vikings". And the fact of the matter is, there were 30 some trades over the weekend, and anyone (including teams in the NFC North) could have grabbed him in a trade up. Having said that, I absolutely love the fact that the Vikings were the trade partner for this pick. The Lions gave Jahvid Best something to be proud of by moving up to make him a 1st round draft choice. While Mayhew was once again playing the cards close to his vest, he duped yet another team in a trade. The Vikings, who were thinking Detroit was trading draft selections for a highly rated corner who the Lions coveted, were happy to trade with us. As I watched the first round coverage on the NFL Network, someone from Minnesota was quoted on NFL network saying "had they known the Lions were going to take Best, they would not have given up the selection". Sorry Vikings fans, this one goes down as a big win for the Lions! Best Is going to add balance to the offense in a major way. He can line up in the Slot, and catch on the run. He's obviously most dangerous with the ball in his hands, and when that happens his 2nd gear could be the fastest in the NFL. Adding him to the backfield is going to do wonders for Calvin Johnson, Brandon Pettigrew, Tony Scheffler, and Nate Burleson. The offense just found balance in Detroit, look out NFL.
Amari Spivey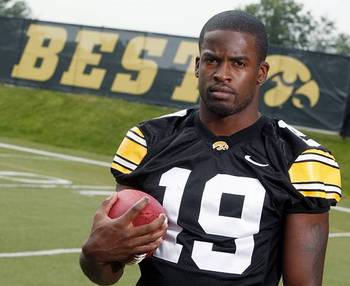 Amari Spievey landed with Detroit in the top of the 3rd round. Almost as if the Lions were trying to not to let down the fans who know how important it is to bring t he "D" back to the "D". They went strait for the best corner on their board in the top of the 3rd round. Spievay was the best corner on a stout Iowa defense in 2009. A big reason the Hawkeye's had such a strong season last year was the Defensive unit and Spivey was a big part of the success on defense. Spievy was knocked for his speed (or lack there of) at the combine 40 time. And then he ran even slower at his pro day. But he's a pure football player and has never prepared for a 40 yard dash in his life until the combine. He's also one of the most physical corners in the Draft and the Lions felt he would be a good fit in a Detroit defense that needs some corners that can jam hard and apply man to man pressure. Spivey fits that bill, so long as he has the speed on the field that he couldn't show at the combine or his pro day in the 40.

It was no secret the Lions needed help at the corner position this off season. Having taken a look at Adam Pacman Jones, and Lito Sheppard, yet not signing any of them, the Lions were waiting to see how the draft went. Obviously there is a method to Mayhew's madness, and I believe part of it is a calculated risk that nobody (other than Detroit) is really interested in Adam Pacman Jones right now. Sure a few teams looked at him, but none of them seem to have the desire to be his second chance ticket to the NFL. I think Detroit is going to give Jones the chance he deserves. And when he does Detroit will have some respectable talent at the corner position between Huston, Spivey and Adam Jones if he's signed.
Jason Fox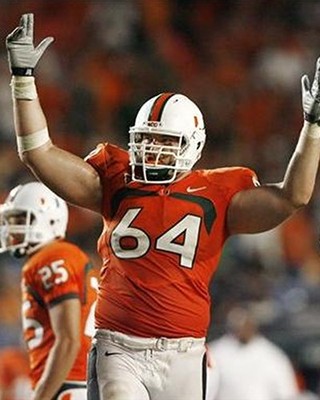 Jason Fox is another guy I've seen mentioned in the mid to late rounds of mock drafts. I didn't personally see much tape on Fox, but from what I have read he's a solid LT who only fell in the draft due to injury concerns after he ended his senior campaign with a knee surgery. I really like this pick for one major reason, he's obviously a talented guy if he came from Miami. Miami is to offensive Lineman as the U of M is to quarterbacks in the NFL. Miami just does a very good job choosing offensive linemen, and coaching them up. Fox is projected as a Left tackle, but since I think they'll probably start him at the Guard Position before moving him outside since Jeff Backus will be much better than Fox until he retires. Still though, having had a rough year with injuries to the offensive line in 2009, Fox could see significant time in 2010 on the interior line, or even at the Right Tackle position if Cherilus continues to under perform.
Willie Young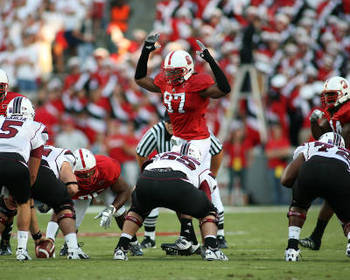 Willie Young was a pick that at first I was confused. I was confused until the last selection because of what Guenther Cunningham said before the draft. He said "we have found a linebacker that nobody knows about and we're confident he'll be there in the end of the draft". Obviously the last 3 picks being OT, DE, WR, the only one who could be the LB Cunningham was referring to would be Willie Young. At first glance this pick was a bit confusing to me. I didn't really think they were drafting Young to be a DE. The Lions have plenty of DE's, all though quality is still a question there. Still though, with Devries, Hunter, KVB, Avril and McBride, I'd say 5 DE's are enough. Plus Willie Young is only 251 Lbs! I think he's just bit light for a DE in the NFL. Avril was the lightest DE on the roster in Detroit last year at 263Lbs and he's gained a bunch of weight because Cunningham told him he needed to be bigger. Having said that, it didn't make much sense to me that they would pick a 6'5" 251 lb DE to play DE! He would be 20 lbs lighter than any other DE on the roster (if Avril is now 273 as was reported) . However when I read that Willie young was sometimes used to drop back in coverage, and he sometimes relied on his great leaping abilities, I knew what was going on. WillieYoung is going to be a bit of a project, but I can see where they are going with him. Imagine having a 6',5", 251 lbs OLB who can drop into coverage (and keep up with TE's), leap like a basket ball player, and rush the passer from the edge. I honestly have to admit I don't know of any OLB's I've ever seen in the NFL with that skill set, and the size of Willie Young. He's going to have a pass rushing element, as well as a pass coverage and run support aspect to his game. If he's a success, Willie Young could not only be an every down OLB, but he could actually create a new prototypical type of player in the NFL. It will be interesting to see how he performs and what roles he's asked to perform at the start of the preseason.
Note how he towers over the rest of the people in this image?
Tim Toone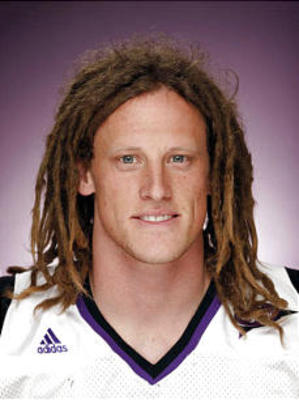 Last but not least, Mr. Irrelevant was given to Detroit as a compensatory selection. They used the last pick in the 2010 draft to pick up Tim Toone, WR out of Weber State. I know what you're thinking, I know, Tim Who?? His name is Tim Toone, pronounced just like a "tune". At first glance this guy looks like he just lost his way from a Phish tour bus. He's a skinny white guy with big brown dread locks. He looks more like someone you'd see bouncing a hacky sack off his foot than catching a ball on a football field. But make no mistake, this guy is a gamer. He's a small school prospect, who can catch, and return punts. He's got a very good chance of making the Detroit 53 man roster. One of the existing receivers may well be the odd man out with the Addition of Toone.
Lions Championship?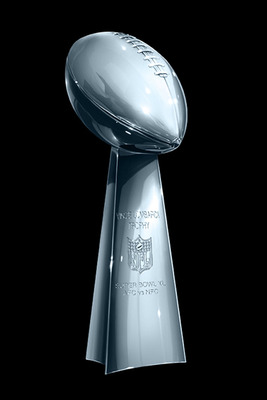 All in all I'd have to say this was a very successful draft for the Detroit Lions. They're actively trying to improve their football team, and the talent on the roster. Mayhew and company have been at it all off season long, and this draft was a continuation of some very solid moves made in Allen Park so far. This draft class will be considered the "one" that brought balance to both the offense and Defense in Detroit. Best will bring balance to the offense and Suh (and Spivey) will bring balance to the Defense. Fox and Young may contribute but in a limited fashion. And Tim Toone is a very interesting pick up to say the least. But he may make the team as a punt return specialist alone. Time will tell, but I believe the Detroit Lions are setting a course for the promise land, the Lombardi Trophy.
Keep Reading

Detroit Lions: Like this team?