Top 10 Replacements for Rich Rodriguez if he is Fired from Michigan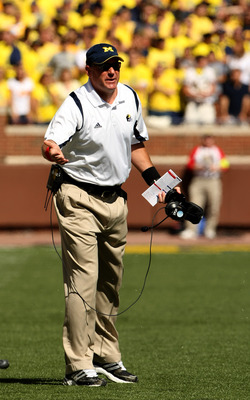 It's no secret that Rich Rodriguez hasn't been popular since arriving in Ann Arbor two years ago.
No, let me rephrase that. The Rich Rodriguez experiment has been an utter failure for Michigan since his hiring after the 2007 season.
His on-field results, have been underwhelming (putting it lightly) for Michigan standards, going 8-16 in two seasons with no bowl appearances and the worst single season record in program history (3-9).
Off-field issues have been a problem as well. Many players, such as Justin Boren and Ryan Mallett, who now star for Ohio State and Arkansas respectively, have left the program.
Boren specifically cited Rodriguez's behavior and a "lack of family values."
Now, with the beginning of an NCAA investigation of rules violations during the 2009 season, the ice below Rich Rod just got a little thinner.
Clearly, Rodriguez's time is running out.
He doesn't seem to have what it takes to coach Big Ten football, and many people who follow the sport and the program believe that he will be fired unless he starts to show signs of a turnaround both on and off the field.
So, as a preemptive measure, let's take a look at a very early short-list for Rich Rod's successors at Michigan.
Because as the on- and off-field issues continue to add up, there's plenty of reason to believe Rodriguez will be out of a job in the near future.
10. Mike DeBord, Chicago Bears tight ends coach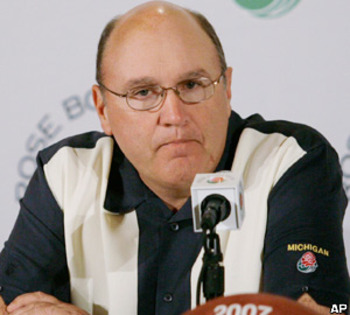 While Michigan has fallen off the national radar since the Rich Rod debacle, it still has the attractiveness to pull in a solid FBS head coach.
That being said, it may not be attractive enough to pull in some of its top candidates.
Assistants are still a viable option. But if athletic director David Brandon chooses an assistant for the job, he will undoubtedly choose a "Michigan Man."
DeBord fits the criteria.
He was an assistant at Michigan from 1992-1999, spending the last three seasons as the offensive coordinator, and led the Wolverines to a National Championship in his first season under that title.
More recently, he was Michigan's offensive coordinator from 2004 until 2007.
Other than his two stints in Ann Arbor, DeBord spent four underwhelming years as Central Michigan's head coach, coached the Seattle Seahawks' offensive line and tight ends, and was recently hired as the Chicago Bears' tight ends coach.
Would he be a good fit for the Wolverines? It's hard to say.
He does have ties to the university, but his record as a head coach may be a turn-off. In the end, he looks like a last resort, but still deserves a phone call from Ann Arbor.
9. Ron English, Eastern Michigan head coach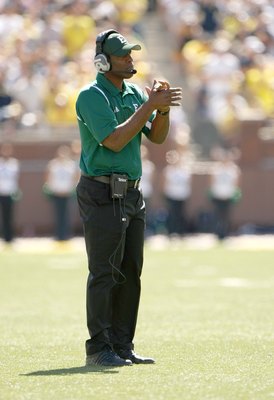 Isn't this a step down? A coach with a bad record at Central Michigan to a coach with a winless record at Eastern Michigan?
Granted neither of these coaches is a very likely replacement for Rodriguez, they both make the list because they should at least get a look since they're "Michigan Men."
And 2009 was English's first season at Eastern Michigan so we'll cut him some slack.
Plus, he looks like a bit more likely to receive the job than DeBord because he interviewed for the Michigan head coaching position in the last vacancy.
Besides his stints as head coach at Eastern Michigan and as an assistant at Michigan, he has been an assistant at Arizona State, Louisville, and San Diego State, along with various small schools.
He worked as a defensive coach on those staffs and would bring that vital element to Ann Arbor, as Michigan has been horrific on defense during Rodriguez's tenure.
But don't expect English's interview (if he even gets one) to go any differently this time. The Wolverines are looking for a big name and this hire would only upset the fan base more.
8. Brady Hoke, San Diego State head coach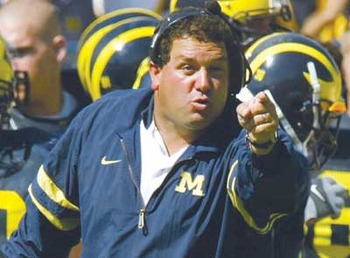 Another former UM assistant, Hoke seems like a more realistic option than DeBord or English because he has had success at the small-school FBS level.
He coached Ball State from 2003-2008, leading the Cardinals to a 12-1 record in his final season.
Hoke resigned from Ball State after the 2008 season and joined San Diego State as the Aztecs' head coach in 2009.
He is primarily a defensive specialist, having worked as a defensive line coach from Oregon State, Western Michigan, Grand Valley State, and Michigan. He also worked as a linebackers coach at Toledo.
Hoke would bring both "Wolverine Pride" and a defensive mind to Ann Arbor, with the latter being especially important considering the horrific defensive stats for Michigan over the past two seasons.
But Hoke still seems like a relative longshot for the job.
The Wolverines can easily get a higher profile coach and the fact that, like DeBord and Enlglish, he has no large school head coaching experience would be a turnoff to much of the fan base and those associated with the program.
7. Chris Petersen, Boise State head coach
He's on the short list for every coaching vacancy, so why not this one, too?
The truth is, it's highly unlikely that Petersen will end up at Michigan.
He's very happy at Boise State and it would take a much higher profile job (likely one in the SEC) to pull him away.
But nevertheless, the Wolverines should at least give him a look.
Petersen has been extremely successful at Boise State, leading the Broncos to two BCS bowl wins in the same number of appearances.
He does more with less as well as anyone in the country, while Rodriguez has done the exact opposite at Michigan.
But while Petersen is a great coach, Michigan just doesn't seem like the right fit. He would be under the microscope all of the sudden, play much tougher competition, and may not want to go somewhere that he's set up to fail.
He also doesn't have a great defensive mind that's needed in the next head coach.
So if the Michigan job does open up in the near future, expect Petersen's name to be associated. But don't expect those rumors to turn into anything.
6. Mike Stoops, Arizona head coach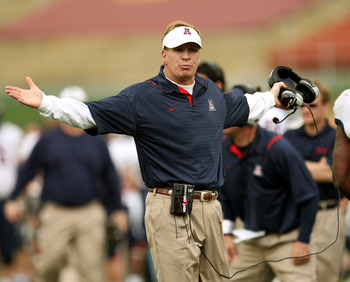 Like his brother Bob at Oklahoma, Mike Stoops has quickly become one of the "hottest" coaches in college football after starting to turn around the Arizona Wildcats over the past few seasons.
In 2008, he led the Wildcats to their first bowl game in a decade with a win over BYU in the Las Vegas Bowl. Last season he led his team to a second place finish in the Pac-10 and a berth in the Holiday Bowl.
While he isn't a "Michigan Man" per se, Stoops has Big Ten ties.
He played safety for Iowa in the 1980s and came back to coach his alma mater as an assistant from 1986-1991.
Stoops also served as an assistant for Kansas State and for his brother at Oklahoma.
This would be a nice fit for both Michigan and Stoops, but the Wolverines will still want to find someone with a higher profile.
But if none of their top picks pan out, Stoops would be a very solid addition,
5. Gary Patterson, TCU head coach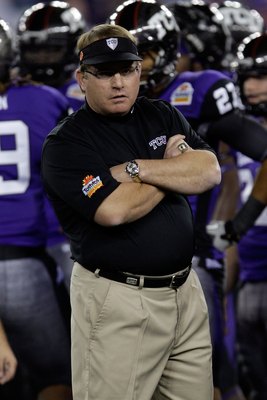 Due to the recent non-BCS storm into the BCS, in which TCU played a large role, many non-BCS coaches are now being looked at for much higher profile jobs.
TCU's Gary Patterson hasn't been free from the hype, as he was linked to the Notre Dame job by a number of news sources.
And while it seems like he's content at TCU, Michigan could be a better fit than Notre Dame and attractive enough for him to leave.
The offense isn't quite built for Patterson's typical scheme, but he is known as a defensive mastermind and would be a huge help to the Wolverines' struggling defense.
While Patterson would be a great fit, expect Michigan to look elsewhere first because Patterson doesn't have any major conference head coaching experience. But he would be a solid choice if nobody else works out.
4. Paul Johnson, Georgia Tech head coach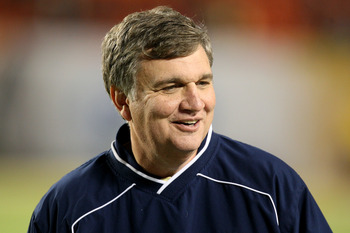 A strong believer in the "outdated" triple option offense, Paul Johnson has been able to effectively run his offensive scheme at Navy and Georgia Tech and may enjoy the same type of success at Michigan.
The Wolverines have the perfect players to run his offense. Quarterback Tate Foricer has a "run-first" mentality, while back-up quarterback Denard Robinson could easily be moved to running back in Johnson's system.
Leaving Navy for Georgia Tech didn't seem like a "career move" for Johnson, and I would be surprised if he didn't listen to Michigan's calls.
But Johnson's success at Georgia Tech may not transfer to Michigan.
His Yellow Jackets could run all over opposing ACC defenses, but his offense may not be as effective against the top Big Ten defenses of Iowa, Ohio State, Penn State, and Wisconsin which are speedy, more physical, and frankly, just plain better.
The Orange Bowl provided us with a glimpse of the triple option vs. a Big Ten defense and the outcome wasn't a happy one for Johnson, whose Yellow Jackets were clobbered by the Iowa defense in a 24-14 loss and were held to a season-low 135 total yards of offense.
And Iowa, which came into the game No. 95 in rushing offense, out-rushed Georgia Tech, the nation's second-leading rushing attack, 185 yards to 123 yards.
That game alone might be enough to keep Johnson out of Michigan, and maybe the entire Big Ten, but the Wolverines may decide to give Johnson a chance to work his old school offense in the old school league that is the Big Ten.
3. Pat Fitzgerald, Northwestern head coach
Pat Fitzgerald is one of the best fits for Michigan of anyone on this list.
He runs an offense that would fit with UM's players, he's young and can energize a fan base, he's a competitor, and he turned around the Northwestern football program.
And if you can turn Northwestern into a January Bowl team, you can certainly do much more at Michigan.
The problem is, Fitzgerald would likely turn the Wolverines down.
He doesn't care about the money, the tradition, the fan base, or the talent. Northwestern is his dream job and he's made clear that he doesn't want to leave.
Fitzgerald played linebacker at Northwestern during the Wildcats' Rose Bowl run in 1995 and he has been committed to turning his alma mater back into a solid team.
Like it has at Northwestern, his high-powered wildcat offense would work very well with Michigan's current offensive players and he is much more of a character guy than Rodriguez, meaning he would be able to keep the talent he brings in.
I could ramble on all day about how great Fitzgerald would look in maize and blue, but it is highly doubtful that he will leave Northwestern, especially for another Big Ten school.
So don't expect Fitzgerald to end up in Ann Arbor, but Michigan should at least make an effort. He can't say yes if Brandon doesn't pick up the phone.
2. Les Miles, LSU head coach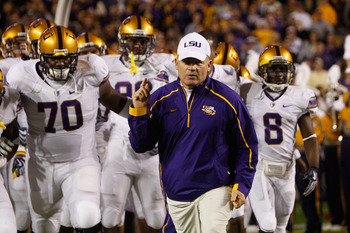 Whenever a head coaching position at Michigan comes up, talk about Les Miles inevitably follows.
Miles played at Michigan under legendary coach Bo Schembechler in the 1970s and returned to the Wolverines as an assistant coach in 1980.
He's also been an assistant at Colorado, Oklahoma State, and for the Dallas Cowboys, but is known for his head coaching tenures at Oklahoma State and LSU.
Miles led LSU to a National Championship in the 2007-2008 season and immediately speculation began that he would take over for Lloyd Carr at Michigan.
Many people in the sport believed that he was the Wolverines' top candidate, but he ended up not taking the job and the rest is history.
Has the tide turned enough for Miles to accept the job now?
The Tigers certainly haven't been as good in the past two seasons as they were in 2007, but Michigan has suffered a much bigger drop-off.
Right now, LSU is arguably a higher profile job than Michigan, but Miles might feel that now is the time to help rescue his alma mater.
If Rodriguez is fired, expect Brandon's first call to be to Miles in Baton Rouge. Will he accept the job? It's hard to say. But I would guess that the answer will be the same as last time.
1. Jim Harbaugh, Stanford head coach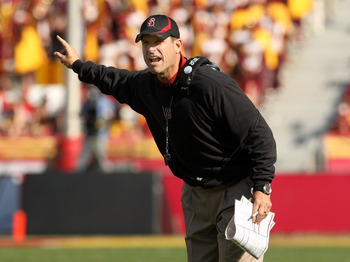 While Miles will likely be Michigan's first call if Rodriguez is fired, Jim Harbaugh may be the man to turn Michigan football around.
He actually would be a better fit than Miles and may even rival Fitzgerald as the best fit overall.
Harbaugh reminds me a lot of Fitzgerald. He turned around a program at an academic-minded school, he can energize the UM fans, and he's a competitor.
Plus, he played for the Wolverines in the 80's, giving him that key title that all UM fans are looking for; he's a "Michigan Man."
Like Fitzgerald, Harbaugh has proven that he can rebuild a program that is much harder to rebuild than Michigan. Because let's face it, if you can rebuild Stanford, you can rebuild Michigan.
He runs an exciting, high-powered offense that would work well with Michigan's current players and has the right balance of character and competitiveness that teams want in a coach.
But unlike Fitzgerald and Miles, Harbaugh may be a realistic candidate for the job.
He has been linked to other coaching jobs, such as Notre Dame, and has also been liked to the NFL, where his brother coaches the Baltimore Ravens.
But those jobs haven't fit as well as Michigan and this would be a great chance for him to advance his career.
Will Jim Harbaugh be the next head coach at Michigan? It's too early to tell. Heck, Rodriguez hasn't even been fired yet. But if/when that time comes, expect David Brandon to give Jim Harbaugh a call.
He's the perfect coach to rebuild Michigan football, and if he wants the job, he may very well be the next man to lead the maize and blue.
Keep Reading

Michigan Wolverines Football: Like this team?