Kobe Bryant: The Assassin's Revenge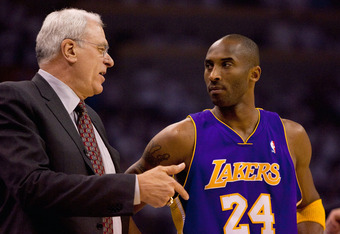 Dilip Vishwanat/Getty Images
Young, inexperienced, up-and-coming: we heard all that and more about the Oklahoma City Thunder coming into this year's playoffs. Is it time for a reassessment?
After throwing away Game Three and being positively stunned in Game Four, the Lakers, yet again, find themselves faced with another dilemma.
But first let's review the last two debacles: the Lakers started game three on a great note, opening up a 10-0 lead right out of the gate. One part of Coach Phil Jackson's strategy was to take the crowd out of the game from the very get-go. Mission accomplished.
But that wasn't the end of it. The upstart Thunder clawed and scratched their way back to take the lead early in the fourth quarter, and managed to hold it while the Lakers went scoreless for a three-and-a-half minute stretch. End result: In their present reincarnation, the Thunder won their first-ever playoff game.
After being criticized heavily after the game for taking too many shots, Kobe Bryant appeared to take the media's message to heart. For game four it was going to be "Good-bye, Assassin" and "Hello, Facilitator". Note to critics: Be careful what you wish for....
At the end of the first period of game four, the box score showed a rare stat indeed: The only player on the floor not to have attempted a shot was the Lakers' No. 24.
The Thunder, determined not to repeat the start of game three, built an early 12-point lead, something that could have put them in the driver's seat for the rest of the game.
Some of the credit for this situation certainly has to go to the Thunder, who've shown the heart to contend with the big boys, but they got some help from the opposing bench. The Lakers played like anything but the defending champions in the first half, looking lethargic on nearly every offensive possession, missing lay-ups and shooting, as the French would say, a Shaqesque 44 percent from the foul line.
As the second half began, the Thunder came out strong, continually pushing the pedal to the metal, and opening up a 22-point lead going into the final period
Among all NBA fans, with the exception of a few, the "teeming hordes" of Laker-haters, it's an article of faith that the Lakers will win their first round match-up. That dogma has now been hit by some karma. As the final horn sounded, the Lakers' walked off the court embarrassed, flustered, and rattled, and looking like they weren't sure what hit them.
Sure, the Thunder are a young and inexperienced team, but along with the inexperience of youth comes hunger and resilience. No laurels to rest on here: just determination and some hard, scrappy basketball. End result: We've got a series on our hands.
The problems in the Lakers' game were not hard to figure out. Let's start with the obvious:
During a game, Team A gives Team B 48 (That's right: 48. Count 'em) free throw opportunities, of which they convert more than 85 percent. During this same game, Team B only gives Team A 28 free throw opportunities, of which they barely manage to hit on 60 percent. According to the laws of probability, mathematics, and just general deservedness, which team is more likely to get positive post-game interviews? Worth 1/4 of your post-season grade. Show your work.
Free-throws aside, the Lakers' problem all year has been predominantly on the offensive end. This has surprised many observers, as the pre-season chatter often spoke of a team with perhaps too many offensive weapons at its disposal. No one imagined for a second that Kobe & Co. would at some point be struggling to put points on the board.
Let's look at some of the starters:
Ron Artest has played sub-par offense throughout this series, although his defense has been classic Artest. And that is saying a lot.
Pau Gasol on the other hand has been on-point offensively, but rather frustrating to watch on defense.
And finally, the Black Mamba has been dealing with various injuries, and is still trying to find his rhythm in this series. After all the flak from game three, Kobe got his revenge, even if at his team's expense, by showing his detractors what a Kobe-less Laker offense looks like. And it ain't pretty.
Scoring an anemic 12 points, on a quiet 5-10 shooting night, Kobe let the world know that this team, even if by default, needs him to score.
They're already talking about Kobe surrendering his 'best player on the planet' crown, but let's not forget: that crown isn't decided until June and there's a whole lot more basketball to go before then.
I'm not a big statistics fan, but I can't resist this one: Phil Jackson is 44-0 when he wins the first game of a series. The Lakers are 20-0 in game fives when the series is tied at 2-2. Not that I'm encouraging sports betting, or anything.
But that's all for now. I've got to go make a call.....
This article is
What is the duplicate article?
Why is this article offensive?
Where is this article plagiarized from?
Why is this article poorly edited?

Los Angeles Lakers: Like this team?