NFL Draft Grades 2010: Jacksonville Jaguars Judged on Moves Missed, Made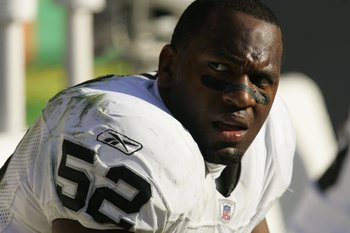 Coming into the draft's first day, Jacksonville general manager Gene Smith had six picks to keep building the roster he took over in 2009.
After the dust settled Saturday, the Jaguars emerged with six rookies, a five-year veteran and an extra pick in the 2011 draft—and plenty of second-guessing from draft analysts and Jacksonville fans.
Smith's savvy swap of a fourth-rounder for super-productive linebacker Kirk Morrison wasn't enough for the likes of Mel Kiper and Todd McShay, who accused the Jaguars of "reaching" for defensive lineman Tyson Alualu in the first round.
His move to deal this year's late fifth-rounder for a higher pick next year wasn't enough for local sports fanatics, who were furious when Jacksonville passed on Florida legend Tim Tebow with that same first round pick.
The Jaguars' draft wasn't perfect, of course. Where several picks seemed to fall perfectly into place last year, Jacksonville missed out on several targeted prospects in this class and couldn't swing a few key trades that were in play.
Still, Smith's second draft was much better than the grades it'll get from Kiper, McShay, and the second-hand scouting public.
Round 1, Pick 10 — DT Tyson Alualu, California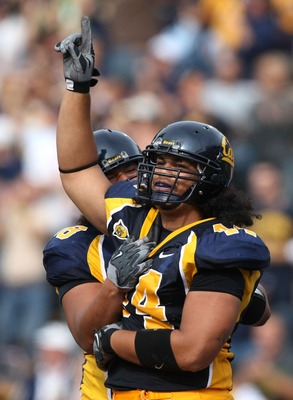 It's rumored that new Oakland Raiders linebacker Rolando McClain was caught off-guard when he received a phone call informing him he'd be this draft's eighth overall pick.
Allegedly, based on his pre-draft contact with NFL suitors, McClain was prepared to join either the New York Giants or the Jacksonville Jaguars.
Considering how doggedly the Jaguars worked to find a middle linebacker this weekend, it's no stretch to deduce that, had Alabama head coach Nick Saban's defensive captain made it to the 10th overall pick, he would have been their first choice.
Now, they'll face a week's worth of flak for picking Alualu, the highest-rated player available on the team's value board.
Reportedly, he was also coveted by the Denver Broncos, Miami Dolphins, and New England Patriots, all teams picking between Jacksonville and potential trade-down partners.
Ultimately, the Jaguars got a highly sought-after prospect 10th overall—just not the one they probably wanted most.
GRADE: B
Round 3, Pick 74 — DT D'Anthony Smith, Louisiana Tech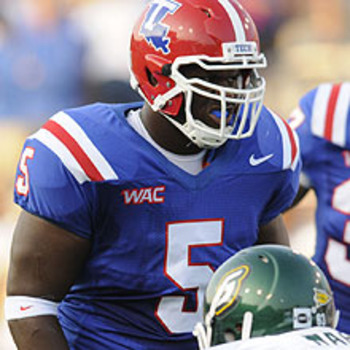 After surprisingly missing out on Rolando McClain in the first round, the Jaguars reportedly set their sights on a trade up into the second round for Penn State linebacker Sean Lee.
According to Gene Smith, Jacksonville had a trade in place with the Philadelphia Eagles for the 55th overall pick before losing out to the Dallas Cowboys.
Smith contends that the Jaguars' offer was more valuable, but the Cowboys ended up making the deal and taking Lee for themselves.
Thus spurned, Jacksonville stayed put at the 74th pick and chose Louisiana Tech's D'Anthony Smith, a strikingly similar prospect to first-rounder Tyson Alualu. Lacking Alualu's BCS-conference production and high school pedigree, Smith's 35-inch vertical leap still hints at top-tier explosiveness.
Considering last season's mediocre rotation of defensive linemen, the Jaguars will welcome an infusion of early-round depth in the trenches. Their failed draft-day trade, though, suggests that they'd rather be welcoming Lee.
GRADE: D
[Photo courtesy of the Scout.com website.]
Round 4, Pick 108 — Traded for Oakland Raiders LB Kirk Morrison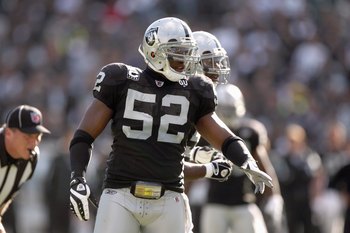 Entering Saturday, Rolando McClain and Sean Lee were long gone. Having spent their two picks from the draft's first two days on pass-rushing defensive tackles, the Jaguars were left with five picks to find their middle linebacker.
Problem? Not with the Oakland Raiders calling.
After drafting scouting combine superstar Bruce Campbell with their allotted fourth-rounder, the Raiders were looking to make another selection early Saturday. Their offer: linebacker Kirk Morrison and a fifth round pick.
Not surprisingly, the pick was theirs. Oakland added the 4.28-second 40-yard dash speed of Clemson wide receiver Jacoby Ford, and Jacksonville began the last day of the draft by scratching the itch that neither of the first two picks could reach.
GRADE: A
Round 5, Pick 143 — DE Larry Hart, Central Arkansas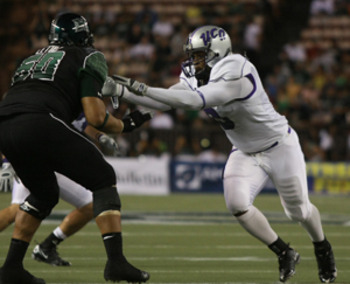 Listed at 6'1" and 248 pounds, Hart's smallish frame limits his potential as a defensive end in Jacksonville's base 4-3 defense. The prototype for an every-down player at the position has longer arms and more lower-body strength.
There are undersized exceptions, of course, such as Robert Mathis of the Indianapolis Colts, who played at FCS Alabama A&M and with whom Gene Smith compared Hart in his post-draft press conference.
Reportedly, the Jaguars rated Hart as the fourth-best pure pass rusher in this year's rookie class, a tier below first-rounders Brandon Graham, Derrick Morgan, and Jason Pierre-Paul (Not necessarily in that order).
Coming off an embarrassing 14-sack season, Jacksonville's defense needs pass rushers. Finding one in the fifth round would be impressive value.
GRADE: B
[Photo courtesy of the UCASports.com website.]
Round 5, Pick 153 — DE Austen Lane, Murray State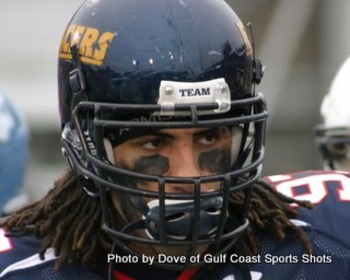 In last year's fifth round, record-setting small-school wide receiver Jarrett Dillard fell through the draft's cracks to Jacksonville due to, among other minor issues, an unspectacular 4.53-second time in the 40-yard dash.
As last year, so again this year. Murray State's Austen Lane, a 6'6", 270-pound lean-bodied athlete, took the FCS by storm the past two college seasons, starting with a breakout 12-sack junior campaign in 2008.
Considered a "sleeper" prospect by many draftniks, Lane was rumored to have 4.5-second speed in the 40-yard dash coming into February's scouting combine. In spite of his physical potential, Lane's disappointing 4.9-second effort likely dropped him down draft boards this weekend.
For a fifth-rounder, though, he has plenty for the Jaguars to work with as a developmental project—including a surprisingly well-developed spin move.
GRADE: A
Round 5, Pick 158 — Traded for New Orleans Saints' 2011 Fourth-Rounder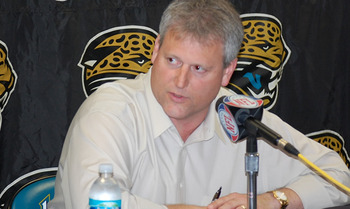 After the success of the Jaguars' 2009 rookie class, "In Gene We Trust" has become some Jacksonville fans' draft-day mantra.
The transformation of unheralded prospects such as Terrance Knighton and Derek Cox into productive starters has earned Smith leeway in some quarters.
Saturday, his Bill Belichick-esque work to turn a late fifth-rounder into a fourth round pick next year only added to that confidence.
Continuing an already-solid day of dealing that had brought Morrison and the pick used on Austen Lane from the Raiders, Smith worked out a deal with New Orleans to move the Saints up for Boston College center Matt Tennant.
There were calls for the Jaguars to draft Tennant themselves as an eventual replacement for 33-year-old center Brad Meester. Despite his 6'5", 300-pound frame, though, Tennant's short arms and questionable toughness as a run blocker make him a bad fit for Jacksonville's offense.
Better, in the absence of a coveted prospect, to get a higher pick next year.
GRADE: A
[Photo courtesy of the Jaguars.com website.]
Round 6, Pick 180 — RB Deji Karim, Southern Illinois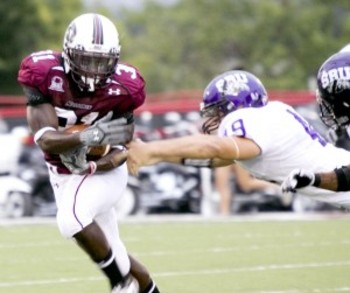 In drafting Karim, a 2009 Walter Payton Award finalist and the record holder for all-purpose yards in a season at Southern Illinois, Gene Smith planned a role for him as a kick returner and part-time specialty running back.
Don't get too optimistic, but that's similar to the job most draft experts imagined for 2006 second-rounder Maurice Jones-Drew.
Physically, Karim (5'9", 209 pounds) is somewhere between Jones-Drew and Darren Sproles of the San Diego Chargers on the scale of body mass for diminutive backs. His 4.37-second 40-yard speed, though, and spectacular 43-inch vertical leap fits him squarely into their company.
Having fallen into the sixth round, perhaps due to the knee injury that cost him the whole 2008 season, Karim might be considered "damaged goods." He won't be given much on entering training camp, it seems, past an introduction to the special teams unit.
For the 180th overall pick, though, his ceiling is unusually high.
GRADE: B
[Photo courtesy of the Townnews.com website.]
Round 6, Pick 203 — RS Scotty McGee, James Madison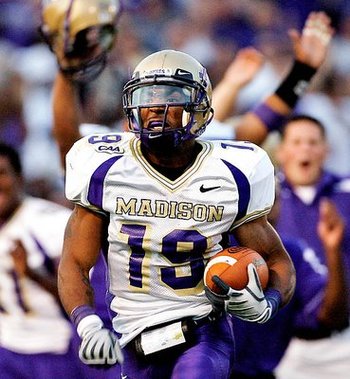 Field position was a season-long struggle for Jacksonville last season.
Return specialist Brian Witherspoon, whose blazing speed had drawn the Jaguars' attention in undrafted free agency after the 2008 draft, was released in December after struggling with injuries. As a returner, Witherspoon swung for the fences and only occasionally delivered.
With Jacksonville's last pick this weekend, Gene Smith threw special teams coordinator Russ Purnell a bone by drafting McGee. Nominally a cornerback in college, the 5'8" playmaker from FCS James Madison falls well short of the Jaguars' coveted prototype for that position.
As a return man, though, McGee's 30.5-yard average suggests good vision, acceleration in short space, and a north-south style that will give Jacksonville's offense a leg up if it translates to the NFL.
Whether that's worth a sixth round pick, of course, is a different matter.
GRADE: C
[Photo courtesy of the TodaysACCHeadlines.com website.]
DT John Henderson on the Chopping Block? Jaguars' Overall Draft Grade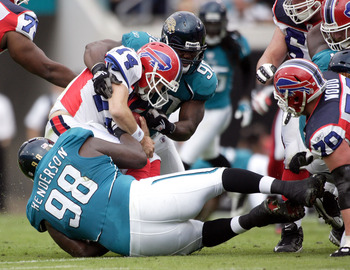 Every team's draft class has potential.
As much as pundits will enshrine some teams' efforts and condemn others', the players who'll end up as the biggest draft busts of 2010 look like some of the surest bets this weekend.
Instead of taking issue with Jacksonville's scouting department, then, better to grade the Jaguars' 2010 draft on their ability to make the moves they set out to make, both in terms of targeted prospects and trades up and down.
Missing on Rolando McClain was unfortunate, but trading ahead of Oakland to pick him would have been foolish. Failing to make the Eagles a more enticing offer than their NFC East divisional rivals' package, though, cost Jacksonville a shot at Sean Lee and shouldn't have taken much.
But Gene Smith, a true professional, landed on his feet on Saturday when the Jaguars acquired Morrison.
Having invested two high picks at defensive tackle, former All-Pro John Henderson is now considered expendable. According to Smith, Jacksonville shopped the veteran to all 32 teams but found none willing to make a move.
The end result? One 28-year-old veteran in, one 31-year-old veteran likely on his way out, a fourth-rounder next year, and an influx of penetrating defensive linemen for the NFL's worst pass rush.
Good draft.
OVERALL GRADE: B
Keep Reading

Jacksonville Jaguars: Like this team?