San Diego Padres Five Keys To Early Success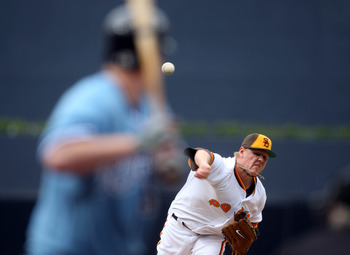 Whether it has been in dominating or come-from-behind fashion, blown saves, one-hit offensive efforts or walk-off home runs, the Padres have found a multitude of ways to win in the midst of an eight-game win streak.
All alone at the top of the National League West and riding their biggest win streak since May 9, 2009, the Friars are clicking on all cylinders.
After two sweeps at PETCO Park of NL West rivals Arizona and San Francisco , the Padres (11-6) eye their third sweep in a row at Cincinnati and look to build on their one game lead in the division
With or without Adrian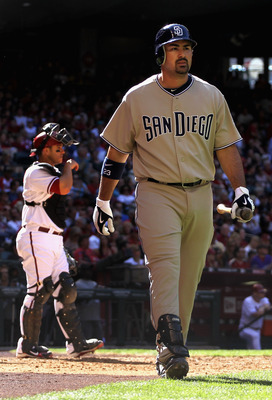 The Padres undoubtedly are a better team with their All-Star, Gold Glove first baseman in their lineup.
There is also no doubt the most astonishing facet of their streak has been the Padres productivity without their biggest bat.

In the first five wins, Gonzalez was just 2-for-14 (.143 avg) with only one RBI. Since cooling off, Adrian has homered in three straight games.

If the Padres are competitive and still in the NL West hunt come July, Adrian is not going anywhere.

On the other side of the coin, if the Padres plummet, don't expect to see Adrian still lurking at first base at PETCO.

Either way, it is good to see the Padres finding ways to win without him.
How Low Can the Team ERA Go?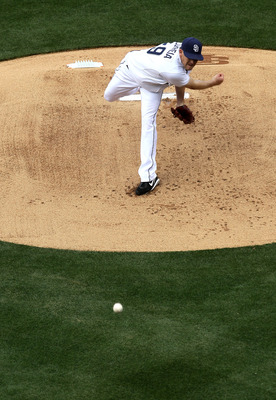 After Saturday's 5-0 shutout of the Cincinnati Reds, the Friar pitching staff took over the top spot in all of baseball for team ERA (2.73)

From the starting rotation all the way down to the bullpen, the Padres have been downright stingy.

The Padres didn't let the Diamondbacks get more than three runs in one game, allowed just four runs in three games to San Francisco, and surrendered just four late-inning runs in a 10-4 offensive outburst Friday before shutting out Cincinnati 5-0 Saturday.

Kevin Correia (3-1, 3.13 ERA, 1.13 WHIP) has been pitching like a staff ace.

Rookie Mat Latos' (1-1, 3.57 ERA, 1.13 WHIP) stock is rising, including seven scoreless frames against San Francisco.
The Padres haven't found a way to get the centerpiece of the Jake Peavy deal, Clayton Richard (0-2, 3.38 ERA, 1.34 WHIP), his first win despite three solid outings
Tim Stauffer (2-0, 0.00 ERA, 0.77 WHIP), the Padres fourth overall selection in the 2003 draft, has been about near-perfect, not yielding a single run in 10.1 innings of work in 2010.
Wade Leblanc (1-0, 0.82 ERA, 1.27 WHIP) has been a pleasant surprise, filling in admirably for the injured Chris Young. He hasn't skipped a beat since his dominant spring training, where he compiled a 4-0 record and 1.96 ERA in 23 innings of work.
His four pickoffs in two starts might also have something to do with the Padres leading the league in the category with nine.
Mr. Utility
Jerry Hairston Jr. is a man that can wear many hats—literally and figuratively.

Playing for his sixth team, the super-utility man has proved invaluable for the Pads.

If there were ever a case of winning games with the glove, Hairston Jr. is the epitome of such. Hairston has already added a handful of dazzling, inning-saving plays with the leather in this young season.

We've already seen Jerry at second base, shortstop and right field. It is safe to say we will see him at other positions before we see June.

They say "Texas Leaguers" and bloopers look like line drives in the box score. Hairston Jr. makes the kind of plays that don't show up in the box score.
Thieves on the Basepaths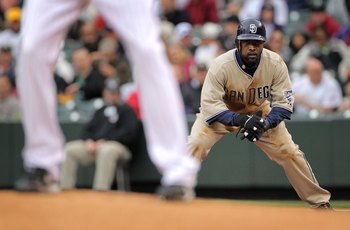 The Padres seem to have found a trait that has been missing since Ricky Henderson hung up his spikes: speed on the basepaths.

The Padres lead the National League in stolen bases (18) and have been caught just three times.

Chase Headley leads the team with five swipes, already half as many swipes as he had last season. Wil Venable has stolen four and leadoff hitter Everth Cabrera has three.

With a combined lack of power—although the Padres are currently middle of the pack in home runs (16) and RBI (72)—and the spacious PETCO Park, small ball and manufacturing runs via the base paths have resulted in victories.
Bud Black Using Full Arsenal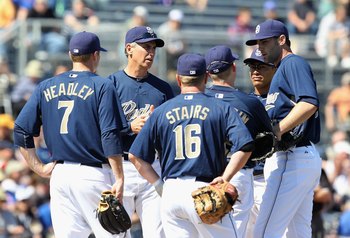 Note to Portland-AAA callups: If you're on the Padres 25-man squad, expect to play.
Manager Bud Black has used 14 different lineups in 17 games, mainly due to the lack of production from the leadoff spot (10-for-65, .154 avg.)
It is Everth Cabrera's spot to lose, but Jerry Hairston and Tony Gwynn will continue to see starts atop the order.
Everyone is playing in San Diego. Scott Hairston and Tony Gwynn platoon in centerfield, appearing in 15 and 13 games, respectively. Veteran Matt Stairs even got himself a start Friday and had two RBI.
Nick Hundley (.282 avg, 2 HR) has secured the starting catcher position and is off to the best start of his three year career. Offseason acquisition Yorvit Torrealba has proved serviceable in his six games behind the dish.
Productivity and depth are two things the Padres haven't had at the catcher position in many seasons. This year they appear to have both.
Lastly, in addition to the aforementioned strong starting rotation, Bud Black has a bullpen that hasn't yielded a loss.
You mean the season isn't just one month long?
Keep Reading

San Diego Padres: Like this team?