Post-Draft Analysis: Potential Chiefs' Casualties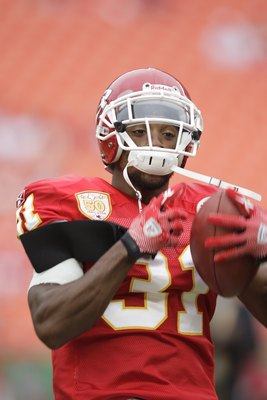 The draft is over and the Chiefs are scrambling to find rookie free agents to potentially fill their roster for 2010.
Kansas City drafted three defensive backs in its seven picks, potentially ending Maurice Leggett's tenure in KC. But he's not alone.
Teams will soon be releasing players to make room for the influx of new talent, and some will be a surprise...just as the New York Jets' release of Allen Faneca was.
It's kind of like throwing the old toys into a box after Christmas, with new and shiny things to play with.
Who's head should be on a swivel? Let's take a stab shall we...
Brad Cottam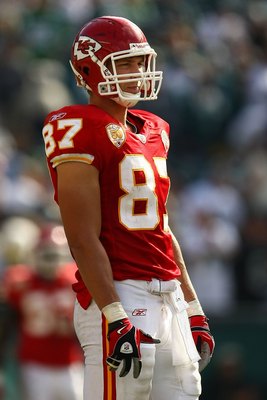 I'm not sure this guy has been given an adequate shot, but he obviously doesn't appear to be a favorite of Todd Haley's. With Leonard Pope and Jake O'Connell on the roster already, someone has to go. Maybe Charlie Weis can get more from Cottam, but I think he could be done.
Cottam was a 3rd round pick from 2008 and has yet to impress on the field. The 6-7, 270 pounder now has competition as the pass catching tight end.
The Chiefs drafted Tony Moeaki out of Iowa in the 3rd round. The scouting report on Moeaki isn't earth shattering, but he's athletic and has good hands. He also is a good blocker but has had trouble staying on the field due to injury.
The Slot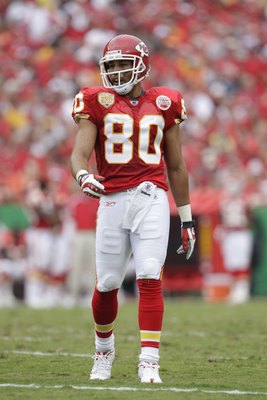 If you ask me, a position the Chiefs whiffed on in the draft, was a viable outside receiver. Dexter McCluster was drafted with the first Chiefs pick in the second round. While versatile and a true big-play potential guy, the Chiefs now have an abundance of undersized slot-type receivers.
Bobby Wade heads a list of underwhelming receivers who could find themselves released to make way for McCluster. Others who should be nervous include Jerheme Urban, Terrance Copper, Lance Long, and Quentin Lawrence.
With only Dwayne "doghouse" Bowe and Chris Chambers as viable outside targets, I would think the Chiefs have to look at adding a bigger receiver from the free agent pool.
Defensive Backs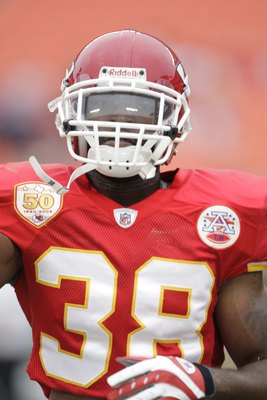 Anyone who watched the Chiefs' porous pass defense last season understands there needs to be a makeover. They couldn't cover, they couldn't tackle, and with the Chiefs spending three of their seven picks on defensive backs, some heads are bound to roll.
Eric Berry will start at FS or SS, depending upon the personnel the Chiefs end up with. Brandon Flowers and Brandon Carr should have locks on the cornerback positions. However, 3rd round pick Javier Arenas should challenge Carr, if not lock down the nickel corner job.
Players including Jarrad Page, Maurice Leggett, DaJuan Morgan, and Jon McGraw should be a bit nervous. Personally, I'd like to see Berry and Page take a stranglehold at safety and let Carr, Donald Washington, and Arenas battle to start opposite of rising star Flowers.
Running Backs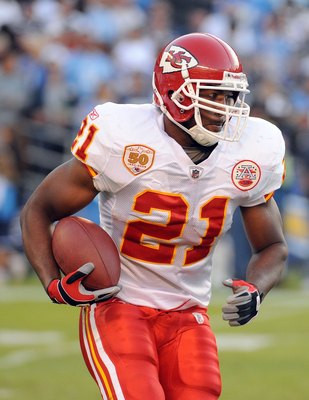 Adding Thomas Jones prior to the draft, the Chiefs already figured to lose a body at RB. However, the drafting of RB/ WR Dexter McCluster adds another wrench into the cogs at RB for the Chiefs. It will be interesting to see where and how the Chiefs use McCluster, but he could get some touches in the backfield much in the way Percy Harvin did for the Vikings.
Potential RB cuts include 4th year back and oft-injured Kolby Smith, Jackie Battle, Javarris Williams, and Kestahn Moore. The final decision could be made based on special teams performance.
Keep Reading

Kansas City Chiefs: Like this team?