NFL Draft 2010: Analyzing the First Round Selections
The first round of the 2010 NFL Draft is complete.
There were some "what were they thinking picks?" and some great steals.Jimmy Clausen and Colt McCoy are still waiting for their name to be called, along with Sergio Kindle and Bruce Campbell, both of whom were considered first-round probables.
Who made the right choice? Who made the bonehead selection?
No. 1: Rams, Sam Bradford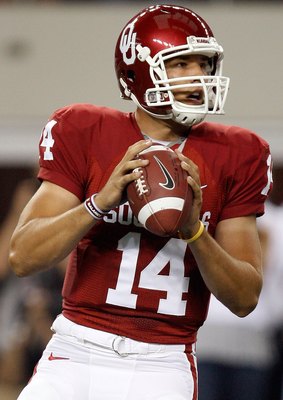 As if we all didn't see this one coming from a mile away.
The Rams dropped starter Marc Bulger, leaving room for a new franchise quarterback to take over. The Rams are in full rebuilding mode, so they took the first of many building blocks to resurrect the franchise.
It's definitely the right pick for a team that has holes at each position aside from running back.
They must protect Bradford by picking some O-linemen in the later rounds, or else this will be David Carr all over again.
No. 2: Lions, Ndamukong Suh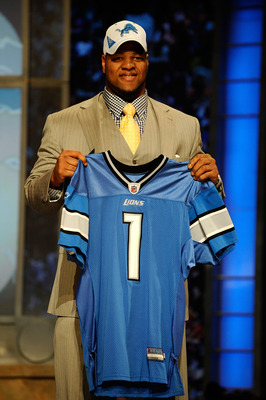 This was the ideal pick for the Lions.
Suh will apply plenty of pressure with newly acquired Kyle Vanden Bosch. Suh is a playmaker and will make an immediate impact on the NFL.
I like what the Lions are doing to build a roster. Last year, they nab a franchise QB in Matthew Stafford and a weapon in Brandon Pettigrew to nourish the offensive side of the ball. On defense, they drafted two starters in safety Louis Delmas and linebacker DeAndre Levy. After focusing on the secondary and linebacking corps, the Lions got a stud on the D-line.
This pick is simply a gem.
No. 3: Bucs, Gerald McCoy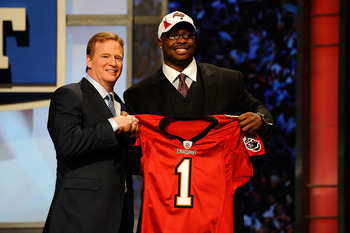 Similarly to the Rams, the Bucs don't have much on either side of the ball. They simply went with best available.
McCoy can penetrate the line and get to the QB. He is also very athletic for a defensive tackle of his size.
The Bucs definitely got a long-time starter.
No. 4: Redskins, Trent Williams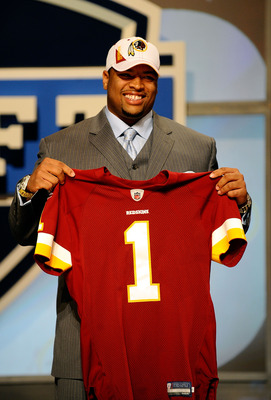 The Skins went bold this offseason, and landed former division enemy Donovan McNabb. They also picked up running backs Willie Parker and Larry Johnson to assist the aging Clinton Portis.
So what's the best thing you can do for a new-look offense?
Protect it.
And that's what the Skins did with Trent Williams. They could have gone defense, but I still like this selection for Washington.
No. 5: Kansas City, Eric Berry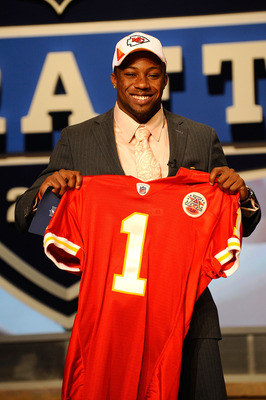 The Chiefs have a decent looking front seven, so it was time to alter the secondary.
Berry is perhaps the best prospect to come out of this draft. He has a defensive back's skill set, but possesses a linebacker's mentality. He can catch you or level you.
He should have quite a career with the needy Chiefs.
No. 6: Seahawks, Russel Okung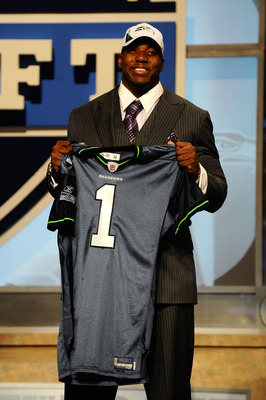 The Seahawks went defense last year with rookie sensation Aaron Curry. This year, they helped the aging offensive line.
With Matt Hasslebeck getting old, he'll need all the protection he can get. He will start immediately and provide instant protection.
Nice looking pick for Seattle.
No. 7: Browns, Joe Haden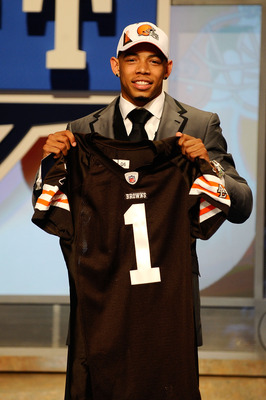 I'm not in love with this pick by the Browns.
Sure they did address a major need in the secondary, but couldn't they have used some firepower on offense? Perhaps one C.J. Spiller.
They don't have any playmakers on offense, so why not grab speedster Spiller? He alone can make an offense dangerous.
I'm afraid Haden doesn't posses the starpower that Spiller does, and won't have half the impact of Spiller.
No. 8: Raiders, Rolando McClain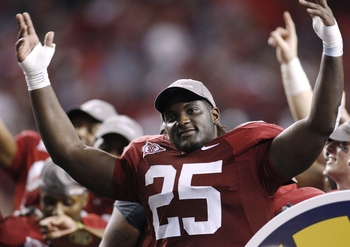 Another bold pick by Al Davis. McClain was not supposed to be in the top 10 and Davis took him.
It's funny, but it seems to me their linebackers are pretty solid, especially on the inside.
Their secondary? Not so much.
They are in need of a complement to Nnamdi Asomugha. If McClain can learn to play on the outside, this pick could be beneficial.
My personal pick would have been an Earl Thomas or maybe even an O-lineman.
No. 9: Bills, C.J. Spiller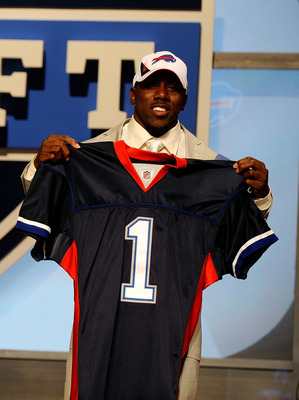 Spiller definitely adds some spice to the Bills, but is running back their biggest need?
Marshawn Lynch and Fred Jackson form a nice power duo in the backfield. Spiller offers a change of pace with his speed. For him to thrive though, one of the other two will have to hit the bench and give Spiller more touches.
If I'm in the Bills front office, I give up on Trent Edwards and go Jimmy Clausen.
No. 10: Jaguars, Tyson Alualu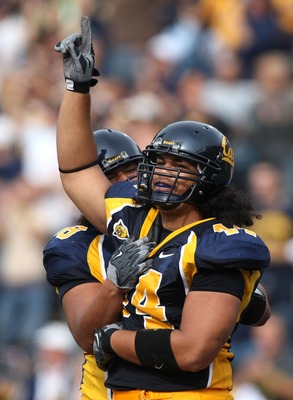 My pick for the bonehead selection of the first round.
The Jaguar front four is finally coming around and then this? Their linebacking core is their needy position.
Sean Witherspoon would fit nicely at this pick for the Jags. Not to mention, Alualu was not close to the best available at his position—Brian Williams and Jared Odrick are much better.
No. 11: 49ers, Anthony Davis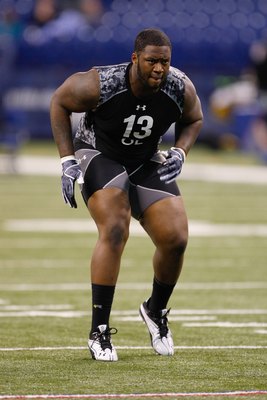 The Niners traded up so they wouldn't miss Davis.
I personally love this pick, because I'm a Rutgers fan, and it's the highest pick ever for a Scarlet Knight.
But even from a non-biased standpoint, this pick is great. San Fran spent a No. 1 overall pick on Alex Smith. The project has not gone as planned with Smith.
But he did show signs of improvement in the latter part of the 2009 season. Now, they have some protection for their franchise QB.
Davis will pair up with Joe Staley on the ends to form a formidable duo of tackles.
No. 12: Chargers, Ryan Mathews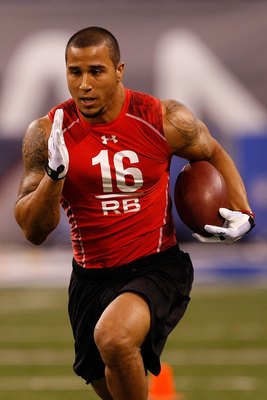 Mathews is a good pick at this point for the Chargers. They could use another running back.
But is it the best pick for them?
I don't think so.
Last year, LaDainian Tomlinson was a non-factor, and they were still the second-best team in the AFC. Since Tomlinson's downfall, the Chargers have been pass happy, and it has been effective.
Mathews definitely gives San Diego a power runner that they don't have at this point, but I saw Jason Pierre Paul as a better fit since he could play defensive end in a 3-4.
What they should have done is keep their late-round pick along with linebacker Tim Dobbins and take underrated running back Montario Hardesty.
No. 13: Eagles, Brandon Graham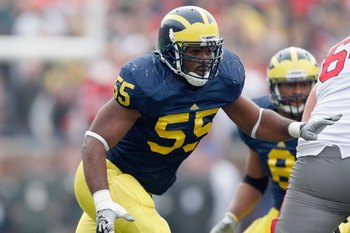 This is a good grab by Philly. Graham will fit into the Eagles' system immediately.
They add a talented pass rusher to the blitz-friendly Eagles. He'll work his way into the rotation immediately.
Don't be surprised if you see him at times at linebacker.
No. 14: Seahawks, Earl Thomas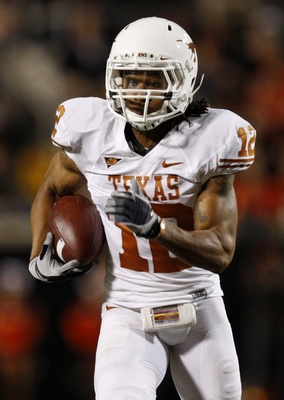 The Seahawks utilized this pick well. Thomas fills a void left by Deon Grant at safety. He has great instincts to be an NFL safety.
Some people are saying that he can be as good as Eric Berry. Those are some pretty high praises.
No. 15: Giants, Jason Pierre-Paul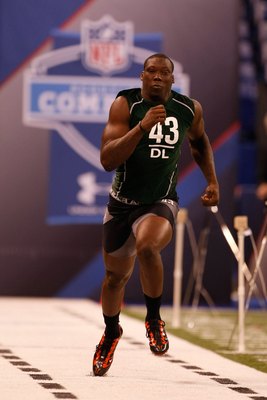 As a Giants fan, I'm very pleased with this pick.
Pierre-Paul is a Justin Tuck clone. He is big and powerful like Tuck and can really apply pressure on the quarterback.
This pick indicates that they will probably deal Osi Umenyiora.
No. 16: Titans, Derrick Morgan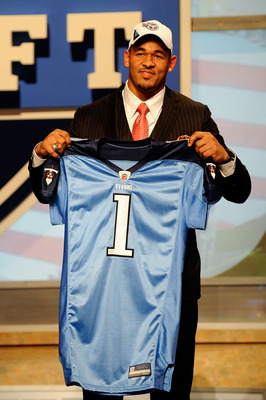 With Kyle Vanden Bosch headed to Detroit, Morgan should start from day one at defensive end.
The talented pass-rusher could have been a Top-10 pick, so this is a great pick for Tennessee.
No. 17: 49ers, Mike Iupati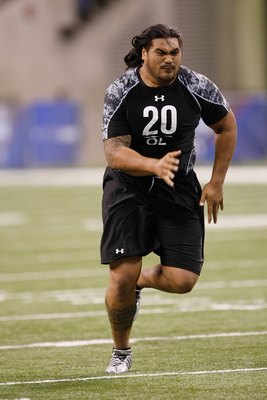 Alex Smith must have been sleeping well last night, because he definitely will have time in the pocket.
First they nab Davis, and now mammoth guard Mike Iupati. This new-look line does wonders for San Fran.
They will open holes for Frank Gore and also create more time for Alex Smith to scan the field.
Nice job by the 49ers in Round One.
No. 18: Steelers, Maurkice Pouncy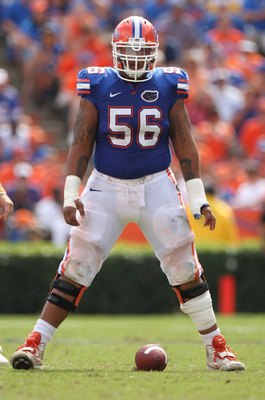 Pouncey is a great selection for the Steelers. Their O-line has been a bit iffy over the past two years or so, giving up a myriad of sacks.
Pouncy offers a big body who can play both guard and center.
Another route they could have gone was Jahvid Best. Rashard Mendenhall can use a second fiddle. Mendenhall's power and Best's agility.
No. 19: Falcons, Sean Weatherspoon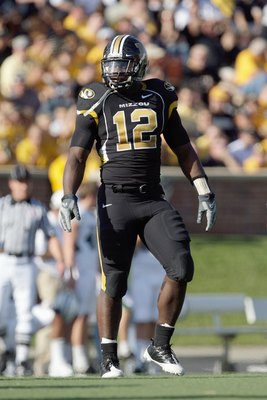 The Falcons were one good linebacker away from solidifying their front seven, and they got him in Sean Weatherspoon. He offers a lot of quickness and athleticism for a linebacker.
He will form a formidable LB core along with Curtis Lofton and Mike Peterson.
No. 20: Texans, Kareem Jackson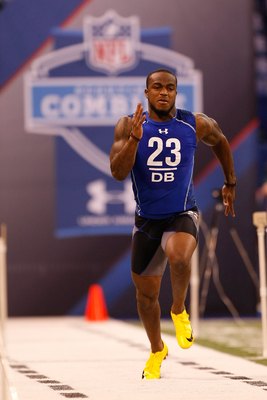 Kareem Jackson is a perfect fit in Houston.
The Texans just lost Dunta Robinson, and now they are left with a couple of second-year players as their starting cornerback positions.
They already created a great front seven, so it was time to build a secondary. Jackson is a good cover man whose skills can earn him lots of playing time early and often.
No. 21: Bengals, Jermaine Gresham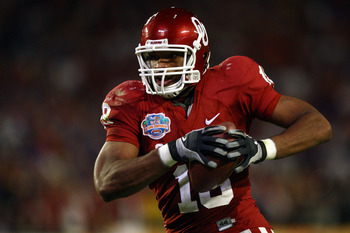 Although this was a bit of a reach, it was a good pick for the Bengals.
Cincy desperately needed a quality tight end and picked Gresham, who could be Carson Palmer's favorite target—behind Ochocinco.
The only problem with this pick is that Gresham hasn't played in a year, and it's still an uncertainty that he will come back strong from his injury.
No. 22-Broncos, Demaryius Thomas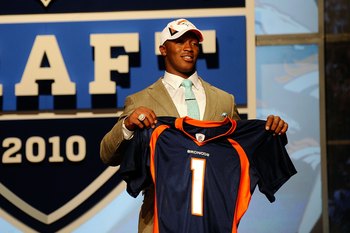 The Broncos got just what they wanted. A tall, talented receiver to replace Brandon Marshall, but without the diva persona.
He will be Kyle Orton's, or Brady Quinn's, or Tim Tebow's favorite target (I really have no clue who will start).
Look for him to be a sleeper in the Offensive Rookie of the Year Award race.
No. 23: Packers, Bryan Bulaga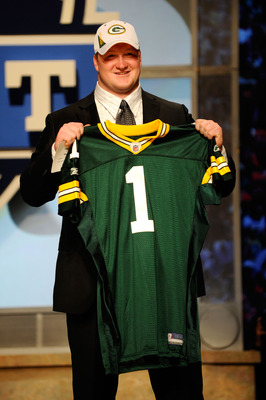 Bulaga was a steal for the Packers at 23. He is was widely considered a Top-10 pick, and extremely NFL ready.
The Packers got the player who they wanted. For most of the year, Aaron Rodgers was on the ground due to a sack or blow after releasing the ball.
This was mostly due to Chad Clifton's injury for most of the year. Bulaga will take over for the aging Clifton and anchor the O-line for a long time.
No. 24: Cowboys, Dez Bryant
The Cowboys look steady on defense, so they took Dez Bryant. This is a great fit for him.
The 'Boys were in need of a major down-field weapon other than Miles Austin, and got that in super-talented Dez Bryant. He's also a diva like owner Jerry Jones.
The Cowboys now have one of the most dangerous wide receiver duos in the NFL. Miles Austin proved to be a No. 1 receiver, and Bryant has potential to be just as good.
I'm sure Tony Romo is looking forward to throwing to the big and speedy Bryant.
No. 25: Broncos, Tim Tebow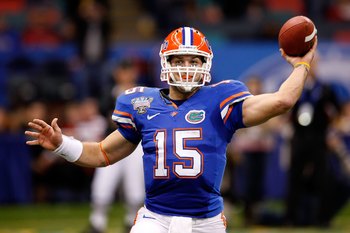 Another "what were they thinking" pick.
The Broncos already have a QB battle going on. Tebow doesn't really have much to offer to Denver. All I see him as is a change-of-pace kind of guy.
But that's not worth a first-round pick.
Unless that revised throwing style is the real deal, I don't see Tebow making an impact for the Broncos.
No. 26: Cardinals, Dan Williams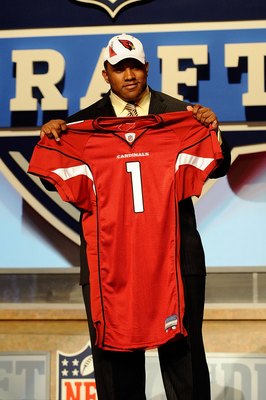 Dan Williams was a steal at 26. He is the only true nose tackle in the early part of the draft, and that's just what the Cardinals needed.
They could have also used a linebacker due to the loss of Karlos Dansby, but there were none available.
Williams is quick for a man that large, but is also great at stuffing the middle of the line. He and Darnell Dockett will thrive alongside each other.
No. 27: Patriots, Devin McCourty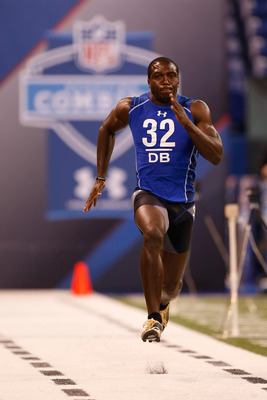 Devin McCourty was a great pick for the Pats. The former Rutgers cornerback fills in a need for New England.
Shawn Springs is getting up there in age, and will need to step aside pretty soon.
McCourty will add speed to the Patriot secondary. He is also the best special-teams defender in this year's class (there's more of my Rutgers bias).
No. 28: Dolphins, Jared Odrick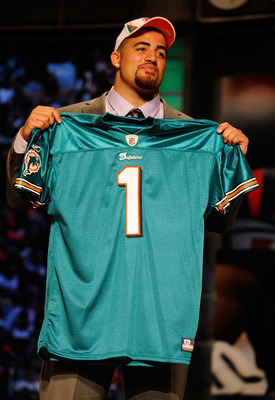 The Dolphins helped their weak D-line by taking Odrick.
He has the size to play defensive end or tackle in Miami's 3-4 defense. He can compensate for the pass rushing void left by Jason Taylor.
No. 29: Jets, Kyle Wilson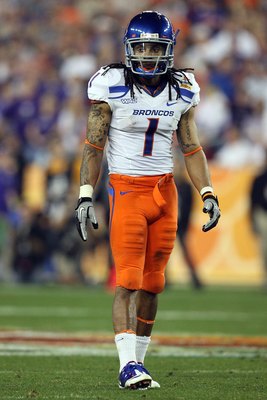 Another great pick by Mike Tannenbaum and the Jets.
Wilson could be the best corner to come out of this year's draft. He is a great tackler and can really get after the man with the ball.
He'll shine in the Jets' nickel packages, and could sneak past Antonio Cromartie for the starting job.
No. 30: Lions, Jahvid Best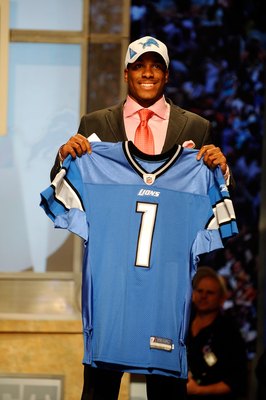 The Lions take another key component to their rebuilding squad.
Kevin Smith is a good starter, but he can't be a feature back. Best is an elusive back who can break loose for a big gain.
Best also will assist in the development of Matthew Stafford.
No. 31: Colts, Jerry Hughes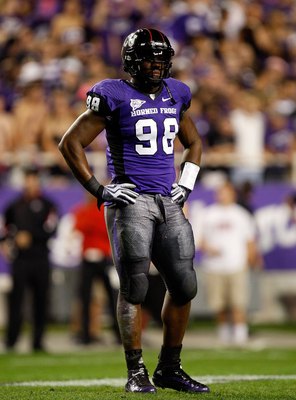 The Colts got a great pass rusher late in the first round.
Jerry Hughes should make up for the loss of Raheem Brock. Also, with Dwight Freeney declining, Hughes will emerge as a formidable defensive end.
No. 32: Saints, Patrick Robinson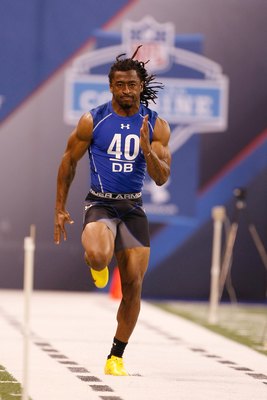 Not the pick everyone expected for the Saints.
I would go Sergio Kindle for New Orleans. They could use a pass rusher, and Kindle offers plenty of that.
Robinson gives speed to the Saints secondary, but they already have a formidable secondary.
I'm not a fan of this selection.
Keep Reading