Draft Picks 2010: (De)Power Ranking the 10 Worst Picks of the First Round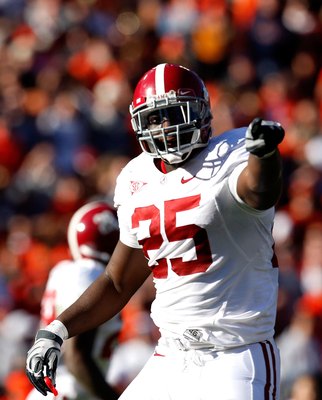 With round one in the books, it's time to take a look at which teams really screwed the pooch this year.
While some of the worst picks of the first round of 2010 NFL Draft are obvious—I am looking at you Josh McDaniels—some may be less so.
Take a look at my analysis of who really swung and missed on day one, and who they should have taken with their selection.
10. 19th Overall: Atlanta Falcons-Sean Weatherspoon, OLB, Missouri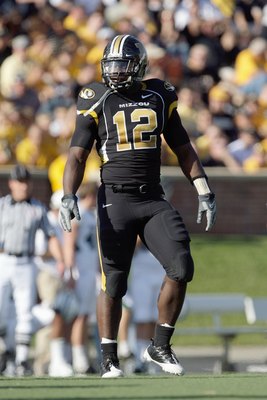 Weatherspoon is likely going to develop into a good linebacker, but the fact is that the Falcons reached for him at 19.
I think they had their minds set on snagging Michigan's Brandon Graham with this pick, but were thrown a curveball when the Eagles traded up and took him at 12.
Weatherspoon fills a need for the Falcons, but I think this is a case where they would have been better off taking the best available player instead of reaching to fill a need.
I think the correct pick would have been DT Dan Williams from Tennessee.
9. 32nd Overall: New Orleans Saints-Patrick Robinson, CB, Florida State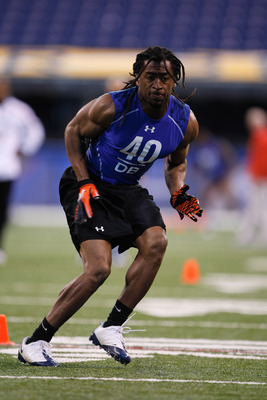 Interestingly, I think New Orleans was really hoping that Weatherspoon would be available to them at 32. They need a replacement for departed Scott Fujita, and Weatherspoon would have filled the role nicely.
Instead they ended up filling a need at corner. While I like that they drafted for need at the end of the first round, I think they reached for Robinson.
A lot of corners flew off the board later in the first round, and New Orleans continued the trend instead of looking for a steal at another position.
I think they should have selected OLB Sergio Kindle from Texas.
8. 20th Overall: Houston Texans-Kareem Jackson, CB, Alabama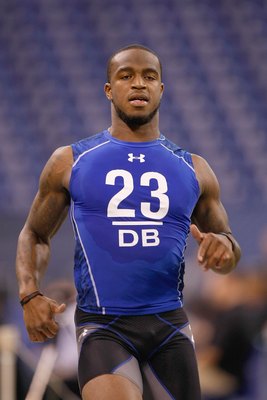 The Texans were hoping to grab RB Ryan Mathews here, but saw their plan fall apart when the Chargers traded up and snagged him at 12.
Instead, the Texans decided to fill the void left by departed playmaker Dunta Robinson and grabbed a cornerback.
I think filling the hole left by Robinson was wise, but I do take issue with the selection of Jackson.
I think Boise State's Kyle Wilson is going to be the better player, and that the Texans made a mistake by going with Jackson. Wilson would have been the better pick.
7. 13th Overall: Philadelphia Eagles-Brandon Graham, OLB, Michigan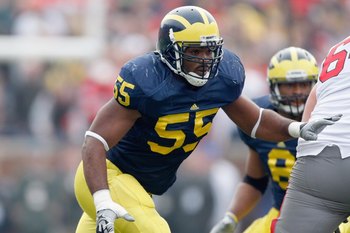 This seems to be a hit or miss pick in many people's eyes. I think it was a mistake.
Everyone, including Mel Kiper and Chris Berman, were convinced that the Eagles had traded into the 13th spot to select safety Earl Thomas from Texas.
Berman was even telling us how Thomas plays the piano while we were waiting for the selection to be handed down to the commissioner!
Instead the Eagles selected Graham. After Brian Dawkins fled Philly for Denver last offseason, a glaring hole was opened in the Eagles defense, and Thomas would have filled that hole.
Earl Thomas seemed like the obvious choice for the Eagles.
6. 11th Overall: San Francisco 49ers-Anthony Davis, OT, Rutgers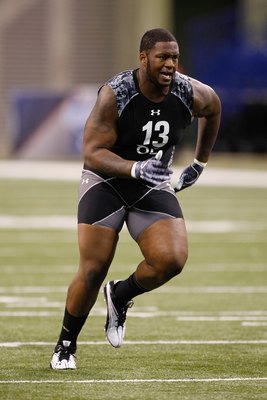 Frank Gore must love that the 49ers used both of their first round picks on offensive linemen who should play right away.
In fact, I think focusing on the offensive line was a great move on the 49ers part, but I can't help but think that Davis was a huge reach at 11.
There are a lot of good looking offensive line prospects in the draft, and Davis is one of them, but he could easily have been had mid to late in the first round. In fact, he probably would have been available to the 49ers at 17.
Furthermore, many believe that Iowa tackle Bryan Bulaga, who went 23rd to Green Bay, is a superior prospect to Davis.
Down the road, I have a feeling that they will be wishing they snagged Earl Thomas or Jason Pierre-Paul with this pick.
5. 30th Overall: Detroit Lions-Jahvid Best, RB, Cal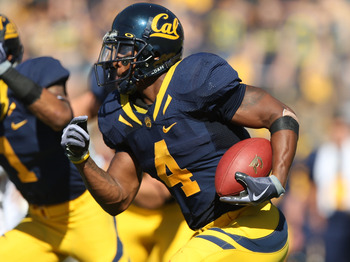 Why would the Lions move up from 34th overall in the second round to snag Best with the 30th overall pick?
Maybe they know something we don't, but there is little reason to think that Best would not have been available to them at 34.
Furthermore, the Lions now will have to pay Best first-round money! I like Best, and think he is a good fit in the Lions currently muddled running back situation, but I simply don't get why the Lions felt the need to trade up and snag him with the 30th pick.
If anything, they simply gave Best a pay raise and gave the Vikings an extra pick! They would have been better off hanging onto the 34th overall pick.
4. 12th Overall: San Diego Chargers-Ryan Mathews, RB, Fresno State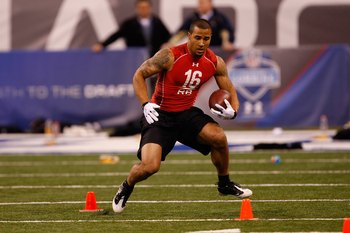 I think the Chargers were correct in their assumption that Mathews would not be available to them when they selected in the 28th spot.
It seemed likely that the Texans were going to snag him at 20. However, trading all the way up to the 12th spot to take him was foolish.
Obviously the Chargers need a running back to replace LaDainian Tomlinson, but franchise running backs can be had later in the draft.
The Chargers should have held onto the 28th pick, and addressed their need at running back with the 40th overall pick, which they sent to the Dolphins in the deal that landed them Mathews.
Heck, they could have even snagged Jahvid Best at 28 if they wanted to!
3. Eighth Overall: Oakland Raiders-Rolando McClain, ILB, Alabama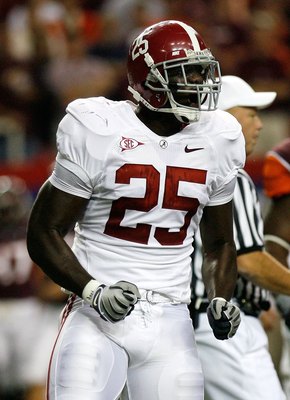 Congratulations Al Davis, you didn't make the worst pick of the first round! Don't get me wrong, it wasn't good, but it wasn't the worst, either.
Rolando McClain is going to be a good football player, but what makes this pick a typical Al Davis head-scratcher is the fact that McClain does not fill a need and that he was a huge reach at eight.
The Raiders are in desperate need of some help on the offensive line, and I don't think Bruce Gradkowski is really the answer at quarterback.
Furthermore, they need to bolster the defensive line. Using this pick on someone like South Florida's Jason Pierre-Paul or Georgia Tech's Derrick Morgan would have made a lot more sense.
2. 10th Overall: Jacksonville Jaguars-Tyson Alualu, DT, Cal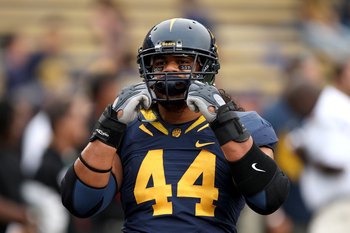 Huh? I think I know what happened here. The Jags were set to pick Clemson's C.J. Spiller, but were thrown for a loop when the Bills unexpectedly snagged him with the ninth overall pick.
After the Spiller pick came down, the Jags made the right decision to address a glaring need on the defensive line, more specifically a pass rusher. They just didn't choose the right one.
Most people thought that Alualu was a second-round talent, and the Jags snagging him at 10 qualifies as the biggest reach of the first round.
What makes this pick worse is that there were superior alternate options on the defensive line available. Jacksonville would have been better off with Jason Pierre-Paul, Derrick Morgan, or even Dan Williams.
1. 25th Overall: Denver Broncos-Tim Tebow, QB, Florida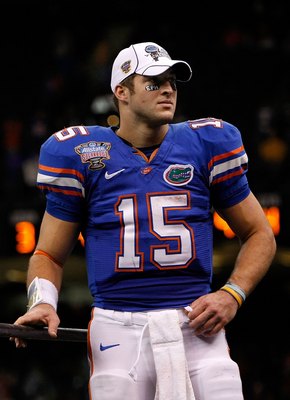 There are no words. Josh McDaniels and the Broncos' staff looked like a counsel of wizards for much of the first round.
They conjured up trades down and up the draft board, all while picking up extra picks and lining themselves up to land the players they truly coveted.
Then, when all the wheeling and dealing was done they used the 25th overall pick they acquired from Baltimore to select Tim Tebow. That's who they really coveted?
If Josh McDaniels and his staff truly felt that they are in need of a quarterback of the future, selecting Tebow while Jimmy Clausen was still available may go down as one of the worst picks in the history of the NFL Draft.
Heck, even Colt McCoy would have been a better pick. After this, Josh McDaniels will be lucky to maintain his job throughout the entirety of the upcoming season.
Keep Reading

Denver Broncos: Like this team?