2010 NFL Draft: Houston Texans Select CB Kareem Jackson Over Kyle Wilson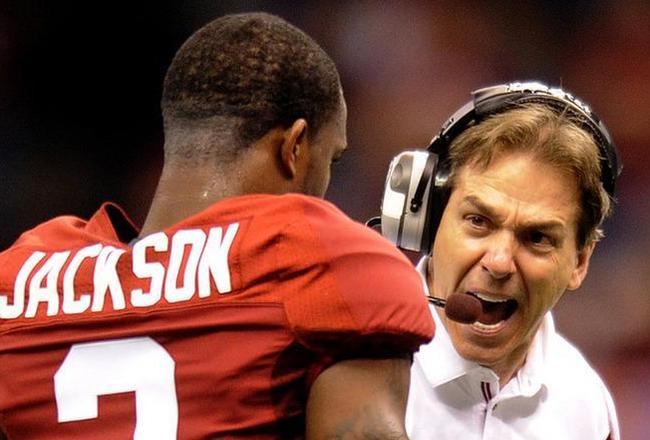 The Houston Texans refused to overpay for Dunta Robinson's services this offseason. Dunta was the Texans franchise cornerback since 2004 and the only first round pick the Texans have spent on a corner.
That is until tonight when the Houston Texans decided to take Kareem Jackson with the No. 20 pick in the 2010 NFL draft. It is pretty fitting the Texans decided to get rid of their aging cornerback and get their next franchise cornerback in Kareem Jackson.
When the Texans number was called, the Texans decided to pick the physical cornerback Kareem Jackson over the more pure cover corner in Kyle Wilson. A lot of people were shocked with the pick. Most people knew that the Texans would draft a corner, but not a lot of people saw us taking Kareem Jackson.
My man Spencer Tillman had us taking Kareem in a mock draft but Kyle Wilson was already off the board.
The Texans did not go with the safe pick. Instead they went with the corner they felt fit more into their system. If Kareem Jackson does not turn out to be the player they think he will be, then the Texans will catch major grief for that decision.
I thought the Texans might try to trade back and select Kareem Jackson, but I did not think they would take him with the 20th pick overall.
He may very well be the second best cornerback in the draft, and apparently the Texans felt he was, but he was not rated as the second best corner by the "experts."
I don't even know who these "experts" are and how right they have been in the long-term, but that means that the fans of the Texans are always going to compare what he does on the football field to what the other corners the Texans passed up on do.
It might help that New England passed on Kyle Wilson as well with the No. 27 pick to select CB Devin McCourty. That might say something about Kyle Wilson and these so-called "experts," but I don't think Kyle Wilson is all that upset.
Kyle Wilson was fortunate enough to go to an already stacked defense and he should be able to have a pretty successful career being mentored by the best shut-down corner in the NFL in Darrelle Revis.
Meanwhile, Kareem will have to deal with a bunch of expectations from the Houston fans. He is going to be asked to step in and take Dunta Robinson's spot. That is a pretty tall order for a rookie. Asking him to take one of the best corners in the league's spot is like asking Kevin Kolb to fill in for Donovan McNabb.
It is really unfair, but nonetheless both players will have to deal with the expectations their organizations have left them with.
Let's take a look at what Kareem will offer the Texans his rookie year and what the Texans saw in him to draft him over Kyle Wilson (apparently he was higher on their board than Kyle Wilson; Kyle Wilson was also behind CB Devin McCourty on New England's board).
According to some other "experts," Kareem is the most "NFL-ready" cornerback in this year's draft.
He has great ball skills, which is probably what really attracted the Texans to him. The Texans have said over and over again that they are looking for playmakers.
They were at the bottom of the NFL in takeaways and they probably hope he will help the team in that category. It is pretty bad when a strong safety and linebacker lead your team in interceptions.
He is also a smart and physical defender. He is excellent at anticipating routes and he can keep his eyes on quarterback without losing track of the receiver.
He is versatile in his ability to adjust to different defensive schemes. He can play man or zone and still be effective.
I think it also helped that he went to Alabama and played under Nick Saban. The Texans have had recent success in selecting players from major pro-style programs like USC and Alabama.
He is a physical cornerback that can line up close to the line of scrimmage and bump receivers off of their routes. He plays with a great attitude and is not afraid to jump a route and make a play.
The only knock on him was his speed. A lot of scouts thought that he didn't possess the top line speed to be able to keep up with the receivers at the next level.
It helped that he ran in the 4.4s at the combine and he also plays a lot faster on film than his timed speed.
I am really excited about Kareem Jackson and I think he will be able to make an immediate impact on our football. I just think it is unfortunate that he will constantly be compared to the people the Texans passed on.
I'm just glad we took a corner in the first round and I'm hoping we will take a running back (Toby Gerhart preferably) in the second.
Welcome to Houston Kareem, I hope that you will continue to play with that chip on your shoulder and prove your doubters wrong.
Career Stats:
40 starts
159 tackles
8 TFL
5 INTs
29 PBUs
This article is
What is the duplicate article?
Why is this article offensive?
Where is this article plagiarized from?
Why is this article poorly edited?

Houston Texans: Like this team?