2010 NFL Draft Results: The Seven Biggest Surprises from the First Round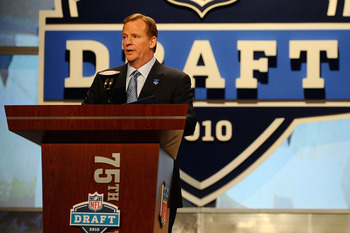 Surprises always happen in the first round of the NFL Draft. Teams move up, players drop, and Al David inevitably makes a selection that leaves even the draftee wondering what happened.
2010 was no exception to the surprise rule. "Sure-fire" first-rounders didn't hear their names called, more cornerbacks were taken than offensive skill players, and "the worst first-round pick of the decade" may have been made according to some.
All in all, these seven moments were the top head-scratchers of the day.
Trent Williams is the first OT off the board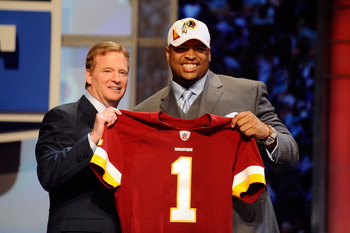 Mike Shanahan was reportedly in love with Oklahoma's "Silverback."
That's absolutely enough to draft him if he's available.
But for months, it was a Sooner State rival—Oklahoma State's Russell Okung—who was considered to be the top offensive tackle in the draft, and once the 'Skins got Donovan McNabb, Okung was the top choice in most mocks.
Who ends up being "better" is a storyline worth watching for the next decade, although I'm sure Seattle is overjoyed that they were able to get the 6'5" Texan at No. 6.
Nine is Fine and Spill's a Bill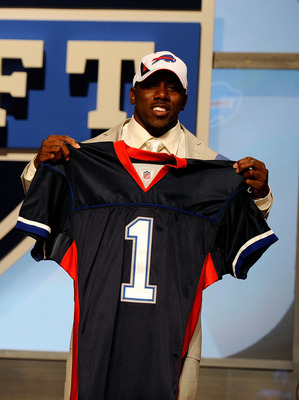 CJ Spiller is a dynamic game-changer. That was never in doubt.
But with a potential franchise quarterback in Jimmy Clausen, two or three top flight offensive tackles and a handful of good options on defense still on the board, taking a guy who is ostensibly the same type of players one of their best offensive weapons doesn't make a lot of sense.
Scratch that—it makes no sense.
Maybe the plan is to surround Trent Edwards with as much talent as possible…you know, instead of actually just getting a talented quarterback.
Alualu 'Allo, Jacksonville!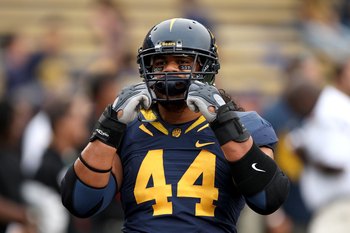 Wow.
That's about what the reaction was inside Radio City Music Hall when Cal DT Tyson Alualu's name was announced as the Jaguars' pick at No. 10.
Alualu was a fringe first-round prospect according to pretty much anyone you asked, and was No. 41 with a second-round grade on NFL Draft Scout's big board.
Sure, he's versatile and will probably be a DT in the Jags' 4-3 scheme. And yes, there wasn't much in the way of linebackers for that system on the board.
But they need secondary help and could use a receiver, Jimmy Clausen was still there, and there were multiple "higher-rated" defensive tackles available in Dan Williams or Brian Price.
Plus, they were low on picks, so trading out could've been a huge option—especially since the three picks right after them all changed hands at least once.
The Jaguars didn't have a second-round pick at the time—but to take a potential second-rounder (not named Tebow) at No. 10 surprised everyone not in Jacksonville.
Monty Hall takes over as Denver Broncos' GM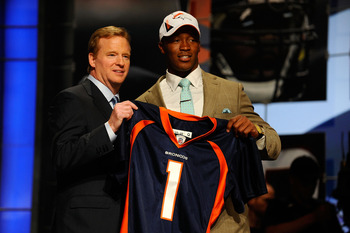 Who knew last year that when Denver acquired the No. 11 pick in the Jay Cutler deal, it would only be the beginning of their moves?
First, the Broncos traded No. 11 to San Francisco for No. 13 and a fourth-rounder (No. 113 overall).
Then, they traded down again, sending No. 13 to Philly for the No. 24 pick and a pair of third-rounders (Nos. 70 and 87 overall).
Finally, they traded back up, sending No. 24 and the previously-acquired fourth-rounder to New England so they could select WR Demaryius Thomas at No. 22.
Not 20 minutes later, Denver traded a two (No. 43), one of the threes they got from Philly (No. 70) and a fourth-rounder (No. 114) to Baltimore for the No. 25 pick, which they used to select Florida QB Tim Tebow.
Got that all?
At least the Broncos ended up getting a good player at a position they needed…and then perhaps the biggest surprise of the night.
The Eagles trade up and don't fill a major need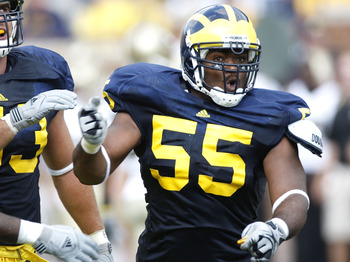 I know, I'm shocked too.
But Andy Reid obviously saw a talented player he really liked, and much like he did with Jeremy Maclin last year, Reid went up and got him.
Unlike Maclin, though, Graham doesn't seem to fit into the Eagles' scheme.
Graham is likely too small at 6'1" to be an every-down lineman, and he's not fast enough or good enough in coverage to move to the SAM linebacker, and he's not going to play the WILL.
Reid obviously thinks he fits somewhere.
But at the cost of both of Philly's third-round picks, Graham better be productive or else this will be a head-scratcher for years to come.
St. Tebow trumps Touchdown Jesus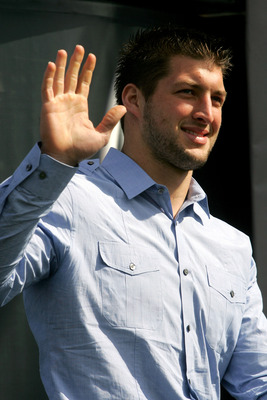 It was never out of the realm of possibility that Tim Tebow would be a first-round pick. Minnesota was reportedly interested, and a number of other teams in the late first-round were rumored to be taking offers on their spot.
But no one thought that Tebow would come off the board even one pick before Jimmy Clausen, let alone at least one round earlier.
Even more puzzling is that it was Denver—a vertically challenged offense that has Kyle Orton and Brady Quinn already on its depth chart—who took Tebow, while the Bills, Jaguars, Vikings, 49ers, Seahawks etc. all passed on Clausen.
Jimmy Clausen had been rumored to be as high as No. 4 (before the Redskins acquired Donovan McNabb, of course) and "should've" been gone by No. 18 or so at best.
But instead of "Where Will Tebow Go," the question for day two is now a mind-boggling "Who Wants Jimmy?"
Slippin', Fallin', I Can't Get Up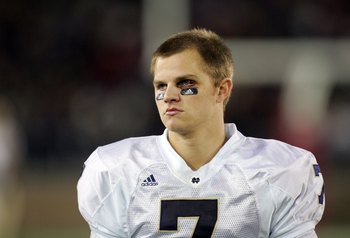 Apologies to DMX for jacking one of his lyrics, but plenty of players fell quite far from where they were most mocked to where they were selected.
Bryan Bulaga (No. 23) was thought to be a possible Top 10 pick, Dez Bryant (No. 24) was as high as No. 12 and Kyle Wilson (No. 29) went a half-dozen to a dozen picks later than he'd been rumored.
But for the "sure-fire" first-rounders who didn't get selected, tonight's sleep might be the worst they've had in ages.
Besides Clausen, USC safety Taylor Mays and Texas DE/LB Sergio Kindle were two big names thought to be first-rounders that will have to wait until Friday for their names to be called.
Mays isn't as big of a surprise, as his stock has been dropping a bit lately.
But Kindle was thought to be the second-best 3-4 rush linebacker-type in the draft behind Brandon Graham, and when Graham went to the Eagles at No. 13 many thought Kindle would be a lock to either New England, Green Bay or even Baltimore in the mid-20s.
Instead, they went in different directions, Jerry Hughes went to the Colts and Kindle will have to settle for second-round money.
According to NFL Draft Scout's big board, the other "first-round" quality players not to be selected were Nos. 30 and 31 respectively, USC DE Everson Griffen and Notre Dame WR Golden Tate.
All five of these men will likely be off the board within the first 10-12 picks of round two…but then again, who knows?
Keep Reading