The Top Five Women P4P Fighters in MMA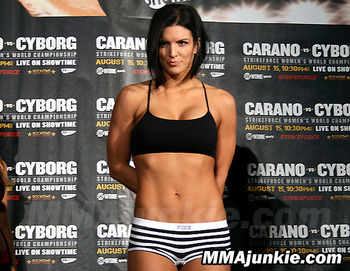 In men's MMA, there is a serious turning point right now. Currently, it is undeniably the fastest growing sport in the world.
People are slowly realizing that there is more to it than just "human cockfighting" so more and more people are watching it.
However, while men in MMA have been getting all the attention, women's MMA has slowly been growing.
True, they don't have as many weight classes as men, but they have many strong fighters. With the hype Gina Carano and Santos have been getting, women's MMA may be on an even bigger rise than men.
These are the women who I think are the top five P4P fighters.
5. Sarah Kaufman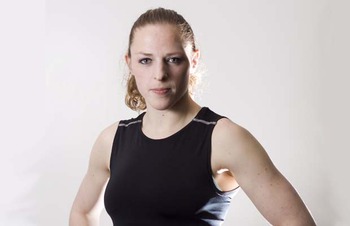 The thing that separates Kaufman from nearly everybody on this list is that she has an undefeated record.
And not just any undefeated record, as she has won 11 fights total against competition such as Miesha Tate and Takayo Hashi.
Her dangerous KO power was demonstrated in her first seven fights, but her last three fights were all decisions. True, she fought a higher level of competition, but her opponents are only going to get stronger.
Also, her submission defense isn't really sufficiently tested, and unfortunately for her there are a few strong submission fighters in her division.
Although there are areas in her game that are relatively untested, if Kaufman proves her "worthiness" and wins against tough competition, there is almost nothing keeping her from being the top P4P fighter in women's MMA.
4. Miku Matsumoto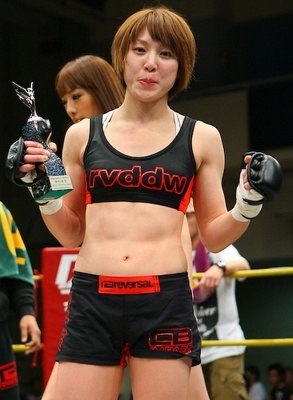 Not only does "Supernova" have a golden along with experienced record of 23-4, she is on a 12-fight win streak.
She hasn't been beaten in three years, and the only losses she has have all been avenged.
With her recent domination of Lisa Ward, it shows she is virtually unbeatable in her division.
Although she is very well-rounded as demonstrated by her recent results and improved boxing, unfortunately for her the people higher than her on this list are everything she is, only better.
Strong submission specialists can submit her, as all four of her losses came by submission, and explosive strikers can also finish her.
Matsumoto lacks one dominating skill, so that would lead to her downfall against people who have found their forte.
3. Tara LaRosa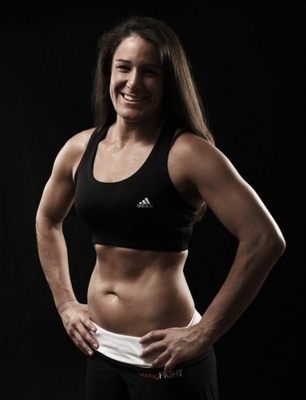 Much like Matsumoto, Larosa is virtually unbeatable in her division. For four straight years, she hasn't let any fight go to a decision.
Her dominating submissions along with above average striking has put her in this list, and some people even consider her to be the top P4P fighter in the world.
However, while her skills are not lacking, her competition is. In her last four fights, -she has fought fighters with dismal records such as 3-4, 7-2, 7-2 and 2-1.
Hardly worthy competition for a champion of LaRosa's caliber. In fact, the only strong opponent she might've had is Roxanne Modafferi, and she won that by decision.
Once she proves herself against worthy contenders, her legacy will not be in question.
2. Megumi Fuji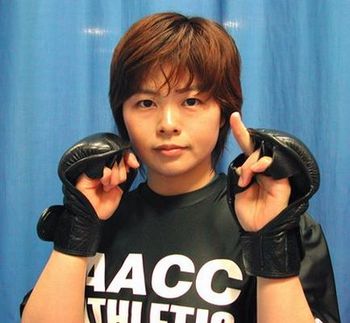 Easily the best submission artist in women's MMA, Fuji has beaten nearly all of her opponents by submission.
Her skills on the ground are not even close to being challenged by any women in MMA, and possibly by some men in MMA as well.
"Mega Megu" has many similarities to the almighty Fedor, in the sense that they are both undefeated and main method of submission is an armbar.
In fact, five of her last six victories have ended have ended with that very submission. With a record of 19-0, she is also very close to reaching the level of greatness of his.
If she is so good, why is she only the second best? Well...
1. Cristiane Santos
That's why.
Santos's record is only 9-1, but her reign of terror only began after her first fight, which is her only loss to date.
She has torn through all nine of her wins like a hot knife through butter, and none of them has given her a real challenge. Her striking is absolutely deadly.
Marloes Coenen is her latest victim. Many people, including me, expected her to be the kryptonite to Santos's game, since she could surely use her excellent ground game to submit her.
It turns out, Coenen never stood a chance anytime in the fight, and Santos finally put her out of her misery in the third round.
"I only train with men. I usually hurt the women," Santos once stated in an interview. Honestly, I think the nickname "Cyborg" is a little too light for Santos. "Terminator" is more like it.
Keep Reading