Houston Rockets Offseason X-Files: The Truth Is Out There…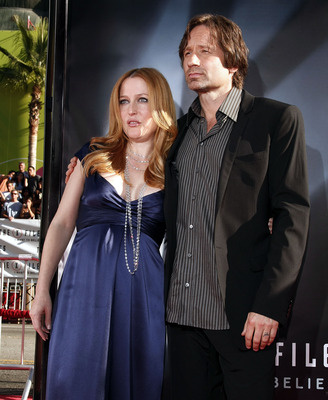 Like agents Fox Mulder and Dana Scully from Chris Carter's X-Files, NBA's Houston general manager Daryl Morey and head coach Rick Adelman will be searching near and far to find the missing pieces to complete the "Rockets Red 2010-11 File" and close the case once and for all with some major offseason moves.
What moves exactly?
Well, like the many fans of X-Files episodes that used to air regularly on Fox, we will all just have to wait and see what Morey and Adelman have up their sleeves for this summer and beyond.
Until then, we can only speculate; and we'll begin today's pre-draft analysis with some possibilities of what's to come for next year's Houston Rockets...
1. Starting Center: Yao Ming, or Someone New?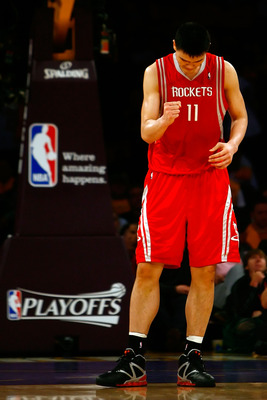 Will Yao Ming be lured away to greener pastures, or will the Rockets' All-Star center remain in Houston?
That question has yet to be answered, but according to early speculation it appears as though the Rockets will at least have Yao on their roster to begin the 2010-11 season.
So how does Houston general manager Daryl Morey feel about Yao and the minutes he may be able to bring to the hardwood next season?
"I don't know; I think for sure by playoff time we think he can be 100 percent back, which is the most important time, obviously," Morey told Rockets.com staff writer Jason Friedman following the end of the regular season. "He can be back to where he was last year when he was playing at a high level. What his exact ramp-up will be, I don't think anybody knows exactly how that will happen.
"Yao is on schedule with the doctors. I think he's at two-thirds of his body weight on the treadmill. Each week it ramps up a little bit and each week he's responded great so we expect him to be back at the start of the preseason. If it's not exactly that, we're okay with it. Again, we're focused on having him in the playoffs next year and clearly we'd like to have him for a large [percentage], if not all of the regular season as well."
Backups for Yao at center next season (barring any unforeseen major changes) would include Chuck Hayes (who will also get some playing time as a forward) and David Anderson (a Rockets big man that can drain long-range shots).
I'd expect both Hayes and Anderson to get a good amount of playing time, especially when the season first begins with Yao's status in limbo.
2. Starting Forwards: Luis Scola, Chase Budinger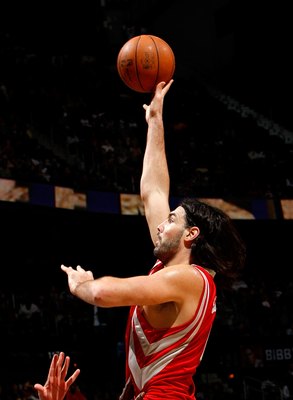 As long as Houston finds a way to resign Luis Scola, he'll be a lock as a starting forward for the Rockets next season.
In addition, I'd bet that the 2010-11 season will be the time to allow Chase Budinger the chance to start as a forward as well after a remarkable 2009-10 season coming off the bench.
Backup forwards would include (with options to start at times depending on matchups and how guys are executing) Shane Battier, Mike Harris, Jordan Hill, Jared Jeffries, Alexander Johnson, and Chuck Hayes.
Look for Battier, Hill, and Jeffries (along with Harris) to get extended playing time at the forward positions as Houston aims to find the best on-court domination to contend in the highly-competitive Western Conference.
3. Starting Guards: Aaron Brooks, Kevin Martin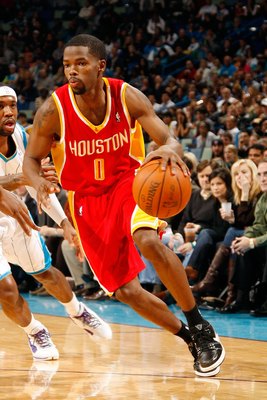 Aaron Brooks was named the NBA's Most Improved Player on Thursday, April 22.
And it's an honor the speedy guard absolutely deserves, with Brooks averaging 19.6 points per game this season (11.2 points higher than his average last year).
In addition, according to Rockets.com staff writer Jason Friedman, Brooks is just the sixth player in NBA history to make at least 200 three-pointers while dishing out at least 400 assists in the same season.
Kevin Martin will also get the nod as Houston's other starting forward, with Martin being acquired via a trade with the Sacramento Kings this past season.
Backing up Brooks and Martin at guard (with a possibility of sliding into the starting role if either starter begins to falter) would be Trevor Ariza, Kyle Lowry, Jermaine Taylor, and Chase Budinger.
Look for Ariza and Lowry to provide immediate sparks off the bench for Houston next season at the guard positions, with Taylor and Budinger providing enough all-around talent to step in and help out when needed.
4. Bench Producers: Shane Battier, Trevor Ariza, Kyle Lowry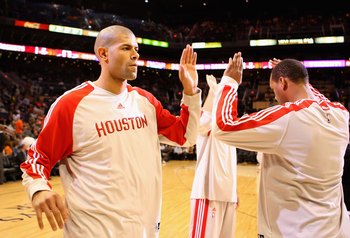 Of all the possibilities to come off Houston's bench and provide a major lift for the team, I'd put my money on guys such as Shane Battier at forward along with Trevor Ariza and Kyle Lowry at guard.
Though many more names beyond that trio may be battling for a sixth-man award in 2010-11, I'd expect those three to have the biggest impact on the team early in the season coming off the bench for head coach Rick Adelman.
Both Chuck Hayes and David Anderson could also provide a huge spark as backup centers for the team, allowing Yao Ming a chance to rest up for a hopeful postseason run next year.
5. Draft Day 2010: Who Will Houston Take in the Summer's NBA Draft?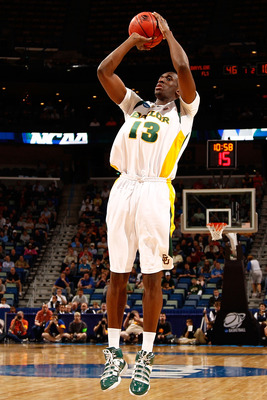 One of the biggest question marks surrounding next year's Houston hoops team is who, exactly, the Rockets will select in this summer's NBA Draft.
Obviously, as stated in earlier pieces on this site, I would love to see Daryl Morey and the Rockets draft someone such as former Baylor Bears standout Ekpe Udoh; but we'll all have the selection question answered soon enough.
For Morey and the Houston coaching staff, the draft is really a matter of trying to find the top player available that will fit into the Rockets system.
"We really try to take who we think is the best player," Morey told Rockets.com staff writer Jason Friedman following the end of the regular season. "I guess we've ended up feeling like several of the [guys Houston has drafted] weren't picked where they should be picked. We just feel like maybe the league has maybe missed on some of these guys who, because they're older, they get the perception that they don't have as much upside or aren't as good and we don't agree because we're always focused on how a drafted player fits over a four-year window and maybe even longer."
*****
Denton Ramsey may be reached via email at denton.ramsey@gmail.com
Keep Reading

Houston Rockets: Like this team?