2010 Mock Draft: Oakland Raiders Edition 8.0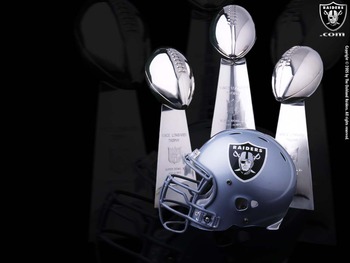 I know, I know, I said that the last mock was my last.
But there has been too much going on for me not to do one more. I really think that the Raiders are going to shock everyone this year and actually trade down. I also think that with the addition of Quentin Groves we can expect to see a few more 3-4 formations.
Let's get started……………………………………………..
TRADE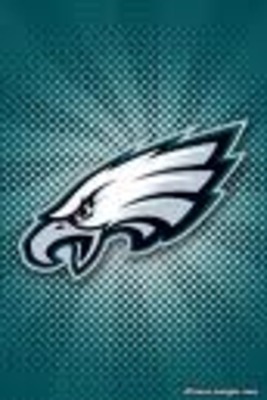 The Raiders Trade the 8th overall pick to the Philadelphia Eagles for the 24th, 37th and 87th overall picks. This may seem a little crazy, but the Eagles have a lot of draft picks and are burning up the phone lines right now trying to move up. The Raiders decide they can get their guy and pick up some extra draft picks.
First Round Mike Iupati, OG Idaho (6'5", 331)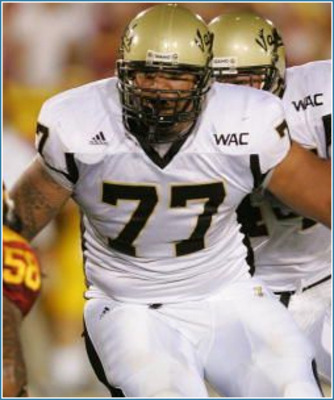 Iupati is physically very strong and able to dominate his opponent at the point of attack. He has decent quickness off the ball, allowing him get into his opponent low and drive him out of the hole. His arm and hand strength provides vice-like grip to control his opponent in close. He is mobile and agile enough to get out in front of sweeps.
He can dominate as a run-blocker due to his mass and rare upper-body strength. He provides an explosive initial pop that often knocks the defender back.
He is a very good drive blocker when he plays with leverage and keeps his hands inside. He can physically remove the defender from the hole. He looks to eliminate more than one defender on the play and will release to the second level.
The Raiders move down and select the best guard in the draft. By adding Gaither and Iupati, they now have one of the best O-lines in the division. They will move Henderson over to the right side.
Second Round TRADE: The Oakland Raiders trade the 37th overall pick to the Baltimore Ravens for OT Jared Gaither (6'9", 340)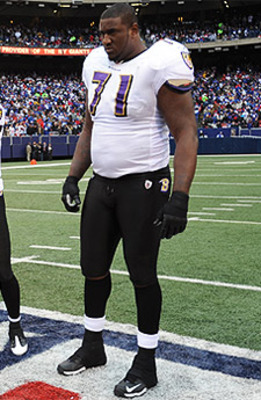 Gaither is a young, ascending player and the Ravens' starting left tackle. He has tremendous size, particularly with his extreme height and overall length, to man the blind side.
Gaither remains a work in progress, but is a punishing finisher in the power blocking scheme. As he gains experience, his hand placement and understanding of his opponent will improve.
The Raiders decide that instead of drafting an OT, they would trade their second-round pick and get a proven one. Jared Gaither is a HUGE (6'9", 340) tackle that will immediately upgrade the line. He is a true left tackle and this is something that the Raiders need.
Second Round: Linval Joseph, DT East Carolina (6'5", 328)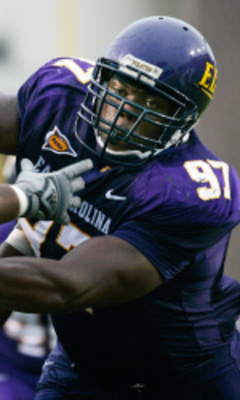 ECU's Pro Day, which took place outdoors on grass in slightly windy conditions, featured Linval Joseph (6'4 1/4", 319 lbs) who ran the 40-yard dash in 4.93 seconds with the wind, 5.16 seconds against the wind, had a 31 1/2" vertical jump, an 8'6" broad jump, a 4.52-second short shuttle, a 7.62-second three-cone drill and stood on his bench press number from the NFL Scouting Combine. All the scouts agreed he was very good in drills.
Joseph is huge with great height. He moves well for his size and is a great run stuffer. He can generate a bit of a push as a pass rusher, too. He was a productive member of the best defensive line in Conference USA this season. He has a knack for blocking kicks and has been used in "Refrigerator" Perry FB role.
This guy had a great combine and is flying up draft boards. For his size he is extremely athletic and very strong (39 Reps of 225 lbs). The Raiders finally get the stud NT they have been looking for.
Third Round: Matt Tennant, C Boston College (6'5", 300)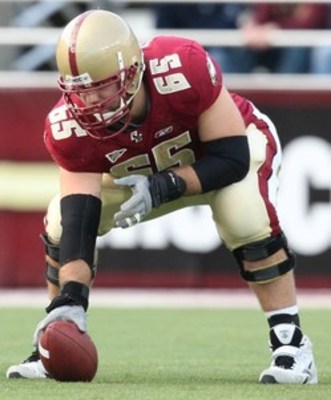 Tennant is a long, lean player with excellent athleticism for the position. He has the frame to add bulk at the next level. He is a smart player who makes the line calls. He plays with excellent technique and maintains good leverage with good knee-bend despite being on the tall side for a center.
Tennant shows good quickness and explosiveness, and can pack a powerful initial punch. He uses his hands well to control the defender. Tennant mirrors well and shows good balance, rarely ending up on the ground. He has the speed to get to the second level and is a very solid combo blocker. With his size and athleticism, he could be an effective guard as well.
Tennant has also proven to be an injury-free player with 41 straight starts.
The Raiders thought that Satele was going to be the answer at the center position but he has not worked out. They are very high on this kid and I can see why. He plays with a mean streak and he would be a great addition to middle of the O-line.
Third Round: LB Jamar Chaney, Mississippi St. (6'1, 245)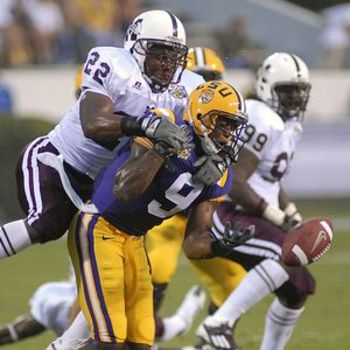 A versatile linebacker who can play inside and outside, Chaney has good size at 6'1" and 240 lbs.
He's been clocked as fast as 4.50 in the 40-yard dash. Chaney is quick, agile, and after starting his collegiate career on the outside, he moved to middle linebacker for his last two years.
While the injury history is a bit of a concern, Chaney all but put those questions to rest thanks to his bounce-back performance in 2009.
He quietly pieced together a great Combine, notching a 4.51 40 (fastest for any linebacker), a 39" vertical, and 26 reps of 225 lbs.
The Raiders draft a linebacker that can play both inside and outside. With the addition of this new stud, we could see the Raiders' linebacker core be better than ever.
Fourth Round: C.J. Wilson, DE East Carolina (6'3", 290)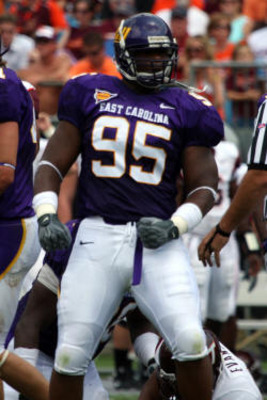 The 6'3", 290-pound defensive end had 32 reps at 225 pounds on the bench press. He ran a 4.83 in the 40-yard dash, had a 33-inch vertical jump and finished the 20-yard shuttle in 4.77 seconds.
Wilson racked up 27 sacks, 45.5 tackles-for-loss, 36 quarterback hurries, four blocked kicks and 192 tackles in his college career.
This guy is just what the doctor ordered. He knows how to get after the quarterback, and the Raiders should grab him. He will go into the rotation his rookie year and will be very good on running and passing downs. This is a great value pick for the Raiders.
Fifth Round: Crezdon Butler, CB Clemson (6'0", 191)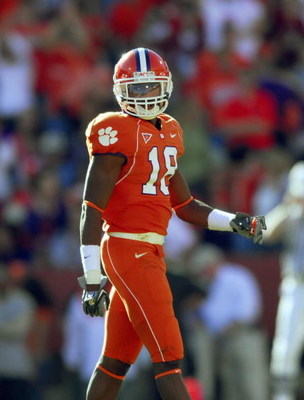 Butler shows good football awareness and intelligence, and rarely is out of position. He is tall with long arms and is able to use them to break up passes. He reads the action quickly and is able to anticipate well.
Butler is exceptionally well-conditioned and has proven to be a very durable player during his career. He's a physical player who can jam the receiver at the LOS and also come up in run support. Butler shows a nice plant and drive when the action is in front of him. He's a leader and solid citizen.
The Raiders draft a guy who did not have a great senior season but has a lot of potential. He can learn from Nnamdi and should contribute in his rookie season.
Seventh Round: John Conner, FB, Kentucky (5'11", 240)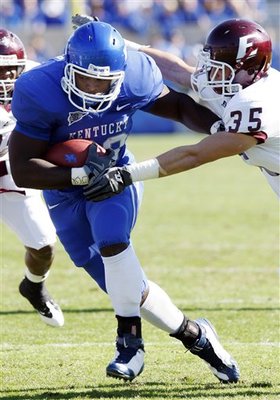 The traditional fullback position may be going the way of the dinosaur in today's NFL, but those teams longing for a throwback will keep tabs on Conner.
The former walk-on emerged as a valuable special teams performer and lead blocker early in his career.
Conner is an old-school traditional lead blocker willing to sell out to knock the linebacker out of the hole. Conner has good size, explosiveness, and accuracy to clear the way.
He's athletic enough to adjust in the open field to hit the moving target, keeps his head on a swivel in pass protection, blocks inside-out, is aggressive in pass protection, will take on the bigger man, and holds up surprisingly well due to his accurate hand placement and use of leverage and determination. He is an accurate, reliable cut-blocker.
He was nicknamed "The Terminator" by his teammates. This is the lead blocker that the Raiders have needed for some time.
Seventh Round Compensatory: Kelton Tindal, WR, Newberry (6'2", 197)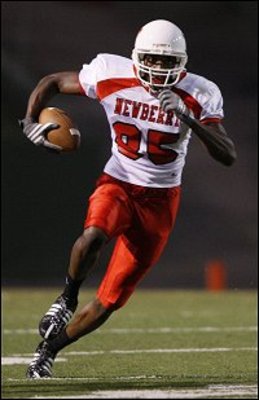 This kid has great hands, may be the fastest player to ever run at the combine if he would have been invited. He has been clocked as fast as a 4.16 in the 40 and is every bit as quick.
His main problem is his bulk and that he has played against very little competition.
He needs work on his route-running and his ability to go up and get the ball at its highest point, but a year of NFL coaching and a year in an NFL weight training program should do LOADS for him.
He has a rare combination of blazing speed and athleticism that typically you can't find on a regular basis. He made only 33 receptions for 437 yards (13.2) and 4 TD's. That had a lot to do with the quarterback play. He also carried the ball 11 times for 54 yards.
This guy is what the Raiders offense calls for. He can really stretch the field. I think he would be a long shot at making the team, but showed he can play in the Texas vs. the Nation game.
There it is!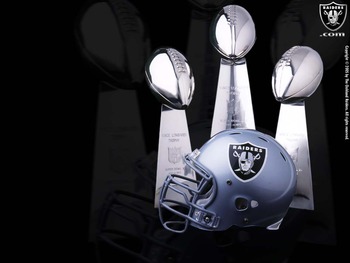 Raider Nation, we are less than 24 hours away from the draft. This could be the draft that we turn the corner and get it right. The Raiders can really help the team if they were to move down, get some additional picks and bring in some kids that want to win.
Let's hope we have a great draft this year.
GO RAIDERS!!!!!!!!!!!!!
Keep Reading

Oakland Raiders: Like this team?