The 15 Greatest Athlete Jumps of All Time (With Video)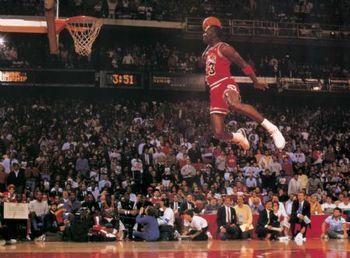 We are almost desensitized to athletes perfecting the impossible. Just when you didn't think there was anything original left to do in sports, you see a move like Brian Kownacki pulled off recently in a Fordham-Iona baseball game.
The feats are stunning. Some of the athletes are all-time greats. Some have faded into obscurity after their Andy Warhol 15 minutes.
All of our top 15 countdown are truly amazing. See for yourself.
15. Sam Bradford vs. Oklahoma State (2008)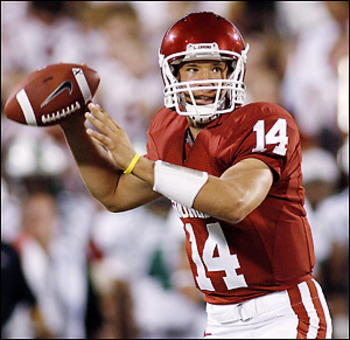 Yay for Sam. It was a gutsy play. Far from original, far from perfect but gutsy nonetheless.
He's still not worth the No. 1 pick in the NFL Draft.
ORIGINALITY: 6
EXECUTION: 6
DIFFICULTY: 8
TOTAL SCORE: 20
14. Nani Celebrates a Goal Over Arsenal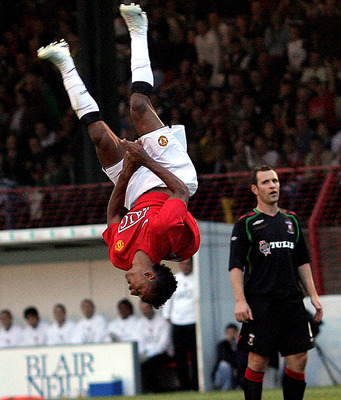 Personally, I preferred Brandi Chastain's creativity but you have to give him credit for the hops.
ORIGINALITY: 5
EXECUTION: 9
DIFFICULTY: 7 (says the guy that could never do it)
TOTAL SCORE: 21
13. I Lost Millions In NFL Bonuses And All I Got Was A Stupid Headache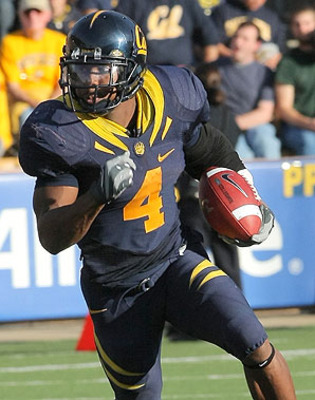 Listen, not the most original thing. Not really even needed. And Jahvid Best's leap resulted in an injury that's going to cost him millions in the Draft Thursday.
All that said, Best got some serious, serious ups here.
ORIGINALITY: 5
EXECUTION: 10
DIFFICULTY: 7
TOTAL SCORE: 22
12. Michael Vick Back in the Hokies Days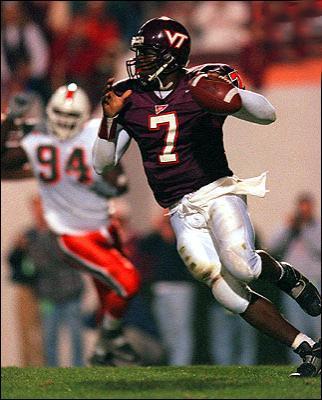 If there was a Lifetime Achievement award for leaps and jumps, Vick would get it.
I was at the Georgia Dome for the ESPN Sunday night game where he won the game last second against the Panthers by diving into the endzone. It was the most incredibly thing I had ever seen.
This was one of those plays that turned on our national radar to Vick.
ORIGINALITY: 7
EXECUTION: 8
DIFFICULTY: 8
TOTAL SCORE: 23
11. The LaVar Leap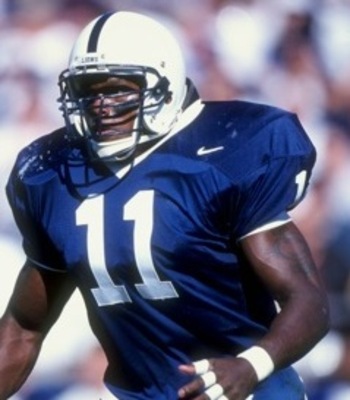 He was a beast at Penn State. LaVar Arrington may have never lived up to the hype in the NFL, but boy, he took an impressive route over the line on this play.
ORIGINALITY: 8
EXECUTION: 8
DIFFICULTY: 8
TOTAL SCORE: 24
10. Kobe Bryant Aston Martin Jump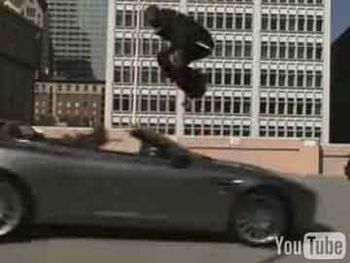 I wish this was real. I truly believe Kobe could do this. And he and his buddy definitely sold it as legit on the video. Great editing.
It was like one of those Halloween videos your friend sends you where the 6-year-old girl is riding a tricycle in circles and BAM! The deal jumps on to the camera at the last second.
We didn't expect it. That's what made it brilliant. And the timing -- as Kobe was trying to rebuild his image -- was inspired.
ORIGINALITY: 10
EXECUTION: 10 (fooled me)
DIFFICULTY: 4
TOTAL SCORE: 24
9. Carl Edwards Backflip, Aquatic Edition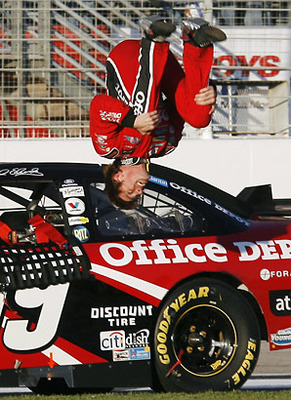 I'm not a big Carl Edwards fan, but you have to give it to him for having a shtick.
You try getting dehydrated for three hours in a sauna of a car and then pulling that off. I chose this version of the flip because he lured a hot TV reporter into doing it with him.
Well played, Mauer.
ORIGINALITY: 8
EXECUTION: 8
DIFFICULTY: 9
TOTAL SCORE: 25
8. The Wizard of Oz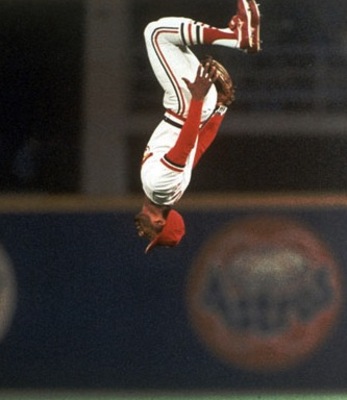 I'm going to say it. I never liked the Ozzie leap. Not because it wasn't impressive.
I just loved Ozzie and I thought it took away from what he accomplished as a player. But Ozzie was baseball in the mid '80s, largely because of the backflip.
ORIGINALITY: 8
EXECUTION: 10
DIFFICULTY: 8
TOTAL SCORE: 26
7. Vince Carter Olympic Dunkface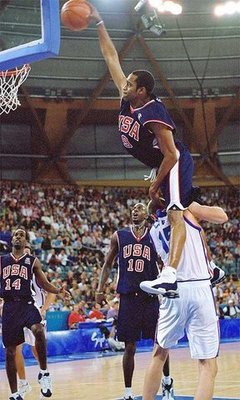 There have been way too many Vince dunks. We have become numb to the athletic silliness that Vinsanity possesses.
So let's take it back a bit. This was where the highlight reel began. Pardon the French.
ORIGINALITY: 9
EXECUTION: 9
DIFFICULTY: 10
TOTAL SCORE: 28
6. Lynn Swann Jumps a Car ... For Real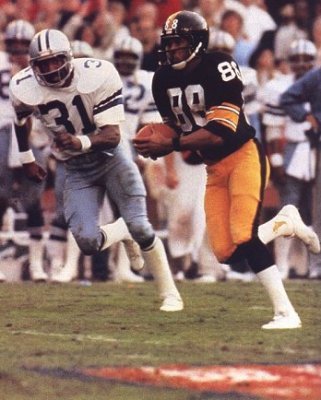 I couldn't stand him as a broadcaster, but man, put Lynn Swann in the YouTube and viral video age and he becomes an all-time legend.
In this play, Swann did the only thing he could have done in the moment. I'm thinking the NFL banned cars from the endzone after this.
ORIGINALITY: 10
EXECUTION: 8
DIFFICULTY: 10
TOTAL SCORE: 28
5. The John Elway Leap, Super Bowl XXXII
He gets into the top 5 because of what was on the line. Plus the fact that this was actually a broken play made into an instant classic.
ORIGINALITY: 10
EXECUTION: 9.5
DIFFICULTY: 9 (you try taking that kind of hit)
TOTAL SCORE: 28.5
4. Michael Jordan Foul Shot Dunk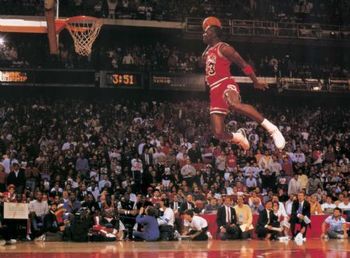 So many dunks, so little space.
I very well could have put 50 different dunks in here, including the one pictured. I almost put the bullying of Patrick Ewing here. But the difficulty here is amazing.
First, time the jump. Get the right roll off the rim. Catch the ball with one hand. Dunk the ball.
Just ludicrous.
ORIGINALITY: 10
EXECUTION: 9.5
DIFFICULTY: 9
TOTAL SCORE: 28.5
3. Jarron Gilbert Jumps Out of a Pool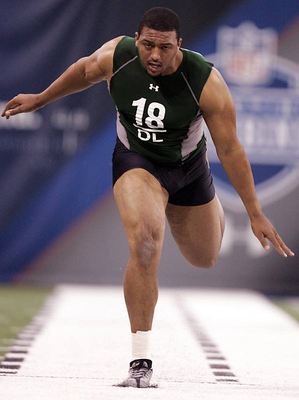 You had to watch it again and again.
Physics doesn't support the possibility. Scientists said it was a hoax. And yet Jarron Gilbert actually did do it.
The video very well could have soared his stock in the 2009 NFL draft. Gilbert, a defensive lineman from San Jose State, was drafted by the Chicago Bears.
He hasn't quite lived up to the pool jump yet, with 1 total tackle in four games played last year.
But that jump deserves a George Takei "Oh my!".
ORIGINALITY: 10
EXECUTION: 9 (he could have stuck the landing better)
DIFFICULTY: 10
TOTAL SCORE: 29
2. Surya Bonaly Backflip on Skates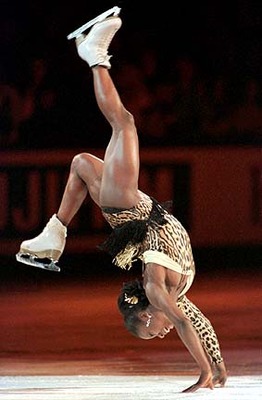 This three-time French Olympian has become famous as the only man or woman to ever land the one legged backflip.
I'd love to be there for the discussion when she first tried this.
"Yeah, I could cut up my face and put my blade in my brain, but on the other hand, I could be famous. Let's do it!"
ORIGINALITY: 10
EXECUTION 10
DIFFICULTY: 10
TOTAL SCORE: 30*
* = The Russian judge put her down into second on the tiebreak.

1. Fordham Baseball Player Brian Kownacki Becomes a Legend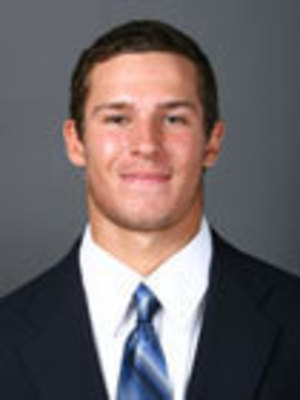 Full disclosure: I am a 1995 graduate of Fordham University. That doesn't matter here, though I gotta say, two Rams athletes in the national news in one week -- the other being the steal of the NFL Draft, John Skelton -- is almost too much to handle.
You're running full speed. You have to time it perfectly so you still get a piece of the plate. Then you have to clear the catcher and do the flip flawlessly.
Brian Kownacki is the king of the viral video world today thanks to this beauty.
ORIGINALITY: 10
EXECUTION: 10
DIFFICULTY: 10
TOTAL SCORE: 30
Keep Reading