New England Patriots: Ranking 20 Years of Drafting 1990-2009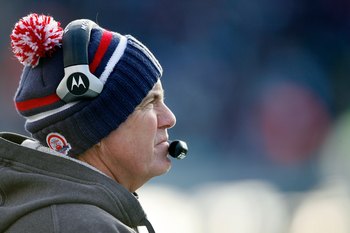 With the draft is sight, this is a critical juncture for many teams and how they set themselves up for success.The Patriots dynasties have been forged through the draft. They are not many other NFL Franchises that have the drafting track record that the Patriots have. There have been some great picks: Tom Brady, Curtis Martin, Tedy Bruschi, and Richard Seymour. There have also been some busts: Chad Jackson, Andy Katzenmoyer, Robert Edwards, and Bethel Johnson. If you look at the Patriots last eight drafts not including 2009 they have drafted Jerod Mayo, Brandon Meriweather, Laurence Maroney (not the greatest pick but it could of been worse), Logan Mankins, Vince Wilfork, Ty Warren, Daniel Graham, and Richard Seymour. A great record if you ask me. Without further delay lets look at the best and worst draft classes of the New England Patriots since 1990. There are some surprises here and some of these classes can be moved a slot or two down or up. With all the great classes it was hard to assign them a number.
The Jury's Out: 2009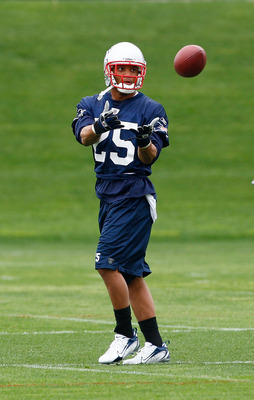 These players have only a year of NFL experience under their belt and it was unfair to compare them to past draft classes. There is some potential here with Patrick Chung, Darius Butler, Ron Brace, and Myron Pryor. Julian Edelman and Sebastian Vollmer have already solidified spots on this team for years to come.
2 34 Pat Chung DB Oregon
2 40 Ron Brace DT Boston College
2 41 Darius Butler DB Connecticut
2 58 Sebastian Vollmer T Houston
3 83 Brandon Tate WR North Carolina
3 97 Tyrone McKenzie OLB South Florida
4 123 Rich Ohrnberger G Penn State
5 170 George Bussey T Louisville
6 198 Jake Ingram C Hawaii
6 199 Stryker Sulak DE Missouri
6 207 Myron Pryor DT Kentucky
7 232 Julian Edelman WR Kent State
7 234 Darryl Richard DT Georgia Tech
#19 0 for 12: 1990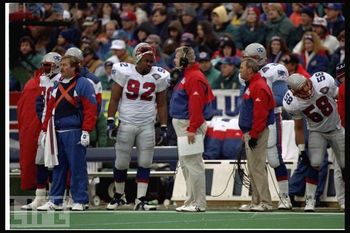 The team drafted twelve players that year and traded out of the third overall selection and got picks #8 and #10 which they used on Chris Singelton and Ray Agnew. The players they passed on: Cortez Kennedy, Junior Seau, Mark Carrier, Richomd Webb, and Emmitt Smith.
1 8 Chris Singleton LB Arizona
1 10 Ray Agnew DE North Carolina State
3 59 Tom Hodson QB Louisiana State
3 80 Greg McMurtry WR Michigan
5 110 Junior Robinson DB East Carolina
5 113 Jon Melander G Minnesota
5 120 James Gray -- Texas Tech
9 226 Shawn Bouwens G Nebraska Wesleyan
10 253 Anthony Landry RB Stephen F. Austin St.
11 280 Sean Smith DE Georgia Tech
12 309 Ventson Donelson -- Michigan State
12 322 Blaine Rose G Maryland
#18 Pete Carroll Makes His First Mark: 1997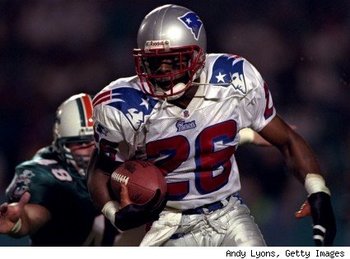 This year's draft class, the first by Pete Carroll, was led by swaggering cornerback Chris Canty from Kansas. He was supposed to solidify the other corner spot with Ty Law. He ended his career with the Patriots with one interception for twelve yards.
29 Chris Canty DB Kansas State
2 59 Brandon Mitchell DE Texas A&M
3 61 Sedrick Shaw RB Iowa
3 89 Chris Carter DB Texas
4 97 Damon Denson G Michigan
4 125 Ed Ellis T Buffalo
5 159 Vernon Crawford LB Florida State
6 192 Tony Gaiter WR Miami (Fla.)
7 230 Scott Rehberg T Central Michigan
#17 Robert Edwards' Knee: 1998
Robert Edwards was the first player selected by the patriots in the 1998 draft after a stellar career at Georgia. Many thought that he would be the answer to the departure of Curtis Martin and it looked to be true after he gained 1,115 yards in his rookie year. However it all came crashing down as he injured his knee during a flag football game. He never fully recovered and spent time with the Dolphins and most recently with the Toronto Argonauts of the CFL. Tebucky Jones was also part of this draft class while he was an asset to the secondary he never achieved the first round status after he was drafted #22 overall.
1 18 Robert Edwards RB Georgia
1 22 Tebucky Jones DB Syracuse
2 52 Tony Simmons WR Wisconsin
2 54 Rod Rutledge TE Alabama
3 81 Chris Floyd RB Michigan
3 83 Greg Spires DE Florida State
4 115 Leonta Rheams DT Houston
5 145 Ron Merkerson LB Colorado
6 176 Harold Shaw RB Southern Mississippi
7 211 Jason Andersen C Brigham Young
#16 With The #205th Selction The Patriots Select.....: 1992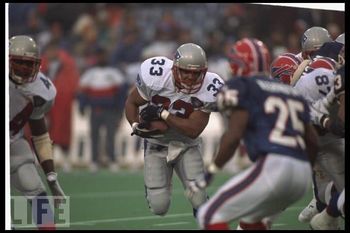 The best pick made in the 1992 draft for the Patriots was fullback Sam Gash. Gash played 6 years for the Patriots and was known as a excellent blocker out of the backfield. He went on to win a Super Bowl title with former teammate Ben Coates in 2000 with the Ravens.
1 13 Eugene Chung T Virginia Tech
2 35 Rod Smith DB Notre Dame
3 64 Todd F. Collins LB Carson-Newman
3 71 Kevin Turner RB Alabama
4 90 Dion Lambert DB UCLA
4 93 Darren Anderson DB Toledo
5 116 Dwayne Sabb LB New Hampshire
6 165 Tracy Boyd -- Elizabeth City State
7 176 Wayne Hawkins -- Southwest State
7 194 Jim Gray -- West Virginia
8 204 Scott Lockwood RB USC
8 205 Sam Gash RB Penn State
9 232 David Dixon DT Arizona State
10 261 Turner Baur -- Stanford
10 277 Steve Gordon C California
11 288 Mike Petko -- Nebraska
12 333 Freeman Baysinger -- Humboldt State
#15 Ben "Winter" Coates: 1991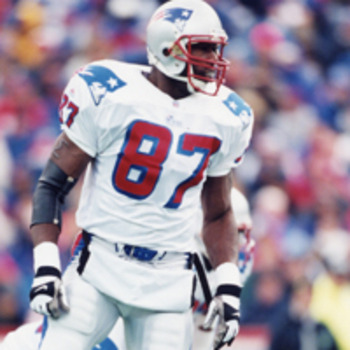 Ben Coates was considered an out-of-nowhere prospect, and he was picked in the fifth round of the 1991 NFL Draft His first two years with the Patriots were uneventful, but that changed in 1993 with the arrival of quarterback Drew Bledsoe and legendary head coach Bill Parcells. Coates led the Patriots in receptions in 1993. In 1994, his breakout year, he caught 96 passes, then most ever for a tight end (this record later was broken by Tony Gonzalez in 2004), for 1,174 yards receiving (The only time in his career he would gain 1,000 yards in a receiving season) and appeared in his first Pro Bowl. He would appear in the next four, as well. Coates retired as one of the best receiving tight ends of all time, but he was only successful pick from this draft.
1 11 Pat Harlow T USC
1 14 Leonard Russell RB Arizona State
2 41 Jerome Henderson CB Clemson
3 56 Calvin Stephens G South Carolina
4 84 Scott Zolak QB Maryland
5 112 Jon Vaughn RB Michigan
5 124 Ben Coates TE Livingstone
6 140 David Key DB Michigan
7 168 Blake Miller C Louisiana State
8 196 Harry Colon SS Missouri
9 224 O'Neil Glenn -- Maryland
10 251 Randy Bethel -- Miami (Fla.)
11 279 Vince Moore -- Tennessee
11 303 Paul Alsbury -- Texas State
12 307 Tim Edwards DT Delta State
#14 The "U" Part II: 2007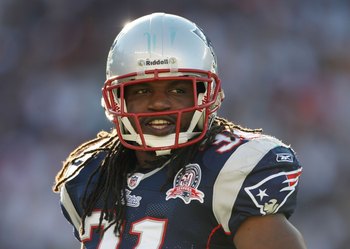 It was the stomp heard round the world. Brandon Meriweather was made famous after TV cameras showed him repeatedly stomping on numerous FIU players during the Miami-FIU Brawl in 2006. Meriweather was suspended for the remainder of the season and along with a shooting incident caused his draft stock to plummet. However the Patriots saw something in the troubled safety and he was become a Pro Bowler patrolling the backfield of the Patriots D. The rest of the players drafted haven't seen time with the club.
1 24 Brandon Meriweather DB Miami (Fla.)
4 127 Kareem Brown DT Miami (Fla.)
5 171 Clint Oldenburg T Colorado State
6 180 Justin Rogers LB Southern Methodist
6 202 Mike Richardson DB Notre Dame
6 208 Justise Hairston RB Central Connecticut State
6 209 Corey Hilliard OT Oklahoma State
7 211 Oscar Lua LB USC
7 247 Mike Elgin G Iowa
#13 The Heir to Vinatieri: 2006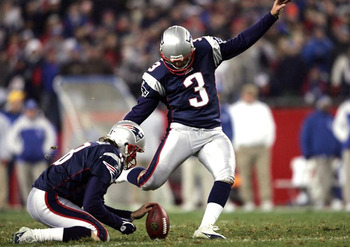 The 2006 draft has largely been seen as the worst draft by Belichick since he's been with the team. Chad Jackson was a major disappointment as he struggled with injuries and Laurence Maroney hasn't been the feature back many predicted him to be. However the team came into the draft with a need at kicker after the departure of Adam Vinatieri. They targeted Memphis star Stephen Gostowski and they made him Vinatieri's heir in the 4th round. Since then he has set numerous records and been named to the Pro Bowl twice. He has connected on 85% of his kicks.
1 21 Laurence Maroney RB Minnesota
2 36 Chad Jackson WR Florida
3 86 David Thomas TE Texas
4 106 Garrett Mills RB Tulsa
4 118 Stephen Gostkowski K Memphis
5 136 Ryan O'Callaghan T California
6 191 Jeremy Mincey LB Florida
6 205 Dan Stevenson G Notre Dame
6 206 Le Kevin Smith DT Nebraska
7 229 Willie Andrews CB Baylor
#12 Mayo In the Middle: 2008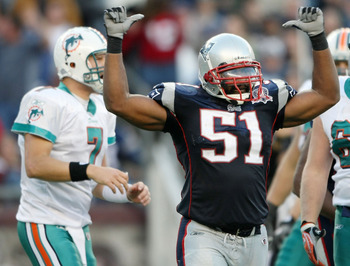 You might consider this ranking a little low for Jerod Mayo after all that he's done in just two years, and he along with the next two slides could be flipped around. The Patriots picking with the 49ers 7th overall pick traded down to #10 to pick the Tennessee star. Since his rookie year he has racked up 231 tackles, 1.5 sacks, 2 forced fumbles, and 5 pass deflections and was named the 2008 NFL Defensive Rookie of the Year. He had a strong sophomore campaign after coming back from an injured knee. Mathew Slater and Johnathan Wilhite were also good picks that are still developing; Slater is seeing time at wideout and returning kicks while Wilhite has become a consistent cornerback.
1 10 Jerod Mayo ILB Tennessee
2 62 Terrence Wheatley CB Colorado
3 78 Shawn Crable OLB Michigan
3 94 Kevin O'Connell QB San Diego State
4 129 Jonathan Wilhite CB Auburn
5 153 Matt Slater WR UCLA
6 197 Bo Ruud LB Nebraska
#11 Big Willie: 1994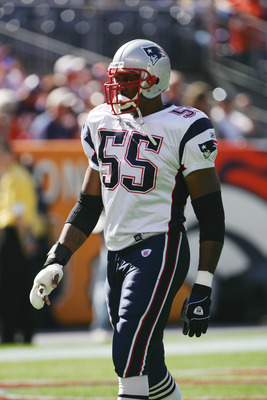 The star of the '94 draft class for the Patriots was USC star Willie McGinest. A cornerstone for the Patriots defense for nine years, McGinest grabbed Pro Bowl nods in '95 and '02 as well as three Lombardi trophies and holds the record for most postseason sacks with 16. He also holds the record for most sacks in a postseason game with 4.5 vs. the Jacksonville Jaguars in 2005. His 78 sacks rank third in Patriots history.
1 4 Willie McGinest OLB USC
2 35 Kevin Lee WR Alabama
3 78 Ervin Collier DT Florida A&M
3 90 Joe Burch C Texas Southern
4 121 John Burke TE Virginia Tech
5 135 Pat O'Neill P Syracuse
6 166 Steve Hawkins WR Western Michigan
6 168 Max Lane T Navy
7 198 Jay Walker QB Howard
7 222 Marty Moore LB Kentucky
#10 Swiss Army Knife: 1999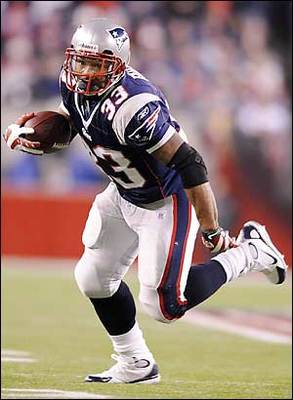 The Patriots landed two solid parts for their franchise in '99 with the selection of Damien Woody and Kevin Faulk. After setting nine records at LSU the Patriots made Faulk their selection in the second round. The do everything back has been a mainstay with the team as a running back, wideout, and kick returner. He is a three time Super Bowl champion and was named to the Patriots 50th Anniversary team. Damien Woody was the first round pick of the team and had a solid career with the Patriots. He started 76 games mostly at center and was a two time champion; he didn't play in the Super Bowl against the Panthers due to injury. He also was a Pro Bowl selection in 2002.
17 Damien Woody C Boston College
1 28 Andy Katzenmoyer MLB Ohio State
2 46 Kevin Faulk RB Louisiana State
3 91 Tony George DB Florida
5 154 Derrick Fletcher T Baylor
6 180 Marcus Washington -- Colorado
7 227 Michael Bishop QB Kansas State
7 241 Sean Morey WR Brown
J'Juan Cherry DB Arizona State
#9 The Law In New England: 1995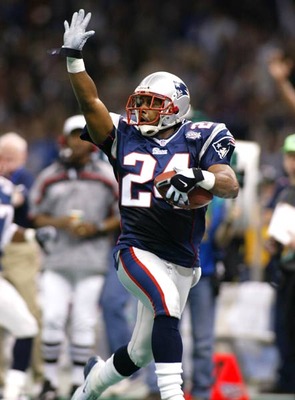 The 1995 draft set the tone for the future Patriots as they selected Ty Law, Ted Johnson, and Curtis Martin. Law had a stellar career with the patriots making four Pro Bowls, winning three Super Bowls, and being named to the NFL 2000's All Decade Team. He is best known for his shut down job in the Super Bowl against the Rams where he returned a Kurt Warner interception for a touchdown. He had a field day against Peyton Manning in the AFC Championship game where he had three interceptions and led to the NFL enforcing the illegal contact rule on defensive backs. Martin was a two time Pro Bowler with the Pats and won the Offensive Rookie of the Year award after totaling 1,487 yards rushing. Against the Steelers in his first playoff game he rushed for 166 yards and three touchdowns. After the Patriots did not match his offer sheet he was signed by the Jets. Ted Johnson was not a superstar but a solid performer for the Patriots. He was a part of all their Super Bowl winning teams and finished with 763 career tackles, 11.5 sacks, and 1 interception.
1 23 Ty Law CB Michigan
2 57 Ted Johnson ILB Colorado
3 74 Curtis Martin RB Pittsburgh
3 88 Jimmy Hitchcock CB North Carolina
4 112 Dave Wohlabaugh C Syracuse
6 195 Dino Philyaw RB Oregon
7 234 Carlos Yancy DB Georgia
#8 The Three B's: 1993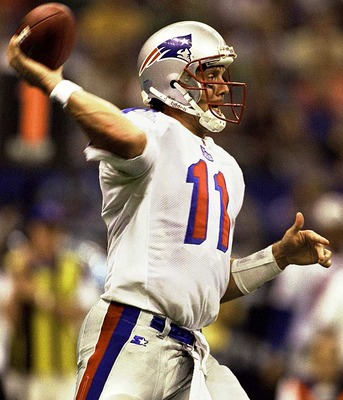 The 1993 draft landed the Patriots Drew Bledsoe, Troy Brown, Vincent Brisby, and Chris Slade. Slade has a solid career with the Patriots amassing 666 tackles, 53.5 sacks, and 16 forced fumbles. Brisby caught 221 passes for 3,202 yards and 14 touchdowns in his career and was given the nickname Vincent "Ultimate" Brisby by Chris Berman. Brown is arguably one of the best players in Patriots history. A three time champion and member of the 50th Anniversary team Brown was a multidimensional weapon. Mainly used as a wideout he caught 557 passes, for 6,366 yards, and 31 touchdowns. However he was also Mr. Everything as he was a kick returner, special teams' player, and also played cornerback when injuries thrust him into duty. He totaled three interceptions in 2004. In the preseason he lined up as a quarterback in '06, Belichick later noted that he lined him up there "to develop his legend". He retired as the all time leading punt returner with 252 returns for 2,625 yards, and three touchdown and also in receptions and is second all time in receiving yards. Drew Bledsoe was the number #1 overall pick with the Patriots in '93 and became the face of the franchise. While with the Patriots he experienced the highs and the lows. He set records for most completions in a game with 45 and attempts with 70. He will most notably be known for his injury which opened the door for Tom Brady. However Bledsoe's heroics pushed the Patriots past the Steelers and into their Super Bowl date with the Rams. While with the Patriots he signed a then record $103 million ten year contract. In his career which spanned 13 years he totaled 3839 completions, 44,611 yards passing, and 251 touchdowns.
1 1 Drew Bledsoe QB Washington State
2 31 Chris Slade OLB Virginia
2 51 Todd Rucci T Penn State
2 56 Vincent Brisby WR Louisiana-Monroe
4 86 Kevin Johnson DT Texas Southern
4 110 Corwin Brown SS Michigan
5 113 Scott Sisson K Georgia Tech
5 138 Rich Griffith TE Arizona
6 142 Lawrence Hatch CB Florida
8 198 Troy Brown WR Marshall
#7 The Lawyer Come To Town: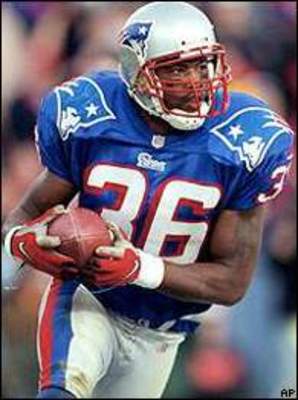 1996 was another great class for the Patriots as they selected Terry Glenn, Lawyer Milloy, and Tedy Bruschi. Buschi and Milloy were the top motivational leaders for the Patriots during their stretch run. Bruschi who came back from a stroke, complied 1,110 tackles, 30.5 sacks, and 12 interceptions. Belichick called him the "perfect player" at his retirement press conference and will go down in history as one of the greatest Patriots to ever play the game. Lawyer Milloy was a four time Pro Bowler with the Patriots and won one championship with the team. Like Bruschi he was one of the emotional leaders of this team and many were in shock when he was released before the 2003 season. In his career he had 759 tackles, 17 sacks, and 25 interceptions. Terry Glenn's career was always full of controversy. When it came to playing football he was one of the best at the time. In his rookie season he caught 90 passes for 1,132 yards and 6 touchdowns. After many off the field incidents he returned in 2001 and caught Brady's first touchdown pass. After the 2002 season however Glenn was traded to the Packers. He finished his career with 593 catches, 8,823 yards and 44 touchdowns.
1 7 Terry Glenn WR Ohio State
2 36 Lawyer Milloy SS Washington
3 86 Tedy Bruschi LB Arizona
4 101 Heath Irwin G Colorado
4 119 Chris Sullivan DE Boston College
4 124 Kantroy Barber RB West Virginia
5 139 John Elmore G Texas
5 149 Christian Peter DT Nebraska
6 173 Chris Griffin TE New Mexico
6 195 Marrio Grier RB Tennessee-Chattanooga
6 206 Devin Wyman DT Kentucky State
7 216 Lovett Purnell TE West Virginia
7 247 J.R. Conrad C Oklahoma
#6 Tom Terrific: 2000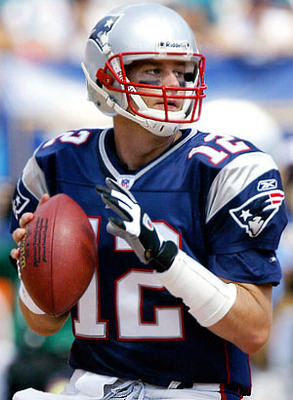 Yes this one should be higher but the overall this class was pretty unimpressive until Tom Brady took the field for the Patriots. The unknown quarterback from Michigan single handedly helped turn the franchise around. After taking over for Drew Bledsoe Brady has complied from amazing stats; 225 touchdowns, including a record 50 in one season, 30,844 yards passing and a 93.3 quarterback rating. He has been and NFL MVP, Comeback Player of the Year, Pro Bowler, Super Bowl Champion, All Pro, you name it he's got it. He led the team to the first 16-0 season and engineered two game winning drives in the Super Bowl.
2 46 Adrian Klemm T Hawaii
3 76 J.R. Redmond RB Arizona State
4 127 Greg Randall T Michigan State
5 141 Dave Stachelski TE Boise State
5 161 Jeff Marriott -- Missouri
6 187 Antwan Harris CB Virginia
6 199 Tom Brady QB Michigan
6 201 David Nugent DT Purdue
7 226 Casey Tisdale -- New Mexico
7 239 Patrick Pass RB Georgia
#5 That's G: 2002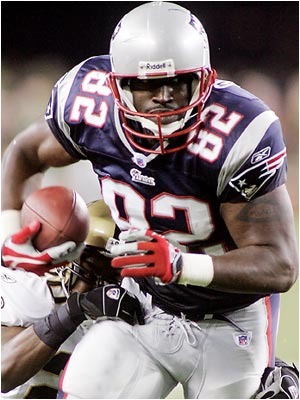 The 2002 draft was all about the g's. Not money but the players. The three of the four best players from the draft had last names that started with G. Daniel Graham, Jarvis Green, David Givens, and Deion Branch. Each was a solid performer with the team and Branch emerged as Brady's favorite target and was named Super Bowl MVP. Sadly all these players have left New England and are playing elsewhere. Branch was the only one who was traded as he was dealt to the Seahawks after a contract dispute. After this trade it was the one time that Brady criticized the organization but the deal worked out as the Patriots were able to bring in Moss and Welker.
21 Daniel Graham TE Colorado
2 65 Deion Branch WR Louisville
4 117 Rohan Davey QB Louisiana State
4 126 Jarvis Green DE Louisiana State
7 237 Antwoine Womack RB Virginia
7 253 David Givens WR Notre Dame
#4 The "U" Part I: 2004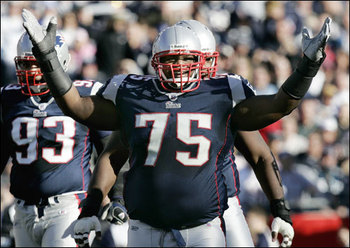 Big nose tackle Vince Wilfork was drafted to man the trenches for the Patriots in 2004. Since being drafted he has emerged as one of the top interior defensive linemen in the NFL. Since being drafted he has commanded countless double teams and has had 303 tackles, 7.5 sacks, 1 forced fumble, and 10 pass deflections. The 6'2 325 pound Wilfork was recently given a contract extension which will keep him in the fold for years to come. Benjamin Watson also came out of this draft but never truly emerged as a top flight tight end. He was a favorite target of Brady but saw his numbers drop with Moss and Welker in the fold. Had a great game in the 2009 opener against Buffalo where he caught two touchdowns in the closing minutes to help the Patriots come from behind. Watson totaled 167 catches for 2,102 yards, and 20 touchdowns.
1 21 Vince Wilfork NT Miami (Fla.)
1 32 Benjamin Watson TE Georgia
2 63 Marquise Hill DE Louisiana State
3 95 Guss Scott SAF Florida
4 113 Dexter Reid SAF North Carolina
4 128 Cedric Cobbs RB Arkansas
5 164 P.K. Sam WR Florida State
7 233 Christian Morton CB Illinois
#3 The Patriots Sey-mour of the Light: 2001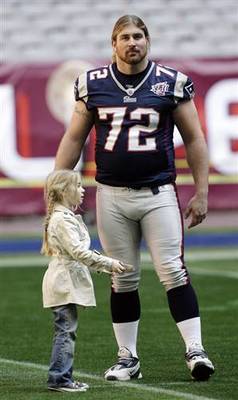 The Patriots solidified both sides of the ball with the selection of DE Richard Seymour and Tackle Matt Light. Light is a three time Super Bowl Champion, and two time Pro Bowler, and an All-Pro Selection. He has started 122 games for the team and is in charge of protecting franchise quarterback Tom Brady. Richard Seymour is also a three time champion and a five time Pro Bowl selection. A mainstay on the defensive line he was one of the best pass rushing defensive ends in the game. Surprisingly he was traded to the Raiders before last season started. In his career he has 364 tackles, 41 sacks, and 3 forced fumbles.
1 6 Richard Seymour DT Georgia
2 48 Matt Light T Purdue
3 86 Brock Williams CB Notre Dame
4 96 Kenyatta Jones T South Florida
4 119 Jabari Holloway TE Notre Dame
5 163 Hakim Akbar DB Washington
6 180 Arther Love TE South Carolina State
6 200 Leonard Myers CB Miami (Fla.)
7 216 Owen Pochman K Brigham Young
7 239 T.J. Turner LB Michigan State
#2 The Patriots Get Defensive: 2003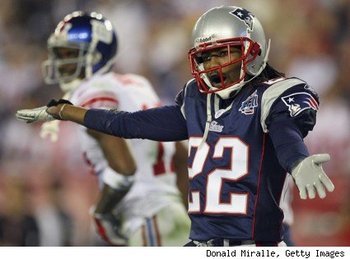 In 2003 the Patriots addressed a need on the defensive side of the ball. They drafted Ty Warren, Eugene Wilson, Dan Klecko, Asante Samuel, and Tully Banta-Cain. On the offensive side they drafted center Dan Koppen. This draft along with the next slides draft class can be argued as the best draft classes in the last 20 years for the Patriots. Each of these players won a Super Bowl with the team. Wilson, Klecko, and Samuel are no longer with the team but each was vitally important to it when they were here. Koppen has emeraged as a top center and in the eyes for Brady as they approach the line.
1 13 Ty Warren DE Texas A&M
2 36 Eugene Wilson FS Illinois
2 45 Bethel Johnson WR Texas A&M
4 117 Dan Klecko DT Temple
4 120 Asante Samuel CB Central Florida
5 164 Dan Koppen C Boston College
6 201 Kliff Kingsbury QB Texas Tech
7 234 Spencer Nead TE Brigham Young
7 239 Tully Banta-Cain LB California
7 243 Ethan Kelley NT Baylor
#1 The Patriots Hit the Jackpot: 2005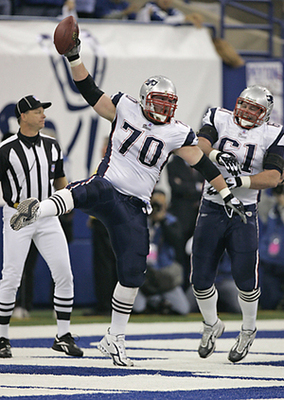 The Patriots made seven selections in the 2005 draft; five of them started games and played an important role on many Patriot teams. Logan Mankins, Ellis Hobbs, Nick Kaczur, James Sanders, and Matt Cassel were all selected by the Pats. While none have won a Super Bowl each has made the team an elite one. Mankins and Kaczur are two of the top offensive lineman in the game. James Sanders is a solid safety, and Matt Cassel filled in and did a great job when Brady was injured guiding the team to 11 wins. Ellis Hobbs was also a good corner and was also surprisingly traded for low draft picks to the Philadelphia Eagles, same with Cassel who was traded to the Chiefs for a second round picks.
1 32 Logan Mankins G Fresno State
3 84 Ellis Hobbs CB Iowa State
3 100 Nick Kaczur T Toledo
4 133 James Sanders SAF Fresno State
5 170 Ryan Claridge LB Nevada-Las Vegas
7 230 Matt Cassel QB USC
7 255 Andy Stokes TE William Penn
Keep Reading

New England Patriots: Like this team?