Erin Andrews Video: Her Top 5 Hottest 'Dancing With the Stars' Outfits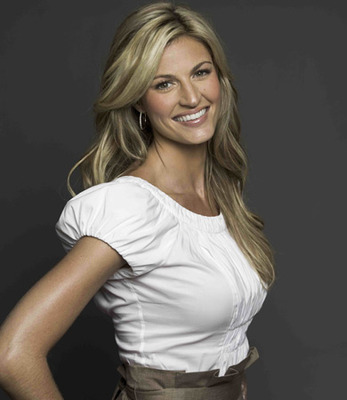 There is not a chance in hell that Erin Andrews is going back to ESPN after "Dancing with the Stars."
I hate to drop that bombshell on you, but I have the video proof. Erin has proven to be a gorgeous blond that you still root for as the underdog.
Her chemistry with her partner—some guy named Max or something, if I acknowledge him, he's real and I have no shot — is undeniable.
It's very cute and has likely endeared her to the women viewers.
She will end up hosting, "Insider Access Hollywood Tonight," by September.
For the guys, this has been our chance to see the skin behind the sideline hotness we all knew was there — without getting a virus on our computer from that infamous video.
Her choice of outfits has been stellar, her dancing has been impressive, and she outlived Kate Gosselin. A thankful nation rejoices.
Tip: I've fast-forwarded straight to the dance and the outfit. If your wife peaks in on you, just back it up to the beginning.
The idea of you watching the sugary wordplay between Erin and Whoever-He-Is will earn you bonus points for sensitivity with the Mrs.
You're welcome.
5. Week Four: Tango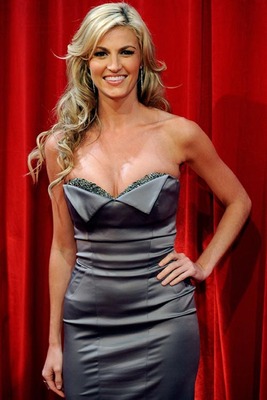 When I think tango, I think hot.
I think whomever is dancing the tango with a woman is getting some action thereafter.
Damn you, Al Pacino from "Scent of a Woman", for creating this idea that if I just tango, I can have any woman in the world.
This just didn't hit the hot button for me.
The lipstick is really off-putting in a slutty lady of the night bad way. (That feels like an oxymoron. I may have just lost my man card.)
4. Week Two: Foxtrot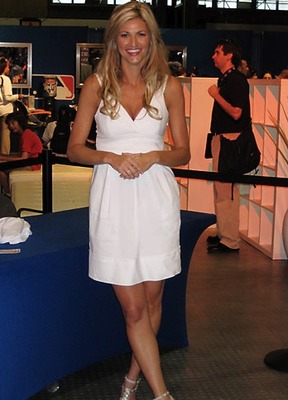 If you're a shoulder guy, this one's for you.
Andrews shows off her workout routine and she is, no doubt, quite pretty in pink.
Judging hotness with Andrews is like judging levels of drunkenness with Jameson's. We're parting hairs here.
I think she just seems a little too "into" Mutt or Mix-A-Lot.
3. Week Five: Erin, Uma ... Uma, Erin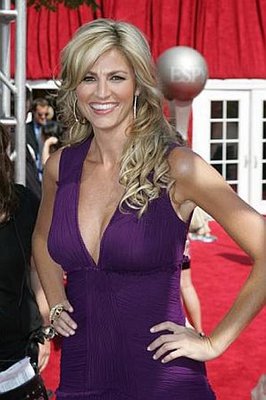 This week was "Movie Week".
The girls got treated to Bachelor Jake in his skivvies dancing "Risky Business," while the guys got to see Erin as Uma Thurman from "Pulp Fiction."
Subdued sexiness here. There was too much covered up, but the idea of Andrews with short hair is intriguing.
Man, I'm sounding like a stalker. I hope the FBI doesn't read B/R.
2. Week Three: Waltz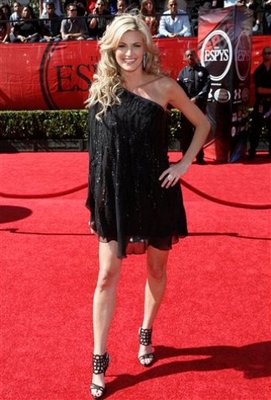 A gorgeous dress, a fantasy kind of dance, and she's overflowing up top. Yet, the dress holds it together nicely.
This show is operating at a level so far over our heads and we don't even know it.
This is celebrity soft core porn, complete with the bow-chicka-bow-bow-boom-bow-bow soundtrack.
Thankfully, knowing what ABC is trying to do to me doesn't bother me one iota.
I am a willing participant in this sexual duping of America.
1. Week One: Cha-Cha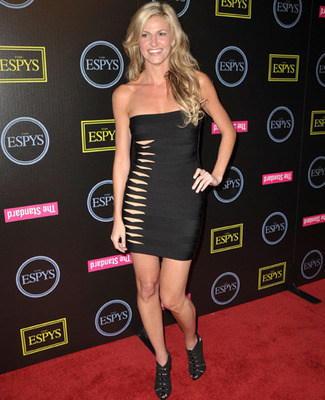 Middle America didn't know Erin.
Shockingly, there are guys who don't watch sports.
So she went all-out in the outfit department. Yellow, shredded fabric, flimsy.
Three snaps and a "Hallelujah!" from the peanut gallery.
Pam Anderson's silicone sultriness is going to be no match for the All American girl.
This thing is Erin's to lose and for that, we're all winners.
Keep Reading