The K.C. Chiefs Trade The 5th Overall Pick to Philadelphia Mock Draft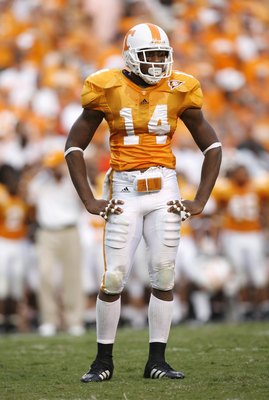 There has been tons and tons of predictions that the Kansas City Chiefs will trade the fifth overall draft pick in the 2010 NFL Draft. I think the Chiefs will trade it to Philadelphia for a good deal. As it was reported was that the Chiefs are "desperately" trying to trade out of number five. Once the clock hits the Kansas City Chiefs it is go time that is when the draft finally heats up. With the fifth overall pick in the 2010 NFL Draft the Philadelphia Eagles select Eric Berry safety from Tennessee.
Trade: The Chiefs Trade the #5 Pick for the #24 and #37 Overall Picks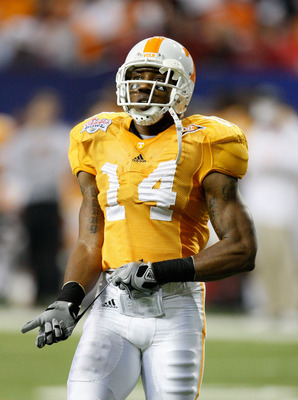 It might hurt a lot of Kansas City Chiefs fans hearts trading away the fifth overall pick and the Eagles drafting Chiefs' fans dream player Eric Berry. I think it will be a good deal for both Philadelphia and Kansas City for number five for number 24 and 37.
Round 1, Pick No. 24: Sean Weatherspoon, ILB/OLB, Missouri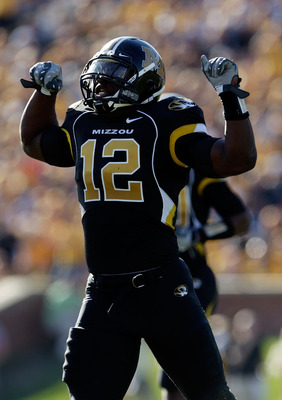 The Chiefs will draft Sean Weatherspoon with the 24th overall pick A.K.A. "Spoon Man". This is a great pick the Chiefs get their hands on the second best linebacker in the draft. Weatherspoon has just as good size as Rolando McClain and had an a lot better combine than McClain.
Round 2, Pick No. 36: Terrence Cody, NT, Alabama
The Chiefs will defiantly grab Terrence Cody in the second round with San Diego passing on Cody and taking a running back. Despite Terrence Cody being tremendously over weight I think Todd Haley's extreme conditioning could whip him into shape. Cody would automatically be a starter on 1st and 2nd downs and having another guy come in on 3rd down.
Round 2, Pick No. 37: Vladimir Ducasse, OT/OG, UMass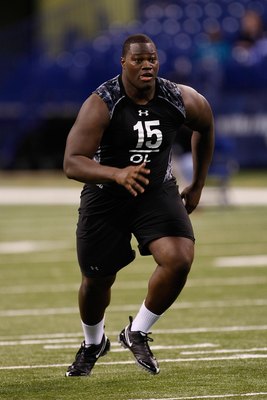 Even though drafting Vladimir Ducasse this high in the draft might be a little of a reach the Chiefs cannot afford to let him slip out of their hands. Despite Ducasse being short for a left tackle I think if Branden Albert plays like he did in the last 8 weeks of the 2009 season Albert could be left tackle again and Ducasse could be right tackle. But, Ducasse defiantly has the strength and feet to play on the blind side getting 29 reps of 225.
Round 2, Pick No. 50: Dennis Pitta, TE, BYU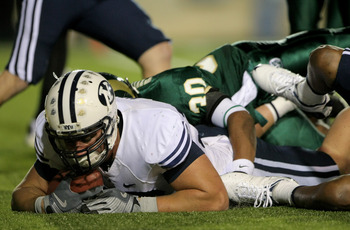 The Kansas City Chiefs will select one of the most underrated players with the 50th overall pick in Dennis Pitta. Pitta reminds me of Heath Miller of the Steelers being very big and tall and being able to catch passes. In a lot of previous mocks I have made I had the Chiefs taking Anthony McCoy in the 3rd or 4th rounds, but the Chiefs receiving an extra 2nd round pick from Philadelphia allows them to do whatever they feel like doing with the third of three second round draft picks.
Round 3, Pick No. 68: Darrell Stuckey, S, Kansas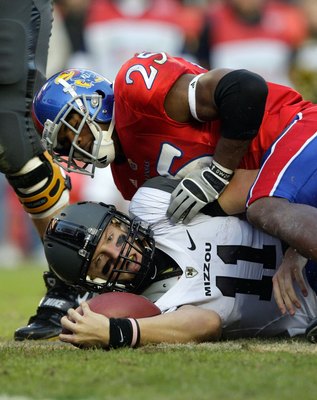 Again, like the Chiefs drafting Vladimir Ducasse 37th overall drafting Darrell Stuckey could be a little of a reach, but Stuckey is one of those players you don't know where he will end up he will go anywhere from the 2nd to 4th rounds. Stuckey could be a starter he is a very solid tackler and a big hitter who could provide the extra guns in the backfield.
Round 4, Pick No. 102: Jacoby Ford, WR/KR/PR, Clemson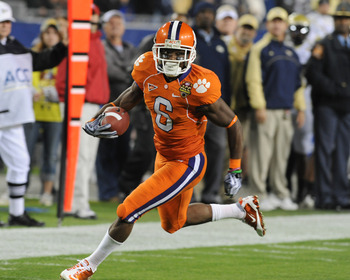 Jacoby Ford automatically fills the Chiefs kick and punt returning duties and even the slot receiver duties all in one draft pick. Ford posted up stellar numbers in college and most notably stellar numbers at the combine running a staggering 4.22 forty yard dash. All Jacoby Ford is, is a big play waiting to happen just what the Chiefs need more big play type of guys.
Round 5, Pick No. 136: Eric Olsen, C, Notre Dame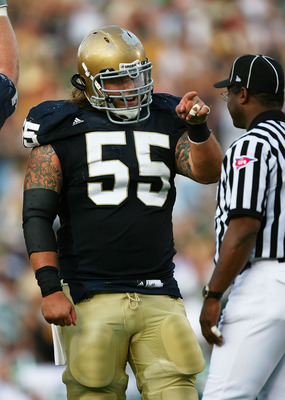 Eric Olsen will unite with former coach and current Kansas City Chiefs offensive coordinator Charlie Weis in the 5th round on Saturday. Eric Olsen might be the toughest guy in the draft having a tough as nails type of mentality going plays beyond the whistle. Olsen has great potential and could be a starter in two years.
Round 5, Pick No. 142: Mike Kafka, QB, Northwestern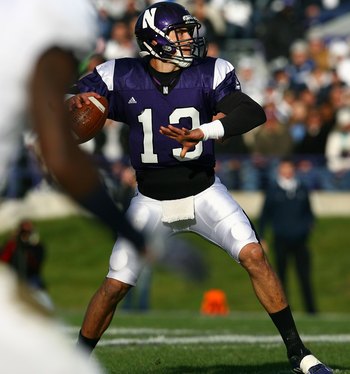 The Chiefs will select a very smart player to hold the playbook on the sidelines on Sundays. Kafka will provide quality depth and will give Brodie Croyle some competition for the number two spot on the roster. Mike Kafka is also a good guy to have in the locker room plus he can run the football.
Round 5, Pick No. 144: Corey Peters, NT/DT, Kentucky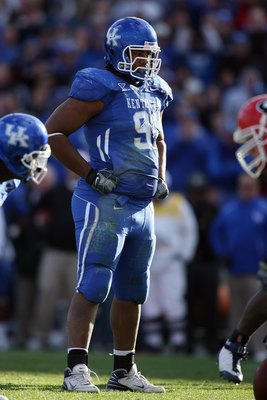 If you guys were wondering who will be the guy on third downs subbing in for Terrence Cody it is Corey Peters. Peters is a four year starter from Kentucky having the size athleticism to play in the NFL. Peters can also provide pass rush on third downs having 11 career sacks and 3.5 sacks as a senior.
Keep Reading

Kansas City Chiefs: Like this team?