2010 NFL Draft: Jonathan Crompton Leads Late-Round SEC Players To Watch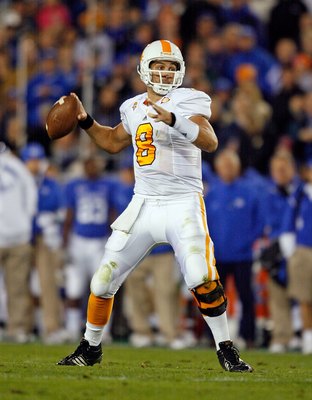 Over the last decade, the Southeastern Conference seems as if it has become a farm system to the NFL.
In each of the past three NFL drafts, there have been at least three players taken in the top 10 from the SEC.
Although that trend is expected to end this year, there is arguably no conference as deep with talent as the SEC.
Here is a player from each SEC team to watch out for late in the 2010 NFL draft.
Alabama: Colin Peek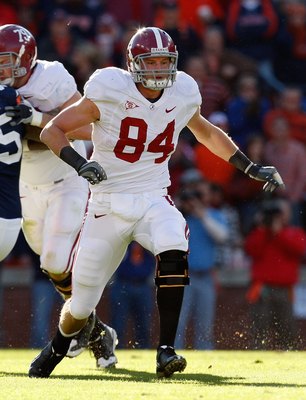 In his one season in Tuscaloosa, Peek was a huge contributor in Alabama finally "turning the tide."
Peek caught 26 passes for 313 yards and three touchdowns, including the one that sealed the deal in the SEC Championship against Florida.
At 6'6", 250 pounds, Peek is the complete tight end. He flashes not only great hands but also the ability to pass- and run-block.
Prediction: Fifth round, Atlanta Falcons
With Tony Gonzalez aging, the Falcons will look to find a steal with the 149th overall pick.
Arkansas: Malcolm Sheppard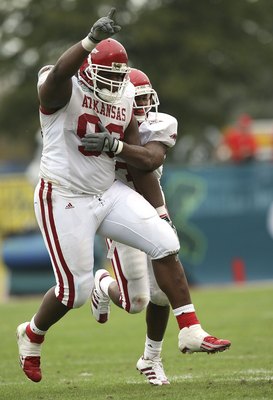 At 6'2", 285 pounds, many scouts believe that Malcolm Sheppard is to small to play defensive tackle in the NFL.
Though Sheppard lacks good size, he makes up for it with his toughness, good instincts, and work ethic.
Sheppard might be too small to anchor a 3-4 defensive line, but he could be a good fit in a 4-3 scheme.
Prediction: Seventh round, Green Bay Packers
Sheppard could really help the Packers' run defense in the future.
Auburn: Antonio Coleman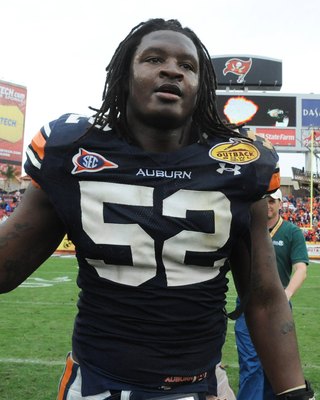 In his career at Auburn, Antonio Coleman was an All-SEC defensive end, but now it is yet to be determined what position he will play at the next level.
Coleman's scouting reports show that he lacks the size to stop the run at defensive end, and that he does not have the speed to be a linebacker.
Although most people see Coleman as an OLB in the NFL, I see him staying at DE because of his good pass-rushing instincts and wide array of moves.
Prediction: Seventh round, Philadelphia Eagles
Why not take a chance on a guy with as much upside as Coleman? It is the seventh round.
Florida: Aaron Hernandez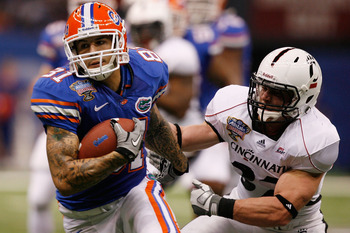 During his time at Florida, Hernandez created a lot of havoc in the middle of opponents' secondaries.
As one of Tim Tebow's top targets throughout his career, Hernandez set the school record for most catches by a tight end in a season and a career.
Hernandez capped off his final collegiate season by becoming the first Gator to win the John Mackey Award, given to football's best tight end.
Watch Hernandez play. He compares to the Colts' Dallas Clark, although Hernandez probably presents more athleticism.
If Hernandez wants to play TE in the NFL, he will have to improve his blocking, but look for him to play H-back.
Prediction: Fourth round, Miami Dolphins
Anthony Fasano is a good blocker at the TE position for Miami, but the addition of Hernandez gives Chad Henne another down-field option.
Georgia: Jeff Owens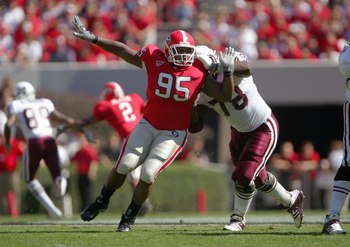 No one on this list had his stock rise at the NFL Combine as much as Georgia defensive tackle Jeff Owens.
Owens created a lot of buzz in Indianapolis by doing 44 reps in the bench press, with the closest competitor countering with 39.
Though Owens does not have the ability to be an every-down player, his great motor gives him the chance to contribute immediately in the NFL.
Prediction: Fifth round, Minnesota Vikings
With the Williams Wall aging, the Vikings will add a big run-stopper for the future in Owens.
Kentucky: Micah Johnson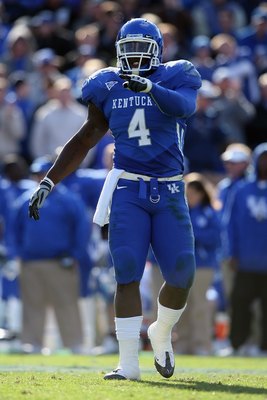 Before his senior season, if someone were to say that Kentucky linebacker Micah Johnson might go undrafted, it would be sure to be followed with laughs, but after a knee injury and a poor combine performance, that could become a possibility.
At 6'1", 258 pounds, Johnson has a great combination of size, strength, and toughness, essential qualities to play linebacker in the NFL.
Johnson has been criticized for his lack of great speed, running a disappointing 4.99 40-yard dash, but he could make an immediate impact as an inside linebacker in a 3-4 defense.
Prediction: Seventh round, Washington Redskins
Johnson could be a big plug in the middle of the 'Skins' defense.
LSU: Trindon Holliday
For the time, Trindon Holliday looks to be nothing more than a project at the next level, but he could immediately contribute to a team in the return game.
Holliday does flash his explosive ability using his blazing-fast track speed, but does not have enough bulk to be able to break tackles from the likes of Ray Lewis.
Look for Holliday to be drafted late on Saturday by a team that is hoping for the next Dante Hall.
Prediction: Seventh round, Indianapolis Colts
The Colts have enough depth to take a chance on a player like Trindon Holliday.
Mississippi: Greg Hardy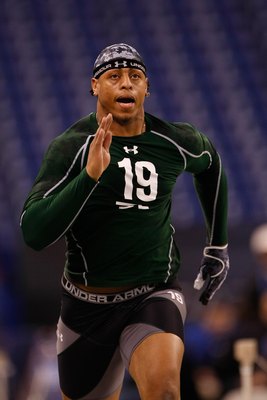 Greg Hardy is another player whose stock seems to be dropping by the day.
At 6'4", 281 pounds, Hardy has the size, speed, athleticism, and instincts to become an effective pass rusher at the next level.
Hardy, however, has been criticized for not always running his motor hard, which could drop him into into the fifth or sixth round range.
Prediction: Fourth round, New York Giants
Hardy could fill a big need for the Giants if they decide to get rid of the always complaining Osi Umenyiora.
Mississippi State: Jamar Chaney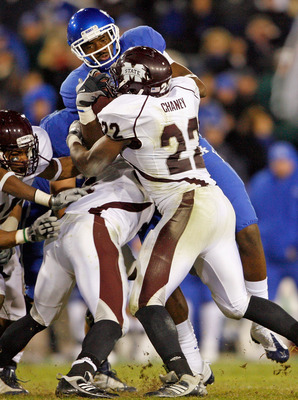 Unlike Hardy, Mississippi State linebacker Jamar Chaney enters draft week with his stock ascending.
Chaney missed most of the 2008 season with an injury, but in his senior year, he had his most productive season, leading the Bulldogs in tackles. He was also named defensive MVP of the Senior Bowl.
Chaney displays rare athleticism for an inside linebacker, has good instincts in diagnosing the run, and excels at dropping into pass coverage.
Though Chaney has an impressive ability to diagnose the run, he sometimes has trouble stopping it and will definitely need to improve his blitzing abilities if he wants to make an early impact in the NFL.
Prediction: Fourth round, New England Patriots
Chaney could give the Patriots and Jerod Mayo some added depth at the linebacker position.
South Carolina: Clifton Geathers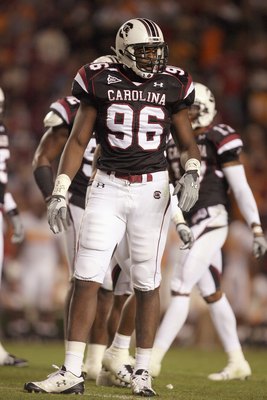 In January, South Carolina defensive end Clifton Geathers shocked most fans by announcing that he would enter the 2010 NFL Draft.
Geathers possesses tempting size for a DE in a 3-4 defense at 6'8", 299 pounds. He uses his long arms and solid tackling to stop the run.
Though he has a lot of potential right now, I would still consider him a bit of a project.
If Geathers wants to play in the NFL, he will have to improve not only his pass rush, but also his character.
Prediction: Sixth round, Pittsburgh Steelers
The Steelers have an aging D-line, giving Geathers an opportunity to compete for playing time quickly.
Tennessee: Jonathan Crompton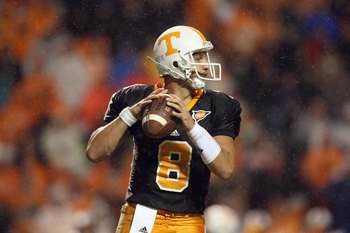 Though Crompton did not have a great career as the QB at Tennessee, he had a sensational senior season, passing for over 2,800 yards and accounting for 27 touchdowns through the air.
Crompton's pros are that he has an ideal pro body at 6'3", 222 pounds, and possessed great arm strength.
His cons seem a lot easier to point out at this point.
Crompton has trouble maintaining consistency game in and game out, and has been questioned on whether he can handle the mental part of the game.
Prediction: Third round, Cleveland Browns
The Browns are definitely not set at the QB position, urging them to use their second pick of the third round on Crompton, who could be the sleeper of the draft.
Vanderbilt: Myron Lewis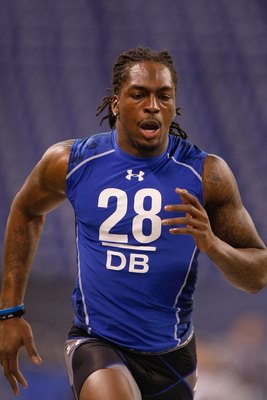 At Vanderbilt, Myron Lewis starred as one of the best corners in the SEC, but now he is being looked at to possibly play free safety in the NFL.
Lewis has a unique combination of size and speed for a DB, also showing the ability to jam receivers at the line.
Lewis does, however, have some weaknesses.
He doesn't fare well against quicker receivers, and can be susceptible to the deep ball.
Prediction: Third round, Houston Texans
If the Texans ever want to defeat the Colts, they will need to continue to add to the secondary. Lewis gives the Texans the versatility to play either safety or cornerback.
Keep Reading

Tennessee Volunteers Football: Like this team?