2010 NFL Draft: Top Five Cornerback Rankings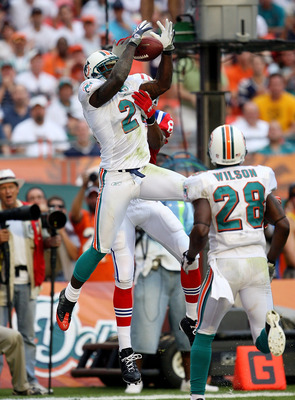 The NFL has become a passing league, but the top corners haven't been coveted like they were in the past.
There hasn't been a corner drafted in the top 10 since 2005 and it may not happen this year either.
This corner class is one of the slowest ones in recent years and features few standouts.
As a matter of fact, only two have been graded out by scouts to be definite first-round material.
Look for a run on the position in the second and third rounds with most of the real talent being scooped up by then.
Here's a look at the top five corners in the 2010 NFL Draft.
1. Joe Haden, Florida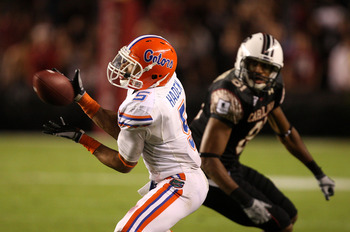 Haden is the most complete corner in the draft.
A starter since his freshman season, he can do it all.
Haden is excellent in coverage (four picks in 2009) and solid against the run (87 tackles).
He sacks quarterbacks on blitzes off the edge, blocks field goals, and forces turnovers in the secondary.
Combine those skills with his size (5'11", 193 pounds) and speed (4.4 in the 40 at his pro day), and it's easy to see why he will be the first corner off the board.
2. Kyle Wilson, Boise State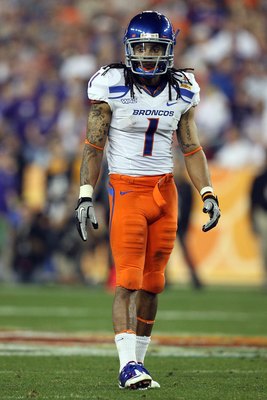 Wilson is not that far behind Haden in draft evaluations.
Another corner with good size (5'10", 194 pounds), decent speed (4.43 in the 40), and big play ability.
Wilson was a four-year starter for the Broncos and left school with 11 career interceptions.
He has all the ball skills needed to play the position and is extra valuable because of his ability on special teams.
The reason he's a notch below Haden ha to do with tackling. Wilson needs work on run support and being an effective tackler.
Wilson is a solid corner who should go early in the first round.
3. Devin McCourty, Rutgers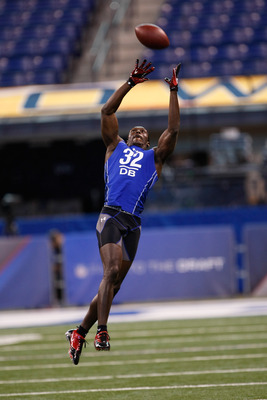 McCourty has extra value because of his ability to be a game-breaker on special teams.
He plays the ball extremely well, has blazing speed (4.38 in the 40), and is equally adept against the run.
McCourty has a nice fluid style of playing and should be an outstanding zone corner in the league.
He has a chance to sneak into the first round.
4. Patrick Robinson, Florida State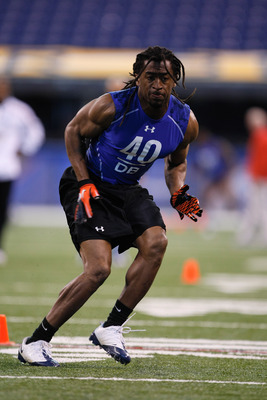 Robinson is loaded with athletic ability and could be the first Florida State player taken in the first round since Lawrence Timmons in 2007.
He has good size, athleticism, and all the natural traits teams are looking for in a first-round pick.
The problem is inconsistency.
He has all of the natural talent and ability necessary to become a solid, maybe even All-Pro, cornerback in the NFL.
But there is no denying that his inconsistent play leaves the door open for Robinson to be a bust.
5. Kareem Jackson, Alabama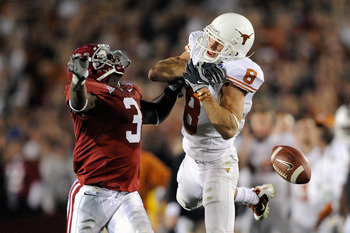 Jackson was coached by Nick Saban, one of the best defensive minds in the history of college football.
He left school after his junior season even though Saban thought he should return.
Jackson started 40 games in three years, so it's not like he's inexperienced.
He uses his hands well at the line of scrimmage, is aggressive throughout the route, and has the ball skills to make a team willing to challenge him pay.
Jackson will go early to middle of the second round.
Others to watch: Dominique Franks, Oklahoma; Javier Arenas, Alabama; Chris Cook, Virginia; Jerome Murphy, South Florida; Brandon Ghee, Wake Forest.
Keep Reading